Man-made islands could ease the climate migration crisis
One of the biggest artificial islands in the world will be constructed in Hong Kong
Amsterdam's Center Island will provide green and affordable housing to its residents
Copenhagen's authorities want to increase the city's land area by building a man-made island
Prioritising the ecological impact of artificial islands
Artificial islands could help mitigate housing shortages
Cities around the world are experiencing rapid population growth, and governments are finding it increasingly difficult to develop infrastructure fast enough to accommodate everyone. While some are trying to solve this issue by developing high-rise buildings, this isn't the most effective solution. Urban land is a scarce resource, which is why its prices are getting higher. Instead of looking for a solution on land, architects should explore other areas of the Earth's surface that have been overlooked. Given that more than 70 per cent of the Earth is covered with water, it seems quite logical to use the vastness of its surface to mitigate the existing housing crisis. Creating artificial islands, for instance, could help cities to manage rapid urbanisation. With proper planning and science integration, such man-made islands would be liveable and sustainable.
Man-made islands could ease the climate migration crisis
Artificial islands aren't a novelty. Back in 1968, the Netherlands built Flevopolder through land reclamation, a process in which new land is developed from existing water bodies. Flevopolder, the world's largest artificial island, today houses around 400,000 people. In 1994, Japan built its Kansai International Airport on an artificial island, which was "the most expensive civil works project in modern history". And to expand its coastline and stimulate its tourism, Dubai created a palm-shaped artificial island called Palm Jumeirah, which was completed in 2007 and is now home to many luxury hotels and resorts.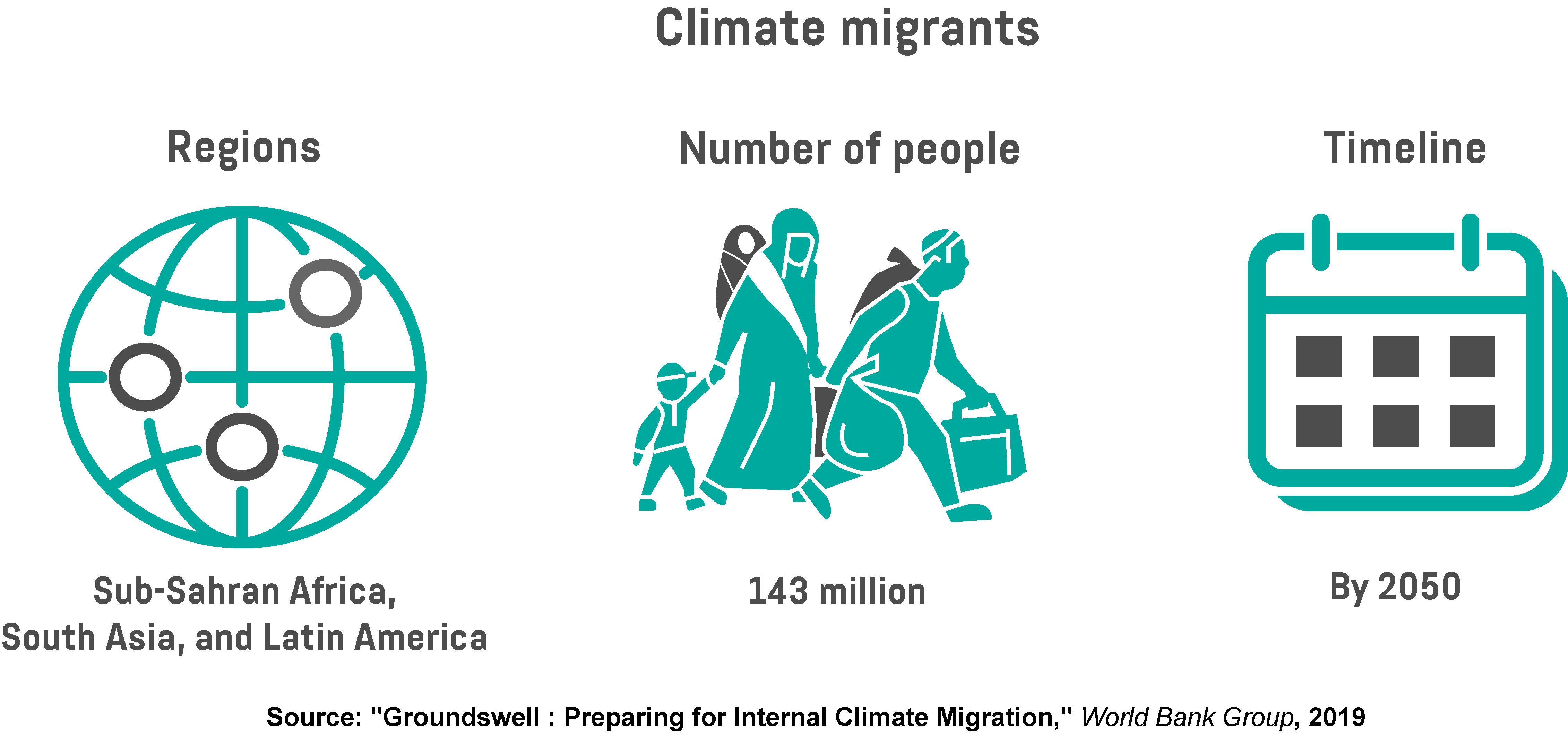 But besides attracting tourists, these architectural marvels could provide home to 'climate migrants', or 'climate refugees'. The term is often used to describe people who are forced to leave their residence due to natural hazards and environmental changes. According to a World Bank Group report released in 2019, 143 million people from Sub-Saharan Africa, South Asia, and Latin America could become internally displaced by 2050 due to climate change-related issues such as sea-level rise, storm surges, and water scarcity. When combined with millions of people who are already moving because of political, economic, or social issues, this could lead to housing chaos. Residents of Kiribati, an island nation located in the Pacific Ocean, are already under threat of becoming climate refugees due to rising sea levels, and even this tiny country has considered building artificial islands in the past. Besides Kiribati, the consequences of climate change are already being felt in other regions of the world as well. Man-made islands could be a solution to this pressing issue.
One of the biggest artificial islands in the world will be constructed in Hong Kong
With a population of nearly 7.5 million, and a population density of 6,300 people per square kilometre, Hong Kong is one of the most densely populated places in the world. To provide more space for its population, the government envisioned building an artificial island that will be at least six metres above the current sea level. Once built, the island will be one of the biggest artificial islands in the world, and it will be able to withstand severe weather conditions – even supertyphoons.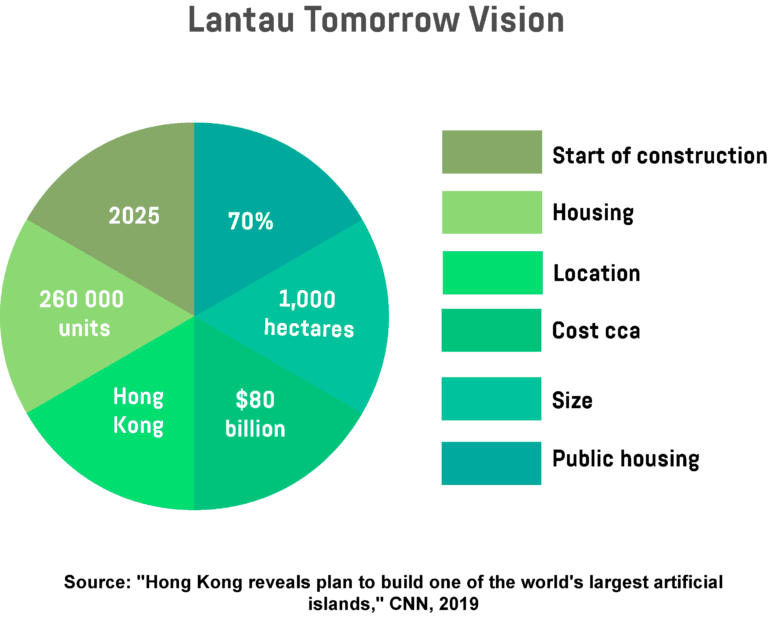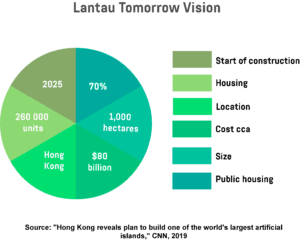 The project, called Lantau Tomorrow Vision, is expected to cost around $80 billion. Through a land reclamation process, Hong Kong plans to create an island that will measure 1,000 hectares, which is almost double the size of Dubai's Palm Jumeirah at 560 hectares. The construction of Hong Kong's man-made island is expected to begin in 2025, and it will be completed seven years later. The island will be equipped with 260,000 residential units, and as CNN reports, 70 per cent of the units will be reserved for public housing.
Though critics claim that building such an island will cause major financial and environmental problems, and that there are cheaper solutions to Hong Kong's housing crisis, the government believes it could recoup the investment with revenue earned through selling the land to developers. "The public is concerned that the project might empty our coffers. Our conclusion is that it will not," explains the secretary for development in Hong Kong's government, Michael Wong.
Amsterdam's Center Island will provide green and affordable housing to its residents
The Netherlands has been experimenting with man-made islands for quite some time, and Flevopolder isn't the only artificial island it has. In 2018, Dutch officials revealed that one of its man-made islands, dubbed Center Island, which was completed in 2015, could soon be equipped with its first housing units. The island is only 15 minutes away from Amsterdam's Central Station and will provide a home for 45,000 people. The future constructions on the island will be both environmentally friendly and aesthetically pleasing. To protect homes from flooding, the units will be elevated above the rest of the public space. Moreover, all green areas will feature storm channels to collect and redirect rainwater and prevent overflowing, and all structures will be equipped with balconies and roof gardens. Instead of natural gas, all homes will rely on a district heating system fueled by heat pumps, and to reduce electricity usage, they'll be solar-powered. The idea is to make the island as green and pleasant as possible, creating a sustainable community where residents would lead healthy lives.
Copenhagen's authorities want to increase the city's land area by building a man-made island
For a coastal country with not enough space, artificial islands are a lifesaver. For this reason, the Copenhagen Municipality is planning to create a new district on an artificial island. Dubbed Lynetteholmen, the new district will be located between former industrial areas Nordhavn and Refshaleøen. Lynetteholmen will be able to accommodate 50,000 residents and provide a corresponding number of jobs. What authorities have envisioned is a place suitable for families with normal incomes. The space will feature plenty of green areas, and will have its own metro line that will connect the district with the rest of the city. Frenk Jensen, Copenhagen's mayor, notes that "Lynetteholmen will be something completely new and something very familiar at the same time."
This major infrastructure project is estimated to cost $3.05 billion, and will be self-financed, which means it won't be funded through taxes. Once the project gets approved by Parliament and the citizens' committee, authorities will begin conducting viability studies, which may take two years to complete. If everything goes according to plan, the construction will begin in 2021, and the completion date will be somewhere around 2070.
Prioritising the ecological impact of artificial islands
When building artificial islands, the damage that they can cause to oceans often gets overlooked. For people living in coastal regions, marine habitats are a great source of food and provide pollution filtration. For this reason, it's important to consider the location of artificial islands and investigate the possible negative effects they might have on marine life. For instance, in some parts of the world, man-made islands are constructed on top of coral reefs, which leads to the disappearance of animals and plants living there. Land reclamation, a common method of creating an artificial island, can also have a negative effect on "nearby habitats that are particularly sensitive to murky waters, such as coral reefs and seagrass beds".
In Singapore, for example, coral reef decline is associated with land reclamation. The World Economic Forum reports that Singapore has lost "45% of the country's intertidal reef flats and almost 40% of intertidal mudflats". Before building artificial islands, countries and governments should address these issues, and thoroughly examine their urban planning methods. By incorporating green engineering, they can ensure their projects won't disturb ocean ecosystems and cause pollution.
Artificial islands could help mitigate housing shortages
Climate change and rapid population growth are contributing to the depletion of both arable and urban land. High-rise buildings are a good solution, but cities must think long-term, outside the box, across the land, and onto large bodies of water. In fact, for years, cities around the world have been exploring the potential of man-made islands to relieve crowding in urban areas. Besides housing units, these islands can be equipped with hotels, airports, and a lot of green space where residents can relax. Due to the effects of climate change, many people will be forced to leave their homes. Through cautious planning and development of artificial islands, this issue could be mitigated. Cities of the future built on water aren't a farfetched idea, and since we're running out of land, such communities seem to be a viable long-term solution for a safe, healthy and sustainable future. As the effects of climate change emerge even more in the coming years, artificial islands will be springing up like mushrooms after the rain.