BioMASON grows bricks with millions of bacteria
Star Trek's 'transparent aluminum' is three times stronger than steel
Will graphene enable us to build 30 km high structures?
BlingCrete: eye-catching, light-reflecting concrete
3D-printed Cool Brick captures moisture and cools down buildings in the desert
'Frozen smoke' aerogel insulation material consists of up to 99 percent air
Our awareness of building materials and their impact on the environment has never been as acute as it is today. Building materials are becoming increasingly sophisticated, advanced and futuristic. Some of them are based on nature, while others are completely new and made from virtually alien components. So many innovative materials are currently being developed that it's almost impossible to keep track. In this article, we will talk about a few of the most noteworthy developments, ranging from transparent aluminum to self-growing bricks, that have the potential to completely revolutionise architecture and construction today, tomorrow and beyond.
Receive the latest insights, research material, e-books, white papers and articles from our research team every month, for free!
BioMASON grows bricks with millions of bacteria
We've been building with bricks for ages. They are durable and they have actually made a recent comeback in terms of trendiness. Think exposed brick walls, complete with equally exposed ventilation ducts, in the offices of startups and in upmarket urban apartments. Brick production, however, is a lengthy process that takes a significant toll on the environment. Did you know that approximately 8 percent of global carbon emissions are produced by brick manufacturing? That is equal to carbon emissions from about 170 million cars. One company that has found an alternative to conventional manufacturing methods is biotechnology startup BioMASON. They use a process that's millions of years old. They inject sand with microorganisms, actually mimicking the way coral grows in nature over thousands of years, but reducing the process to mere days. The BioMASON bricks are strong enough for use in construction and produce none of the pollution associated with their traditional counterparts. BioMASON's innovative approach is based on a rod-shaped organism called Bacillus that creates a microenvironment in which calcium carbonate crystals are formed. As the brick-growing process takes place at room temperature, there's no need for burning fossil fuels. In fact, during brick making, carbon is actually absorbed from the air. The natural colour of the bricks is light beige, but they can easily be produced in any other colour or made to look like conventional bricks. The bricks can also be made to glow in the dark, change colour when wet or be made in various textures. The next step is to enable customers to grow bricks on-site. Watch this space!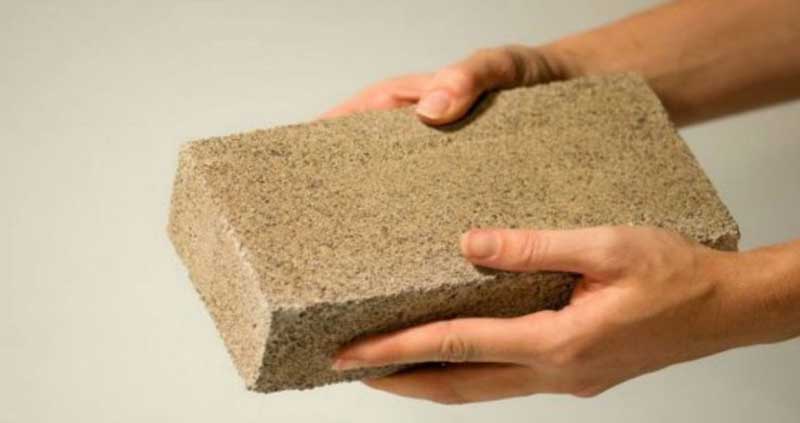 Star Trek's 'transparent aluminum' is three times stronger than steel
First suggested in the film Star Trek IV, and referred to in popular media as 'transparent aluminum', aluminium oxynitride is now really, actually being developed. The revolutionary ceramic alloy is created by fusing nitrogen, oxygen and aluminium in precise measures. The transparent aluminum was first achieved when researchers at Oxford University used a FLASH laser to remove electrons from aluminum without changing its crystalline structure. Transparent aluminum is three times stronger than steel, four times harder than fused silica glass, 85 percent harder than sapphire and, as the name suggests, optically transparent. The material is corrosion, radiation and oxidation-resistant and could be used to produce windows and domes for undersea and deep-space vehicles, lenses for high-impact cameras and other types of safety glass. You could even clad skyscrapers with it. Other potential applications include insulators and heat radiation plates, translucent ceramics, metal matrix composites, high temperature materials and thermally conductive fillers. The commercial version of transparent aluminium is ALON. It's made in monolithic windows up to 45 x 90 cm and can be used in architecture for glass balconies and truly fire-resistant glass window panes – that is, when the costs for manufacturing the miracle 'metal' drop, as they are still quite high. It is currently being used in static-free transparent aluminum wrapping for electronics such as computer parts but at more than $10 per 2.5 cm2, however, and it still isn't cost effective enough for everyday, mainstream use.
Will graphene enable us to build 30 km high structures?
One of this century's most important physics discoveries has to be the ultra-thin material graphene. Discovered approximately 12 years ago, graphene is set to change almost every industry in the world, including construction, although it is still waiting for large-scale adoption. The two-dimensional, honeycomb lattice is up to 200 times stronger than steel, yet it is ultra-lightweight and the thinnest material known to man. It even acts as a barrier to gases. All these properties lend this material virtually limitless possibilities in construction, although mass production is prohibited by its high costs; around $500 for one single gram. The material's immediate future lies in its benefits as an additive to polymers, concrete, resins or steel to improve their properties. Even though we won't see any large-scale applications of this material soon, the fact that over just a few years' time it has developed from hardly identifiable to potentially revolutionary is quite an achievement. Graphene combined with paint could, for instance, provide a weather-resistant and strengthening coating to brick, steel, concrete and even glass structures, radically increasing a structure's lifespan and reducing costs over the long term. This would also potentially enable us to construct much taller buildings, with some estimating that 30 km high structures could be among the possibilities.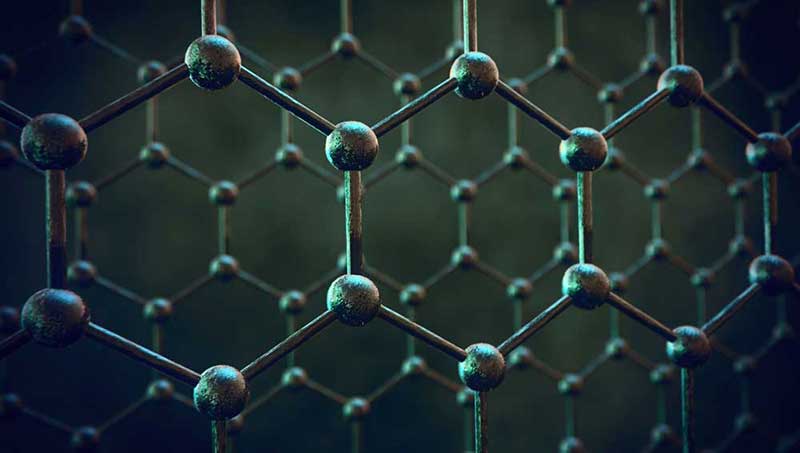 BlingCrete: eye-catching, light-reflecting concrete
Several types of new concrete now also incorporate light, transforming the boring grey material into something that can literally brighten things up. Reinforced with textile and covered with a light-reflecting surface, the properties of BlingCrete concrete offer a host of potential applications in architecture and design. The material is also known as light-reflecting concrete, thanks to the microspheres or minuscule glass balls embedded in Quantz, a high-tech, nano-optimised, high performance concrete, giving it its retroreflective characteristics. Retroreflecting surfaces send rays of natural or artificial light back into the direction of the light source – like a cat's eyes on a road at night. The appearance of the surface is influenced by the distance between the light and the viewer, resulting in a dynamic experience as the viewer walks by. The material is waterproof without requiring any additional coatings. It is frost resistant and can be angular, flat or curved. BlingCrete can be used for safety marking in dangerous areas (platform edges, stairs, tunnel passages or sidewalks) and for integrated signage and guidance systems. BlingCrete is available in various colours and the sizes of the glass balls range from 0,7 mm to 9mm, with 6 mm being the standard size. The material's textures can also be produced in various patterns and grids. While other light-reflecting materials often need to be replaced after a period of time, or are unsuitable for use in underground spaces due to fire regulations, BlingCrete is strong, durable, non-flammable and easy to produce, making it a cost effective and sustainable product. BlingCrete started off as an artistic experiment with light-reflecting materials and as an investigation of the retroreflection phenomenon in preparation for an artistic intervention in an urban space, but is now being manufactured for commercial applications in various industries.
3D-printed Cool Brick captures moisture and cools down buildings in the desert
Inspired by the age-old practices of evaporative cooling – adding water vapour to air, causing air temperature to drop – Cool Brick offers a 3D-printed alternative to the traditional and costly HVAC systems. Developed by Emerging Objects, a company specialising in innovative 3D-printed components for architecture and construction, Cool Brick is a system of porous ceramic bricks used to build walls that cool interiors in dry, hot climates. Each brick is produced with a 3D printed lattice motif, creating a network of tiny holes in which moisture is absorbed like a sponge. When warm air moves through the micropore network in the brick, the moisture in the pores is heated. It then evaporates, cooling the air and lowering the temperature in the building. Because Cool Brick is modular, the interlocking bricks can be stacked in various ways, giving engineers and architects incredible design freedom. Held in place by cement, the Cool Bricks create a strong and durable bond. The unique shapes of the bricks furthermore create shaded surfaces on the wall, keeping the wall protected from the heat of the sun.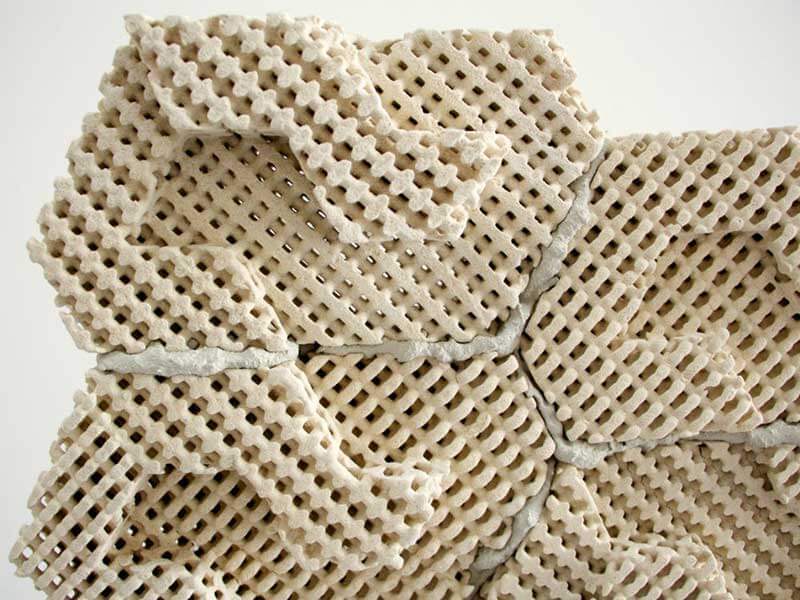 'Frozen smoke' aerogel insulation material consists of up to 99 percent air
Contrary to what their name suggests, aerogels are actually dry, rigid and highly porous solids made from gel, which have undergone a unique development process. While drying under specific conditions, liquid is removed from the gel, resulting in a unique and ideal insulation material that consists mainly of… air! Aerogels can be made from carbon, silica, metal oxide or organic polymers and feel like fragile expanded polystyrene to the touch. They are called solid smoke, frozen smoke or blue smoke, due to their translucent nature and the way in which light scatters in the material. Although the substance is naturally very strong, pressing firmly on an aerogel can cause it to shatter like glass – although newer, improved variations are no longer as prone to shattering. Aerogels are an environmentally friendly and highly effective alternative to conventional insulation materials. In fact, they have been found to be up to eight times more energy-efficient than polyurethane and four times more effective than fibreglass. They have also received awards for their low environmental impact during manufacturing. Aerogels' potential to replace conventional insulation solutions in building, construction and industrial insulation is significant and the material is predicted to see large-scale adoption this year, with a niche market estimated to reach over $612 million in 2020.