Conventional solar power hasn't yet hit the sweet spot between efficiency and price
New 'cyborg' bacteria use artificial photosynthesis that's cheap and 80 per cent efficient
Scientists can now produce biofuel from bacteria, ending our dependence on oil
In our race to find alternatives to fossil fuels, we're exploring every option. Startling population growth is pushing us to find cheap, renewable, clean power sources, especially in the developing world. Of course, nature's way ahead of us, having developed photosynthesis – a complex system for harnessing solar power that uses chlorophyll to capture the sun's energy and turn it into food for plants. And scientists are increasingly looking to nature to study its tricks. In fact, researchers at the University of California, Berkeley, may have found a way to mimic – and even improve on – this biological energy source.
Conventional solar power hasn't yet hit the sweet spot between efficiency and price
Traditional solar power has been held back by high costs and low efficiency. As Erica Solomon explains, "The cost of solar power is beginning to reach price parity with cheaper fossil fuel-based electricity in many parts of the world, yet the clean energy source still accounts for slightly more than 1% of the world's electricity mix." This is mostly a consequence of the use of low-efficiency, inexpensive solar cells built from crystalline silicon. While they're affordable, their low output means they're just not very useful. In fact, conventional solar cells can only collect a few of the available wavelengths of light, yielding efficiencies of about 10 per cent. While better options are available, they're dramatically more expensive to manufacture, and ultimately cause the cost of quality solar cells to skyrocket. This is pushing scientists and engineers to experiment with new, radical approaches to solar power that depend on mixing chemistry and biology.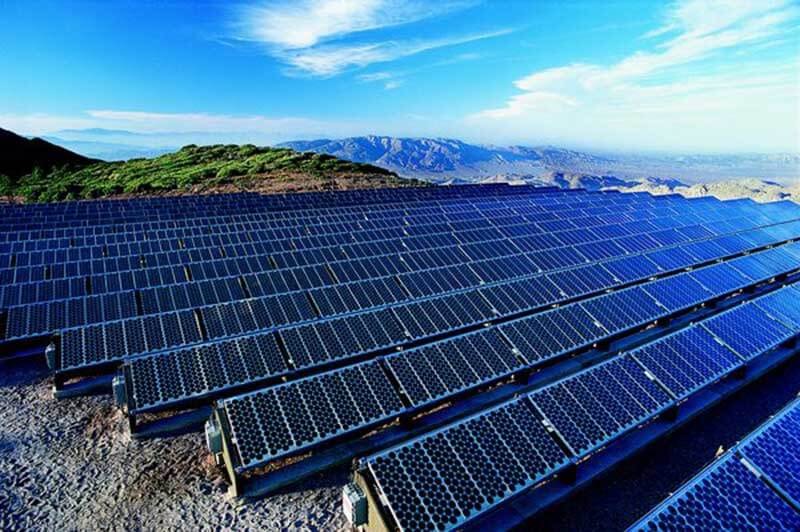 New 'cyborg' bacteria use artificial photosynthesis that's cheap and 80 per cent efficient
Kelsey K. Sakimoto, a researcher at Berkeley, has been studying how photosynthesis works to see if he can mimic its process and develop a synthetic version that's cheap enough to be commercially viable. One problem he faced is that chlorophyll converts only a tiny fraction of the solar energy it receives into food for plants, estimated to be as low as 1 per cent. Much like traditional solar cells, then, chlorophyll isn't the answer to our energy problems because it's simply too inefficient. But Sakimoto started thinking about bacteria, and came up with what he calls a "shamefully simple" solution. By adding a mixture of a sulfur-containing amino acid and cadmium to Moorella thermoacetica, he discovered that the bacteria then automatically grew microscopic nanoparticles on their surface. These particles acted like solar cells, harvesting an incredible 80% of the solar energy to which they're exposed. That's a 700 per cent gain in efficiency when compared to traditional solar cells. Because of the technique's simplicity, it's much, much cheaper than the one currently being used for high-tech panels. "These nanocrystals are much more efficient than chlorophyll and can be grown at a fraction of the cost of manufactured solar panels." And "[o]nce covered with these tiny solar panels, the bacteria can synthesize food, fuels, and plastics, all using solar energy". Because they're alive, they self-replicate; all you need to do is keep them fed with the basic building blocks for their nanoparticles.
Scientists can now produce biofuel from bacteria, ending our dependence on oil
In essence, Sakimoto's created tiny 'cyborg' bacteria that act like living solar cells. Much like any plant, Moorella thermoacetica use sunlight, water, and the CO2 from the air to generate a new chemical. In this case, it's acetic acid – basically vinegar. While this may not sound like much, the vinegar it makes can be fed to other bioengineered micro-organisms to produce polymers and biofuels, possibly ending our dependence on petroleum-based fuels and plastics.
Sakimoto knows that what's great about this approach is that it's cheap and simple. The bacteria only need their nutrient-rich broth and sunlight – they do all the hard work with little fuss and no attention required. This can be especially useful in poorer parts of the world. They're often close to the equator, which makes them ideal locations for producing biofuels all-year-round. It's an inexpensive, self-replicating source of energy, and people in many parts of the world could use this method to produce abundant, cheap energy. These biofuels, relying on solar tech, could then become the clean energy of the future and the foundation of a new economic model in the developing world.
One problem, though, is that the cadmium sulfide nanoparticles are toxic to people, and they're a known carcinogen. Peidong Yang, who oversees the lab where Sakimoto works, says that they're now looking for less dangerous alternatives that allow the bacteria to absorb light and convert it into energy. They also hope to find other bacteria that could be candidates for a bit of chemical tweaking, perhaps improving efficiency even more. By studying nature, Sakimoto's pointing the way forward to a cleaner, greener future.