The rise of micromobility
Lime vehicles have been used in more than 50 million trips since their launch
Bird achieved a $2 billion valuation in less than a year
Bond Mobility reveals high-performance dockless electric bikes
Pal scooter can learn your preferred routes
Issues and challenges preventing wider adoption
Is micromobility the future of urban transportation?
The world's urban population is growing at an ever increasing rate. The UN estimates that around 55 per cent of the global population currently lives in cities, and by 2050, this number is expected to reach 68 per cent, adding 2.5 billion new people to urban areas. One of the biggest issues associated with growing urbanisation is that there will be more people who require transportation from one point within a city to another, putting even more strain on existing transportation networks.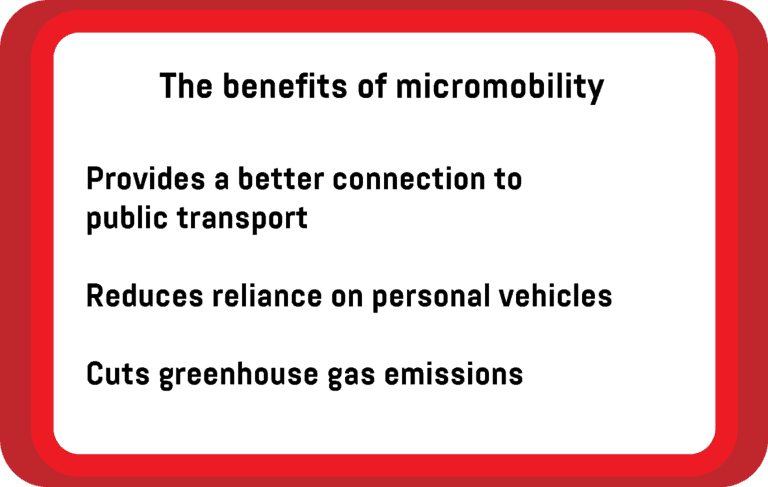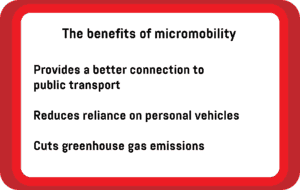 Even though public transit has repeatedly demonstrated its effectiveness in moving large numbers of people around cities, this method of transportation does have certain disadvantages, most notably the first-mile/last-mile issue. In the absence of a quick and efficient way to get to and from public transit, most people will choose personal vehicles instead, further complicating the situation in already crowded streets. In recent years, however, micromobility has emerged as a potential solution to this problem.
The rise of micromobility
The term micromobility refers to a mode of transportation that involves small, single-passenger vehicles such as electric scooters, as well as docked and dockless shared bikes. Micromobility provides numerous advantages over other forms of transportation. It provides a better connection to public transit, reduces reliance on personal vehicles, and cuts greenhouse gas emissions.


This form of transport has experienced massive growth in popularity over the last couple of years, and this trend is set to continue well into the future. In the US, for instance, approximately 84 million micromobility trips were taken in 2018, 45.5 million of which were on bikes and 38.5 million on scooters. That's an increase of 140 per cent compared to the previous year, when a total of 35 million micromobility trips were taken. And a recent report published by McKinsey estimates that the shared micromobility market across China, the European Union, and the United States could reach $300-500 billion by 2030.
Lime vehicles have been used in more than 50 million trips since their launch
Founded in January 2017, Lime has quickly become a leader in the micromobility sector. Today, the company operates in more than 100 cities, towns, company campuses, universities, and communities in 24 different countries around the world. Lime has registered more than 50 million trips on their vehicles since its launch.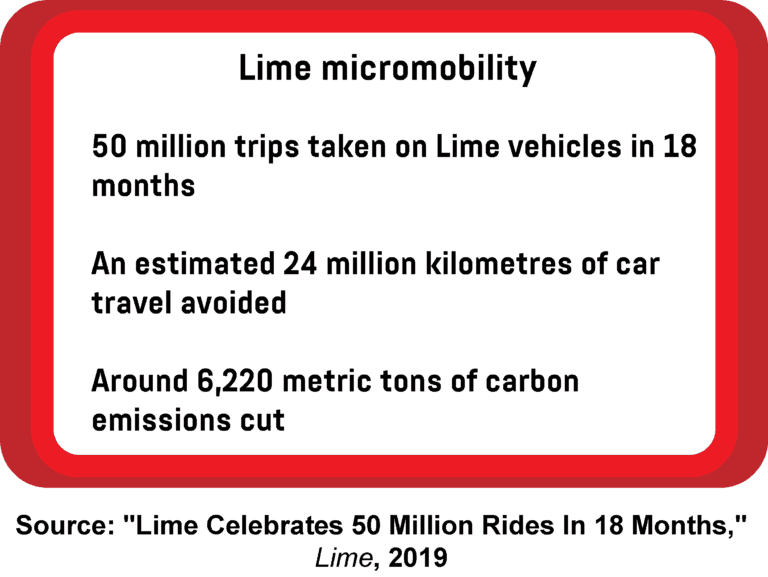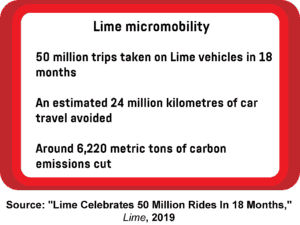 In October 2018, the company unveiled a new and improved version of its Lime-S electric scooter called the Generation 3.0. The new scooter features a lighter, but more durable frame made from aluminium, a front suspension system inspired by mountain bikes, a Linux-powered tip detection system, multimodal braking, and an IP67 waterproof certification. To improve the scooter's stability and increase rider safety, Lime also increased the wheel diameter from 8" to 10". Battery life has been improved as well, and is now 20 per cent longer. The most important addition is a 2.8" colour display located between the handlebars that shows speed, remaining battery life, and the scooter's status.
In the future, Lime plans to use augmented reality to let people know where they can park their bikes and scooters. This would help solve one of the biggest problems associated with the dockless, free-floating model employed by the company, whereby some people would simply abandon their vehicles in the middle of the street once they were done with them. Using augmented reality, the company could project a virtual box or poles on the ground through the app to show people where to leave the bikes and scooters.
Bird achieved a $2 billion valuation in less than a year
Bird, another important player in this sector, first launched its service in September 2017 in Santa Monica, California. Since then, the company's electric scooters have spread to more than 120 cities around the world, including Los Angeles, London, Paris, Tel Aviv, Antwerp, and Mexico City, with more than 10 million Bird rides recorded during that period. Bird's rise has been astronomical. In just 14 months, the company's annual revenue run rate exceeded $100 million, and it took less than a year to achieve a $2 billion valuation.
The company imports all of its scooters from China and then connects them to its software platform by equipping them with a minicomputer. This minicomputer allows the company to keep track of the scooters at all times, lock and unlock the wheels and motor remotely, or even throttle a scooter's speed. Bird also employs freelance 'chargers', whose job is to gather all of the scooters overnight, recharge them, and return them to their designated 'nests'.
It costs just $1 to rent a scooter through the Bird app, with an additional 15¢ to 20¢ charge per minute of use. Bird also recently introduced an option that allows people to rent a scooter for an entire month for $24.99. Furthermore, as there will always be people who prefer owning to sharing, the company also decided to launch a new scooter model that people can buy. The Bird One, as the new model is called, will be available for purchase for $1,299 and will come in three different colours. The new model is also more durable and has double the battery life, which allows it to cover a longer range.
"Bird One builds on the benefits and learnings of Bird Zero and is forecasted to last in the sharing environment for well over a year," says Bird's CEO, Travis VanderZanden. "Given the excitement and demand for our next generation e-scooter, we are also making a limited supply of Bird Ones available to own. Now, whether you want to share, rent, or own, Bird provides an option for everyone."
Bond Mobility reveals high-performance dockless electric bikes
Bond Mobility, one of the up-and-coming companies in the micromobility market, recently launched a new line of high-performance dockless electric bikes that can reach speeds of up to 48 kilometres per hour. While that makes them twice as fast as electric scooters offered by Lime and Bird, it remains to be seen whether riding a bike through a city at such speeds is really a good idea. Bond currently only operates in Switzerland, in Zurich and Bern, but plans to enter the US market soon, starting with California.
In addition to being faster than electric scooters, Bond bikes also have one major advantage over electric mopeds, such as those offered by Scoot. While these vehicles can reach similar speeds, they also require an additional certification to operate and must be parked in legal parking spaces, which isn't the case with Bond bikes. "We think the speed e-bike is the apex predator and we have the opportunity to eat the under-six-mile-journey category," says Kirt McMaster, the company's founder. "There's hundreds of millions of dollars in the space between the scooter guys. Scooters are just oversaturated. They are targeting the pedestrian journey. The promise of micro-mobility was about reducing the impact of your carbon footprint and gridlock, so you need to replace vehicle transportation."
Pal scooter can learn your preferred routes
The UK-based design agency Layer and the Chinese automotive company Nio recently joined forces to develop an electric scooter called Pal, which uses artificial intelligence and machine learning to learn its owner's favourite routes. "At Layer, we believe that the future is autonomous and sustainable, and it is important to create products that offer more convenience without inconveniencing the planet," says Layer's founder, Benjamin Hubert. "Pal is a near-future concept for a nimble 'last-mile' electric vehicle that addresses the growing congestion and population density of our cities and offers a possible solution to these challenges."
The scooter is equipped with Nio's intelligent AI system called Nomi, which allows it to learn the user's preferred routes over time and even take them to a desired location autonomously. It's powered by a modular electric battery, which users can charge at home or in the trunk of a Nio vehicle. Alternatively, they can simply remove the battery and replace it with a new one to continue the journey immediately. An app on the user's smartwatch or phone is used to connect Pal to the AI Nomi system, while a wireless bluetooth earpiece allows them to control it and ask it questions via simple voice commands. For example, the user can ask the scooter about the remaining battery life, the best available routes, or command it to take them to work.
The scooter features so-called 'lean steering', thanks to a pressure-sensitive suspension that allows the user to increase or decrease the speed by leaning forward or back, while curving left or right makes the vehicle turn in that direction. Each wheel is powered by a separate motor, which allows it to alternate the speed of the wheels independently from one another to turn the vehicle. The scooter is strong and lightweight at the same time, thanks to a graphene-coated carbon-fibre chassis and steering column. To make the scooter better suited to their needs, users can also attach various accessories to the steering column, such as a bag, a basket, or a shopping cart.
Issues and challenges preventing wider adoption
Like any other new technology, micromobility solutions have attracted a great deal of scepticism and controversy. Lime has already paid nearly half a million dollars in fines and court fees, hundreds of its scooters have been seized, and it received numerous cease-and-desist letters from angry government officials, as well as several lawsuits. Other companies have faced similar difficulties. Some cities, like New York City, Philadelphia, and Chicago, have banned electric scooters altogether.
Companies have also had to deal with theft and vandalism, with frequent reports of people running scooters over with their cars, setting them on fire, or throwing them off buildings. Getting users to comply with government-mandated policies has also proven difficult, with people often refusing to wear a helmet or leaving their scooters lying in the middle of the street once they're done with them, rather than parking them in their designated spots.
Even the vehicles have certain disadvantages that limit their usefulness. Their small form factor, for example, makes them unsuitable for some people, such as those with certain disabilities. They're also extremely susceptible to weather conditions, particularly rain, snow, and cold, making their use seasonal.
Is micromobility the future of urban transportation?
As the world's urban population continues to grow, so do the demands on its existing transportation network, forcing cities to look for new solutions that would alleviate the burden. In recent years, micromobility has emerged as a potential solution to this problem, one that could revolutionise urban transportation. Micromobility solutions provide numerous advantages over other forms of transportation, such as connecting people with public transit, reducing reliance on personal vehicles, and cutting greenhouse gas emissions.
However, there are still some challenges and issues left to be resolved before micromobility can realise its full potential. Some cities haven't reacted well to electric scooters in their streets, going so far as to ban them completely. Moving forward, micromobility players will have to cooperate with city governments to find a solution to some of their unresolved issues, while cities will have to devise a new regulatory framework that will govern the use of these vehicles in a way that will benefit everyone involved.