Unusual holidays at futuristic undersea resorts
The aquanauts in Florida already live underwater
Will we actually live in sub-aquatic communities by the end of this century?
Ocean Spiral deep sea city can accommodate thousands
Syph Ocean City could be a solution for when land starts to disappear
Oceanscrapers made from the Great Pacific Garbage Patch
Mankind may need alternative habitats sooner than we think
With environmental catastrophes looming and our population growth spiralling out of control, finding alternative habitats is becoming an increasingly important topic on many agendas. Some tech giants such as SpaceX and Boeing are looking into colonising space, while others are of the opinion that our planet can still offer us various solutions. Think sub-aquatic living, for instance. Isn't it interesting that, although approximately 70% of our planet is covered in water, an incredible 95% of that has never been explored? We know more about the Moon and other planets than about the oceans beneath us. But the deep blue seas may just be the next possible location to explore and build entire cities, even though sub-aquatic living somehow seems more alien to us than colonising Mars.
1. Unusual holidays at futuristic undersea resorts
Developers are all too aware that an increasing number of travellers want to experience unusual holidays and many find the allure of being underwater irresistible. A few of these developers have already built incredible sub-aquatic hotels while many others are developing mind blowing underwater resorts as we speak. Some examples are the Zanzibar Manta Resort with their underwater room which offers guests breathtaking sub-aquatic views. Then there's the Poseidon Undersea Resort, located on a private island in Fiji. Apart from the luxury undersea guest suites, this resort also boasts an underwater wedding chapel and dining room. In the Maldives, located nearly twenty feet under the Indian Ocean, is the first underwater nightclub, SubSix which is only accessible by boat from the nearby Niyama Resort. Deep Ocean Technology, in collaboration with Swiss firm BIG InvestConsult and Dubai-based construction company Drydocks, are in the process of developing a number of underwater resorts in the Gulf region, the first of which will be the Water Discus in Dubai. The hotel will consist of an underwater and above water section, connected by vertical pillars that accommodate stairways and elevators. A wide shaft will offer views to the sky for those who suffer from claustrophobia. Security systems, equipped with the latest international weather monitoring software and numerous cameras as well as remotely operated underwater vehicles will ensure guest safety at all times.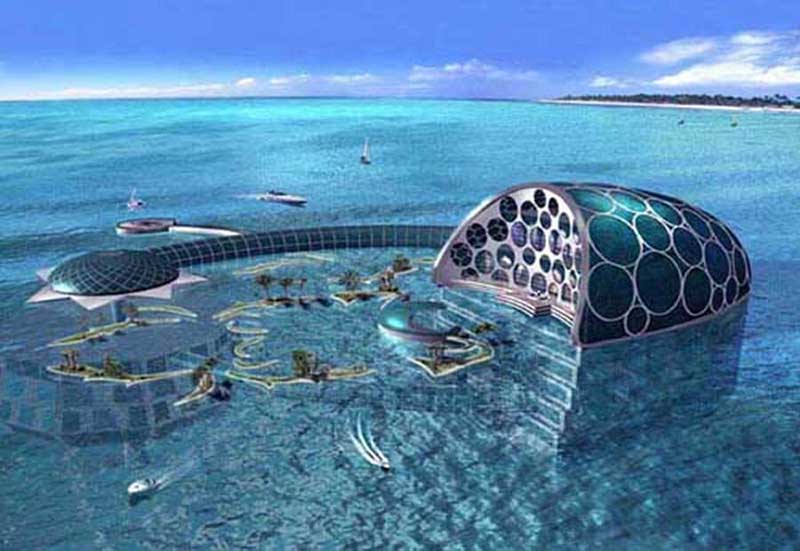 2. The aquanauts in Florida already live underwater for weeks at a time
The NASA Extreme Environment Mission Operations project (NEEMO) regularly sends groups of engineers, astronauts and scientists to the Aquarius Reef Base, a research facility in the Florida Keys National Marine Sanctuary. The research centre, run by Florida International University, is located almost 20 metres underwater, is the size of an American school bus and has bunks for six people. There's electricity, a shower and a kitchen. Astronauts sometimes stay there for several weeks at a time, to prepare for space exploration. Like space, the undersea world is an alien, hostile place for humans and the Aquarius habitat provides the aquanauts with similar challenges that they would encounter on another planet. The NEEMO missions prepare the aquanauts for living in extreme environments, to experience different types of gravity and test various techniques and equipment. The entrance to the Aquarius Reef Base is a 'wet porch', a shimmering horizontal liquid interface between ocean and air. This interface with the outside world is maintained by the pressure of air inside, holding back the water that would otherwise stream in. The Aquarius is held firmly in its place via a base plate that weighs over 100 tonnes. A thick cable provides air, power, a mobile phone signal and Wi-Fi from the surface above to the depths below.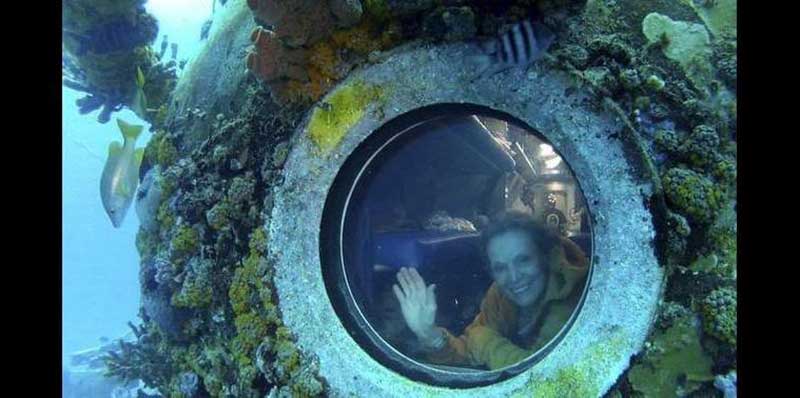 3. Will we actually live in sub-aquatic communities by the end of this century?
Being underwater for extended periods of time is certainly possible, as we can see from the above sub-aquatic luxury resorts and the Aquarius research facility. But actually building underwater communities, making the depths of the ocean habitable, is another thing altogether. In the Future Living report by Samsung-owned Internet firm SmartThings, space scientists, architects and urban planners state that, within 100 years we will be living in bubble cities under the sea. Using solar technology, we will be able to create underwater communities, using the surrounding water to create atmospheres where we can breathe, and through this process, generate hydrogen fuel to fulfil our electrical requirements. The team's projections are based on the world's energy needs, population growth and current technology.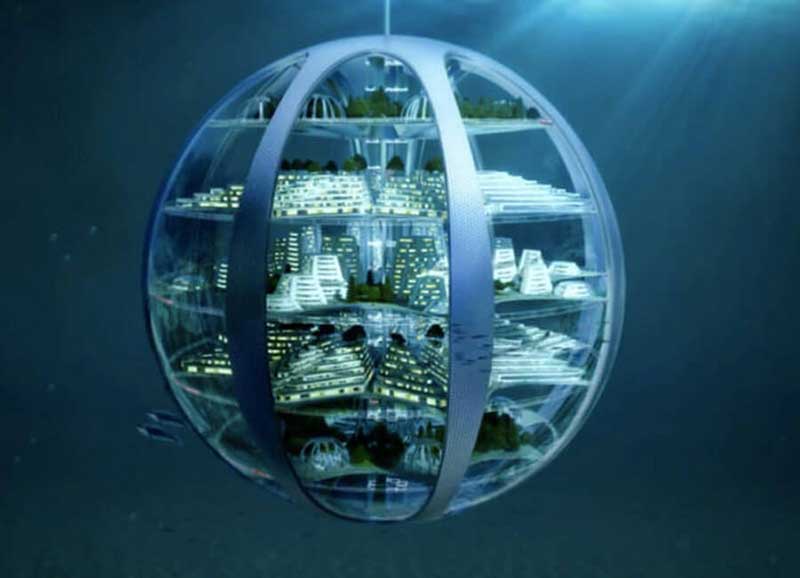 4. Thousands will be living in the Ocean Spiral deep sea city
Japanese company Shimuzu Corp sees enormous potential in the deep sea and they have been working on a new deep sea city concept that can accommodate around 5,000 people in various types of homes. The Ocean Spiral will be a proper city with stores, offices, hotels and many other facilities. The city will be completely self-sufficient, with fresh water supplied by reverse osmosis membrane desalination. Energy will be generated through ocean thermal energy conversion, taking advantage of the temperature differences between the cold water of the deep sea and the surface water heated by the sun. The spiral shaped ocean city vertically links together the sea floor, the deep sea, the sea surface and the air – where the spiral leads up to a floating sphere. According to Shimuzu Corp, the technology to sustain a city of thousands underwater is no more than 15 years away and the costs of building the sub-aquatic city is estimated at $20 billion.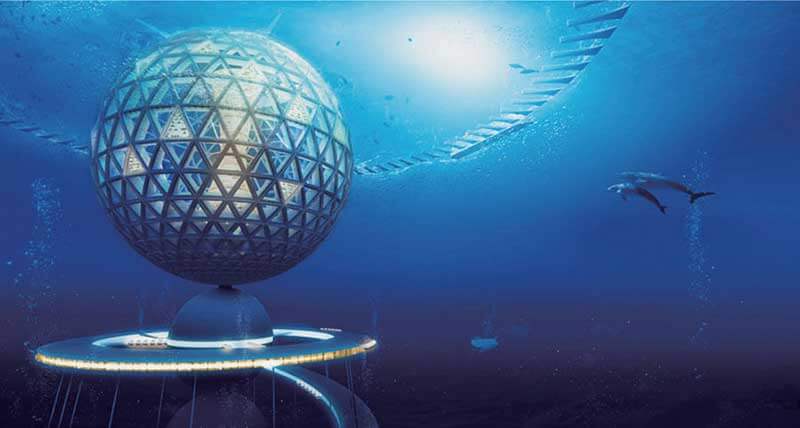 5. Syph Ocean City could be a solution for when land starts to disappear
Australia is a rather high-risk region when it comes to rising sea levels and when land starts to disappear, alternatives need to be found. Arup Biomimetics, one of the entrants of the 'Now & When Australian Urbanism Exhibition', proposed a creative solution with Syph, the Ocean City. Syph will consist of a collection of organisms or pods, that each have a specific function, ranging from sustainable food production to energy generation. The surface of Syph will boast a small forest, while the lower levels offer areas where people live and work. Underneath this incredible ocean city are squid-like tentacles that generate kinetic energy. Syph will make use of wave, wind and solar energy in order to support residents, farming, aquaculture and hydroponics.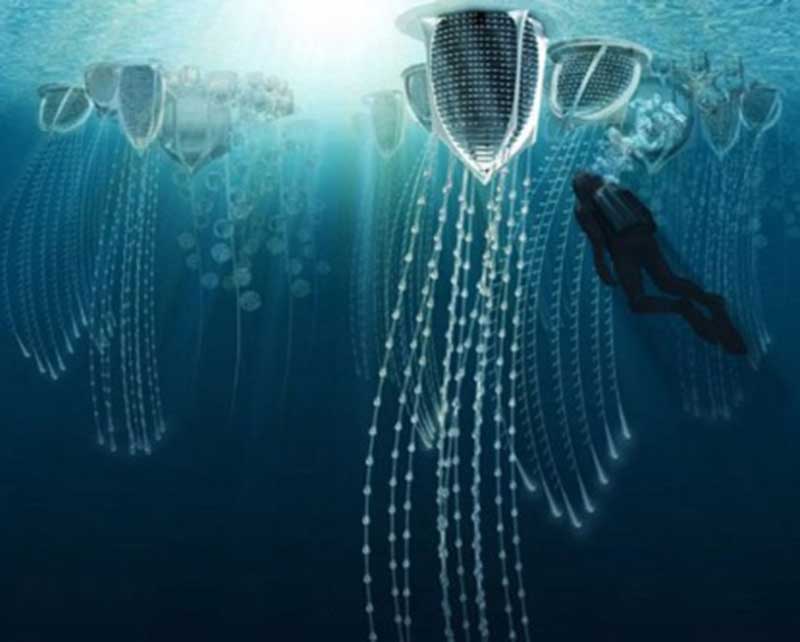 6. Oceanscrapers made from the Great Pacific Garbage Patch
The Aequorea project by Belgian architect Vincent Callebaut imagines a series of underwater villages that could each accommodate no less than 20,000 people. The underwater villages will take the shape of spiralling oceanscrapers that reach all the way to the bottom of the world's oceans. The ocean scrapers resembling jellyfish will be constructed from the Great Pacific Garbage Patch, also known as the Seventh Continent. Not only will the eco villages offer living spaces, they will also house farms, sports fields, offices, science labs and hotels, all across over 200 floors, reaching a total depth of one kilometre. Organic waste will be recycled by microalgae, bioluminescence will provide lighting and drinking water will come from desalinated seawater.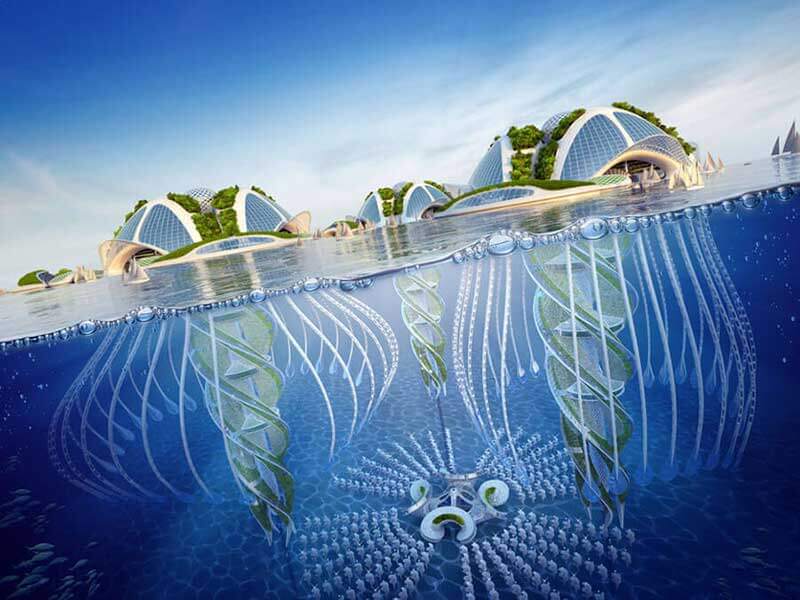 7. Mankind may need alternative habitats sooner than we think
Staying at an underwater resort is probably an incredible experience for people searching for adventurous holidays and one can even picture the aquanauts 3-week training sessions under the surface of the ocean. Because it is temporary. But could anyone ever live in an underwater city permanently? Even though the technology exists, no one has ever really tried to build an underwater community and it would probably only be available to the most affluent. Building entire cities in the ocean would certainly be an ecological disaster but mankind may need alternative habitats sooner than we think. In 100 years' time, sea levels will have risen by several metres. This means that cities like New York, Los Angeles, Miami Florida, London, Venice, Shanghai, Bangkok and Mumbai and many others around the world are likely to be submerged by the end of the century.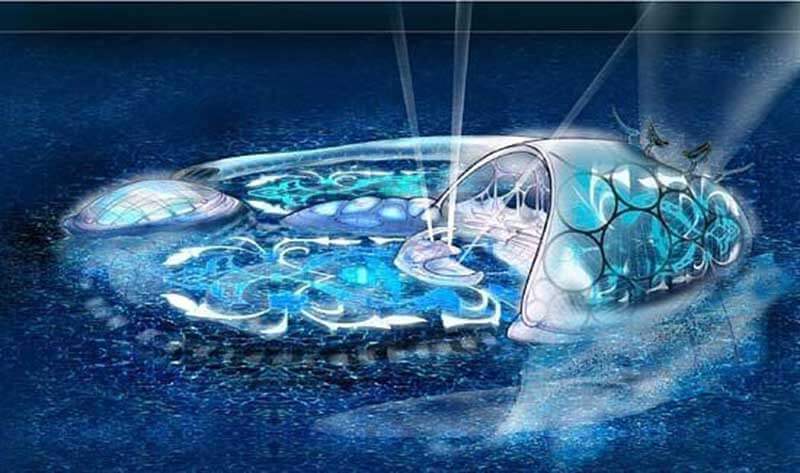 With life on land becoming increasingly challenging, living on or underneath the surface of the water may not be such a bad option after all.