The first floating dairy farm in the world will soon be built in Rotterdam
The farm will be a shining example of circular farming
Not everyone is convinced floating farms will be a success
The world's population is increasing at a rapid pace and is expected to reach 9.8 billion by 2050, with 70 per cent of people living in cities. However, due to the ever decreasing availability of arable land, finding a way to produce enough food to feed all of those people is turning out to be one of the biggest challenges facing our society today. One Dutch company believes that the solution to this problem could be floating dairy farms.
The first floating dairy farm in the world will soon be built in Rotterdam
The Rotterdam-based property development firm Beladon recently unveiled plans to build the world's first floating dairy farm. "Seventy percent of the face of the Earth is water, while the world population is growing and arable land is limited so we have to look at other ways to produce fresh food next to the citizens, to reduce transport," says Minke van Wingerden, a partner in Beladon and the leader of the project. "It's a logical step to produce fresh food on the water. Most big cities are situated in [river] deltas, and it's easy to use the deltas for food production." The €2.5 million, 1,200-square-metre facility will be located in Rotterdam's Merwehaven harbour and will be made from concrete, with galvanised steel frames anchoring it to the bottom of the harbour to keep it stable, even during hurricane-force winds. The farm will consist of three levels; the first level will house the machinery for processing and packaging the dairy, the second level will be populated by cows and milking robots, while the third level will be used to grow various plants for the cows to eat, including red clover, alfalfa, grass, and duckweed.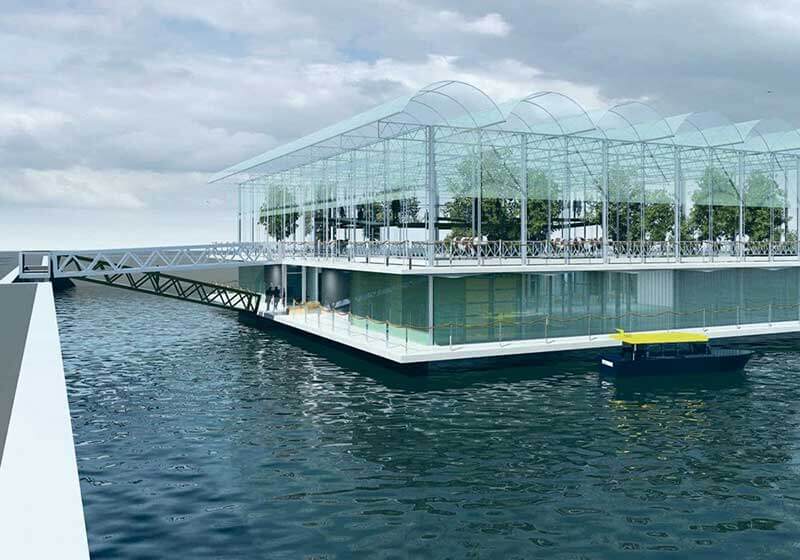 The farm will be a shining example of circular farming
Once operational, the farm will house 40 Meuse-Rhine-Issel cows, producing about 800 litres of milk per day. The farm will be connected to the shore via a gangplank, which will give cows access to a nearby pasture and provide them with another source of food.
The farm will feature other sustainability measures as well. The floor will be covered with a special membrane that will let the cows' urine soak through and use it to fertilise the plants, while robots will collect the manure, which will then be sold as fertiliser or used to generate energy. Some of the energy for the farm will also be generated through solar panels installed on the roof, while rainwater will be used to supplement its water supply.
Placing the farm so close to the centre of Rotterdam should help reduce some of the costs and CO2 emissions resulting from transporting food from farms located further away from the city to local grocery stores. It should also ensure that the residents always have access to fresh food, even with supply chain disruptions. In fact, that's precisely how Peter van Wingerden came up with the idea to build a farm on water in the first place. In 2012, while he was working on a project in New York, he witnessed firsthand how hurricane Sandy disrupted the city's transport network and left New Yorkers unable to buy fresh produce in stores. "Seeing the devastation caused by Hurricane Sandy I was struck by the need for food to be produced as near as possible to consumers," says van Wingerden. "So the idea came up to produce fresh food in a climate-adaptive way on the water."
Not everyone is convinced floating farms will be a success
Some people are a bit skeptical about the whole concept, though. "Attempting to grow and sustain cows, and more broadly livestock, in an indoor environment is ambitious," says Weslynne Ashton, a professor of environmental management and sustainability at the Illinois Institute of Technology in Chicago. She's concerned that the farm might pollute the harbour water and that the CO2 emissions resulting from transporting feed for the cows to the farm could negate some of its environmental benefits.
Dr Fenton Beed, a team leader at UN's Food and Agriculture Organisation, is another skeptic. While acknowledging that urban farms can be useful – because they generally use less water, fertiliser, and pesticides than conventional farms – he doubts their ability to produce enough food to feed the world's growing urban population. "Constraints to producing food in controlled environments include costs for initial investment, LED lighting and continuous energy supplies," he says. "That means that unless policies incentivise the engagement of smaller producers, this technology will be reserved for income-rich private and public entities."
With the global population constantly growing in numbers and arable land increasingly hard to come by, it's becoming clear we need to find alternatives to our existing food production methods. While it's too early to tell whether floating farms are the solution we've been looking for, it's certainly a promising idea that could bring food supply closer to residents and provide more food security in a world increasingly affected by climate change.