Piëch's tech promises super-fast charging
The electric car that outperforms Ferrari and Lamborghini
Harley-Davidson's electric motorcycle will hit the road soon
Nera is the world's first 3D-printed electric motorcycle
Rolls-Royce will build the world's fastest all-electric aircraft
EVs are a fast-growing technology
Petrol and diesel vehicles are slowly losing their status as the building blocks of the modern transport system. Driven by environmental and profit concerns, governments and corporations are turning to electric vehicles (EV), instead. Many countries are subsidising the purchase of EVs and the construction of charging stations, while businesses are ramping up their innovation efforts. Germany, for instance, created a subsidy fund worth €600 million to increase the sales of electric cars and plug-in hybrids, with an additional €600 million offered by manufacturers. Countries like China, Norway, and the US all have similarly generous incentives as well.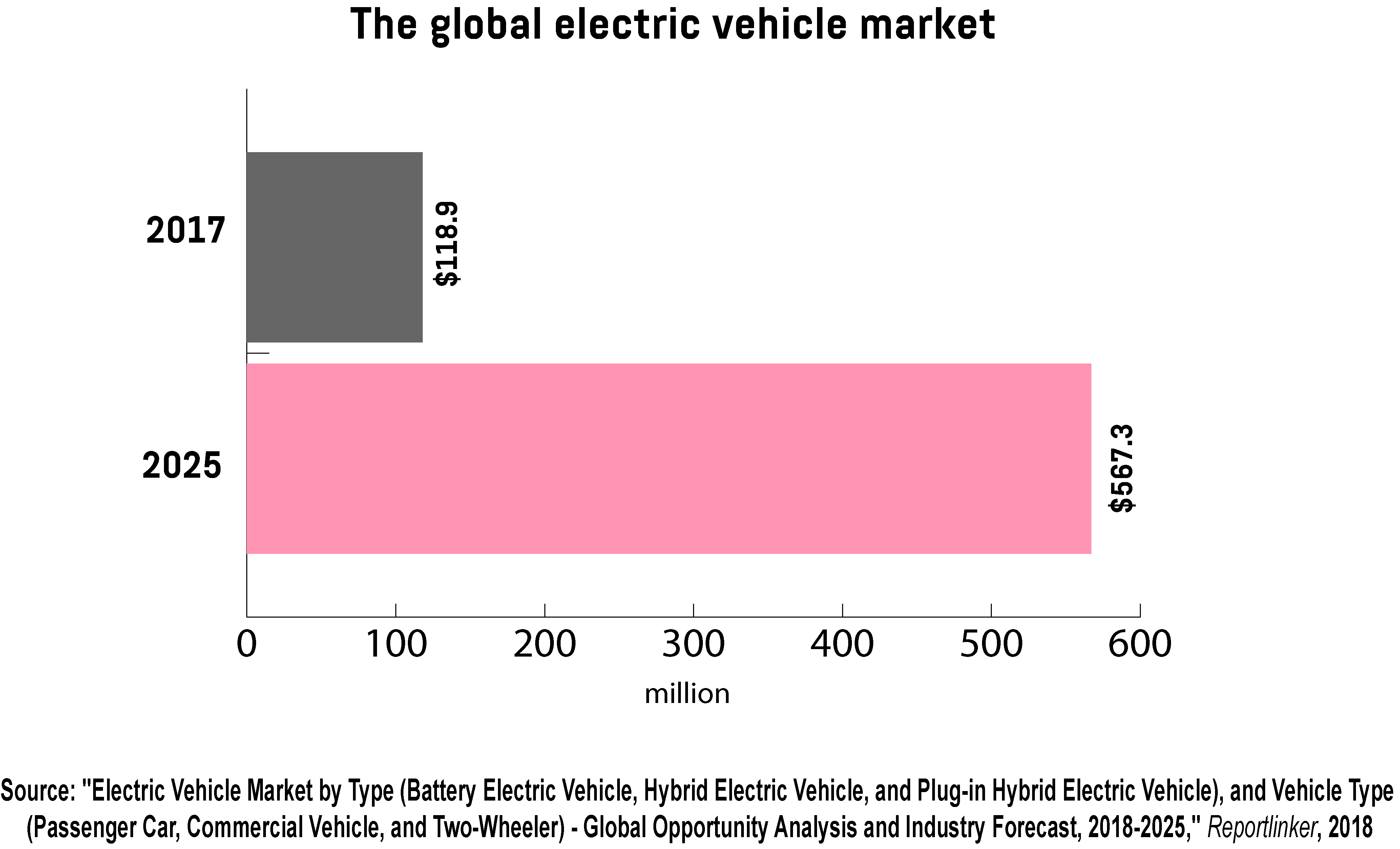 This trend reflects positively on the value of the global EV market that's set to reach $567 billion by 2025. Furthermore, according to McKinsey & Company, in 2017, global sales of new electric vehicles surpassed 1 million units, which could grow to 4.5 million units by 2020. Carmakers took notice and they plan to launch around 340 new EV models by 2021, while California, France, and the UK have announced that they'll end sales of fossil fuel vehicles by 2040.
The Netherlands is even more ambitious, and it plans to make all new cars emissions-free by 2030. For now, things are going as planned. There are almost 50,000 fully electric cars in the country, twice as many as at the end of 2017, and this figure doesn't even include hybrids. Of all the new cars registered in 2018 in the Netherlands, an impressive 5.4 per cent were fully electric vehicles. Owners of EVs save thousands of euros on registration tax and road tax, while authorities join forces with local businesses and educational institutions to increase the number of charging stations. And Dutch trains, subways, and trams are 100 per cent electric and powered by clean wind energy, while local taxis plan to follow suit as of 2021.
These events signal what the future of transportation might look like, but for EVs to become mainstream, companies will have to build cars that charge faster, travel further, and most importantly, cost less. The vast number of innovative EV projects is a sign that creative companies can overcome most of these obstacles.
Piëch's tech promises super-fast charging
A German-Swiss electric car startup, Piëch Automotive, recently unveiled its very first luxury electric car named Piëch Mark Zero. The vehicle uses innovative battery technology, with cells that can be charged up to 80 per cent in 4:40 minutes. In other words, charging takes just a bit more time than refuelling your car at a petrol station. Also, the batteries are lighter than in most other EVs, which brings the weight of the car well below two tonnes.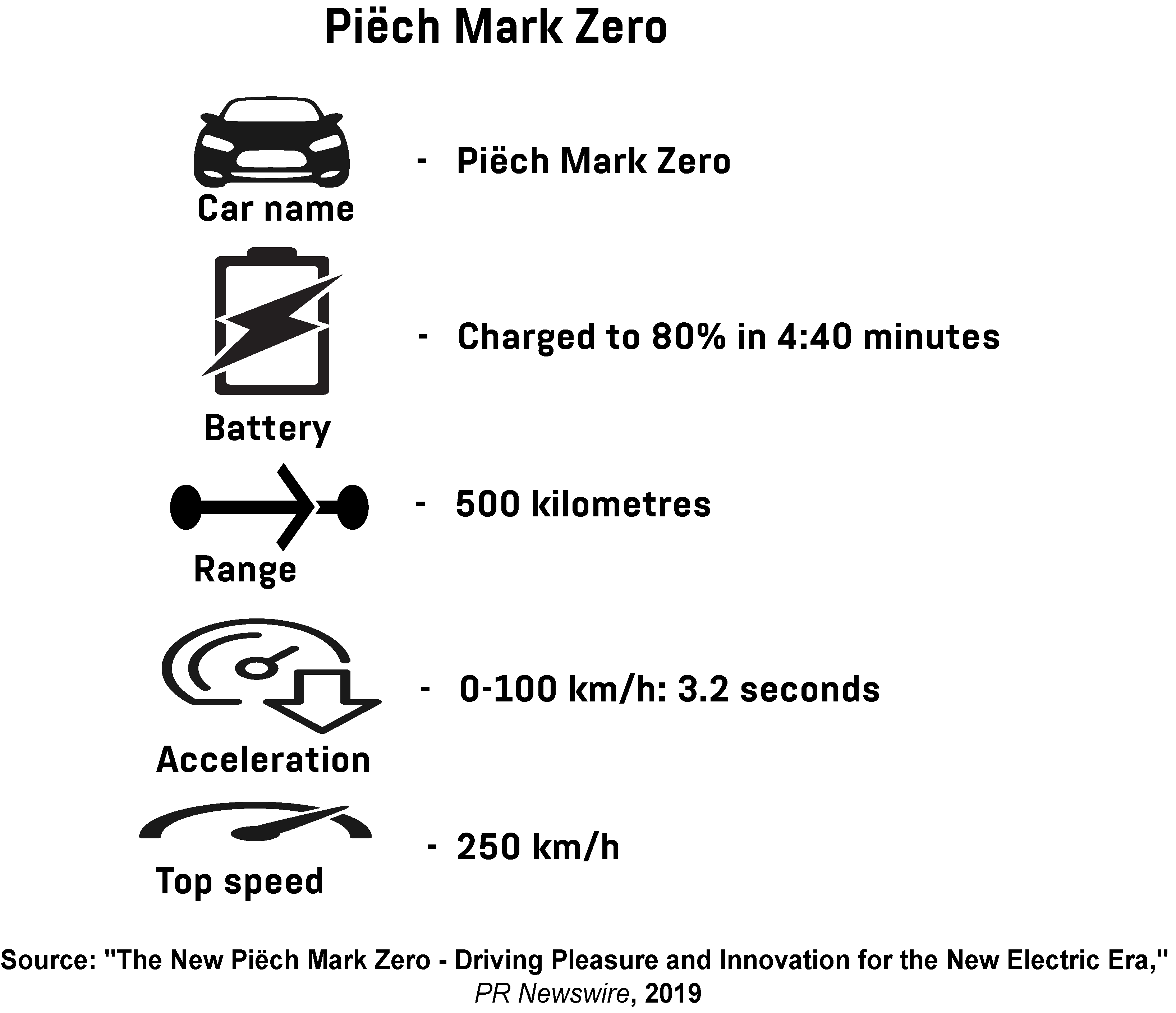 It also boasts an impressive range of 500 km and is powered by three motors, each delivering 150 kW. Acceleration from zero to 100 km/h takes 3.2 seconds with a top speed of 250 km/h. These stats are yet to be confirmed in the real world, though, as the Piëch Mark Zero is a concept car and isn't mass-produced. And although the company didn't announce the price range of this vehicle, it's evident that it's targeting high-income buyers. At least for them, slow charging EVs won't be an issue they have to deal with.
The electric car that outperforms Ferrari and Lamborghini
Another treat for deep-pocketed buyers of electric cars comes from Italian designers. Automaker Automobili Pininfarina recently unveiled the Pininfarina Battista, an all-electric vehicle that develops 1,900 brake horsepower (bhp) – two times more than a Formula 1 car – leaving behind competitors like Ferrari and Lamborghini. The Battista is also capable of accelerating from zero to 100 km/h in less than two seconds and has a top speed of more than 400 km/h.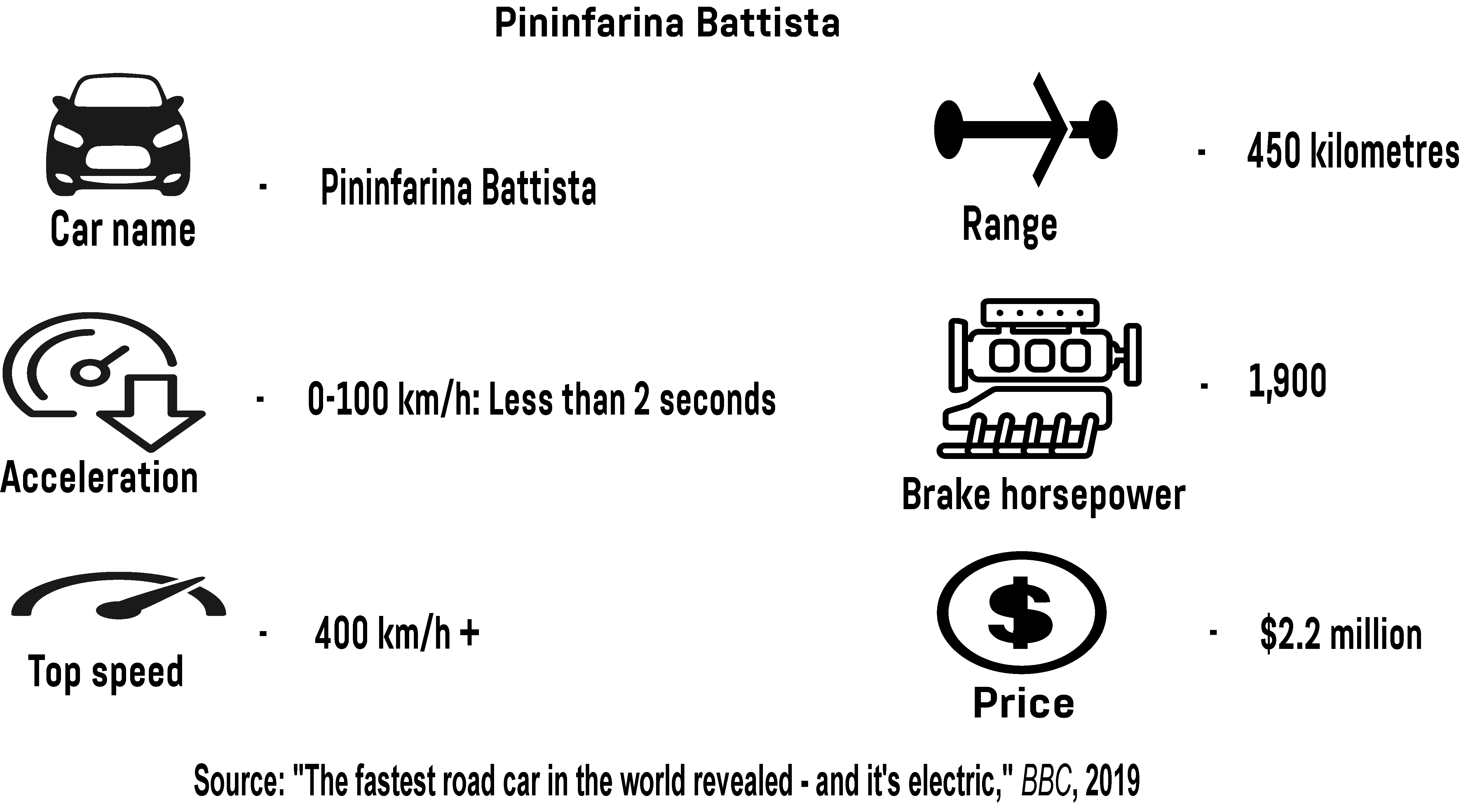 Drivers of this hypercar, priced at $2.2 million, will be able to travel 450 km on a single charge. Anand Mahindra, the chairman of the Indian conglomerate Mahindra Group that owns Automobili Pininfarina, is aware that shared mobility and autonomous vehicles are the future. However, he also points out that this trend won't "affect people's desire for things of beauty and make the heart beat faster". Emissions-free technology is developing fast, and the Battista proves that electric cars can outperform fossil fuel vehicles.
Harley-Davidson's electric motorcycle will hit the road soon
The famous motorcycle manufacturer Harley-Davidson is also entering the green vehicles market. The company is now taking pre-orders for its first electric motorcycle, called LiveWire, with deliveries expected to begin in August 2019. The price is set at $29,799, which is well above the price tag of competitors like Zero S, whose models can be purchased for as low as $10,995. LiveWire comes with a powerful engine that accelerates to 100 km/h in less than four seconds and can travel 177 km on a single charge.
And because of the electric engine, there won't be a clutch and gear shifting, which is welcomed by new riders. Nevertheless, the engine will still produce a distinctive sound as it accelerates and gains speed. The motorcycle will also be equipped with the H-D Connect system that transmits data such as battery charging levels and GPS location to the mobile app. In fact, Harley-Davidson claims that LiveWire will be the "first mass-market cellular-connected electric motorcycle". It remains to be seen whether this 116-year-old brand has as much appeal to younger, tech-focused drivers as it does to its existing customers.
Nera is the world's first 3D-printed electric motorcycle
The German manufacturer of 3D printers BigRep went one step further than Harley-Davidson and combined electric motors with 3D printing technology. The end-result is Nera, a futuristic motorcycle with sharp angles and airless tires. It's composed of only 15 fully printed parts, except for the electronics components that had to be brought from outside. The project is still in the prototype phase and tests are ongoing, but Nera could eventually cost around $2,600.
Stephan Beyer, the CEO of BigRep, says that "Historically, engineers and designers have been limited with manufacturing technologies like grinding and molding". But 3D printing enables companies to make a wide range of shapes and integrate them into a final product. Also, designers can immediately test prototypes and make changes without having to wait for third party suppliers to deliver new parts.
Rolls-Royce will build the world's fastest all-electric aircraft
And while most EV manufacturers focus on ground vehicles, the British industrial giant Rolls-Royce took to the skies. Within a UK government-funded initiative called ACCEL, short for Accelerating the Electrification of Flight, the company announced plans to fly the world's fastest all-electric aircraft over Great Britain in 2020, with a target speed of over 480 km/h. The current speed record in this field is 337 km/h, and it was set by Siemens in 2017.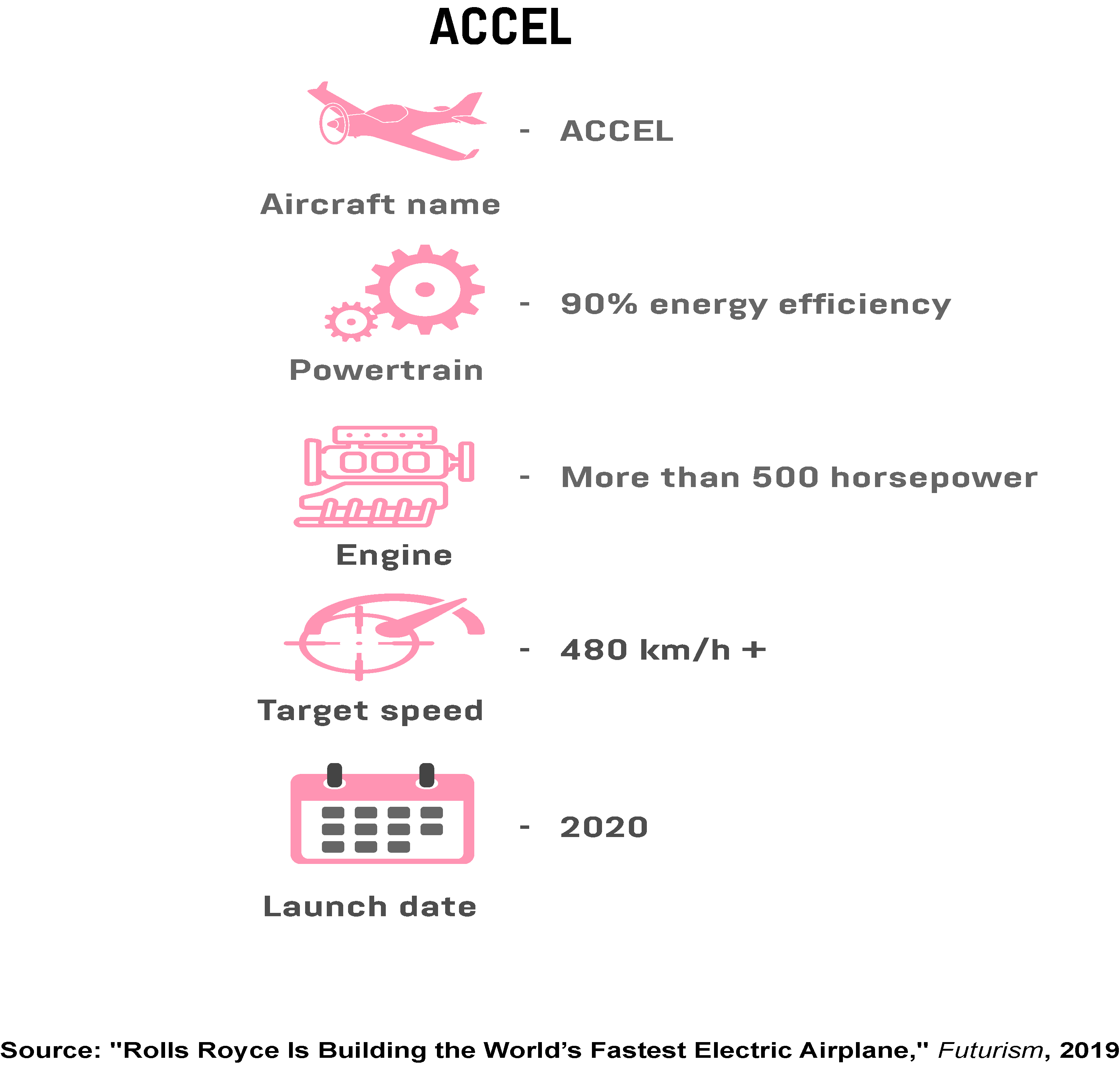 The Rolls-Royce aircraft will be powered by three electric motors that produce more than 500 horsepower and rely on a battery packed with 6,000 cells. It will also feature an all-electric powertrain with 90 per cent energy efficiency. The company claims that this would be the most energy-dense battery ever created for an aircraft and could provide enough energy to fly from London to Paris on a single charge.
But getting to that point is challenging, and engineers need to make the battery powerful, light, and stable, so it doesn't overheat. If successful, though, this project could be a major step towards the electrification of flights. The new engine could power various types of air vehicles and make zero-emission aviation a reality. Rolls-Royce's project manager, Matheu Parr, is confident that the British corporation can deliver as promised and says that "At this point, our confidence is sky high."
EVs are a fast-growing technology
The scale of investments poured into electric vehicles signals that governments and corporations see this as the key method for achieving zero-emission transportation. Yet, EVs aren't a 'silver bullet' that can solve all problems. For one, coal remains the single most used source of energy in electricity production worldwide, which means that charging electric cars indirectly contributes to the pollution of the environment. Also, a high number of EVs in urban areas might lead to a surge in electricity demand and cause instability in the power grid. Besides that, long charging times, high price, limited range, and a scarce network of charging stations hamper the growth of this market.
Nevertheless, electric vehicles offer many benefits, and the tech innovations in this industry demonstrate their wide applicability. Yes, they're more expensive, but charging an EV costs less than refuelling. Also, subsidies bring down the cost of purchasing these vehicles, and even if charged by 'dirty' energy sources, electric cars still pollute less in their lifetime than fossil fuel vehicles. And with growing global investments in renewable energy sources, zero-emission vehicles seem like a realistic goal. But like any other nascent technology, it'll take more time until it becomes mainstream and decisively changes the status quo.