A new generation of self-driving trucks
New advances in sustainability
AI, the IoT, and data in the freight transport industry
A universal vehicle-to-vehicle communication protocol?
Developments in freight transportation security
The freight transportation industry is vital for global supply chains, and its importance for maintaining the way we live and work cannot be overstated. However, the industry faces many problems, from environmental concerns and labour shortages to security issues. Thankfully, new developments in vehicles and related technologies are helping to overcome these challenges. Artificial intelligence (AI), autonomous vehicles, sustainable energy sources, communications protocols, and smart devices are all transforming the industry.
---
A new generation of self-driving trucks
It has been estimated that 90 per cent of long-haul trucking may soon be carried out by self-driving vehicles. According to Acumen Research and Consulting, the market for autonomous and semi-autonomous trucks will likely reach $88 billion by the year 2027, and the US Department of Transportation is carrying out extensive (and expensive) research into the technology. The benefits of autonomous trucks are clear – with consistent speeds and no need for rest stops, journeys can be much faster and more fuel efficient than they would be with human drivers. The technology could also be a solution to the labour shortage affecting the industry globally. In 2021, there was a shortfall of 80,000 truck drivers in the US and 400,000 in Europe. Instead of a human driver for each vehicle, drivers could manage fleets of autonomous vehicles remotely.
Many companies are investing in the development of autonomous and semi-autonomous trucks. Tesla's Semi electric truck, for instance, includes an advanced 'autopilot' mode that shows promise for the concept of autonomous long-haul trucks. A similar vehicle has been developed by DeepWay, and another is being designed by Scanias. US-based Gemini Motors is planning to launch a fleet of autonomous 'RoboTrucks' powered by zero-emission hydrogen fuel cells and will be able to drive "24 hours a day and seven days a week".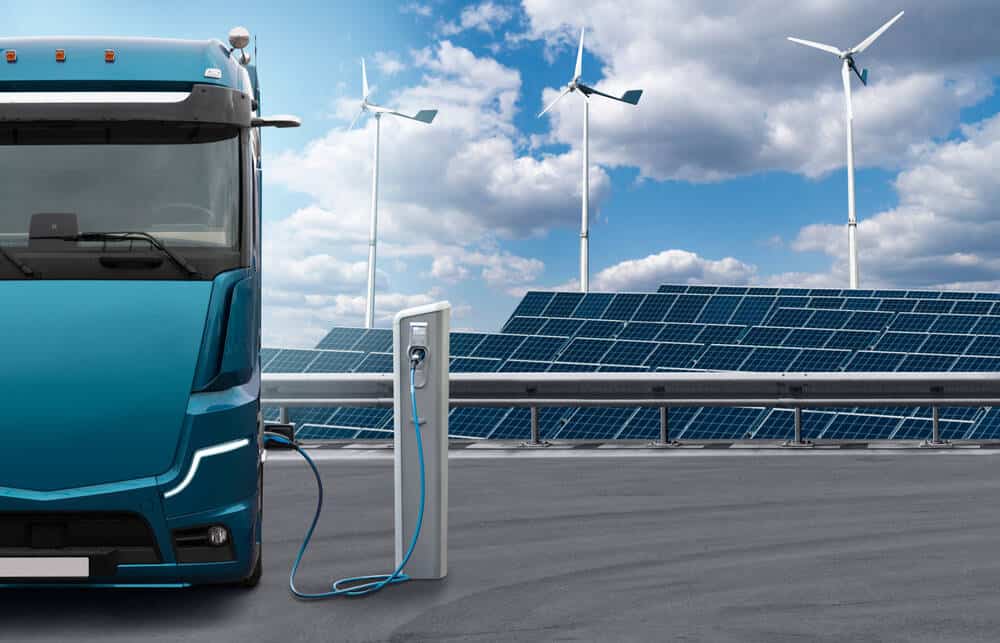 Autonomous vehicle technology itself is also rapidly improving. A company called Waabi, founded in 2021 by Raquel Urtasun, has created the Waabi Driver software, an AI-based navigation system with "an array of sensors, including laser-based lidar, cameras, and radars to help steer trucks". The system also includes a simulator that can train the AI 'driver' in various real-world scenarios before the vehicle even moves. Machine learning (ML) of this type could continuously improve the driving skills of AIs. Despite the promise of this technology, however, regulations will need to be implemented and autonomous lanes introduced if self-driving trucks are to become the industry standard in the years to come.
---
New advances in sustainability
While the freight transport industry is a huge source of carbon emissions that damage the environment, fortunately, technological advances could turn the sector into a more sustainable one. Around 60 per cent of truck journeys are shorter than 500 km and can be completed with a single charge of an electric battery, making internal combustion engines only necessary for the longest of journeys. German automotive and aerospace firm Schaeffler has now developed a range of "oil-cooled electric motors" for trucks. The new motors can also recover energy while the vehicle is idling in traffic, rather than traditional petrol or diesel-powered vehicles that waste significant amounts of energy in this state. The oil-cooling system and "smart valve regulators" further boost energy efficiency. Tesla's Semi truck also uses electric batteries to increase efficiency. Although the vehicle is more expensive than other trucks, its electric-based fueling significantly cuts costs and emissions — a 320 km trip is estimated to cost less than $30, compared to around $170 for a diesel truck making the same journey. If widely adopted, developments like these could also be instrumental in reducing the emissions of the freight transport industry.
Solar power is another promising area for reducing fossil fuel usage. Swiss transport firm Kuehne+Nagel is installing 'photovoltaic' solar panels on the roofs of its vehicles. These panels can reduce fuel consumption by up to 6 per cent and emissions by 3.8 tonnes yearly. And Scania is building an electric truck charging park in Sweden, where solar energy firm Soltech Energy is constructing a solar-powered battery energy storage system that will "reduce peak load on local electricity grids and achieve carbon neutrality, either by pairing with renewables or simply better controlling when it charges from the grid".
---
AI, the IoT, and data in the freight transport industry
Data is extremely useful in countless industries, and the freight transport industry is no exception. Swedish automotive giant Volvo is one of many companies harnessing the power of data by installing smart Internet of Things (IoT) devices on its vehicles. These devices can detect when maintenance is needed, reducing the need for more expensive repairs further down the line. With Volvo's Remote Diagnostics System, sensors monitor metrics like engine and transmission performance, and communicate them to a central hub called the Volvo Uptime Centre if issues are detected. So far, the programme has cut average repair times by 24 per cent and average diagnostic times by 71 per cent. The software that powers Gemini Motors' RoboTrucks also carries out similar predictive maintenance, using a range of sensors and machine learning capabilities.
Artificial intelligence (AI) is being used for more than just self-driving itself — studies show that fleets of vehicles that used AI dashcams and AI coaching had 56 per cent fewer unsafe driving incidents, 31 per cent fewer instances of speeding, and 22 per cent fewer accidents. US-based vehicle safety technology firm Nauto provides an advanced driver assistance system (ADAS) that can predict and prevent collisions before they occur. The system also uses a camera with facial recognition technology that detects when the driver may be distracted. The company claims that this technology can reduce up to four-fifths of collisions by alerting drivers to hazards.
The freight transport industry involves more than just driving — trucks must be loaded with shipments, and this process can be fraught with difficulties. To provide solutions for these challenges, the logistics technology company Fleet Enable has developed an AI-based tool called Capacity Optimisation. The tool automatically calculates whether or not cargo will fit safely on trucks and whether everything is in accordance with weight limits. 'Orders' are generated when shipping customers make requests, the cargo is assigned to the most suitable vehicle, and delivery routes are automatically generated.
---
A universal vehicle-to-vehicle communication protocol?
The Dutch Organisation for Applied Scientific Research (also known as TNO) has developed the ENSEMBLE project to enable 'multi-brand truck platooning'. Truck platooning — or the connecting of multiple trucks to form a convoy — can often pose safety issues, and previously it was impossible to connect vehicles from different manufacturers effectively. The ENSEMBLE project is based on a breakthrough "V2V (Vehicle to Vehicle) communication protocol that supports the correct behaviour and reaction of each of the trucks in the platoon for every envisioned traffic use case". In addition to platooning, this communication protocol could potentially have various other use cases for the industry.
"This technology is a significant step forward to fully connected automated driving. It supports improvements in traffic safety, fuel economy and improvement of logistics efficiency."

Marika Hoedemaeker, project coordinator, ENSEMBLE
---
Developments in freight transportation security
Security is a significant concern for freight organisations and their customers. Cargo theft, for instance, is estimated to be a $15-$35 billion dollar 'industry' in the US and costs companies in the EU more than $8 billion a year. Thankfully, various security innovations are being developed to tackle these and other problems. TIP's DoorPlus is a solution that signals when a door has been opened, and can even detect changes in temperature, such as when a refrigerated trailer has been opened. The use of IoT devices such as cameras, sensors, and trackers are also becoming popular in this industry to help enhance freight transportation security. Companies like PowerFleet and Tive, for instance, produce devices that integrate with transportation management systems (TMSs) to provide real-time data on the locations of vehicles, as well as the light and temperature conditions of shipments. And the Open Visibility Network is a system that allows various organisations and clients in the logistics industry to share data provided by such devices, which can enable the early detection of theft.
---
Closing thoughts
Advances in AI, self-driving vehicle technology, IoT devices, and sustainable energy have the potential to radically transform the freight transportation industry. These developments will enable much faster deliveries, a significant reduction in environmental damage, and improved road safety. However, in order to reap the benefits, it's important that regulations also keep pace with these advances and that the industry itself – and the countless industries that depend on it — is willing to invest in and adopt these technologies.