A Canadian company plans to build a new facility that will suck CO2 from the air
A new algae bioreactor is 400 times more effective at removing CO2 from the atmosphere than trees
Researchers developed a carbon capture system that converts carbon dioxide into electricity
The British startup Arborea wants to tackle air pollution in London with BioSolar Leaf technology
Is carbon capture technology finally ready for prime time?
Climate change is one of the most pressing issues facing humanity at this point in time. Its effects are being felt around the world, from severe heatwaves in Europe to deadly wildfires in the United States. And as our greenhouse gas emissions continue to increase, things are expected to get even worse in the future. Driven primarily by increased energy demand, global carbon dioxide emissions from the burning of fossil fuels and other human activities reached a record high of 36.8 billion tonnes in 2018. The global average annual concentration of CO2 in the atmosphere also increased in 2018, reaching 407.4 ppm. This figure represents a significant increase from pre-industrial levels, when the average concentration of CO2 in the atmosphere ranged from 180 to 280 ppm.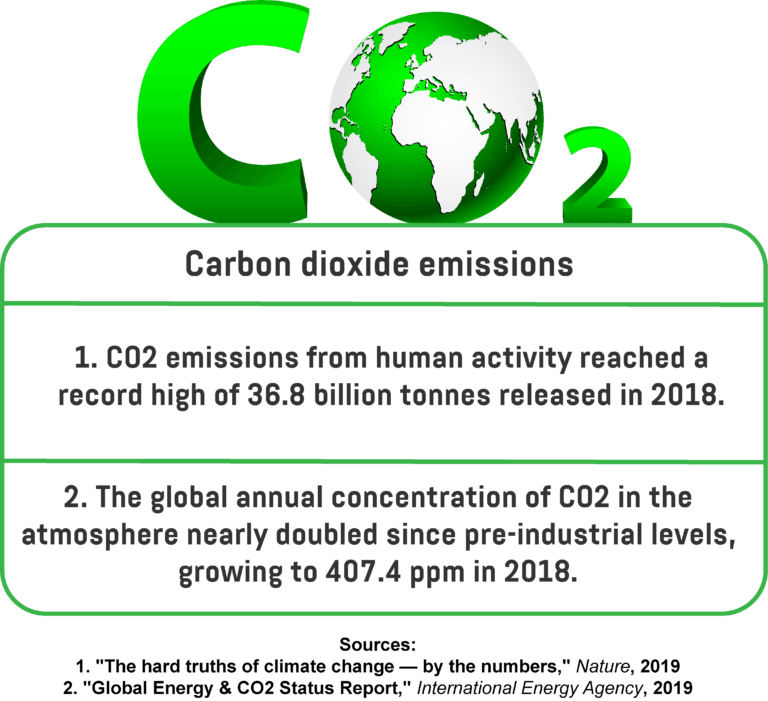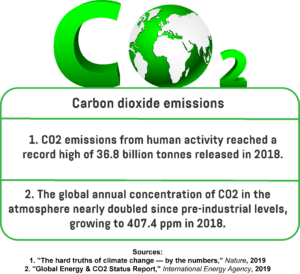 Even though electricity generation from renewable sources is growing every year, it's simply not happening at a high enough rate to offset the growing demand for energy. That means that the transition to renewables alone won't be enough to limit global warming to 1.5 degrees Celsius, the target set by the Paris climate agreement. To achieve this goal, we will need to find a way to reduce our carbon dioxide emissions by about 45 per cent by 2030 and reach net zero by 2050. Many experts believe that carbon capture technology is our best bet to make that happen. "Despite major growth in renewables, global emissions are still rising, demonstrating once again that more urgent action is needed on all fronts — developing all clean energy solutions, curbing emissions, improving efficiency, and spurring investments and innovation, including in carbon capture, utilisation and storage," says Fatih Birol, the executive director of the International Energy Agency.
A Canadian company plans to build a new facility that will suck CO2 from the air
The Canadian clean energy startup Carbon Engineering recently announced it has secured $68 million in funding that will be used to build a 'negative emissions' plant that will suck carbon dioxide directly out of the atmosphere. The new facility will spread over 30 acres of land and will be able to remove one megaton of CO2 from the air per year, which is the equivalent of planting 40 million trees.
"CE's DAC [Direct Air Capture] technology can be deployed to help companies and nations alike meet their climate change commitments and achieve significant emissions reductions, while at the same time creating opportunities for jobs, economic growth, and investment. Our DAC technology has been proven based on extensive testing in our pilot facility, and we're ready to scale up using existing commercial equipment to deploy reliable and cost-effective facilities. DAC is a viable tool for reducing emissions while continuing to provide affordable energy," says Steve Oldham, CE's chief executive officer.
The facility will be able to remove CO2 from the atmosphere and store it in liquid form underground at a price of just under $100 per tonne. However, that won't be the only way it can help address climate change. The company also revealed plans to equip the facility with its AIR TO FUELS™ technology, which will allow it to convert the captured atmospheric CO2 into ultra-low carbon fuels. These fuels can then be used to power existing cars, trucks, and airplanes, significantly reducing emissions from the transportation sector.
A new algae bioreactor is 400 times more effective at removing CO2 from the atmosphere than trees
A Texas-based startup called Hypergiant Industries recently unveiled an innovative device that could become a very useful tool in our fight against climate change – an algae-growing bioreactor. The Eos bioreactor, as the device is called, uses algae grown with the help of artificial intelligence to remove carbon dioxide from the atmosphere and purify the air in its surroundings.
While bioreactors aren't a particularly new idea and have been used to grow organisms under controlled conditions for quite some time, this is the first device of its kind that's compact enough to be installed in urban office buildings. Measuring approximately 1x1x2 metres, the Eos bioreactor is smaller, more efficient, and more sustainable than other bioreactors. It's also 400 times more effective than trees at converting carbon dioxide into oxygen, according to its developers. The company is currently working on finding a way to incorporate the device into existing HVAC systems in both commercial and residential properties, while a rooftop version is also planned.
The Eos bioreactor uses artificial intelligence to control light, available carbon dioxide, temperature, biodensity, and harvest cycle, creating optimal conditions that will allow algae to grow as quickly as possible. As algae grows and absorbs carbon dioxide from the surrounding air, it creates even more algae, which can then be turned into fuel, fertiliser, oils, or plastics. The company also revealed plans to release the device's blueprints to allow people to build their own bioreactors for residential use. "If we can help everyone … offset their cars with materials they could buy at Home Depot, in their local garden store, it could be a pretty impactful thing," says Ben Lamm, the company's founder.
Researchers developed a carbon capture system that converts carbon dioxide into electricity
Researchers from the Ulsan National Institute of Science and Technology (UNIST) and the Georgia Institute of Technology have developed a hybrid Na-CO2 system that can remove CO2 from the atmosphere and use it to produce electricity and hydrogen (H2). "Carbon capture, utilization, and sequestration (CCUS) technologies have recently received a great deal of attention for providing a pathway in dealing with global climate change," says Professor Guntae Kim from the School of Energy and Chemical Engineering at UNIST. "The key to that technology is the easy conversion of chemically stable CO2 molecules to other materials. Our new system has solved this problem with [a] CO2 dissolution mechanism."
The new system was actually inspired by the ocean, or more precisely, its ability to absorb carbon dioxide and convert it into acid. While observing this phenomenon, the researchers came up with the idea to build a battery system that would allow them to inject CO2 into water and initiate an electrochemical reaction that would convert it into electricity. In addition to generating electricity, the system also produces hydrogen, which can be used as a clean energy source. The system is composed of a cathode (sodium metal), a separator (NASICON), and an anode (catalyst). The catalysts are submerged in water and connected to the cathode by a lead wire. When CO2 is introduced into the water, it initiates a reaction that converts the CO2 into electricity and hydrogen with 50 per cent efficiency.
The British startup Arborea wants to tackle air pollution in London with BioSolar Leaf technology
The London-based startup Arborea recently announced it has joined forces with the Imperial College London on a pilot project that will aim to address London's air pollution with the help of BioSolar Leaf technology. It's an innovative cultivation system that stimulates the growth of microscopic plants like microalgae, diatoms, and phytoplankton on large structures that resemble solar panels. These structures can be installed just about anywhere, including land, buildings, and other developments, where they could be used to purify the surrounding air.
The technology relies on the photosynthesis of these microscopic plants to remove carbon dioxide from the environment and produce breathable oxygen, which it does at a rate equivalent to a hundred trees. In addition to capturing CO2 and generating oxygen, the system also produces a sustainable source of organic biomass, which the company uses to extract nutritious food additives for plant-based food products. "When I founded Arborea my goal was to tackle climate change while addressing the critical issues related to the food system," says Julian Melchiorri, the founder and CEO of Arborea. "This pilot plant will produce sustainable healthy food additives while purifying the air, producing oxygen and removing carbon dioxide from the surrounding environment."
https://www.youtube.com/watch?v=BDVDa5Xuffs
Is carbon capture technology finally ready for prime time?
As climate change continues to take its toll across the globe, with extreme weather events like severe heatwaves, deadly wildfires, and massive tropical storms becoming an increasingly common occurrence, researchers are scrambling to find a way to limit global warming to 1.5 degrees Celsius. Of course, the best way to do that would be to simply reduce our greenhouse gas emissions. Unfortunately, throughout its history, humanity has shown little willingness to change its ways until it was too late, and there's no reason to believe it will be any different this time. So, rather than waiting for their fellow humans to come to their senses, researchers have been working on alternative solutions that would allow us to reverse the effects of climate change, with carbon capture technology emerging as a particularly promising solution.
Long touted as a potential solution to climate change, carbon capture technology never really took off. Even though it has proven effective at the proof of concept level, the technology was simply too expensive and energy-intensive to be a viable solution. However, that's starting to change, with a number of recent projects offering renewed hope that carbon capture technology could help us prevent environmental disaster. The only potential drawback of this technology is that it could encourage some of the worst polluters to continue on the same path, rather than focusing on finding a way to reduce their own emissions. With that in mind, it's important that carbon capture is viewed as just one part of the solution, and not the ultimate solution to climate change.