Why move your marketing efforts to the metaverse?
Important considerations for marketing in the metaverse
Brands already active in the metaverse
Some interesting metaverse-related facts & figures
The future of the metaverse as a major marketing format
Investing in the metaverse – will this mean you'll simply be wasting money on a hype? Or will not jumping on the bandwagon lead to your brand becoming irrelevant? These are some pertinent questions many companies would like answered. In essence, the metaverse is a fancy term for describing the evolution of the internet into a much more immersive place, a virtual parallel universe where you can hang out, play games, work, and do business. If we believe the buzz, the metaverse will improve everything that's already great about the internet as we know it today. It will enable us to be free from physical limitations, enable us to experience new and seemingly impossible things, and help us connect and interact with even more people. It will also offer brands incredible new ways to engage with their audience and enable unprecedented opportunities to generate profit.
With more and more consumers transitioning towards a virtual future, the exponentially growing scale of virtual engagement presents a myriad of opportunities for brands to be part of the conversation – even leading it.
Why move your marketing efforts to the metaverse?
Consumer attention spans are getting shorter and shorter. People do a million things at once and are less and less inclined to pay attention to sales pitches or interested in brazenly being sold stuff. But if marketers can offer something of value – and everyone appreciates value – such as an interesting video, a freebie, valuable information, or a truly memorable experience, customers are much more likely to engage with your brand and eventually buy what you're offering. It's becoming increasingly important to focus on establishing a line of communication – a relationship, even – with your audience. Once you've accomplished that, and you've created a valuable customer experience, what your brand is really after – sales – will follow much more naturally. And what better way to go about this than to get on board with all things metaverse.
The metaverse is not just a trendy new gimmick. Marketers need to understand that millennials and Gen Z'ers – the new target market – are avid users of metaverse technology, which encompasses virtual reality, games like Roblox, and so on. The metaverse is active 24/7 and fast becoming the new reality for many, and eventually for most. It is where more and more people engage, consume, buy, sell, and invest, and represents an incredible opportunity for marketers to explore new avenues in terms of brand innovation, and engage audiences in completely new ways. With more and more consumers transitioning towards a virtual future, the exponentially growing scale of virtual engagement presents a myriad of opportunities for brands to be part of the conversation – even leading it.
Judging from giant brands like Facebook, Vans, Gucci, and Nike, who are already establishing themselves as authorities in the metaverse – using platforms like Roblox and Fortnite – it's easy to see why the sky is the limit when it comes to marketing opportunities. The metaverse is where newer and more modern versions of brand awareness and immersive types of advertising are created. Transitioning into the virtual world and enabling users to directly interact with the products they're selling, will not only lead to brand exposure in the metaverse, but also boost conversion rates in the real world.
Important considerations for marketing in the metaverse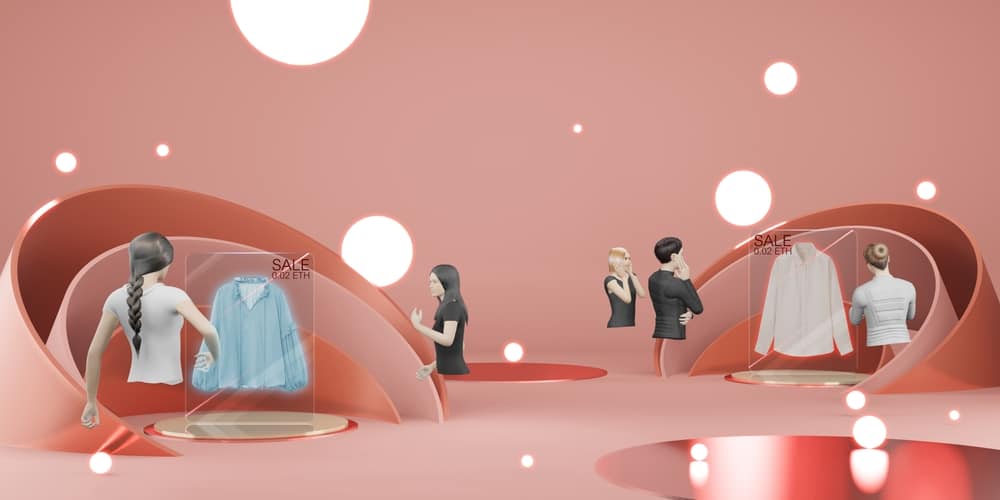 While important factors of marketing in the metaverse – such as designing authentic brand experiences – are in many ways similar to those in the real world, engaging your audience in the metaverse requires a very specific approach. It's also important to set specific goals, be sure you really know your audience, and experiment before engaging in metaverse marketing efforts. One of the most famous and largest metaverses is Second Life, a virtual universe where people socialise, game, chat, shop, work, and exchange or buy virtual items like clothes, puppies, and motorcycles. One Second Life user even became a real-life millionaire selling virtual properties. Brad Oberwager, executive chairman of Linden Lab, creator of Second life, said: "When you think of creators in the creator economy, Second Life is still the leader and people are getting direct payments from each other. We are a $600 million a year economy. We are supporting creators in ways that allow them to make money." In the metaverse, lots of buying, selling, and marketing is already taking place.
Here are some tips on how to get your metaverse marketing efforts off to a good start and enable your brand's strategy to have an impact in the metaverse.
Get discovered
To enable your brand to be discovered in the metaverse, your strategy will have to encompass targeted SEO. This includes using the word 'metaverse' in your brand name, products, and your content across social media.
Engage with existing communities
It's important to interact with members of a community first, before kicking off your marketing campaign. Community engagement can lead to valuable user-generated content, such as text, audio, images, and video, which can help you deploy a campaign that flows naturally.
Enable customers to try your products
To enable customers to try a version of your product before they buy it, it's important to provide virtual reality (VR) and augmented reality (AR) experiences. Think virtual furniture stores, car showrooms, or fitting rooms where customers can try on clothes.
Offer collectible items
People like collecting items, and metaverse users are no different. NFTs (non-fungible tokens), for instance, are digital assets that represent objects like in-game items, music, videos, and art. These can be bought and sold or collected and traded online. NFT metaverse marketing enables you to simultaneously promote your brand as well as your NFT assets. Your NFTs will become more valuable the more hype your brand gets. And the more valuable your NFTs are, the more awareness will be generated for your brand. Several major brands have already embraced the world of NFTs, including companies like Taco Bell, Marvel, Louis Vuitton, and even the English Football Premier League. Some ideas of NFT uses include limited edition products, collectible items, free extras, proof of memberships, or giveaways.
Incorporate experiences
Incorporating memorable immersive experiences that would not be possible in the real world, in which people can interact with your brand and with others, also enables you to expand your target audience. Offer ways in which people can experience a colour-changing or shape-shifting product or an innovative service together. You could also consider offering entertaining VR training sessions, tutorials, digital launch parties, and so on.
Virtual influencers
Using virtual influencers has a number of advantages compared to real-life ones, one of them being that virtual influencers are much less expensive and you have much more control over them. You could also make use of avatars that are modelled on real celebrities. Examples include the avatars of supermodel Kendall Jenner and Naomi Campbell, which were used for the promotion of fashion brand Burberry's summer collections.
"As the digital world increasingly enriches our lives, it makes sense that we want to meet consumers where they are and be a part of their virtual world too."

Lindsey McInerney, Stella Artois

Brands already active in the metaverse
Quite a few brands are already successfully deploying marketing campaigns in the metaverse, catering to customers already familiar with digital realms and reaching new audiences as well.
Stella Artois and Zed Run create virtual Kentucky Derby experience
Well-known beer brand Stella Artois partnered with Zed Run to create a virtual Kentucky Derby experience. Stella Artois is big on sponsoring horse racing events, and they now created an online platform for horse racing where NFT horses can be bred, raced, and traded. While digital racing has been around for a while, it's fast transitioning beyond virtual replacements for real-life events. Stella Artois has created unique horse breeds, complete with themed skins, as well as a 3D racetrack. And while all of this may be virtual – the money is very real. Some digital racehorses are even valued at over $36,000. Zed Run reports having 100,000 global users and its community has grown by more than 1.000 percent. Big brands traditionally sponsoring real-life racing events are increasingly getting in on the virtual action. Lindsey McInerney, Stella Artois' Global Head of Tech & Innovation, says "Stella Artois has always been about creating and facilitating memorable, premium experiences and bringing people together. As the digital world increasingly enriches our lives, it makes sense that we want to meet consumers where they are and be a part of their virtual world too."
Balenciaga combines interactivity with digital launch of clothing collection
The French clothing brand Balenciaga became the first high-end fashion retailer to digitally release its fall 2021 collection. In the brand's bespoke video game 'Afterworld: The Age of Tomorrow', created by Unreal Engine, players get five levels to explore – varying from Balenciaga's virtual store to a picturesque mountain at sundown and a dark forest. Without players specifically experiencing the game as a marketing effort, they are gently encouraged to kit out their avatars with Balenciaga gear. Think scooter lap aprons that become thermal wrap coats, parkas that transform into duffel bags, tailored jackets made from stretchy sports materials, and silver and gold boots resembling mediaeval armour. The majority of the collection was created with upcycled materials. Players were also enticed to continue to interact with the brand after completing the game. The game-based campaign was a huge success and has led the fashion brand to enter into a collaboration with Fortnite.
NASCAR joins the race into the metaverse
NASCAR has entered into a first-of-its-kind collaboration with the online gaming platform Roblox to establish an all-encompassing digital presence and bring the popular motorsports brand into the metaverse using digital experiences to encourage deeper fan engagement. The collaboration entails activation in existing metaverse spaces as well as custom-built virtual platforms. The e-sports company is dropping a digital car in its breakout Jailbreak game, is selling apparel for players' avatars, and even enables players to design their own NASCAR uniforms as part of a fan contest that will be promoted on social media by the game's developers. According to Nick Rend, NASCAR's managing director of gaming and e-sports, the partnership with Roblox is critical to the brand's long-term success in reaching new consumers. "Growth comes from how users interact with, interpret, and incorporate your brand as part of their virtual escapades," Rend says.
By 2026, 30 per cent of companies will offer services and products for the metaverse
Some interesting metaverse-related facts & figures
Here's a list of interesting metaverse statistics to show its market size, industry trends, number of users, demographics information, and so on.
By 2024, the metaverse is expected to have reached a value of $800 billion
In 2019, more than 10.5 million people attended Marshmello's Fortnite concert
By 2026, 25 per cent of people will spend an hour in the metaverse
By 2024, there will be 1.7 billion mobile AR users worldwide
By 2025, the mobile AR market will reach a value of more than $26 billion
Every year, $54 billion is spent on virtual goods in the metaverse
In 2020, some 46 million people attended the Travis Scott Fortnite event
Some 74 per cent of American adults are (considering) joining the metaverse
In 2021, people spent $501 million on metaverse real estate
Some 16 per cent of US adults say that life in the metaverse would be more fun than real life
By 2026, 30 per cent of companies will offer services and products for the metaverse
The future of the metaverse as a major marketing format
The future of marketing lies in the metaverse. It will be a wild ride as we adapt to new ways of reaching our audiences through augmented, virtual, and mixed reality. Some of the world's largest brands are already investing substantial amounts of time and resources in the metaverse, which is fast becoming a work in progress, rather than a stage in nascence. The possibilities for marketing in the metaverse are virtually endless and are only limited by our imagination. And while metaverse marketing opportunities are exciting, figuring out how to get started can also be daunting. What's most important, however, is considering how your business will adapt to this brave new world – and deciding whether you will be part of it, or be left behind.