Universities innovate faster than cities
Facial recognition has made its way into Chinese university campuses
Exploring universities from a distance
Immersive AR learning experiences inspire students
AI-powered digital assistants answer students' questions
Universities pour millions into green tech and smart initiatives
Using 5G to turn campuses into innovation hotspots
Higher education as a driving force of innovation
In the last few decades, higher education has become more accessible than ever, and the number of students just keeps growing. These profound changes are happening at a time when innovative technologies are reshaping all facets of our lives, from how we generate energy and commute to how we find and present information. As centres of learning and excellence, higher education institutions can't afford to fall behind in the use and development of these new technologies. In fact, campuses today resemble smart cities of the future, and they're undergoing a high-tech makeover using a variety of cutting-edge technologies.
Facial recognition tech is already replacing ID cards, immersive technologies such as AR and VR are attracting prospective students and offering new ways to learn, digital AI assistants are helping students with organisation and time management, and 5G internet is delivering ultra-connected campuses. Clearly, higher education is undergoing a massive transformation, and we're witnessing the emergence of smart campuses.
Universities innovate faster than cities
What makes universities uniquely positioned to experiment with new technologies is that unlike slow-moving cities, they deal with fewer stakeholders and have full control over the necessary assets. Gemmy Ginty, an expert in smart tech, says that universities "own all the buildings, they own all the networks and they have a captive audience in terms of the students, so they can become like a living lab". One of the technologies that's quickly growing in popularity on university campuses is the IoT. In fact, according to the research firm MarketsandMarkets, the IoT in education market is set to be worth $11.3 billion by 2023. But campuses all around the world are using many other tech solutions as well.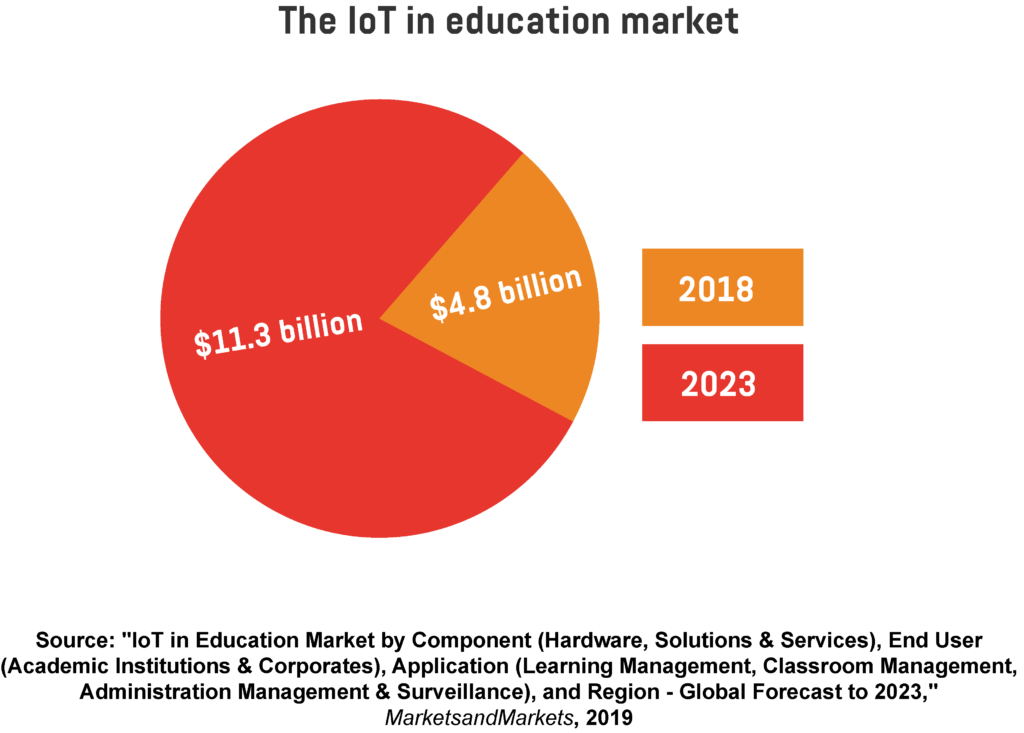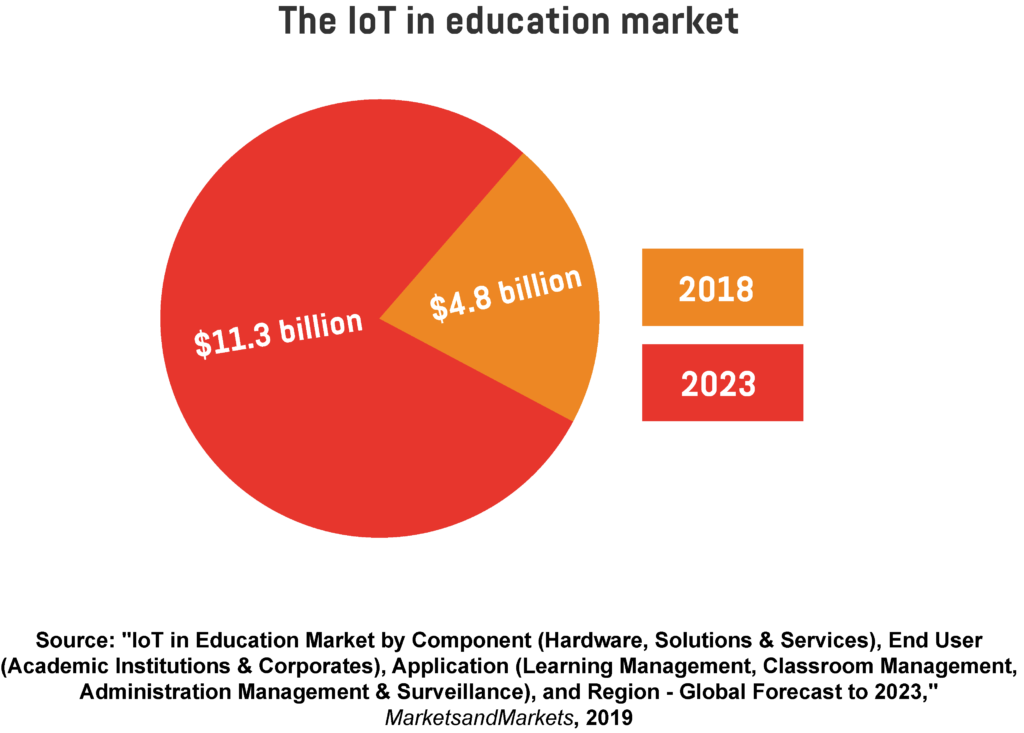 Facial recognition has made its way into Chinese university campuses
Cameras scan the faces of thousands of students and employees that pass through the gate of Peking University, one of the leading educational institutions in China. Instead of security guards that inspect ID cards, facial recognition tech now approves or denies access to the campus. The surveillance system matches images taken by a camera with ID photos saved in the university's database, and the process is in many ways similar to the one used by police to identify suspects. The university has also installed facial recognition cameras in front of some of its libraries, gymnasiums, computer centres, and classrooms.
And although this bears an uncanny resemblance to China's highly-criticised domestic surveillance network, the popularity of this technology is increasing. Beijing Normal University, for instance, has also deployed cameras outside its dormitories. Students who want to enter the building must call out their names and have their faces scanned. And to account for the various accents present in China, the voice recognition software can recognise more than 25 different Chinese dialects.
Exploring universities from a distance
And as universities compete to attract the brightest young people, the American University (AU) in Washington D.C. has found a way to impress prospective students using augmented reality (AR) and virtual reality (VR) solutions. It teamed up with the Japanese tech giant Sony to develop a new mobile app named Tour AU, which is available through the Google Play Store and Apple App Store. It enables users to explore the campus via 360-degree videos, which also contain comments from current students.
As they arrive on campus, students can use the app to take a 'virtual selfie', as well as find and activate AR posters that display various messages. "The experience a student has on their campus visit is a critical component to their college choice process," says Sharon Alston, the AU Vice Provost of Undergraduate Enrollment. "Whether it's used remotely or on campus, Tour AU offers prospective students an exciting opportunity to experience various aspects of campus life." And in addition to helping students, Tour AU also provides the university with data that can be used to improve the admissions process.
Immersive AR learning experiences inspire students
Augmented reality can be used in many other ways, too, as was demonstrated by researchers at Penn State University's Department of Geography in Pennsylvania. They developed an AR app that provides students with information about the Obelisk, one of the oldest monuments at the university's campus, made in 1896 from 281 stones arranged by their geologic time period. To learn more about it, students can touch a certain stone in the app, and an information window will pop up showing the stone's age and where it was found. Arif Masrur, a doctoral student in geography, says that their "goal is to also include 360-degree photos of the actual environment from where each rock was excavated".
The School of Medicine at Deakin University in Australia also boasts an impressive AR app that enables students to explore the human heart in 3D. Called cARdiac ECG, it vividly displays various parts of this organ and its blood flow, and helps students to learn how to perform an electrocardiogram (ECG) test and measure the heart's electrical signals. Furthermore, app users can move the 3D organ around and learn "how the blood is pumping and where the electrical impulses are firing based on various scenarios from normal, abnormal and catastrophic heart function".
AI-powered digital assistants answer students' questions
Besides immersive technologies, universities are also utilising artificial intelligence tech that underlies increasingly powerful digital assistants. The UK-based Bolton College has made great strides in this field by launching a chatbot called Ada, which is accessed via a smartphone app or Amazon smart speakers. The virtual assistant runs on IBM Watson AI and answers thousands of questions each day. It informs students on their attendance, which courses they're enrolled in, who their professors are for the given semester, when and where their next class is, and many other details. Ada reportedly reduces staff workload and bureaucracy and improves the university experience with hassle-free access to key information.
What's more, students even participated in the creation of Ada. As Bill Webster, the principal and CEO of Bolton College, says, "Hundreds of our students have been involved in the development of Ada. Computing students have helped carry out vital development work, which has allowed them to work on the latest AI technology, thereby enhancing their future employment opportunities."
Deakin University has also invested in an AI-powered digital assistant. A voice-activated smartphone app named Genie informs students about their assignments, deadlines, and other tasks. Students can also ask Genie for help, and the request will be answered by support staff members. Additionally, the university plans to introduce digital signage, personalised mobile apps, and smart parking systems that will use technologies such as AI and big data.
Universities pour millions into green tech and smart initiatives
But universities aren't just implementing technology to increase efficiency and convenience – they're also making their campuses more sustainable. The University of the West of Scotland, for instance, took the concept of green tech and sustainability to a whole new level. Its recently built, $140 million-worth campus in Lanarkshire has cutting-edge laboratories, health centres, gyms, and various other facilities. Equally important, the campus is carbon neutral and fully powered by wind farms and solar panels. Its rainwater harvesting system collects, filters, and pumps water around the buildings, LED lighting turns on and off depending on daylight and occupancy, and the cutlery in the cafeteria is compostable. What's more, the heating and ventilation system monitors CO2 levels and adjusts airflow rates, saving electricity. There are also charging points for electric vehicles and bicycle storage and maintenance areas.
The University of Cambridge is also turning to renewable energy and has fitted 1,500 solar panels on its buildings in Eddington, where a new campus and houses for staff are being built. These investments will cut energy use by more than 298,000 kilowatt hours a year, "significantly reducing carbon footprints and energy bills", says Andrew Hudson, the director of G&H Sustainability, the firm that completed the project. The North West Cambridge development, as its called, will also have the largest water recycling system in the UK and sustainable urban drainage.
But despite the impressive efforts of these universities, another university was rated as the greenest and most sustainable educational institution in 2018. According to the GreenMetric ranking, compiled by the University of Indonesia, that title was awarded to Wageningen University & Research for the second year in a row. This Dutch university became carbon neutral in 2015, it boasts efficient waste disposal and recycling practices, and its Green Office unit promotes sustainability efforts across the campus, engaging both students and staff. More importantly, the university is one of the leaders in the field of environmental sciences. Not only does it offer relevant degrees for those who want to investigate climate change issues, but it also takes part in a number of research projects, such as the development of effective recycling techniques and the modernisation of EU regulations regarding the use of renewable resources.
Using 5G to turn campuses into innovation hotspots
In northern Europe, near the Baltic Sea coast, the Tallinn University of Technology, known as TalTech, is embracing technology in other ways. It recently launched Estonia's first 5G network, delivering fast mobile data transmission to the entire campus. Kirke Saar, the CTO of the mobile network operator Telia that was part of the project, says that 5G enables scientists to test how vehicles communicate with each other, how smart traffic signs integrate into infrastructure, and how smart homes impact our lives. And one of the very first projects that will be launched in 2019 is the testing of a self-driving car named Iseauto and the ways it interacts with the surrounding infrastructure. And after that, TalTech plans to use 5G connectivity for a range of projects in sectors such as autonomous transportation, the IoT, smart buildings, VR, and industry automation.
Higher education as a driving force of innovation
The number of students worldwide is set to drastically increase in the next few decades, which will enable millions of people to get quality education. To meet the needs of so many students, universities have to innovate and introduce technology. This challenge is also an opportunity for universities to experiment with new technologies and provide an increasing level of comfort to students.
Facial recognition is increasingly replacing traditional ID cards, AR and VR apps enable students to explore university campuses from a distance, and AI-powered digital assistants make sure that students have the right information at all times. We're witnessing the emergence of smart campuses that are unlike anything we've seen before. They provide a glimpse of how big cities might operate in the future and demonstrate that higher education remains one of the key driving forces of innovation.