Cultural competence and emotional intelligence aren't just nice features – they're essential skills
Schools in Texas and Hawaii use VR to improve empathy
Stanford is experimenting with VR to fight racism
Increasingly, education isn't all about maths, sciences, and languages. In fact, as forward-thinking educators know, the future of work will demand flexible, culturally fluent, emotionally intelligent workers. That trend is already being felt: for the last 20 years or so, the jobs that have grown the most, whether we consider wages or employment prospects, demand pretty advanced interpersonal skills to complement other talents.
Cultural competence and emotional intelligence aren't just nice features – they're essential skills
That's because an increasingly borderless business world and the digital connectivity that drives it allow talent to come from anywhere. Cultural competence and emotional intelligence aren't just nice features – they're essential skills when your team might include people from Nigeria, China, Italy, and Canada! And as the tired hierarchies of the Mad Men era are dismantled, more people are working on small, flexible teams of equals, shifting authority as tasks require. To lead without a title, workers need to have sharpened their interpersonal skills to a fine edge, and savvy employers are looking for these talents when they think about retention and promotion. As Marsha Rideout, the director of admissions at Synapse, a school that actively teaches emotional intelligence, explains, "IQ will get you your job, but EQ will keep it."
At the cutting-edge of education, we can already see innovative approaches to help children and young adults acquire and refine the key components of emotional intelligence – things like empathy, compassion, and understanding.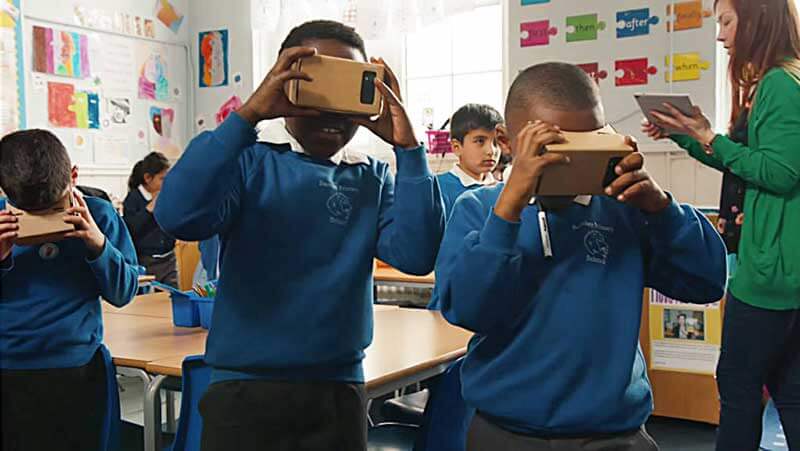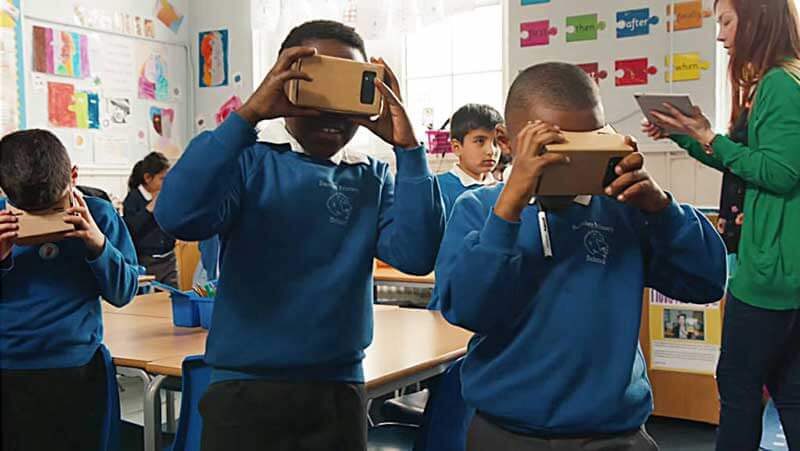 What teachers and researchers alike have discovered is that virtual reality (VR) is an ideal tool for building these emotional resources. Kids aren't naturally empathic – these are skills that must be practiced and taught. Because VR can create an immersive experience, it's invaluable for helping young learners feel emotions, navigate complex situations, and step into someone else's shoes for a few minutes.
Schools in Texas and Hawaii use VR to improve empathy
For instance, at Chisholm Trail Middle School in Texas, the students in Chris Caldwell's English classes aren't just learning literature, though they start there. To better connect with the horrors of the Holocaust, Caldwell has them start by reading things like The Boy in the Striped Pyjamas and the play Anne Frank. In the past, his students found it too easy to distance themselves from the suffering these works portray, but now, when Caldwell has them don VR goggles, they're immersed in the terrors of Nazi-occupied Europe in a way they never were before. While they initially see the VR experience as fun, that changes quickly. As Caldwell says, the "reality of the horror of what was in front of them" becomes far more vivid, and it's not as easy to distance themselves from the suffering of others.
That kind of empathy and compassion isn't just good for business, it's good for society, too. But it's unfortunately common for people to lack a real sense of the lives of others. That's why at Hawaii's Mid-Pacific Institute, the mostly wealthy students are given a VR tour of what it's like to be homeless – something they know almost nothing about. The idea, explains Brian Grantham, Mid-Pacific's director of education technology, is to give these children of privilege a better sense of what it's like to see your life unravel, often through no fault of your own. The goal is to broaden their perspective, encourage empathy, and help them understand what other people know far too well – and so far, it appears to be working.
Stanford is experimenting with VR to fight racism
In an increasingly multicultural society and workplace, appreciating difference is important. And subtle biases can undercut otherwise productive relationships, though no one intends to do anything wrong. American stand-up comedian, actor, and producer Dave Chappelle once quipped that "If you had some glasses that someone could put on just to see the world how you saw the world, it'd be probably f—-g terrifying." Now VR can allow just that, providing a clear sense of how other people see the world across the 'colour line', or what American sociologist and civil rights activist William Edward Burghardt Du Bois calls the 'veil' separating white and black.
To help people feel how racism hurts, to help them understand the realities of living while brown, Stanford University, home to the Virtual Human Interaction Lab, has partnered with the Brown Institute for Media Innovation to create an immersive experience of everyday racism. Called 1000 Cut Journey, this virtual experience places users in the person of someone who's just trying to live a normal life – someone just like them – but who faces constant, casual racism throughout his day. Its goal is to increase empathy and study the psychological changes that this kind of immersive experience can create, lessening bias. And as users experience the subtle cues that shape blackness in America, they often feel a profound sense of discomfort. As Dr Courtney Cogburn, a leading researcher in the field of race, bias, and health, explains, because of the first-person immersion, "You may be affected even if you don't notice that it's happened … Even if you can't articulate to me what it was about the school scene that made you feel uncomfortable, we know what happened in the scene that may have triggered that response."
Have a look at this video:
Virtual reality is an innovative tool, precisely because its experience is so immersive and visceral. By harnessing that advantage for emotional learning, it's better preparing children for the future of work and helping to create a more just society.