Research finds that nature is good for people – and productivity
Biophilic design brings nature to our senses
Etsy and Moneypenny are early adopters
But Amazon's Spheres are a total reimagination of the office
If the idea of working in a sterile cubicle depresses you, you're not alone. These tightly-packed squares are hallmarks of both dystopian science fiction (rewatch the first few minutes of The Matrix) and dark comedy (The Office and Office Space). In both, these boring, dehumanising work spaces fill us with a sense of wearying homogeneity. And if you've ever worked in one, you'll agree that these 'cubicle farms' have a soul-crushing effect.
In some sense, that's ironic. Cubicles were invented to allow easy customisation rather than dull monotony. But they appeared in an era in which management believed (and still often believes!) that the 'leaner' the work space – the less personal and human it can be made – the more productive the worker. The idea behind this dreary approach is that personalisation, humanity, and even nature are just distractions. If you want your employees to work hard – according to this flawed argument – you need to make sure they're focused entirely on their tasks. But as Craig Knight, a professor of psychology at the University of Exeter, explains, "It didn't make a whole lot of sense scientifically because there is no animal on the planet that thrives in a lean space. Why should a human being be any different? So we tested it and it doesn't work at all. It's an entirely toxic system."
Research finds that nature is good for people – and productivity
Indeed, Knight and Marlon Nieuwenhuis, the lead researcher and a professor at Cardiff University, found that "investing in landscaping the office with plants will pay off through an increase in office workers' quality of life and productivity". Merely bringing greenery into the office increased productivity by an astounding 15 per cent. And the effects of truly biophilic (from the Greek for 'love of nature') design are simply too profound to go unnoticed.
As Dick Resch reports for the International Business Times, "One study found that an extended stint in nature increased performance on a creative, problem-solving task by 50 percent. Workers are 18 percent more productive when they have natural light and windows that let in fresh air." These are impressive gains, and it'll come as no surprise to you that the most forward-thinking companies are adapting their management strategies to make the most of nature, transitioning from lean to green. But what might shock you is that it's tech-dominant firms like Amazon, Moneypenny, and Etsy that are taking these changes most seriously, moving from sterile coding farms to inspiring spaces.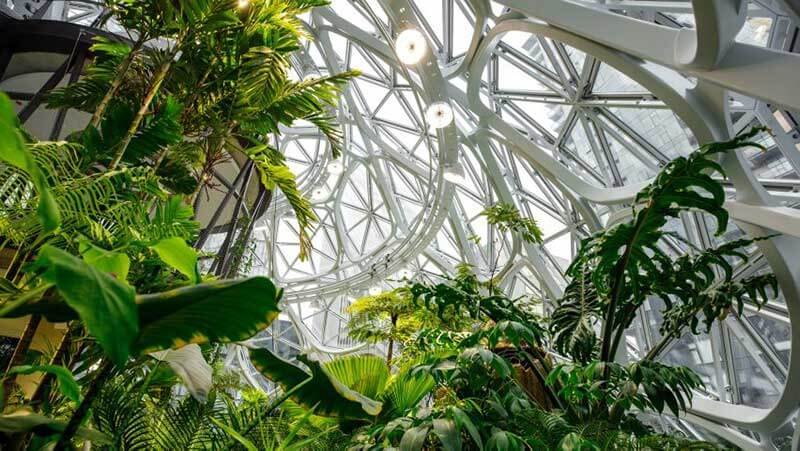 Biophilic design brings nature to our senses
Research by William Browning, Catherine Ryan, and Joseph Clancy explores what makes this green transformation work. As they write, "Biophilic design can reduce stress, improve cognitive function and creativity, improve our well-being and expedite healing; as the world population continues to urbanize, these qualities are ever more important." They suggest that as visual creatures, we need to see nature in all its diversity. More than seeing raw space, they insist, what calms and restores is a scene including "copses of shade trees, flowering plants, calm non-threatening animals, indications of human habitation, and bodies of clean water". If our environment can engage our other senses as well, this feeling of relaxation is even more profound. They emphasise, then, that everything from texture to odour can be used to create an experience of nature at work.
Etsy and Moneypenny are early adopters
That's why if you visit Etsy's Manhattan office, you'll find soothing earth tones rather than drab tans and whites. Plants are everywhere, including entire walls housing them, and everywhere you turn there are natural textures. There are no offices here, just multi-purpose spaces with comfy chairs and inviting booths. And sunlight shines through windows, creating an environment that feels more like a cafe than a soulless suite of cubes.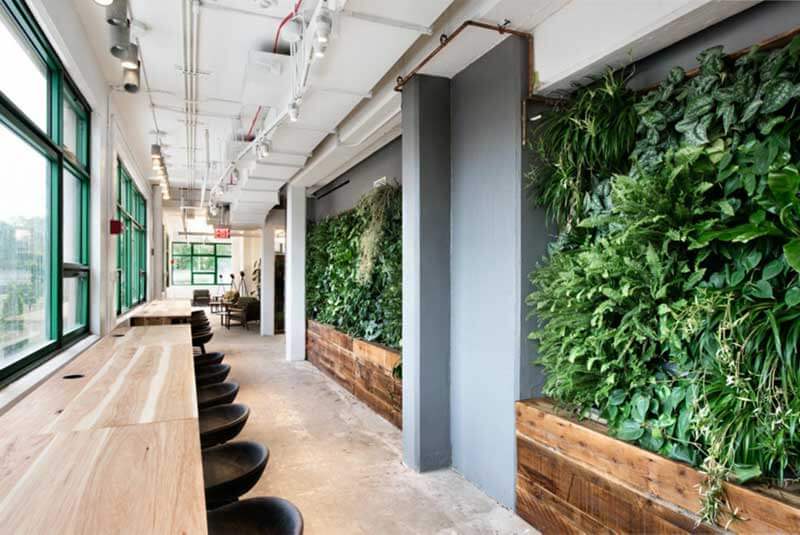 Etsy's far from alone. When Moneypenny wanted to revamp its office space, this tech service company that specialises in telecommunications asked its employees what they wanted. The result, according to Josephine Moulds at the Guardian, was a £15 million facelift that "has plenty of plants, both real and fake; natural ventilation instead of air conditioning; and huge windows on to a duck pond, orchard and woodland. There are nature trails in the seven acres of landscaped grounds, and a treehouse meeting room inside the 91,000 sq ft building". Ed Reeves, one of Moneypenny's co-founders, says that these are pounds and pence well-spent: "The more emphasis we put on … the working environment being a calm and productive space, the better attendance records we have."
But Amazon's Spheres are a total reimagination of the office
And perhaps no company has embraced this green revolution with more gusto than Amazon. On 30 January of this year, Jeff Bezos himself launched their grand opening. These three spherical structures, composed of complex glass panels, house Amazon's headquarters and more than 40,000 plants. Climbing on walls as high as four storeys, this greenery creates an environment that mimics a rainforest. Sunlight – even in rainy Seattle – is everywhere among these sprawling couches and worktables. Natural materials, a clever mix of open space and intimate seclusion, and all this nature combine to create an immediate sense of calm, creative energy.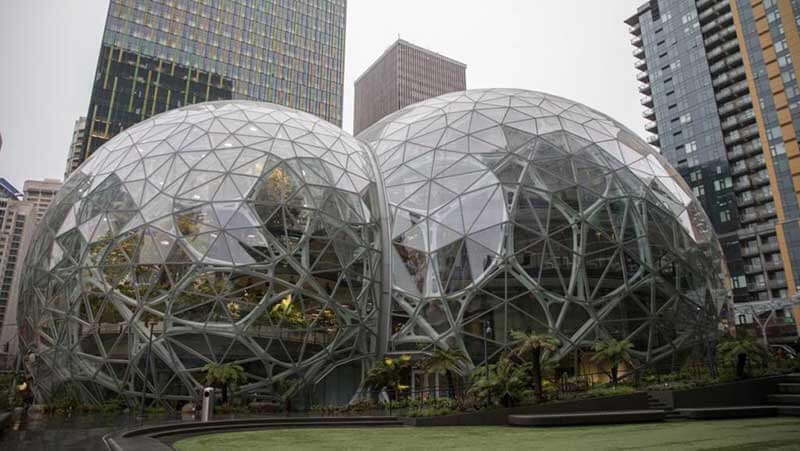 As Ben Eiben, Amazon's horticulture program manager, explained to Mach, "The Spheres are a result of innovative thinking about the character of a workplace and an extended conversation about what is typically missing from an urban office — a direct link to nature." The goal, he says, was to create a place to "innovate, create, or simply recharge while being immersed in space that's more like a forest in the clouds than an office".
This kind of change has been a long time coming, and for most of us, it can't arrive too soon. Sarah Anne Lloyd, writing for Curbed Seattle, notes that our work-related stress isn't all about the job, but more about where that work happens. As she says, "The majority of stress comes from work pressures within a grey, dull and often windowless built environment – a factor which architects, designers and psychologists are trying to reverse." By bringing nature indoors and blurring the lines between office and nature, we're taking the first step toward a healthier future. And soon, many more of us might enjoy the soul-soothing effects of biophilic design.