The changing landscape of modern travel
The Welcome app develops personalised itineraries
Helping users to find out where a photo was taken
Adding a personal touch to interactions with travellers
AI and chatbots make planning trips a breeze
Virtual reality can be as exciting as the physical world
Using blockchain to break monopolies
Overcoming obstacles with the help of technology
Global tourism is doing well, as a growing number of people are willing and able to visit other countries. From the Palace of Versailles and the Colosseum to the Great Wall of China and Bali's beaches, vacation hotspots are swarmed by visitors every year. This has always been a booming sector, and in 2018, the global travel and tourism industry grew to $8.8 trillion, with more than 100 million jobs set to be created over the next 12 years. Digital innovations and new technologies have played an important part in this revolution, as they've transformed how we select destinations and what we do once we get there. But despite that, the sector is facing major challenges.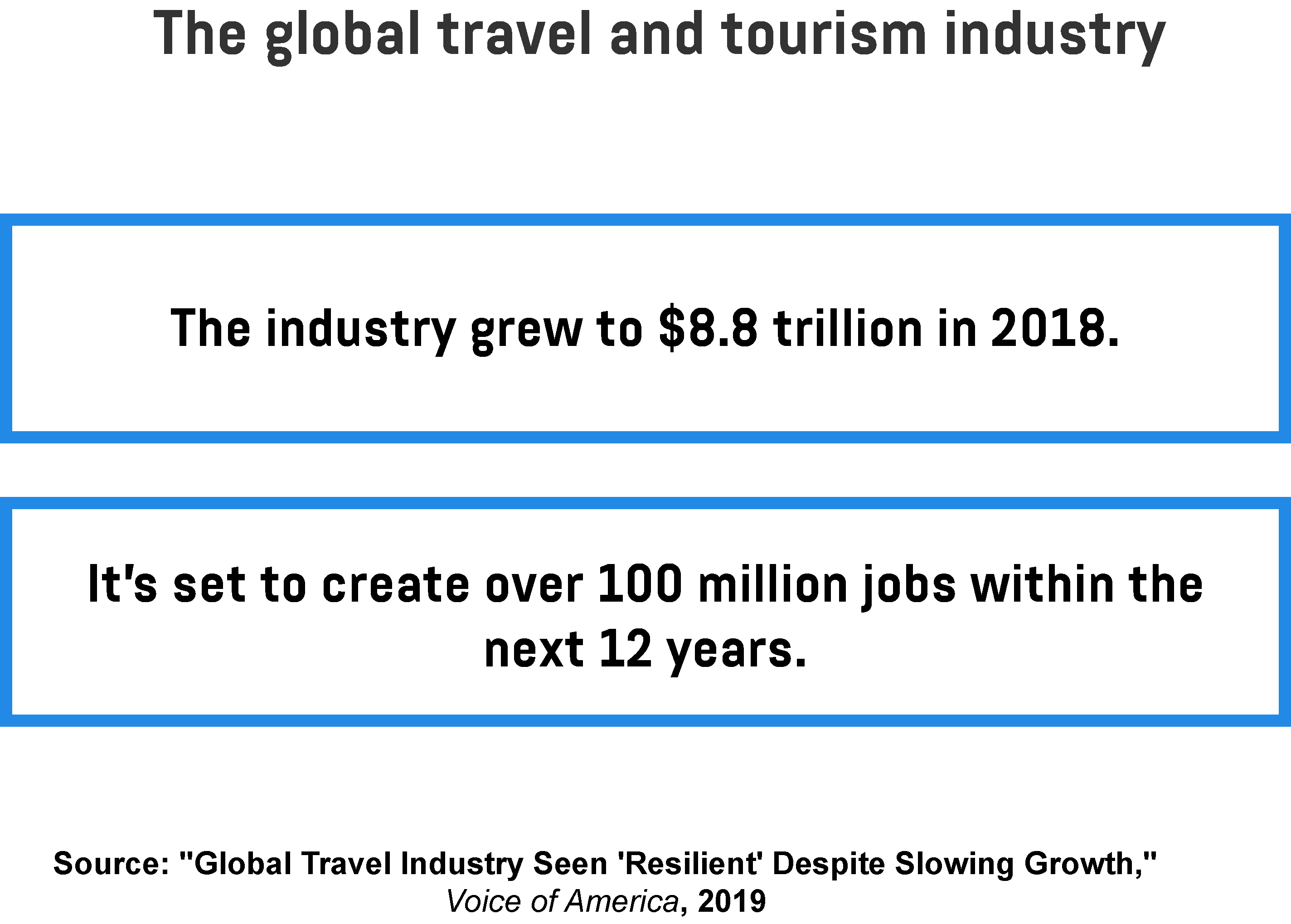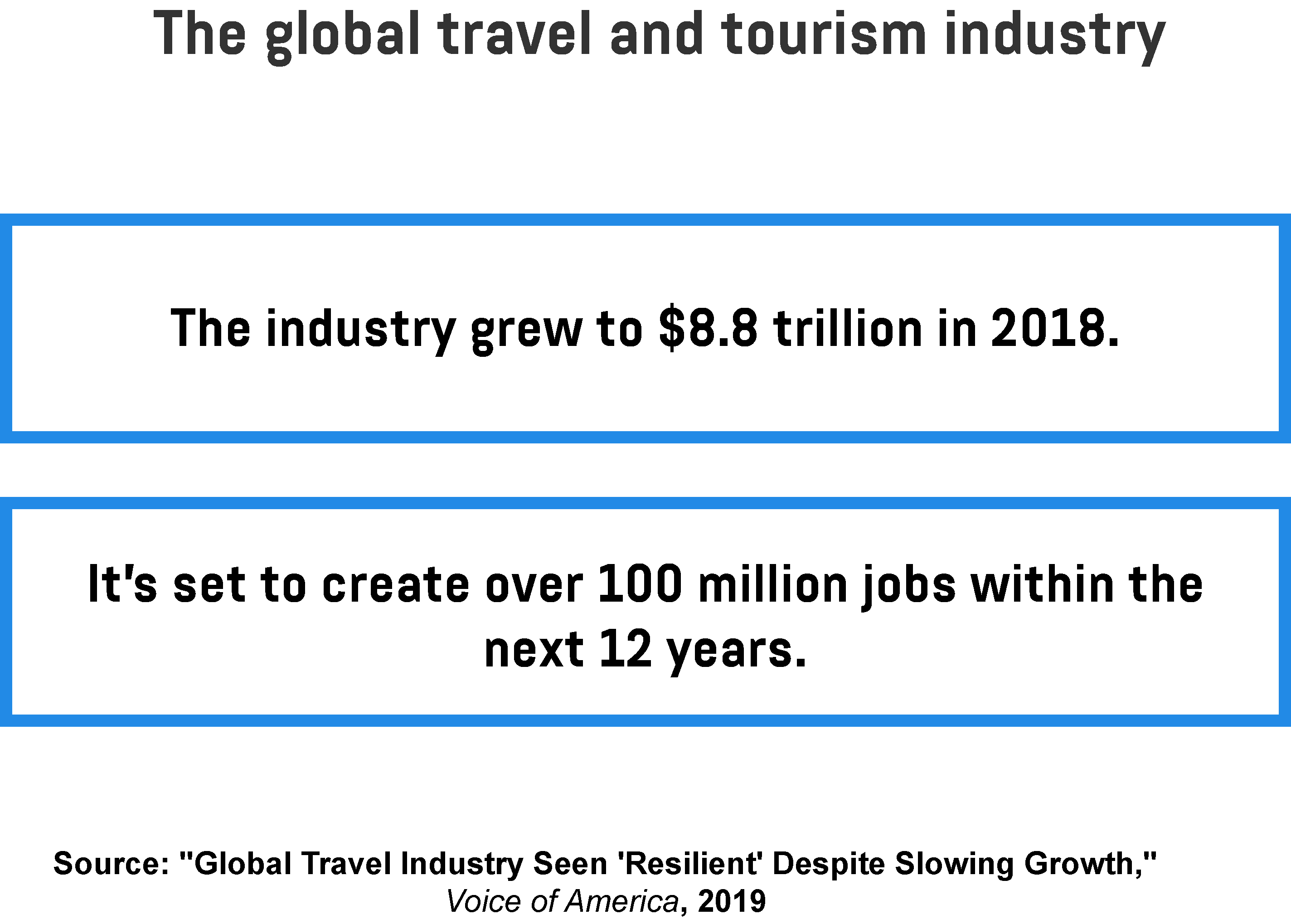 Companies such as Expedia and Booking.com have a near monopoly on online travel booking in large parts of the world, driving up prices in the accommodation industry. Meanwhile, tourists demand fast and affordable services, conveniently delivered using the latest tech tools. Instead of a simple list of key sights to visit, they want a personalised itinerary that adapts to changing circumstances. And with the advent of digital communication channels, tourists expect travel companies to almost immediately address any issues they might have. Faced with changing customer preferences, businesses are turning to new technologies to make tourists happy and keep the industry expanding.
The changing landscape of modern travel
Smartphones and the internet are essential tools for trip planning in the 21st century. More than 70 per cent of travellers arrange a vacation on the internet, and almost half of them use smartphones to handle any travel-related tasks. And as tourists become more tech-savvy, so do businesses. New apps build itineraries for users instead of asking them to create one, while AI-driven chatbots make booking hotels and flights easier than ever. Companies are trying to impress customers by analysing big data and offering personalised services, and virtual reality devices ensure that tourists can view the locations they want to visit prior to making a reservation. Additionally, blockchain-based startups are offering a cheaper alternative to major online booking systems.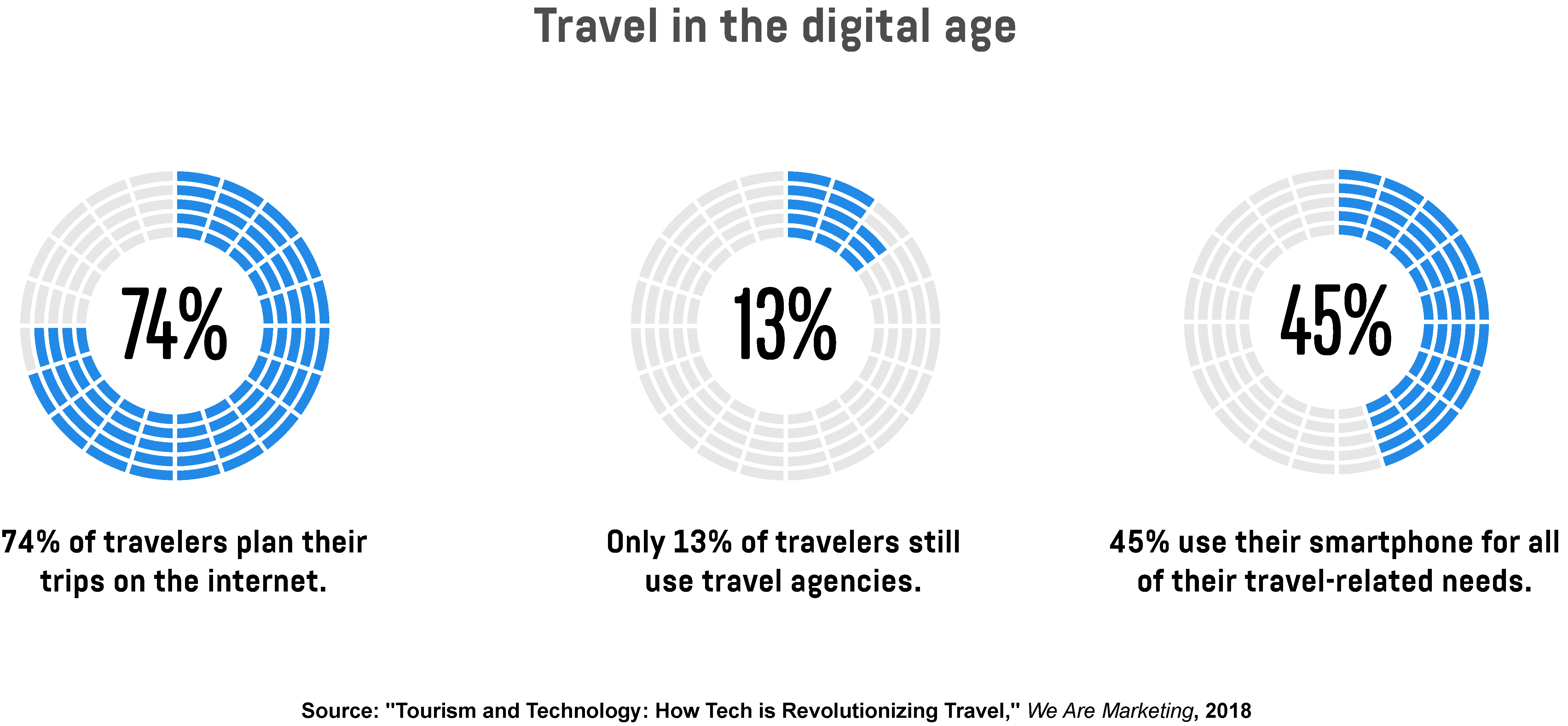 The Welcome app develops personalised itineraries
Despite having easy access to online information, 85 per cent of tourists "aren't even looking at activities before they arrive", says Matthew Rosenberg, the CEO of the tech startup Welcome. And once they reach their destination, most people are provided with maps with a bunch of pins that represent local attractions. The company's namesake app provides an elegant solution to this issue. Users are first asked to indicate which activities and locations interest them, and they can even reach out to friends and experts for help. Based on these responses, the app then creates a list of places that users should visit, consisting of both the locations they selected and others that the software thinks could be of interest.
Users can remove locations they don't want to visit, and the algorithm will come up with a different suggestion. Another useful feature is that the app adjusts to users' activities, as well as the weather. For instance, the list will reshuffle if you decide to spend most of the morning in one spot, instead of following the suggested itinerary. And if there's a storm coming in the afternoon, the program will replace a walk in the park with a visit to a museum, for instance. Rosenberg says that the company plans to add additional filters in the future, such as activity costs. The app is available in more than 250 cities across the globe, and although it's still not being monetised, the money-making strategy will eventually revolve around driving purchases and transactions instead of ads.
Helping users to find out where a photo was taken
Look&Book is yet another app that tries to make travelling easier. It was developed by the British low-cost airline easyJet and the mobile tech firm Travelport Digital. The app uses image recognition tech to compare photos of places provided by users to a database that contains visual data from more than 1,000 locations in Europe. Assuming a match is found, the program prompts users to select the departure and return dates and book an easyJet flight to that location. The system currently covers only European locations and works best with pictures available on Instagram, but photos from other sources can work as well.
Adding a personal touch to interactions with travellers
New technologies have also enabled companies to collect a wealth of information about customers. A Boeing 787, for instance, generates half a terabyte of data per flight, and airlines need to figure out how to use it to provide personalised services to customers. Delta, a major American airline, aims to have about 20 personal interactions with travellers per flight and equips its flight attendants with a phablet that got a new enhancement called Guest Service Tool in 2015. This tool enables them to recognise passengers, celebrate birthdays, apologise for previous delays, and deliver many other innovative services. Allison Ausband, Delta's senior vice president of in-flight service, says, "We'll continue to enhance the device and Guest Service Tool to take advantage of customer-provided data to further personalize the on board experience."
But there's a fine line between a warm welcome to a flight and getting a bit too personal. Scot Hornick, a partner at the consulting firm Oliver Wyman, says that "no one wants to feel like they have Big Brother watching us". Despite that, airlines and many other travel companies increasingly turn to personal data in a bid to add value to their offerings and turn occasional customers into loyal advocates.
AI and chatbots make planning trips a breeze
Another way for companies to provide value to customers is by deploying AI-powered chatbots. These virtual robots use smart algorithms to analyse user requests, sort through data, and provide fast responses. They're increasingly popular, and by 2020, around 80 per cent of businesses plan to use chatbots. The travel industry is no exception, and there are already a number of chatbots geared towards travellers.
One of these chatbots is Hello Hipmunk, an online chat interface that replies to questions such as "Can you find me a hotel for July" or "Send me flights to Paris for the next week." The software uses AI to learn about user preferences and provide tailored airline and hotel booking recommendations that it gathered from around the internet. It can also search through booking emails and the user's calendar to create personalised itineraries, which can then be sent to friends. The app can integrate with Facebook Messenger, Slack, and Skype.
Mezi is also a popular AI chatbot that helps travellers in many different ways. Users are first asked to provide information about where they want to travel, as well as their preferences about budget, hotel ratings, and amenities. The chatbot then provides links to relevant hotels, and once a trip is booked, users can also ask for restaurant or excursion suggestions. Besides the version targeted towards individual travellers, Mezi also boasts a business subscription model. A travel agency, for instance, can direct customers to its Mezi site, and the software will share all the details of the booking with travel agents, who will develop a traveller profile. The app was acquired by the credit card company American Express in January 2018.
Virtual reality can be as exciting as the physical world
Besides artificial intelligence, travel companies are also turning to virtual reality (VR) technologies to gain a competitive edge. VR tools can help customers make the final decision during the booking phase. For instance, hotels can provide travellers with virtual tours of all facilities and rooms, as opposed to simply uploading static images. Hotels such as the Waldorf Astoria in New York, The Hampton by Hilton in London, and the Westin Los Cabos in Mexico already provide virtual tours to prospective customers. Some tourists would also like to explore the sights they plan to visit prior to booking their flight. VR can provide a solution for that, too, and Moulin Rouge cabaret in Paris, for instance, enables people who are unsure about buying a ticket to enjoy an immersive experience of some of their shows.
But VR isn't only about creating a digital version of the physical world. The London Natural History Museum's app called Hold the World enables users to interact with a virtual version of fragile objects such as dinosaur fossils. As the famous naturalist Sir David Attenborough says, "The one thing that really frustrates you in a museum is when you see something really fascinating, you don't want to be separated from it by glass. You want to be able to look at it and see the back of it and turn it around and so on." And in China, there's an entire VR theme park that uses cutting-edge tech solutions to provide visitors with the ultimate virtual experiences.
The mass adoption of VR, however, is hindered by expensive headsets that many people can't afford. That's why Ctrip.com International, one of the biggest online travel agencies in Asia, has decided to install VR stations in its physical retail spaces in China to showcase more than 1,000 attractions to customers. Consumers will be able to enjoy travel-related VR experiences when deciding where to travel next, and Ctrip hopes that these kinds of promotional activities will enable it to gain a marketing edge over competitors.
Using blockchain to break monopolies
Once travellers decide to book their flights and accommodation, most of them visit online travel agents hoping to find good deals. But while the online market looks like a competitive environment, it's actually ruled by a small number of companies. In fact, as much as 80 per cent of all bookings placed online get processed through two booking sites: Booking.com and Expedia. And the competition is only an illusion, as the Expedia Group, for instance, also owns sites such as Orbitz, Travelocity, Trivago, and Hotels.com, while Booking Holdings also operates Priceline, Agoda, and several other sites. Such monopoly enables these companies to enjoy a high profit margin, which is an issue that the Europe-based company LockTrip decided to address.
This startup developed a blockchain-based travel marketplace where users can book hotels and flights for 20 per cent less money when compared to major booking sites. Such a discount is possible because LockTrip doesn't add commission on the prices that customers pay to hotels and other service providers. Instead, its business model is centred on developing its own blockchain and the cryptocurrency ERC-20 LOC token that travellers use to make purchases. And for customers who don't use cryptocurrencies, payment works exactly the same as on other travel sites – they simply use their credit card, and the system automatically converts the payment into the company's token. The online marketplace is still in beta, although it already offers 100,000 hotels and more than 1,500 vacation rentals across the globe. The company is currently adding an additional 300,000 hotels and 900 airlines, after which the team will focus on marketing the platform and increasing the user base.
Overcoming obstacles with the help of technology
Travel and tourism remain one of the largest industries in the world, and their rise is fuelled by the internet, new business models, and global economic growth. And while technology trends have shaped the way we find, buy, and enjoy our vacations, they've also brought many challenges. Tourists now expect instant services and personalised products, while online travel agents enjoy a near monopoly. These forces will shape the future of travel, and companies that want to take a piece of this huge market will have to adapt. To that end, technology can be their best friend and a way to rise above the crowd and provide services that people will always come back to.