The rise of the spornosexual and the role of social media
Is there a link between the economic downturn and the obsession with the sculpted bod?
Many of today's women have increasingly high expectations of men
The advertising industry also plays a significant role
Shift in male beauty standards is big business
The impossible ideal can lead to body dysmorphia
What is the future of the 'authentic' male body?
With role models like Cristiano Ronaldo, Ryan Gosling and other, often artificially enhanced sports, music or fashion idols on Instagram and other (social) media platforms, young men are increasingly feeling the pressure to achieve the unattainable muscular male body ideal. The unhealthy evolution of the male beauty ideal has spawned a generation of sex and body obsessed young men, the spornosexuals. They are encouraged by the advertising industry and social media who constantly show them unrealistic imagery of perfection. Because of their obsessive preoccupation with their appearance, these young men are increasingly battling with eating disorders and body dysmorphia. In addition to social media's role, what role do women play in this new male body ideal? And could the economic downturn be a factor in their quest for the perfectly chiselled male bod?
One thing is crystal clear, the modern male beauty ideal is big business and male cosmetic product sales, gym memberships and tattoo parlours and even cosmetic surgery procedures are growing exponentially. In the future, will we be even less forgiving to those who don't measure up? Is the authentic male body a thing of the past?
What determines our body perception?
Factors such as biological and physical characteristics, personal attributes and interpersonal experiences all contribute to the development of the body image. However, the 'almighty' influence seems to come from the advertising industry, film, television and increasingly from social media platforms such as Instagram, all exerting pressure on the consumer to look like the ideal men and women portrayed in the media. This spreading of 'cultural messages', also called 'cultural socialisation', determines what it means to be attractive. It determines which physical characteristics have social value and which don't.
The rise of the spornosexual and the role of social media
The spornosexual, like the metrosexual, is a term coined by Mark Simpson, a British writer, journalist and broadcaster who specialises in media, popular culture and masculinity. The spornosexual is a modern day male who spends a lot of time at the gym, working on his physical upkeep. He is sculpted and tanned and happily shows off his results on social media. The term spornosexual came into being when Simpson became aware of the emergence of hypersexualised male imagery in fashion and the media; naked soccer players in fashion magazine spreads and nude rugby players on calendars.
Writer Clive Martin in Vice described the sporno as:
"a modern British douchebag, an erection in a vest. A walking, preening monument to the British masculinity crisis, a sports science Übermensch with an indecent exposure charge to his name."
The spornosexual is much more extreme than his metrosexual predecessor. He is totally into himself and his need for the perfect physique borders on obsession. Some spornos even turn to cosmetic surgery to enhance their biceps, calves and abs. The spornosexual admires his own image and has no problem with being objectified.
Social media plays a significant role in the increasing numbers of young men desiring perfectly sculpted bodies. Young Brits between the ages of 19 and 30 had posted more than a billion selfies in 2014, and men had posted even more selfies than women. The problem is that Instagram idols create the illusion of perfection by carefully editing the images with filters and manipulation software. These artificially enhanced images set utterly unattainable standards. The Instagram idols have created an intensely perverse and homogenised sense of beauty that is completely devoid of all authenticity and diversity and sadly, the sports, beauty and fashion industry happily promote and capitalise on these images.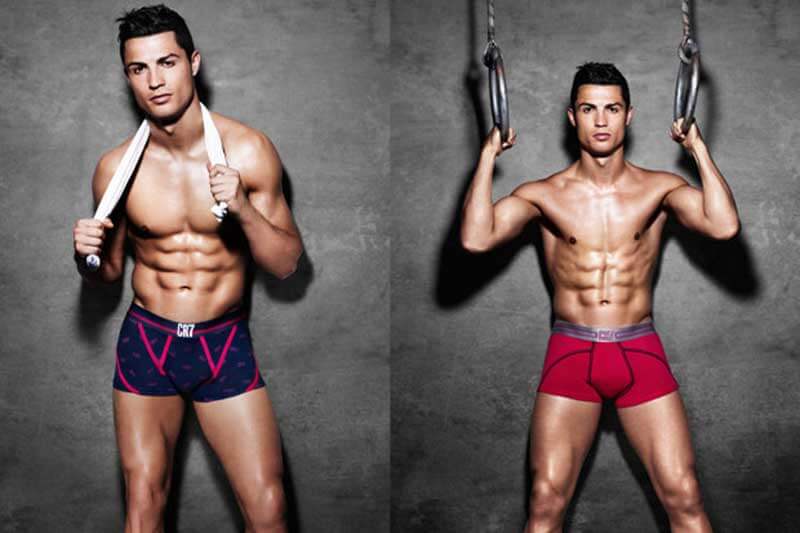 Is there a link between the economic downturn and the obsession with the sculpted bod?
A recent study by Jami Hakim in the Journal of Gender Studies found that the traditional role of breadwinner having been made more or less redundant by the austerity economy could be an important factor in the rise of the spornosexual. The fact that there doesn't seem to be a lot left these men have control over, not over the amount of money they earn nor over their employment situation, could explain their preoccupation with producing and consuming media and their obsession with working out. Their self-confidence is sought in the value of being admired. By posting images that resemble those in men's health magazines or pornographic content, they can show the world that they've reached 'the ideal'. The males surveyed stated that they crave the thrill of the 'like'. They want to feel that they've accomplished something by surviving increasingly gruelling workouts, resulting in stronger, more chiselled and more Instagram-worthy bodies. Perhaps within this particular context, the spornosexual makes a little more sense.
Many of today's women have increasingly high expectations of men
The fact that women are increasingly educated and more financially independent could be another factor in the rise of the spornosexual male. Many of today's women consider themselves successful and expect their male partners to match them or surpass them on as many levels as possible. Men today are expected to excel economically as well as emotionally, and in addition, they need to be well-groomed and in perfect shape.
The advertising industry also plays a significant role
The sexy, athletic body ideal is also being pushed by the advertising industry, making men more conscious of their bodies than ever before. A recent study by the Centre of Appearance Research showed that nearly 80% of British males would like to be more muscular. A third of that would even give up a year of their life if it meant they could have the ideal body shape!
Recent studies by Mintel, global provider of market research, indicate that 45% of young men indicated that attractive male models and celebs used in advertising inspired them to rethink their priorities in life. 38% of the respondents said they traded future priorities such as a long term relationship or marriage for 'being in shape'. 17% of male respondents between 16 and 24 indicated that the reason why they are increasingly self-conscious of their appearance is male models in advertising. A quarter of all respondents were of the opinion that advertising objectifies and sexualises men as much as women and some admitted feeling inspired by this fact. Most men however feel inadequate when they see the hyper-athletic male models and celebs in advertising campaigns.
Shift in male beauty standards is big business
This shift in male beauty standards has also resulted in a booming market, of which the spornosexual commands a good share, creating jobs in fashion, beauty, fitness, health and retail.
The gym, supplement and sportswear business
The fitness idols of today are 'aesthetic' bodybuilders with the cover model look increasingly gaining traction. Social media has played a pivotal role in the fact that these fitness idols are now becoming more influential than the magazines they feature in. According to the Leisure Database Company, one in seven people in the UK have a gym membership with the total market in the UK estimated to be $5.8 billion. The industry's growth is showing no signs of abating with 225 new gyms opening their doors in the past year alone. By 2017, the fitness supplement market is estimated to be worth $10 billion globally and the fashion gym-wear industry in excess of $265 billion.
Beauty products and cosmetics
The eighties witnessed music artists like Boy George and bands like Duran Duran wearing makeup without anyone batting an eyelid. They proved that men can experiment with cosmetics just as much as women. Today's men, from suburban dads to Wall Street bankers, are increasingly incorporating cosmetics into their daily grooming routine. This renewed interest in the use of cosmetics is a result of increased focus on appearance, driven by the advertising industry and social media. The most popular beauty and cosmetic products for men are moisturisers, anti-ageing creams, mud face masks, concealers, face bronzers, brightening creams, eyebrow gel, eyeliner and mascara.
Salon visits
There is also evidence of a surge in the number of salon visits with massages, facials and laser or wax hair removal among the most popular treatments. Men's perception of self-care and grooming is undergoing a paradigm shift and a growing number of men take pride in their appearance. They enjoy the experience and are more than willing to spend money on services and products.
Fantastic plastic
The quest for the perfect selfie has also lead to an astounding number of men turning to cosmetic enhancement and plastic surgery. Plastic surgeon Dr. Douglas Steinbrech explains that social media has a dramatic impact on his business. Both women and men want to look selfie-ready at all times and have become increasingly comfortable with the idea of cosmetic and plastic surgery. Many people are actually being paid with fillers and Botox to promote these products on social media. This new generation is no longer embarrassed about having these procedures. In fact, they are eager to document and share their plastic surgery journey with their followers on social media, often posting photos right after waking up from surgical procedures or even during Botox treatments.
The impossible ideal can lead to body dysmorphia
The current male body ideal is, apparently, perfectly V-shaped and symmetrical, 6'2" tall, with a ratio of 0.60 waist-to-shoulder and zero percent body fat. Oh, and they have to have an 8 to 12-inch long penis. Of course it's nearly impossible for a regular guy to get this type of muscular body without exercising and dieting, or worse: using steroids or stimulants. Men who are constantly or even 'just regularly' exposed to imagery of unattainable men's bodies can eventually develop an unhealthy, obsessive preoccupation with their body or 'Adonis complex'. This could ultimately lead to body dysmorphia. It's no wonder, then, that there's a marked increase in eating disorders among men. The irony is that the male beauty standard actually seems to be brought on mainly by 'role models' and idols and much less by what women think men should look like.
What is the future of the 'authentic' male body?
The rise of the spornosexual and the obsession with the perfect, unattainable male body makes one wonder to which extent the 'authentic' male body still has relevance in today's society and in the future. Taking the portrayal of this unattainable standard in social media and advertising into account, it looks like the chances are slim. Even though most people know that the images we see on social media are often enhanced with filters and doctored with Photoshop, many young men and women still look at these models as 'real'. We live in a society in which 'I am what I look like' has taken centre stage and where the stereotypical 'what is beautiful is good' inevitably seems to lead to 'the more beautiful, the better'. Susie Orbach, co-originator of the Dove Campaign for Real Beauty, asserts that (male) beauty standards are expected to become increasingly demanding. Different cultural standards of male physical beauty are beginning to disappear and she expects a further homogenisation of beauty. She is of the opinion that in the future, we are likely to be even less forgiving and accommodating to those who don't make the cut.
Inspired by this article? Download the free e-book "The ideal man – past, present and future", 51 pages of fascinating facts, quotes, case studies, research and videos.