What skills will be needed in the future?
Soft skills and hard skills
Reskilling and upskilling
The importance of knowledge management
The skills needed to succeed in business in the modern day are not always the same as those required in the decades gone by. Neither are they always the same as the skills that are important for success in the future. The business landscape is changing, and certain skills are becoming increasingly important while others become less vital. For an organisation to succeed, the workforce must be equipped with the skills needed for the future.
What skills will be needed in the future?
Digital technologies have had a tremendous impact on the world of work. While automation, robotics, and AI have made some jobs obsolete, these technologies have also created new occupations that require new skillsets. A survey by the McKinsey Global Institute, which included 18,000 people from 15 different countries, found that manual and physical skills are likely to become less sought-after in the near future. On the other hand, demand for technological, higher cognitive, and social and emotional skills will grow. By 2025, the demand for AI and machine learning skills will grow at a compound annual growth rate of 71 per cent, while the demand for positions requiring IT automation skills will grow by 59 per cent. When employees operate alongside automated systems and intelligent machines, and have skills that add value beyond what these machines can do alone, an organisation's performance can be optimised. A study by job market analytics provider Burning Glass Technologies found that quantum computing, connected technologies, fintech, and AI and machine learning expertise will be the fastest growing tech job skills over the next five years, followed by IT automation, natural language processing, proactive security, software development methodologies, cloud technologies, and parallel computing. Job roles like data scientist, data engineer, software developer, network engineer, network architect, DevOps engineer, and systems engineer will become increasingly sought-after.
"There will be a growing demand for technological, higher cognitive, and social and emotional skills, which will enable employees to operate in a digital environment, continually adapt to new ways of working and new occupations, and add value beyond what can be done by automated systems and intelligent machines"

McKinsey
Soft skills and hard skills
'Hard skills' are measurable abilities and skills specific to a particular job. 'Soft skills' are less defined, more universal, and often do not apply to one specific job. In working environments subject to rapid technological progress and digitalisation, soft skills are becoming increasingly important. Companies will value employees with skills that enable problem solving, ideation, and collaboration. According to a survey by career advice site Zety, recruiters name the most valuable soft skills as teamwork (57 per cent), communication (55 per cent), and time management (46 per cent). Analytical skills (53 per cent), high-level IT skills (49 per cent), and basic computer knowledge (47 per cent) were named the most valuable hard skills.
To help employees develop skills and provide them with future opportunities, Walmart and Unilever partnered with Accenture and Canadian startup SkyHive on a skills development programme. SkyHive uses a technique called quantum labour analysis to gain insights into the job market, and which skills are declining and increasing in importance. The main goal of the programme was to answer three questions: Do workers have hidden skills that could be unlocked to enable them to excel in emerging roles? Is there a way to better prepare workers for the future? Can workers move to new industries based solely on their skills? The answer to all three turned out to be 'yes'.
SkyHive used AI to uncover a range of skills employees didn't even know they had. Accenture used this knowledge to build efficient upskilling structures to help workers switch job roles – both within organisations and into entirely new industries – in under six months. "We've been working for a number of years on how we transition people into other jobs, but with pilots like this, we're learning how we can do it even better," explained Leena Nair, Unilever's chief human resources officer. This programme revealed how valuable data and insights are in helping identify and develop skills for the future.
Alongside data, employers also need to consider the human element. Finding out what drives employees and providing them with the support they need is the way to successfully transition into a future with different skillsets. In the words of Sean Hinton, founder and CEO of SkyHive: "The future of work has arrived. This collaboration is historic as it exemplifies the unique actions companies need to be taking to future-proof their workforces, by putting people first."
Reskilling and upskilling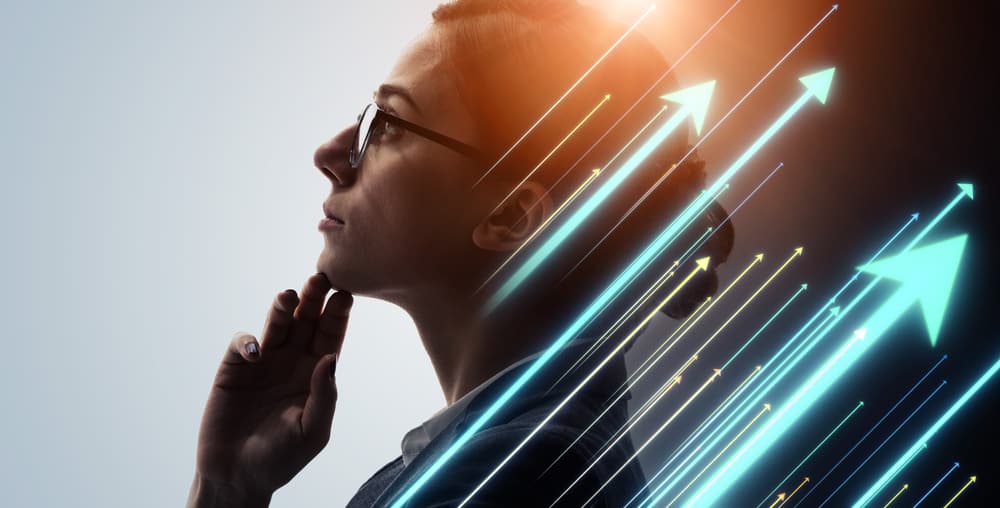 For digital transformation in an organisation to be successful, employees must be equipped with the skills needed to operate automated systems and communicate through digital channels. These skills are currently in short supply, so more and more companies are making efforts to reskill and upskill existing employees to close gaps in capabilities and better achieve their business goals. According to a report by the World Economic Forum, "as many as half of employees may need reskilling by 2025, and technological advances present a greater threat to jobs held by women than those held by men". The shift towards STEM-based skills requires greater investment in STEM education for women if the playing field is to be equal – currently, women account for only 25 per cent of STEM-based jobs. WEF's survey also revealed that around 70 per cent of employees may be offered reskilling and upskilling training by 2025, and that two thirds of the employers who took part expect to see a return on investment on these efforts within a year.
"As more organisations digitalise their business, much of the future workforce skills needed will be a combination of ever changing hard technical skills and more lasting foundational as well as transferable softer organisational skills — which, put together, are key attributes for working in a more resilient and agile fashion."

Marius Grindemann, Aon
The Guardian Life Insurance Company of America recently teamed up with training firm General Assembly to upskill over 1,000 employees. Participants learned skills in programming, machine learning, AI, and data extraction. The company's employee value proposition and chief human resources officer Diana Scott said "we have an enormous amount of data and not enough people with the skills to operationalise it. We saw an opportunity to offer development programmes to fill that gap." Amazon also launched an upskilling initiative in 2019, where over 300,000 employees were given training programmes, including a Mechatronics and Robotics Apprenticeship and a computer service technician course. Senior vice president of human resources Beth Galetti stated: "While many of our employees want to build their careers here, for others it might be a stepping stone to different aspirations. We think it's important to invest in our employees to help them gain new skills and create more professional options for themselves."
Global professional consulting firm PricewaterhouseCoopers (PwC) also provided an upskilling initiative to over 50,000 employees. The training programme helped employees learn automation, AI, data, digital storytelling, and more. Carrie Duarte, PwC's workforce leader of the future, described upskilling as "being able to work socially in a digital world. Technology allows people to post things and communicate ideas so they can innovate quicker." Professional services firm Deloitte also provides all of its employees with access to training courses, with a particular focus on empowering and engaging remote workers. By showing all employees that they are valued regardless of how small their roles are, companies can significantly improve their engagement and minimise employee turnover.
The importance of knowledge management
One important factor for company success that is often overlooked is knowledge management. As organisations increasingly transition to remote and hybrid working models, knowledge management is becoming more and more essential. A study by Deloitte revealed that only 9 per cent of business leaders feel confident in addressing the knowledge transfer issue. Technology alone cannot facilitate the successful transfer of knowledge – a culture of knowledge sharing must be created in the organisation. It's important that companies invest in knowledge systems and adopt a holistic knowledge management approach that facilitates structured transfer of knowledge. Rather than opting for a one-tool solution, organisations should use interacting tools, and ensure that employees know where to obtain the information they need. A report by McKinsey showed that an effective knowledge management system can reduce time spent searching for information by up to 35 per cent, while raising productivity by 20-25 per cent.
In the past, employees of the Capital City Bank Group had complained about not knowing where to find information needed to complete tasks and help clients. In response, the company introduced a new centralised knowledge management system called Helpjuice to help employees find information, policy, and procedures. Knowledge manager Jennifer Hoffman said: "The search feature is so powerful that our associates are often able to find the content they are looking for before they even finish typing the search term." Since Helpjuice was introduced, reporting errors have decreased by 20 per cent and employees reported an increased ability to focus on completing essential tasks.
Closing Thoughts
To adapt to a constantly changing business environment, workforces must be equipped with new skills. The need for STEM-based skills is increasing, while the need for physical and manual skills decreases. Soft skills which are useful across various disciplines and industries are also becoming a focus point, and reskilling and upskilling programmes have shown promising results. With an increase in skills, knowledge management systems are also becoming more and more critical. Investing in these areas not only helps employees in their personal career development, but also assists organisations become more efficient and successful.