Samsung's SmartSuit helps Sjinkie Knegt take silver
Under Armour's Mach 39 gives American speed skaters every advantage
US skiers use virtual reality to get an edge
Pyeongchang fields robots and drones to help organise the games and keep them safe
On the 9th of February in Pyeongchang, it wasn't just the world's athletes who were introduced to a global audience. The 2018 Winter Olympics are host to some of the world's most advanced tech, too. From cutting-edge speed skating suits to translator robots, the Pyeongchang games are a marvel of science, engineering, and innovative design.
Let's take a closer look at 4 amazing advances on display at the Olympics.
Samsung's SmartSuit helps Sjinkie Knegt take silver
When Sjinkie Knegt, a Dutch speed skater, stepped onto the ice last Saturday for the 1,500-metre short-track speed skating final, he was well-prepared for a silver medal. In fact, he has a secret training weapon: the Samsung SmartSuit. Custom made for him and his teammate, Suzanne Schulting, these suits were designed by the tech gurus at Samsung to provide their coach with the precise data he needs to hone these skaters to the sharpest edge for competition.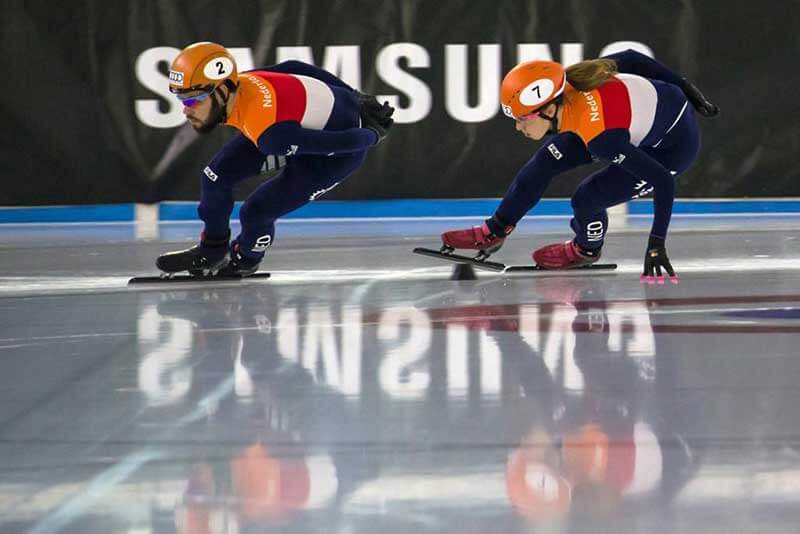 For short-track skaters, form is critical. If they remain too upright, they catch the wind and slow themselves by fractions of a second. That may not seem like much, but in a sport where silver and gold are separated by thousandth of a second, perfection is everything. The SmartSuits are precision sensors in the form of racing gear, and they measure the distance of Knegt and Schulting's hips from the ice. A mobile app sends real-time data to their coach, Jeroen Otter, letting him see what his eyes can't as he watches them train. If the data reveals something he doesn't like, he can send a message to the SmartSuit, which vibrates at the wrist to tell the skaters to correct their position.
The suits are all about building speed through perfect position, and with more short-track skating on the Olympic schedule, we're sure we'll see more orange on the medal podium!
Under Armour's Mach 39 gives American speed skaters every advantage
The Dutch aren't alone in leveraging tech to shave time from their skaters' laps. The US speed skaters are wearing cutting-edge speed skating suits designed by Under Armour. As Clay Dean, Under Armour's chief innovation officer, explains, "We're trying to get the body to be more aerodynamic than it is in its natural state."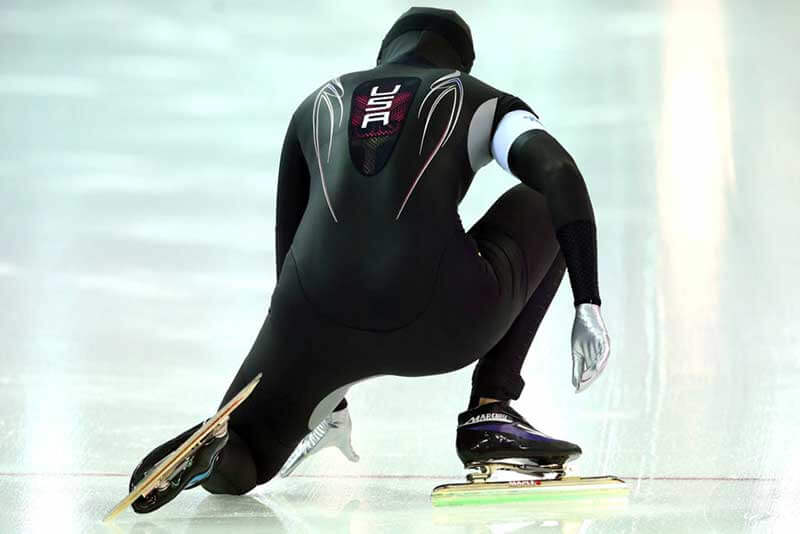 To do that, these suits need to defeat physics. "Speed skaters wage a battle with physics every time they race," Elizabeth Stinson writes for Wired. "As their muscular bodies cut through the air at more than 30 mph [48 kmph], they leave a trail of drag in their wake. The key to winning (against physics and humans alike) is to reduce the amount of air resistance a body produces." These cleverly designed suits use a variety of carefully placed micro-textures and dimples to break up the air as it swirls around the racers, preventing a vacuum from forming behind them and literally holding them back.
So far, the American speed skaters have been denied any medals, a replay of the Sochi games, where they underperformed expectations. But as this week's races take place, perhaps they can still find a place on the podium.
US skiers use virtual reality to get an edge
American Olympians are always coming to the Olympics just a little bit behind. That's because, unlike most of their competitors, these athletes don't receive government funding, as Matt Davis reports for the BBC. That forces them to think outside the box and to improvise to overcome this obstacle. "To make up the funding difference we have to be innovative and experimental and take advantage of assets like Silicon Valley, research universities and sponsorship, to gain advantage on a global scale," Troy Taylor, the high performance director for the US Ski Team, tells Davis.
For athletes in the Super G and downhill, surprisingly little time is actually spent on the slopes. As Taylor explains, "We try and get on the snow 150-200 days a year and are chasing snow around the world … Each time we are on the snow we get maybe six to 10 training runs, for about 30-60 seconds at a time, so that is only three to 10 minutes a day."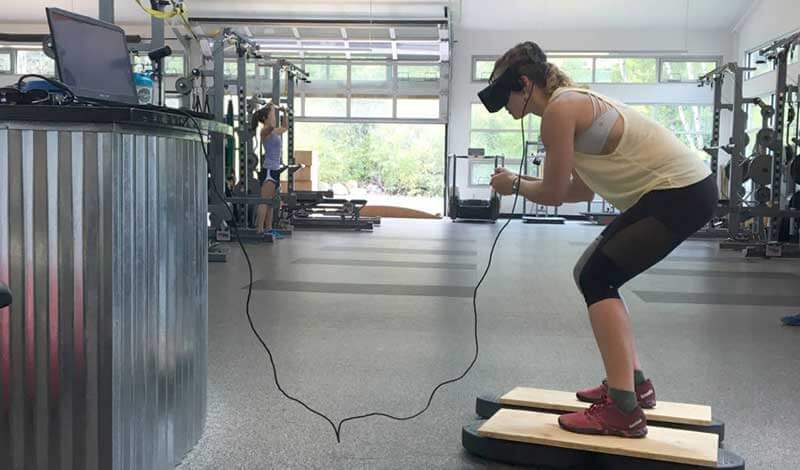 It's easy to see that this is nowhere near enough time to train, and to help his skiers adjust to The Jeongseon Alpine Centre's slopes, Taylor's having them use virtual reality (VR) goggles and simulated skis to make extra runs. Wearing Oculus Rift and Samsung Gear headsets, the skiers watch STRIVR's 360-degree video. As they perch on balance boards that mimic skis, they can re-run their courses, training in their hotel rooms to get ready for the snow. As Taylor relates to the BBC, "The clear advantage of VR is that it is a great way to help athletes get more used to and learn specific courses, which is an obvious performance benefit … They feel they know the courses they will race on better, so when they come to ski on it during a race they enter the start gate with an increased confidence level. That is a big part of competition, having the confidence to attack parts of the course where you can find time."
Mikaela Shiffrin, who's been using this tech, just took gold in the women's giant slalom with a time of 2:20:02! No doubt this extra training helped her do her best.
Pyeongchang fields robots and drones to help organise the games and keep them safe
Of course, while the athletes are centre-stage, the Olympic Games host hundreds of thousands of spectators from around the world. Helping these guests, answering their questions, and translating to and from dozens of languages is a monumental task. Add to that the need to keep the venues spotless and safe, and you get a sense of just how tough hosting the Winter Olympics really is.
South Korea is a leader in robotics, and it's demonstrating this by fielding 85 robots for the games. These aren't just show pieces. As Emily Matchar reports for Smithsonian Magazine, "the robots will assist athletes, clean venues, provide translation and even ski". Our Olympic hosts unveiled their prowess in an amazing way, having HUBO, a bipedal robot, play a prominent role in the torch-bearing ceremony. "Clad in an Olympic beanie, 47-inch humanoid robot HUBO drove a car in December's torch relay, then got out and carried the torch to a wall, punched through the wall as a demonstration of his rescue skills, and passed the flame to his creator, Professor Oh Jun-ho," writes Matchar.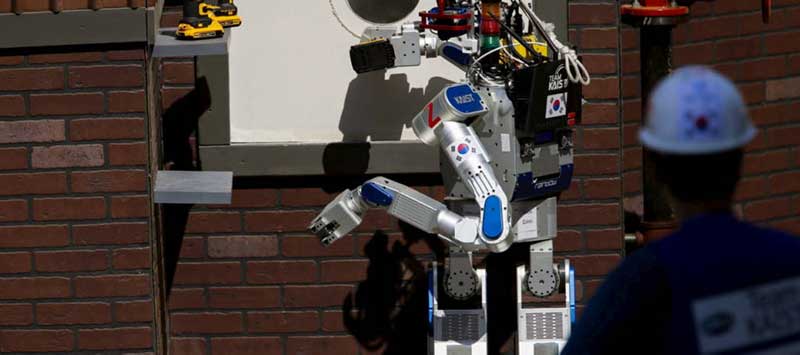 That's a big deal – not just a publicity stunt. What HUBO demonstrated was that a rescue-bot built to navigate human environments could move as we do: climb in and out of a car, walk, run, and seamlessly manipulate hand-held objects. Those are precisely the kinds of things that a robot needs to do well in disasters like Fukushima, where a rescue-bot will need to navigate stairs and doorways and use human-centric tools and controls.
And in a stunning display of artificial intelligence, Hancom, a South Korean tech giant, has deployed emotion-detecting, interactive translators throughout the Olympic venues. Collaborating with Future Robot, Hancom combines touchscreen interfaces with a robot equipped with a simulated human face. Because the AI can recognise and respond to a user's emotions, "This will allow them to feel as if they are talking to a human being, as both firms focused on developing an emotionally interactive robot in terms of its service and appearance," explains a Hancom spokeswoman to the South China Morning Post. These translator-bots can speak Korean, Chinese, English, and Japanese.
And South Korea hasn't ignored the safety of its guests with its robotic 'army'. A growing concern for large, open-air sporting events is the possibility of a drone attack. Whether carrying a bomb or a biological agent, large crowds are a tempting target for terrorists. To prevent such a tragedy, Olympic security are flying anti-drone drones. With these airborne guardians ready to cast a net over any suspicious flying objects, athletes and spectators alike can relax and enjoy the events.
We don't usually think of the Olympics as a high-tech venue. That's because we're focused on the sports and the athletes, the sweet victories and bitter defeats that keep us glued to our screens. But if we look behind these stunning performances, it's clear that technology is becoming an increasingly critical component of the games, helping the athletes shine in safety.