Consumers and authorities are forcing companies to change
The fashion industry wants to reduce its environmental impact
Reducing food waste by offering sales discounts
Empowering farmers and preventing deforestation
How retailers can support sustainability efforts
Using blockchain to enhance the traceability of products
Transforming the economies of developing countries
Companies have moral and financial reasons to turn 'green'
Clean water, fresh air, and fertile land are in short supply as the climate crisis takes a toll on the planet. Twenty of the warmest years on record were in the last 22 years, while rising CO2 levels and pollution amount to what the documentary producer David Attenborough calls "our greatest threat in thousands of years". Experts advise people to use public transport, eat less meat, and give up plastic bags in a bid to reduce their environmental footprint, but although our individual efforts are commendable, they're merely a drop in the ocean. More of the responsibility rests on large corporations and their 'dirty' supply chains. In fact, research shows that just 100 corporations account for 71 per cent of global emissions since 1988, which led to people demanding that companies improve their act, adopt sustainable practices, and provide fair wages and working conditions.
Embracing sustainability, however, requires effort that goes beyond a company's direct operations, as its supply chain is actually responsible for up to 80 per cent of its environmental impact. Leading businesses are urging suppliers to reduce greenhouse gas emissions, recycle used materials, and plant thousands of trees. Consumers are becoming eco-conscious, too, and they're deliberately choosing sustainable products, giving rise to a multi-billion dollar 'green' market. New solutions enable shoppers to inspect a product at each stage of its lifecycle, while NGOs provide companies and institutions with access to the best sustainability practices.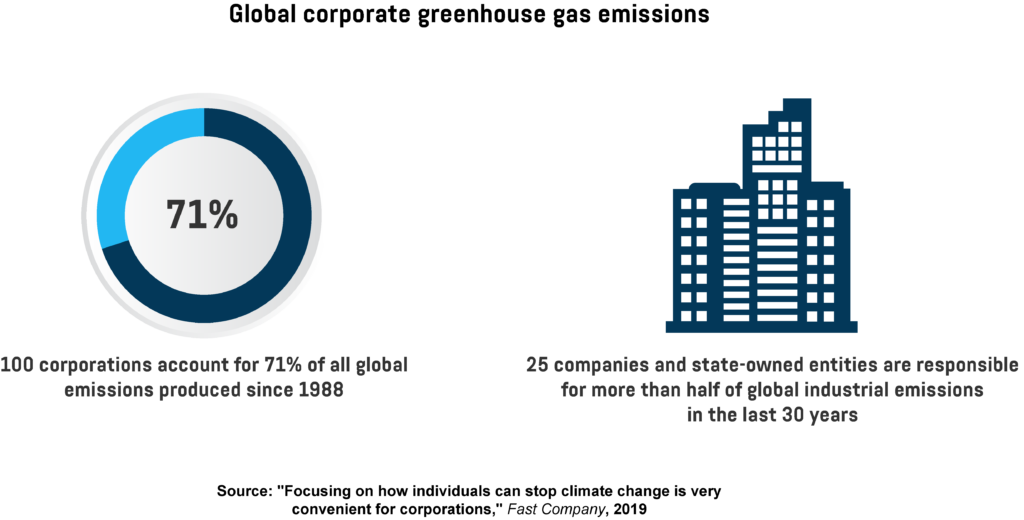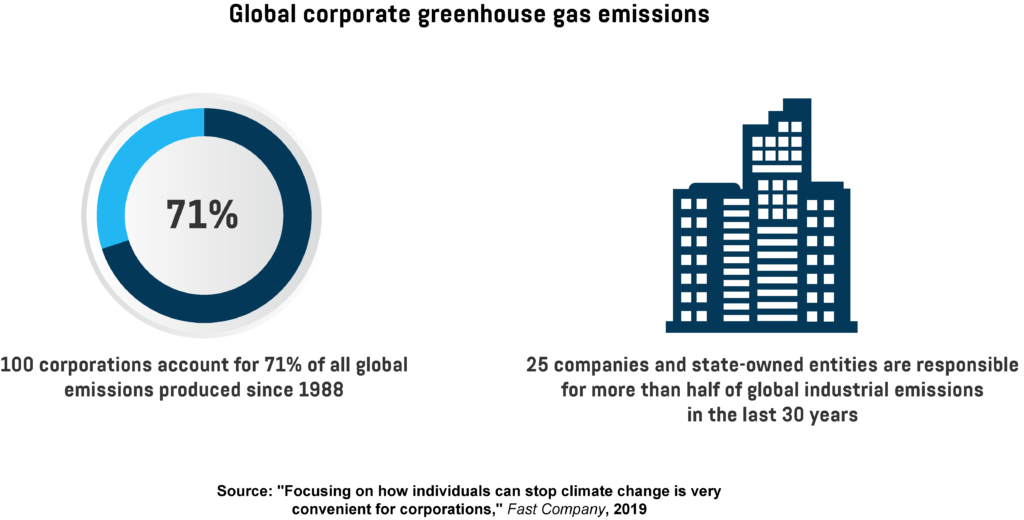 Consumers and authorities are forcing companies to change
Almost half of US consumers are willing to change their consumption habits to protect the environment. By 2021, this group is set to spend up to $150 billion on sustainable fast-moving consumer goods (FMCG) each year. In the European Union (EU), the organic food market alone is worth more than $30 billion. European authorities are also taking legislative measures to promote sustainability. For instance, the European Commission approved the Circular Economy Action Plan in 2015 with the goal of improving reuse and recycling of raw materials and products. Also, measures such as the European Strategy for Plastics, are being implemented to ensure that all plastic packaging used in EU member states is recyclable or reusable by 2030.
Market demand and government pressure are forcing companies to react. The international banking powerhouse HSBC reports that 31 per cent of companies worldwide plan to introduce sustainability-focused changes to their supply chains. Cost efficiencies and improved revenue were listed as the main factors behind this move. Also, seven of the 10 largest global FMCG companies have carbon emissions reduction goals that include helping suppliers to go 'green'. But the path to sustainability is difficult, and according to the last available data from 2016, only two of those seven corporations managed to reduce the environmental footprint of their supply chain by a meagre one per cent. Nonetheless, hundreds of companies are moving forward with multiple sustainability initiatives that aim to reduce waste, protect the environment, and ensure the transparency of supply chains.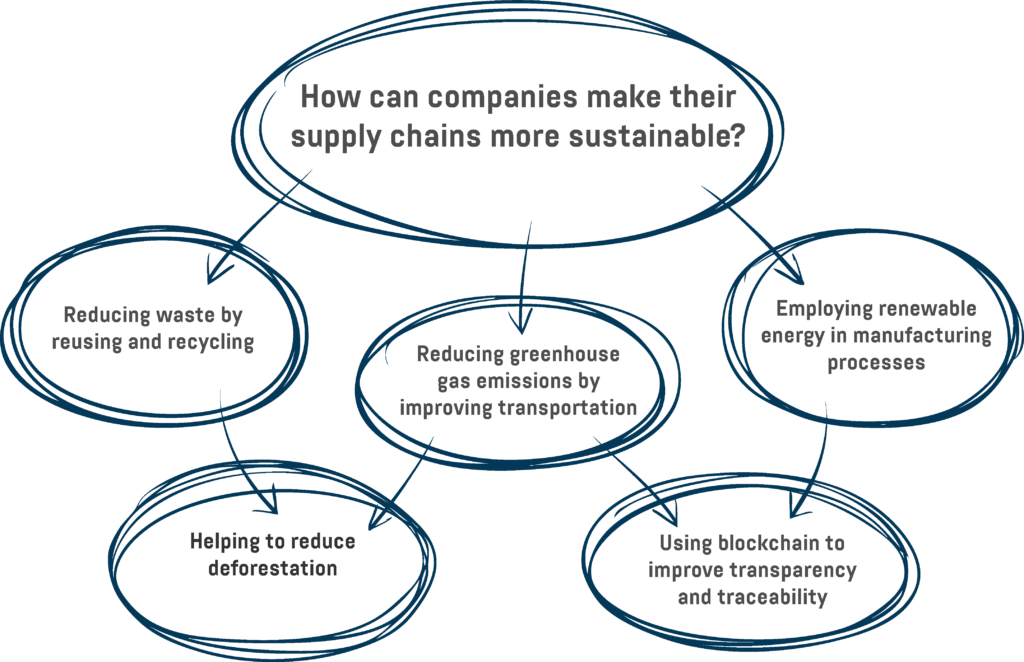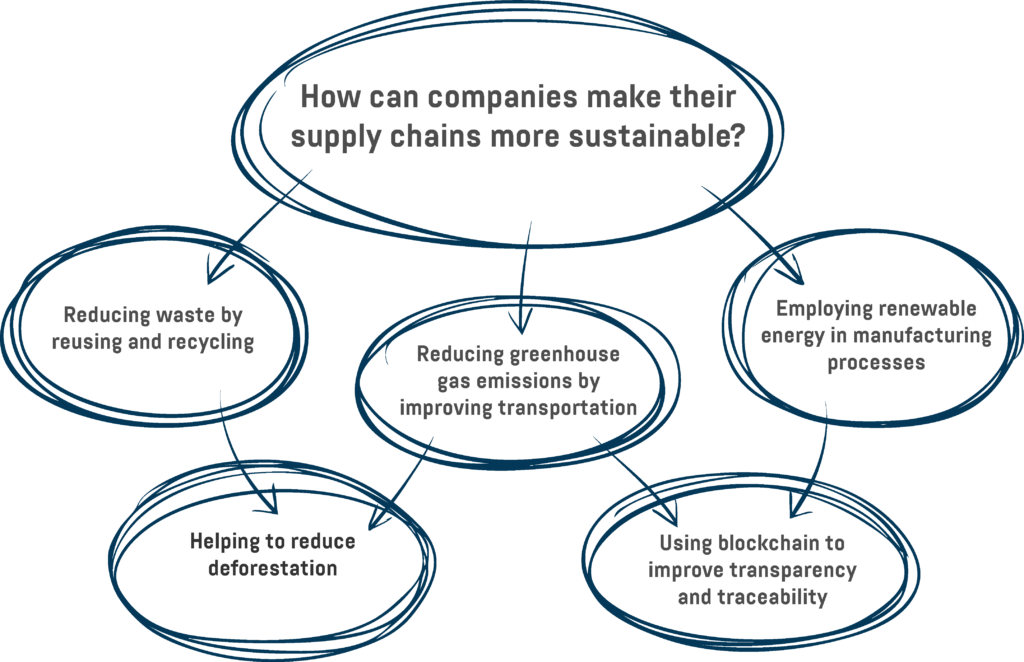 The fashion industry wants to reduce its environmental impact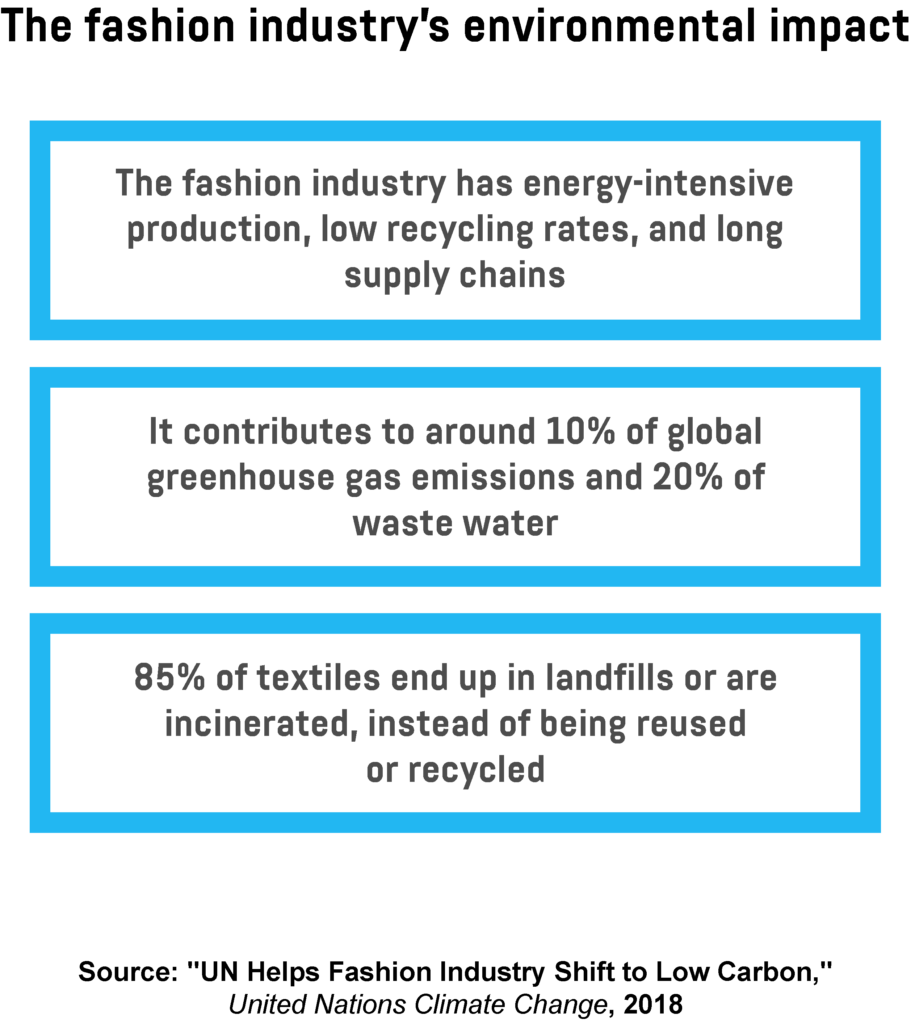 Far from the public image shaped by the glamorous shows it organises in New York or Milan, the fashion industry is actually one of the world's worst polluters. Its energy-intensive production, low recycling rates, and long supply chains contribute to around 10 per cent of global greenhouse gas emissions and 20 per cent of global waste water. Also, cheap clothes have led to an increase of 40 per cent in the amount of clothing items an average EU citizen bought in the last few decades, and consequently, to more waste. Because of this, fashion producers are now increasingly embracing ethical fashion by offering better working conditions, reducing their environmental impact, and delivering long-lasting products.
H&M, a global clothing retailer based in Sweden, has seriously embraced sustainable fashion. The company plans to become 100 per cent circular by 2030 by recycling and reusing resources, turning to renewable energy, and reducing CO2 emissions. Many H&M stores already allow customers to drop off used clothes for recycling and receive a coupon in exchange. Also, shoppers can access information about the garment production process by using the H&M app to scan the price tag, while the company's '100% Fair & Equal' program ensures that all workers in the supply chain are fairly compensated for their labour.
Adidas, one of the largest sportswear manufacturers in the world, has a long history of contributing to sustainability efforts. In 1989, this German company incorporated 'green' practices into many of its factories, while in 1999, it received the environmental management system certification. And in July 2018, Adidas designed and manufactured a jersey for the Italian soccer club Juventus using nothing but recycled ocean plastics. The company will also support sustainable innovations in the fashion industry by funding and advising startups coming out of the Fashion for Good-Plug and Play Accelerator programme.
The German apparel company Hugo Boss also tries to make its supply chain more sustainable. By 2025, it plans to buy 80 per cent of the cotton it uses from sustainable sources, while similar targets will be set for leather, wool, and synthetic fibres as well. The firm already uses padding made from a minimum of 60 per cent recycled materials in all of its clothing lines. Furthermore, Hugo Boss is part of the 2020 Circular Fashion System Commitment, an industry-wide business initiative that promotes the reuse of products at the end of their lifecycle. This fashion brand will train all of its employees on how to embrace sustainability in the design, development, and sourcing phases of production.
Reducing food waste by offering sales discounts
And while some countries are trying to rein in the fashion industry, one in every nine people across the world goes to bed hungry, which translates to a staggering 821 million people who are affected by food shortages. And yet, 30 per cent of food produced for human consumption is wasted each year, which amounts to $700 billion in environmental costs and $1 trillion in economic costs. Food waste not only causes direct financial loss for all companies in the supply chain, but it also represents inefficient use of water, energy, land, and many other natural resources that are in limited supply.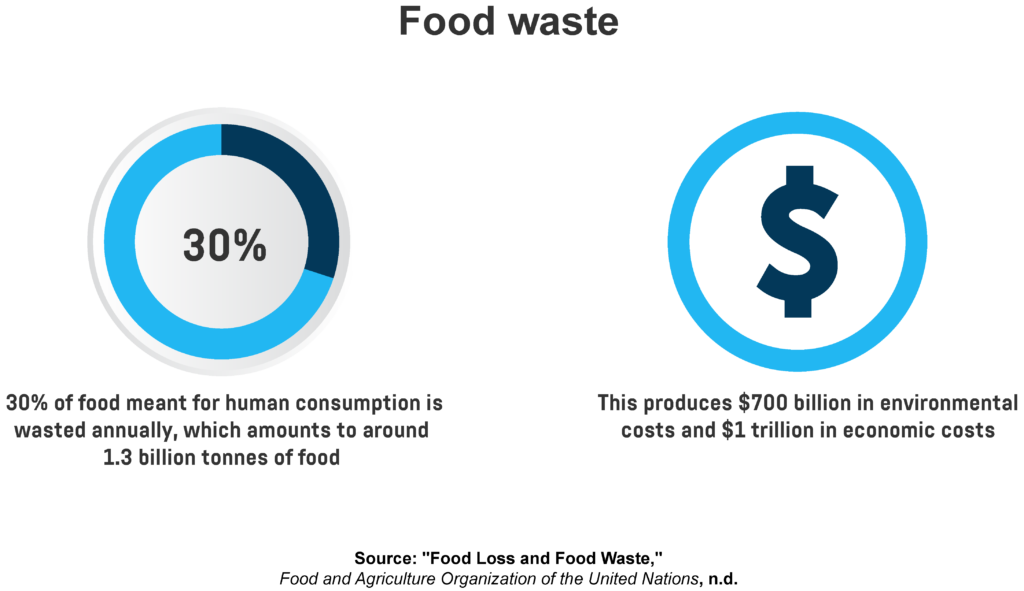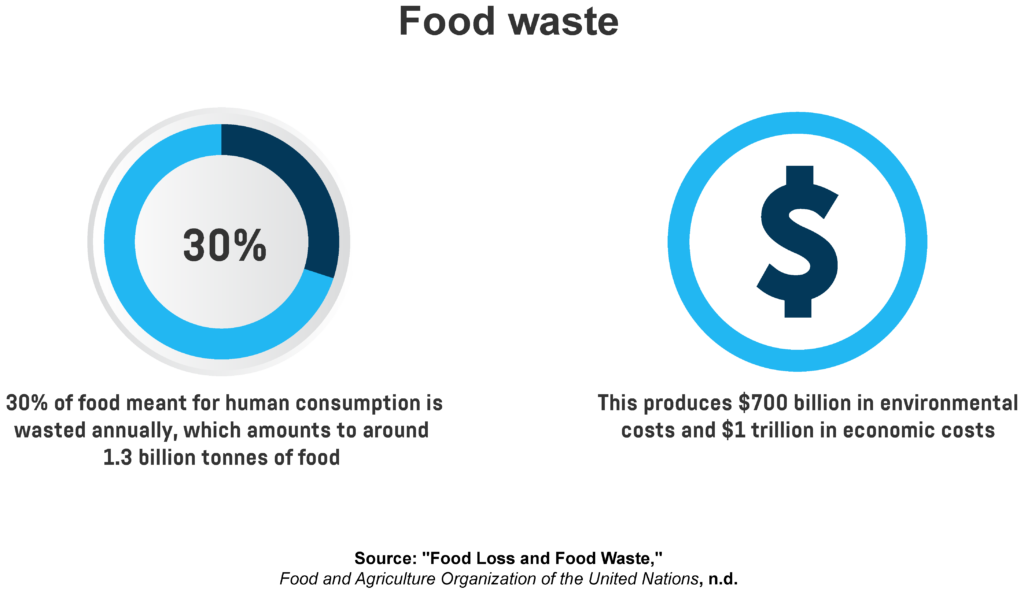 One way to tackle this problem is to enable consumers to buy soon-to-expire food items at low prices. For instance, Too Good To Go is an app launched in London that enables restaurants and retailers to upload the food they want to sell at a discount, and it's currently available in nine countries and boasts 21,000 partners. Its Swedish counterpart is Karma, launched in 2018, and it allows partners to sell surplus food at half the original price. Other European countries have similar apps such as Minute Sottocasa in Italy.
But the food industry has a negative environmental impact throughout the entire supply chain, forcing companies to adopt a variety of sustainable practices.
Empowering farmers and preventing deforestation
For instance, Smithfield Foods, the world's largest pork producer, is providing around 80 per cent of its grain suppliers with more efficient fertilisers and soil health management techniques that will be deployed across 226,623 hectares of land. The company hopes that this initiative will help reduce greenhouse gas emissions in its supply chain by 25 per cent by 2025, and that it will make farming more efficient and cheaper. Also, Smithfield Foods' agronomists advise farmers on how to further improve fertilising practices, find cheaper tools, and diversify crop production.
The coffeehouse chain Starbucks has also found a way to help farmers. In May 2019, this American corporation successfully issued a 30-year $1 billion Sustainability Bond. The money will be used to support the Starbucks Global Farmer Fund that provides farmers with loans to replace old for new trees, purchase better tools, and improve productivity. In addition to this, the company will use the gathered funds to finance the construction of 10,000 Greener Stores by 2025, which will focus on renewable energy, water conservation, waste reduction, and sustainable cups and packaging.
The Hershey Company, an American producer of dozens of chocolate brands, including KitKat, helps reforestation efforts in cocoa growing regions in West Africa. It plans to distribute 900,000 multi-purpose trees to farmers in Ghana and Cote d'Ivoire by 2022, as well as 2.5 million improved cocoa seedlings. Furthermore, it will complete satellite mapping of 50,000 farms in both countries in an attempt to ensure the traceability of supply chain materials and to gain better oversight of the deforestation crisis. Nestle, a Swiss multinational food and drink corporation, also aims to curb deforestation caused by its supply chain partners by 2020. To that end, the company uses Starling, a satellite imagery system, to track forest areas at risk, focusing especially on palm oil production that's recognised as one of the major contributors to climate change and biodiversity loss.
How retailers can support sustainability efforts
Retail companies can also play an important role in promoting 'green' practices. The US retailer Walmart, for instance, is working to reduce its greenhouse gas emissions by one billion metric tons by 2030. Its fleet is set to become more fuel-efficient, while renewable energy sources will power half of its operations by 2025. Also, Walmart suppliers that deploy sustainable practices can apply for loans with competitive interest rates at the international bank HSBC. But there are other ways for retail companies to protect the environment. The British retailer Marks & Spencer, for instance, managed to reduce the use of plastic packaging material for popcorn by 37 per cent by simply reducing the amount of air inside, which reduces the size of the packaging.
Using blockchain to enhance the traceability of products
Years of mistreatment of the environment and supply chain partners by food, drink, fashion, and many other businesses have led to a decline in customer trust. That's why the tech startup Provenance aims to help companies prove that their sustainability efforts are authentic. Its blockchain-based platform enables firms to record product information, explain the manufacturing process, and show how materials are made, used, and re-made. This transparency and traceability of products will hopefully attract eco-minded shoppers. Jessi Baker, the CEO of Provenance, says that the platform can also potentially be used to enable loans with lower rates to companies that have sustainable practices.
Transforming the economies of developing countries
The appeal of sustainable production has the potential to transform even the textile industries of entire countries. Producers from Guatemala, a Central American country, hope to benefit from the looming US-China trade war by attracting apparel brands that want to shift production partnerships away from Asia. Textile manufacturers such as Liztex and eco yarn producers like Industria Textil S.A. have recently met with a number of US producers at the trade show in Guatemala. The participants noted that although the opportunity for deeper cooperation exists, it will take some time to expand the capacity of production facilities to match those in China.
But efforts to reduce environmental footprints and build more sustainable factories in developing countries will soon be easier thanks to an initiative by the Environmental Defense Fund. This US environmental advocacy group has launched a new web-based platform that contains a searchable database of sustainability solutions, case studies, corporate policies, and many other easily accessible resources. Also, it connects experts with businesses that want to develop eco-friendly policies. Elizabeth Sturcken, the managing director in charge of the project, says that the "goal is to make finding sustainability solutions as easy as finding a movie on Netflix or a song on Spotify".
Companies have moral and financial reasons to turn 'green'
From waste and pollution to deforestation and droughts, companies can no longer ignore the many ways in which their operations worsen the climate crisis. Customers now realise the true cost of the cheap products they once enjoyed, and faced with public pressure, governments are also taking action. Saving the environment, however, requires the transformation of entire supply chains in multiple industries. This task is monumental, and it will take decades to change old production and sourcing systems and yield positive results. But with consumers increasingly willing to buy eco-friendly products and support the pioneers of sustainable production, companies now have both moral and financial reasons to improve their act and build a sustainable supply chain.