Tertill makes weeding easy in home gardens
Octinion picks strawberries better than human workers
SmartCore collects soil samples on agricultural fields
Fendt's robots swarm fields to plant seeds
Dino performs weeding on large open fields
Agerris' robots might even herd cattle
Mamut roams fields and spots diseases
FarmWise helps farmers remove weeds without chemicals
ecoRobotix turns to scan-and-spray technology
Thorvald is poised to become an alternative to human labour
The dawning of the age of robot farmers
The growth of the global population has placed agricultural companies in a difficult position. They have to produce more food to satisfy the dietary needs of billions of people, while facing severe environmental and economic challenges. Governments and consumers increasingly expect growers of fruits and vegetables to use less pesticides, and hiring seasonal staff on farms is becoming harder each year. Crippling labour shortages threaten the survival of farmers in many countries. And faced with these challenges, agriculture is turning to autonomous machines as a viable alternative to human workers.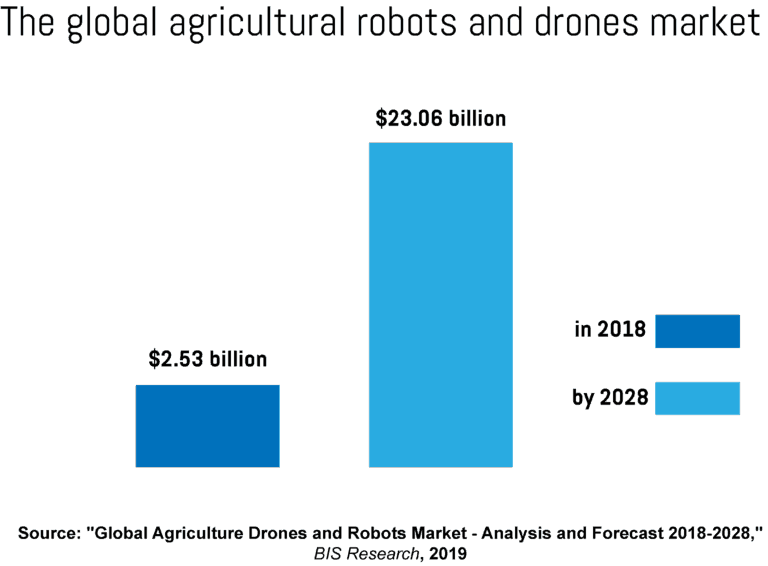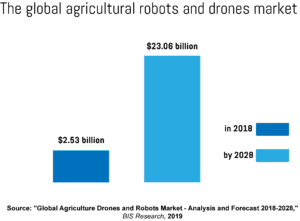 Farmers' interest in the latest technologies has turned agricultural robots and drones into a market that's set to reach $23.06 billion by 2028. Even now, robots can perform various tasks in open fields and greenhouses. From weeding and harvesting to sampling and spraying, advanced devices help farmers grow healthy crops in a financially and environmentally sustainable way. And although we're just at the beginning of this trend, there are many examples that show the vast potential of agricultural robots to transform food production.
Tertill makes weeding easy in home gardens
Many citizens grow crops and flowers in their home gardens. And although this activity is a source of joy and healthy food, it's also a constant struggle to eliminate weeds that steal water and nutrients from plants. Weeding can be time-consuming and hard work, which is why the tech startup Franklin Robotics has come up with a solution. This US company developed a 1.1-kg-heavy robot called Tertill that independently moves through the garden and trims. The four-wheeled device uses sensors to spot its target and a nylon string located at its underside to eliminate weeds.
The robot comes with a solar panel and can charge its battery when exposed to direct sunlight. Alternatively, a USB cable can also be used for charging. Tertill's owners will have to enclose their garden with at least a five-centimetre-tall wall that prevents the robot from 'escaping', so it can patrol in a designated area. The machine is weather-resistant, but rocks, mud, and uneven terrain might stop it in its tracks. Franklin Robotics also developed a smartphone app that enables users to monitor the activity of the robot, as well as the conditions in the garden.
Octinion picks strawberries better than human workers
Strawberry producers are also getting a tech makeover. After five years of research and development, the Belgium-based robotics firm Octinion unveiled a fully autonomous strawberry picking robot called Rubion. The machine navigates through greenhouses or agricultural high tunnels and detects and picks ripe strawberries. The fruit is picked without bruising, and then the system weighs the pieces and places them in the designated punnet. Rubion is also capable of predicting next week's harvest by analysing the crops and helping farmers more efficiently plan their operations.
More importantly, farmers will now be able to pick the berries when they're ripe and not when workers are available. The agricultural sector has been facing a labour shortage for years, with businesses unable to grow as fast as before. But robots are seen as a potential solution that can increase the quantity and quality of end products. Tom Coen, the CEO of the Octinion Technology Group, says that consumers should notice the difference "as strawberries will be fresher and show less bruising." And he's optimistic that the market will embrace Rubion, because the robot has been developed in close cooperation with growers and test centres in several countries.
SmartCore collects soil samples on agricultural fields
Growing crops in vast open fields poses unique challenges. Farmers have to analyse soil samples to determine the amount of nutrients that are needed in specific parts of the field. Using the optimum amount of nutrients can increase yields, reduce costs, and prevent surface and groundwater pollution. But using either too much or too little of the chemicals can have a devastating effect on crop yields. And despite the importance of this process, farmers usually take soil samples by hand, which is an inefficient method with a high rate of sampling errors.
Troy Fiechter and Drew Schumacher, Purdue University graduates, have come up with a better solution for soil analysis. The duo developed SmartCore, an autonomous robot that navigates fields and takes samples from specific locations. The machine is guided by obstacle-detection algorithms and GPS to take samples from the same spot each year, enabling farmers to track how their soil is evolving. And once the sample is taken, SmartCore transports it to the edge of the field for shipment to a lab. Schumacher says that "If you don't compare the same soil site season to season, you're going to have a field that varies a lot." Another benefit of this robot is that it uses a self-cleaning hydraulic auger that reaches a precise depth and ensures that samples are accurate and reflect the ground composition.
Fendt's robots swarm fields to plant seeds
The German agricultural machinery firm Fendt and the Ulm University of Applied Sciences teamed up to develop a seed planting robot named Fendt Xaver. Thanks to funding provided by the European Union, the duo created technology that enables farmers to deploy a swarm of small robots in a field, which are then ready to execute an assigned task. The robotic system consists of several parts. The logistics unit, embedded in a high-tech trailer, is responsible for battery charge, seed supply, and precise navigation of small, four-wheeled robots via the cloud. And farmers rely on a tablet to plan tasks and monitor seed data.
The robots also use satellite-based navigation to relay their exact position, helping operators optimise planting operations. And the machines are controlled and optimised by the OptiVisor algorithm. Fendt's field robotic system is energy efficient due to its low weight and low-maintenance engine. The battery can be charged from various energy sources, such as the public grid, farmers' own biogas plants, wind power, or fuel cells. And as one of the pioneers in the production of farming tractors in the first half of the 20th century, Fendt hopes that its latest technological solutions can help the agriculture make the next big leap forward.
Dino performs weeding on large open fields
And while Tertill removes weeds in small gardens, the French robotics firm Naïo Technologies does the same job in large open fields. Its autonomous robot Dino performs hoeing and weeding operations, preventing weeds from stealing water and nutrients needed for plants. The four-wheeled robot that weighs 800 kg is equipped with a computer vision system that detects crop rows and constantly adjusts its mechanical parts to ensure high-precision work. And Naïo says that its machine is effective in weeding "vegetables that are grown in the field, both in raised vegetable beds and in rows, such as lettuce, carrots, onions".
The robot can work without supervision, following an assigned path thanks to its GPS guidance system and adhering to predefined weekly weeding operations. This saves time and money for farmers, as they can tackle other, more complicated farming tasks. Dino is also an environmentally friendly tool as it's powered by electricity and reduces the use of chemical weedkillers. And thanks to a powerful battery, it can operate up to eight hours without stopping, which is especially useful for large fields.
Agerris' robots might even herd cattle
The Australian robotics startup Agerris has raised $4.6 million to further develop the abilities of its SwagBot farming robot. The key improvement is the adoption of AI software that runs the machine, instead of the previous remote-controlled system. The robot will be capable of not only identifying and eradicating weeds, but also of monitoring pastures and crops. SwagBot might even be able to herd cattle, putting farm dogs 'out of business'. The product is set to hit the market in 2020.
The company is also developing a second robot called Digital Farmhand that will automate various tasks, including yield estimation, crop spraying, and weed removal. The machine will be designed to specifically fit the needs of smaller farms, and Agerris plans to make it price-competitive enough for the markets of developing countries. The commercial release is scheduled in 2020 in Australia, followed by global expansion. But before that happens, though, the engineers still have a lot of testing and development to do.
Mamut roams fields and spots diseases
Cambridge Consultants, a subsidiary of the French engineering giant Altran, is also running a series of tests. The high-tech firm is developing an AI-powered autonomous robot called Mamut that maps and navigates a natural environment using a stereo camera, an AI system, lidar, and a compass. The device is equipped with inspection sensors and six 360-degree cameras, one of which is a multispectral imaging camera. Mamut moves through farm fields to collect visual data and build maps, helping farmers spot diseases, estimate crop yields, and choose the optimum time to harvest. And unlike drones, the robot moves below the vegetation canopy and collects more granular data.
Monitoring crops is a challenging task, and Cambridge Consultants are still training the AI. The robot takes eight hours to cover around 24 kilometres, and the engineers use this period to test features such as collision avoidance, route planning, and route following. And although growers of high-value crops showed the most interest, the company hopes that the product will reach a wider market thanks to the Robotics-as-a-Service commercial model. The tech provider would own the robot, and farmers would only pay for a one-off service. This enables customers to increase or decrease their use of robots depending on current needs and financial constraints.
FarmWise helps farmers remove weeds without chemicals
And while the French robotics firm Naïo Technologies provides weeding robots to European farmers, the startup FarmWise offers similar products to the US market. This San Francisco-based startup is producing autonomous robots that use AI-controlled mechanical parts to remove weeds. The machines rely on deep learning algorithms to spot their target and avoid harming plants. And the robots can work in various environments, adapting to "most of the growers' fields from lettuce to carrots, broccoli and so on, a possibility never seen before since the invention of the tractor in the first half of the 20th century," says Dennis Donohue, the director of the Western Growers Center for Innovation and Technology.
FarmWise's machines operate without using any herbicide, helping farmers meet consumer expectations and protect soil integrity. Another challenge that the robots address is the labour shortage. Seven out of ten farmers in California don't have enough seasonal workers, and machines can provide much needed assistance with tedious tasks such as weeding. And as machines are cheaper to operate than hundreds of workers, producers can also earn more money and further invest in their business. So, it's no wonder that FarmWise is growing, announcing plans to develop even more advanced robots and teaming up with a major car maker in Detroit, Michigan, to speed up the production process.
ecoRobotix turns to scan-and-spray technology
The Swiss startup ecoRobotix took a different approach to weeding. The company developed an autonomous robot that uses scan-and-spray technology. The way the system works is that the AI software analyses a camera feed and spots weeds on the ground, prompting the robot to deliver a very small dose of pesticide to the target location. The entire process is fully automated and uses 20 times less pesticides compared to traditional spraying methods. And the machine covers three hectares of land per day. The robot's upper part is covered with photovoltaic solar panels, around two metres wide, that provide a steady energy supply.
In 2018, ecoRobotix closed a new round of funding, receiving $11 million from various investors, including the agriculture fund CapAgro and the German chemical giant BASF. With funding secured and the research and development phase completed, the Swiss company is embarking on the next step of its growth. Aurélien G. Demaurex, the CEO and co-founder of ecoRobotix, says that his firm is now "entering a second phase of its existence, which is to grow into an international commercial company". And with several successful pilot projects in Switzerland and other European countries already completed, Demaurex is well positioned to secure new clients.
Thorvald is poised to become an alternative to human labour
A group of scientists from the UK-based University of Lincoln and the Norwegian University of Life Sciences have joined forces in one of the most ambitious robotics projects. Their goal is to enable an autonomous robot called Thorvald to perform a variety of farm tasks and replace human labour. The project is carried out via the Saga Robotics startup, funded by an undisclosed British food company concerned with the gap in the labour force that will widen as the UK leaves the European Union. "'They are more or less desperate because they don't know what the situation will be in two or three years," explains the robotics professor Pål Johan From.
The robot is supposed to manoeuvre easily over uneven ground and navigate fields without touching plants. It could also carry loads, saving farm workers hours of hard labour. And thanks to the advanced on-board sensors, Thorvald will eventually be able to monitor the condition of crops, weed out unwanted plants, and use UV light to stop mildew from spreading. In around ten to twenty years, it'll pick strawberries at the same speed as a human. But until that happens, the scientists first have to make the robot fully autonomous and improve its smart algorithm.
The dawning of the age of robot farmers
Farming is a labour-intensive business that often relies on human workers and chemicals. But as agricultural producers face labour shortages and consumers demand pesticide-free food, farmers are turning to autonomous robots as a solution to many of these challenges. AI-powered devices are now deployed in many countries, with tech firms coming up with ever more advanced technologies. And as machines perform more tasks and assist with weeding and harvesting, it's becoming evident that the world is witnessing the dawning of the age of robot farmers.