The magic of data science is… personalisation
Improving the gambling experience with VR and AR
Cryptocurrencies are set to dominate the online gambling sector
Gambling in the metaverse
Online gambling has seen spectacular growth in the past two decades, with virtual reality casinos, live dealers, and provably fair and secure online gambling experiences increasingly becoming the norm, rather than the exception. Gambling with digital currencies, for instance, enables players from anywhere in the world to wager – even in places where authorities have placed restrictions on gambling activities. Digitisation and the emergence of new technologies enable many additional access opportunities. You can gamble on a laptop, tablet, smartphone, and even on smartwatches. Live games and technology like virtual reality (VR) and augmented reality (AR), as well as platforms like the emerging metaverse offer players increasingly immersive experiences and 24/7 accessibility. The online gambling sector continues to proliferate at a rapid pace, with Statista estimating its worth to be more than $66.7 billion globally by the time we reach 2023. Online gambling is expected to become even more immersive, more secure, and increasingly competitive, by the look of things, affecting the way we play, interact with games and other players, and the types of devices we use.
"The most mind-boggling technology that reshapes online gambling – and most other online industries for that matter – is data science. It is responsible for the ads you see, the games you're being suggested, and even the captchas you get when accessing an unfamiliar website."

Anna Rosak, KasynoHEX gambling expert

The magic of data science is… personalisation
Online casino business models are seeing a significant transition and one of the reasons for this is their increasing implementation of (big) data science. Data science is the use of scientific methods and algorithms to extract valuable knowledge from (un)structured data in order to arrive at insights that are useful for personalising customer service, marketing, software development, and so on. The emergence of big data is providing businesses in the online gambling sector with various valuable opportunities. For instance, big data analytics enables them access to invaluable information about their competitors, the level of competition, and the market saturation. It can also be used to generate insights about customer expectations, likes and dislikes, and to get in touch with potential customers who may not have shown an interest in online gambling before. More and more online casino businesses – instead of relying on cookie-cutter solutions – are making use of predictive analytics and other advanced tools made possible by (big) data science to design tailor-made strategies based on customers' individual preferences. This approach is providing these companies with new growth opportunities resulting from the ability to reach out to potential customers who they would otherwise not have options to connect with. Another important reason for online casinos to rely on big data is to beef up online security and identify weak spots, particularly when it comes to money deposits and withdrawals, but also in terms of sensitive client data storage.
Improving the gambling experience with VR and AR
In the past ten years, the casino industry has seen tremendous changes. Virtual reality (VR) and augmented reality (AR) technology have, for instance, been pushed into the spotlight, enabling far greater immersion when it comes to playing online casino games. These technologies enable features like 3D avatars, live interactions, gesture identification and mimicking – all of which are enabling increasingly close imitations of real-life casino experiences.
In real-world casinos, AR can be used to enhance the gambling experience and or add valuable information about the casino environment. Think, for instance, taking out your smartphone and being able to see where the ball landed on the roulette wheel during its past five spins, or seeing when your favourite slot machine last paid out on its progressive jackpot. Augmented reality could also show you information on special offers and promotions, or more details on certain games. VR can be used to 'teleport' players to various mesmerising virtual casinos where, together with other VR casino players represented by their avatars, they can play virtually unlimited amounts of casino games. Imagine sitting in front of an amazing-looking 3D slot machine that you can interact with, or – when seated at a virtual poker table – being able to directly interact with the cards on the table and with the other players present. In the future, VR and AR headsets may even be equipped with technology that track the movements of your hands and fingers, creating a mind-blowing, immersive experience – all from the comfort of your own home.
San Francisco-based XR Casino is one of the first tech companies that specialise in extended reality (XR) cross-technology gambling solutions and XR game development solutions. The company leverages the power of virtual reality, augmented reality, and mixed reality technologies, as well as AI and blockchain, to offer unprecedented online gambling experiences. The company recently introduced MPV versions for slots, roulette, and blackjack in VR, AR, MR. NFTs are used to personalise game assets and avatars, slot machine skins, table skins, casino chips, decks of cards, and collectibles. The company's immersive games incorporate artificial intelligence to collect, analyse and use live data about player behaviour in order to enhance the player's gaming experience, provide better customer service, and improve retention. CEO and founder of XR Casino, Dan Martinez, explains: "Our patent-pending application is for an extended reality cross-technology gaming platform for the iGaming and Sports betting industries, one that allows players to play the same game together regardless of the immersive technology they are using, for example, a player using virtual reality can play with players using augmented reality and/or mixed reality. We are on track to file the utility patent by Q2 of this year."
Cryptocurrencies are set to dominate the online gambling sector
We know of the undisputable potential of blockchain and cryptocurrencies in various other industries, but the possibilities in the online gambling sector are also becoming increasingly clear. While it's still relatively early days for cryptocurrencies in the online casino world, this payment method is gaining more and more popularity, with many online gambling websites starting to accept digital currencies like Bitcoin, Ethereum, Doge, and so on. Crypto owes its popularity to the fact that it enables anonymous, secure, and easy deposits, withdrawals, and gameplay. The fact that it minimises the chances of being hacked or confronted with identity theft also makes customers feel more at ease when gambling online. While traditional payments will still be part of the options for many online gambling sites, cryptocurrencies are increasingly replacing these as more and more online casino operators are realising the importance of security and transparency. What's more, crypto casinos often feature smart contracts as well, which automate payments, and the provable fairness enabled by crypto casinos automatically verifies the results of a game, which creates a heightened sense of trust for many online gamblers. One of the biggest advantages of using crypto for online gambling is complete anonymity. Players don't have to provide personal information or share their financial details with anyone. This is very convenient for people from areas where gambling is restricted or outlawed, as it enables them to access online casinos as well.
Unlike traditional online casinos, the metaverse can offer users a very authentic-feeling digital representation of the real casino experience using virtual reality technology. Users can represent themselves with a unique avatar, the behaviour of which they can control just like they control their own conduct in the real world.
Gambling in the metaverse
As already mentioned – unlike traditional online casinos, the metaverse can offer users a very authentic-feeling digital representation of the real casino experience using virtual reality technology. To represent themselves, users can use a unique avatar, the behaviour of which they can control just like they control their own conduct in the real world. Avatars can 'walk' around, or rather, hover around the metaverse casinos and engage with others, contributing to an authentic casino experience. Metaverse casinos generally don't accept traditional currencies. Instead, players convert their real-world currency into one of the cryptocurrencies that are accepted in the metaverse and deposit funds using a crypto wallet. Players can, however, exchange the cryptocurrencies and NFTs that they win for traditional currencies.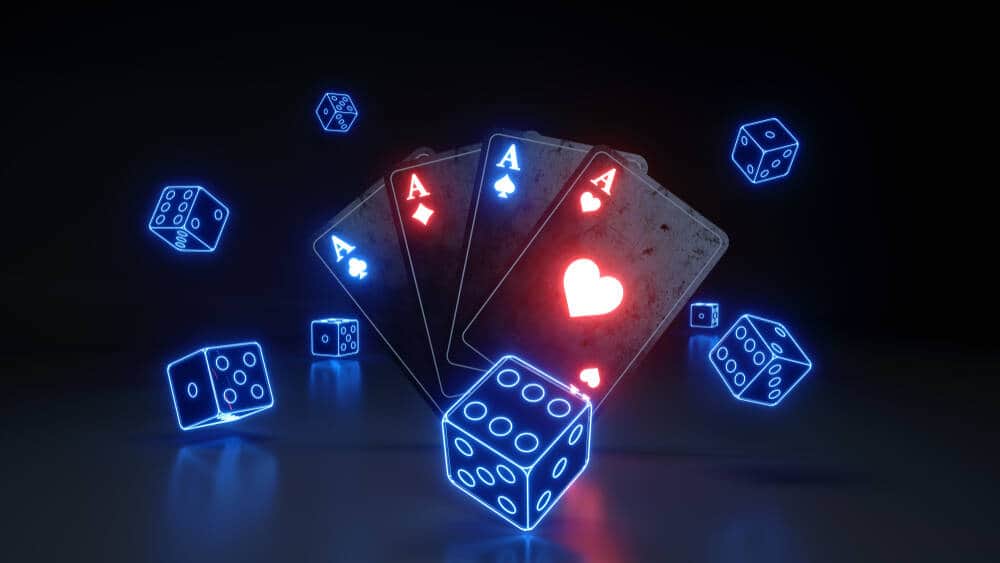 Playing online casino games in the metaverse has various benefits. Not only does it provide much more immersive experiences and interactions compared to online gambling platforms, metaverse casinos also offer players higher levels of security and transparency. The history of all of the players' actions during the games, as well as their financial transactions, is accessible on a blockchain. The use of blockchain in metaverse casinos simultaneously provides users with anonymity as they don't need to disclose personal information. And without any third parties required to verify transactions, deposits and withdrawals can be processed virtually instantly.
One example of a metaverse casino is the ICE Poker casino, created by Decentral Games, where avatars dressed in streetwear and sunglasses hover around the poker tables. More than 100,000 gamblers meet on this virtual casino platform on a monthly basis. All the profits generated from playing at this metaverse casino go to the players and are stored on the blockchain. Winners and losers can also be verified on the blockchain, which, in terms of trust and transparency, is a huge benefit of metaverse gambling. Since its launch in February 2021, the virtual casino platform accounts for about a third of Decentraland's daily users. Decentral Games founder Miles Anthony says: "It doesn't sound like a lot of users, but when it comes to the open metaverse, it's pretty substantial considering the main issue right now with metaverses is that they're empty." Decentraland has gained a lot of traffic as a result of Decentral Games' poker room.
Closing thoughts
The online casino landscape has seen significant changes over the past few years, with newer, more innovative platforms being launched almost on a monthly basis. Advanced casino technology has also ushered in mobile gaming, enabling players to enjoy their favourite games while running errands or commuting to work. VR, AR, and MR enable a far greater immersive, 3D online gambling experience than ever before, and it may not be too long before we can play poker or blackjack against an AI version of actual poker or blackjack legends. This AI may even 'think' and respond based on real live situations. And these ideas aren't far fetched either, as computer scientists are continuously improving their replications of human actions and responses.