Prize-winning, wildly ambitious plan to rebuild devastated Mosul
Vincent Callebaut's modern take on the ancient Hanging Gardens of Babylon
Spider-like robotic 3D printers, clinging to bridges, printing new housing night and day
War takes more from us than the lives of soldiers and civilians – it takes our cities, too. From Warsaw to Hiroshima, Palmyra to Damascus, it's claimed cultural heritage, priceless architecture, and nothing less significant than the homes of millions of people. Fortunately, buildings can be rebuilt, and cities can be salvaged from the ruins of battle. Take Warsaw as an example. Decimated in World War 2, the city's centre was reconstructed from 18th century paintings by Bernardo Bellotto and architectural plans that survived the destruction. Now, visitors to Poland's capital may have no idea that they're walking through streets that are essentially new. This reconstruction didn't only bring the city's golden age to life, it gave hope to the people who call Warsaw home, too.
Emma Cunliffe, an affiliate research fellow at the University of Oxford and a board member of the architectural non-profit Blue Shield, sees a source of hope in Warsaw. "Part of the wonder of the historic centre of Warsaw is knowing it was rebuilt, and thinking about the incredible skill it must have taken, and the resilience and strength of the people who rebuilt it." Similar attempts to resurrect the past are underway in cities like Palmyra, where ISIS militants intentionally destroyed the Temple of Baal Shamin and the Temple of Bel, among other wondrous ancient structures. Using 3D images taken before these atrocities, and the latest 3D printing tech, the Institute of Digital Archaeology (IDA) hopes to restore what was lost.
Belgian architect's prize-winning, wildly ambitious plan to rebuild devastated Mosul
For some cities, that's just not enough. For instance, Mosul, a city in northern Iraq, has been devastated by fighting and terrorism. Once home to nearly 2 million people, ISIS's long occupation stripped it of its monuments, its architecture, and its homes. The people there need help – and perhaps more importantly, they need hope. That's why the Rifat Chadirji Prize for Architecture was created. It calls on architects and designers the world over to address Iraqi problems. In 2017, that call was to propose ambitious plans to rebuild Mosul, rescuing its people and giving them a future they could hold on to through these tough times. As the organisers explain, "The United Nations and the International Organisation of Migrants warned that the current number of internally displaced people from Mosul is estimated at over 500,000 (January 2017) and could reach 1.2 million as the military operations continue." Moreover, the basic housing shortage has reached a point where no less than 53,000 homes are needed.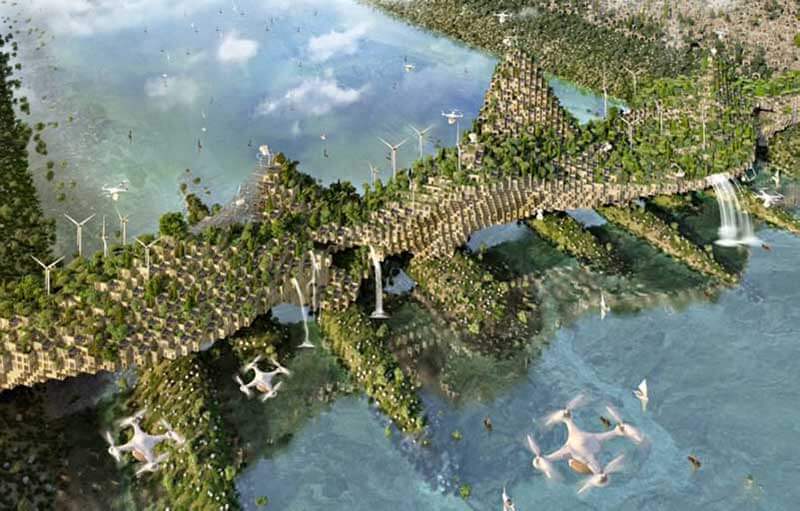 The third place winner was Five Farming Bridges by Vincent Callebaut Architecture, an ambitious, high-tech proposal by the Belgian designer. Though it's been called "far fetched" and "wildly ambitious" by the experts at Moss and Fog, Callebaut's vision for Mosul is inspiring. For people living with the consequences of war and occupation, that's more than enough reason to give it a second look.
Vincent Callebaut's modern take on the ancient Hanging Gardens of Babylon
As Nicole Jewell at Inhabitat reports, his vision is a twist on "self-sustaining urban farms that run on solar power and advanced hydroponic systems". The Tigris river runs through the centre of the city. As its name suggests, Callebaut's plan highlights that fact, and he envisions five massive bridges spanning the river and holding thousands of homes. Think of a modern take on the ancient Hanging Gardens of Babylon and you get the idea.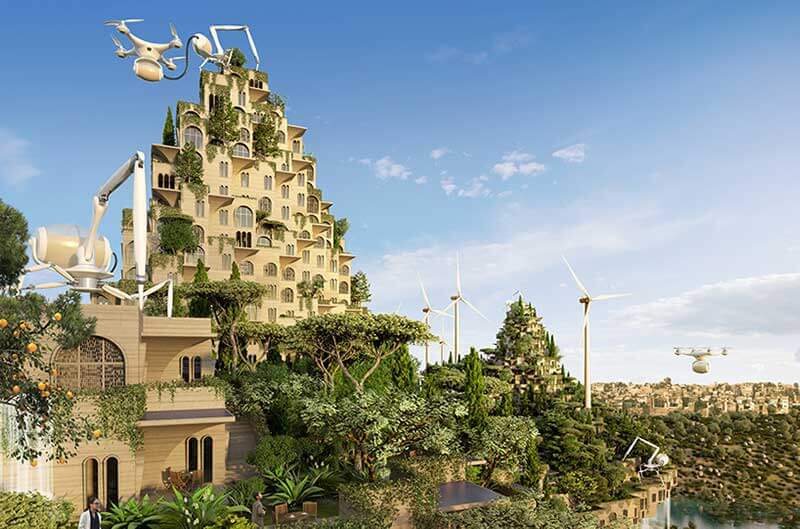 The homes he's designed take inspiration from medieval Islamic architectural forms called muqarnas. Each housing unit is modular, allowing combinations of two, five, or 10 to provide living space of 25, 65, or 120 m², respectively. Stacked one atop another in efficient shapes, surrounded by lush greenery, his design for the future of Mosul's people is truly inspiring, leading Jewell to describe it as an "urban oasis".
That's just what these war-torn people need. But he's not satisfied with just any city – it needs to be super green, too. As Callebaut says, "The bridges will also incorporate wind chimneys for cool, natural air, cold ceilings using the thermal energy of the river, solar water heaters for hot water, and hundreds of photovoltaic pergolas producing the necessary kilowatts." Recycling is at the heart of this green architectural project. As he imagines the bridges, their "Urban farms and orchards will be irrigated by water from the Tigris, plowed by Archimedes screws. Gray water from bathrooms and kitchens will also be recycled and filtered by plants in lagoon waterfalls connected with the river. Biomass composters will feed their orchards and vegetable gardens suspended in biological fertilizers."
Spider-like robotic 3D printers, clinging to bridges, printing new housing night and day
But what's really incredible are his plans for building it. Using war debris as raw material, Callebaut's Five Farming Bridges is a massive effort in construction recycling. Drones will collect debris, transfer it to recycling centres, and then bring the finished raw materials to spider-like robotic 3D printers. These will cling to the bridges, printing new housing night and day.
It's worth keeping in mind, as the people who made that video for Mach did, that this is just a concept. It's a dream. But as Callebaut realises, and Warsaw's reconstruction demonstrates, people who've suffered on that scale need to dream. Reality has been harsh enough. And as he reasons, "Restoring the self-confidence of war refugees, their confidence in an optimistic future, and allowing them to participate actively in the repatriation process is essential to the success of this reconstruction in the heart of the city." We agree, and we'll be watching the future of Mosul's people with the greatest hopes for their success!