AI plays a pivotal role in the fight against COVID-19
Robots disinfect surfaces, deliver medication, and measure temperature
Drones and autonomous delivery vehicles help curb the spread of the coronavirus
Companies turn to chatbots to fight COVID-19
Apps help governments track the spread of the coronavirus
The coronavirus pandemic spurs the demand for touch-free technology
COVID-19 strengthens the case for telemedicine
3D printing can save the lives of coronavirus patients
The new normal – life is moving increasingly online
Various ways in which VR technology improves life during the pandemic
Tech giants fight online misinformation as fake news spreads
Will technology help us defeat the coronavirus?
The global coronavirus catastrophe is leaving millions vulnerable. It's leading to companies closing shop, collapsing supply chains, economies derailing, and city after city declaring lockdown. To date, the virus has infected more than 1.4 million people worldwide, killing more than 82,000. This disaster is causing scientists to scramble for solutions, and government authorities and medical staff the world over are turning to technology, such as AI identifying potential treatments and robots disinfecting hospitals. We are also seeing incredible initiatives and creative ways in which to deal with this sudden new reality, giving us reason for a little optimism and hope.
AI plays a pivotal role in the fight against COVID-19
Canadian doctor Kamran Khan specialises in infectious disease and is the founder and CEO of BlueDot, a platform that uses artificial intelligence (AI) to protect people all over the world from infectious diseases. The AI-powered system analyses vast quantities of data, including news reports and airline ticket sales, to monitor the trajectory of viral illnesses. The advanced system can analyse about 100,000 articles in 65 languages per day, and factors in the temperature, climate, and the condition of livestock in a particular country, to determine how a virus will spread globally and to identify the regions most threatened by an outbreak.
The US-based autonomous monitoring company Anodot has created an online COVID-19 tracker that monitors locally reported cases and sends notifications when it detects an a-typical increase in the number of confirmed cases. Jvion, an Atlanta-based healthcare analytics company, has launched a data analysis project that aims to detect patterns in the spread of viruses and identifies people and communities that have the highest risk of contracting COVID-19. The company used its AI platform to analyse data from more than two million patients, including their medical histories, as well as lifestyle and socioeconomic factors like access to stable housing and transportation. The platform then created a list of people who are at higher risk of contracting the coronavirus, allowing health providers to contact them proactively to suggest measures that could minimise their risk, such as social distancing and avoiding large public gatherings.
The city of Beijing is using AI and facial recognition tech to screen subway passengers for coronavirus symptoms. Two Chinese AI companies, Megvii and Baidu, have implemented body temperature scanners that can send alerts if they detect anyone with a fever. Megvii monitors up to 16 checkpoints in one station and can screen as many as 15 people per second. Only one employee is needed to control the AI system, which can detect high body temperatures – even if people have covered their faces with a mask or a hat. It combines body detection, face detection, and dual-sensing with infrared cameras and visible light to carry out its screenings. Baidu uses infrared scanners and a facial-recognition system to detect infected passengers and screens over 200 people per minute. If it detects someone with a temperatures above 37.2 degrees Celsius, the system alerts a staff member to conduct additional screening. To detect people who are potentially infected with COVID-19, Chinese police are now also being equipped with smart helmets developed by Kuang-Chi Technology. The N901 helmets, already in use in Shanghai and other cities, are kitted out with infrared cameras that can quickly measure body temperature in crowds at a distance of up to five metres. They also feature augmented reality glasses, QR code scanning abilities, and facial recognition, as well as Wi-Fi, 5G, and Bluetooth connectivity.

California-based company X.Labs has developed an AI-based system called Feevr, which will be used to screen crowds and detect individuals with an elevated temperature. Feevr is a fully mobile platform equipped with a thermal imaging camera and Vuzix Blade smart glasses that enable wearers to receive real-time alerts. When the system detects an individual whose temperature exceeds a predetermined threshold, the accompanying mobile app sends the wearer a discreet alert and information on further medical examination.
The Latin American startup View-Factor is also developing a device that uses AI to measure a person's body temperature from a distance. Called Astrom Thermosense, the device costs around $30,000 and uses two cameras – a facial recognition camera and a thermographic camera to analyse body temperature. The entire process takes less than one second.
Even Chinese tech giant Alibaba has developed an AI system that can diagnose COVID-19 in seconds. Trained with data and images from 5,000 confirmed COVID-19 cases, the system takes only 20 seconds to analyse chest CT scans, which it does with 96 per cent accuracy. A human doctor usually takes between 5 to 20 minutes to make a diagnosis, considering there are around 300 images to be evaluated.
And leading healthcare AI startup Qure.ai revealed it has upgraded its existing chest X-ray automation and interpretation solution with new capabilities that allow it to detect signs of COVID-19. To date, the solution has been used to automatically generate chest X-ray interpretation reports and detect tuberculosis, chronic obstructive pulmonary disease, and lung malignancies, as well as medical emergencies like lung collapses and cardiac disorders. It can now also be used to analyse X-rays for signs of COVID-19 and determine the extent to which the lungs are affected.
The US-based enterprise voice assistant developer Voca.ai has announced plans to develop a test that will be able to determine whether people are infected with COVID-19 using nothing more than the sound of their voice. To make this possible, the company joined forces with Carnegie Mellon University to launch Corona Voice Detect, a website that invites people to record themselves speaking a few sentences. After putting in some details about their age and location, they are asked to say whether they've been diagnosed with the coronavirus and how they feel. All of the data is then anonymised and included into an open-source dataset that will be used to create the test. "In viruses like the coronavirus that harm the respiratory system, there's a high probability we might find a pattern in the way a person speaks using voice biomarkers research," explains Voca.ai co-founder Alan Bekker, adding that the same principle could potentially be used to detect other diseases as well.
Scientists at the Medical College of Georgia are developing an AI-powered mobile app that enables you to determine your risk of contracting the coronavirus. The app asks a series of questions about your location, gender, age, race, recent travel history, and contacts with known infected persons. The app also inquires whether you're experiencing symptoms like fever, cough, shortness of breath, fatigue, sputum production, headache, and diarrhoea. The algorithm then analyses the provided information and creates a risk assessment. High-risk patients are instructed to go to the nearest testing facility. If that's not possible, the facility is notified of the need for a mobile or remote health check. The app provides public health officials with real-time information on the spread of the virus, enabling authorities to identify regions, cities, and villages where the virus is circulating, and prompting healthcare facilities to prepare the necessary resources. At-home assessments will also calm citizens and prevent those who are at low risk from visiting already overwhelmed hospitals.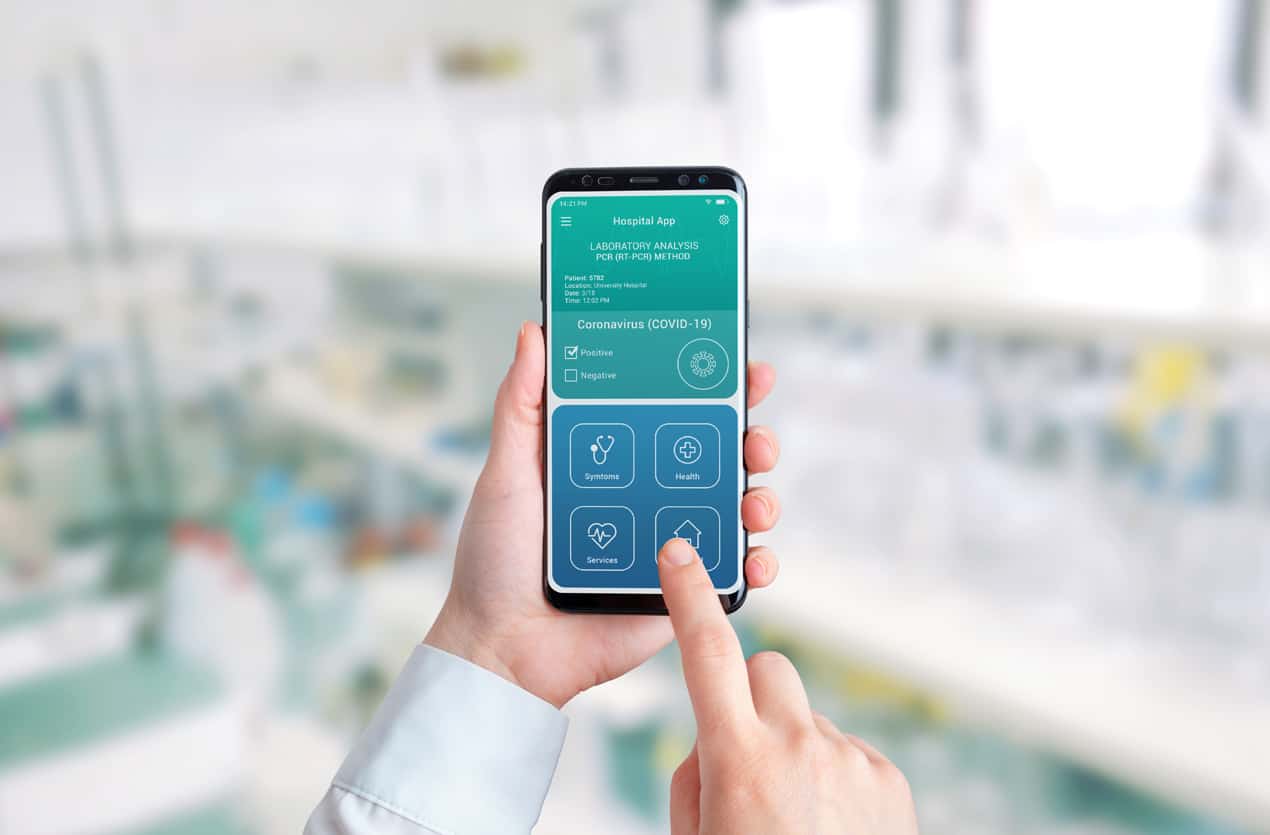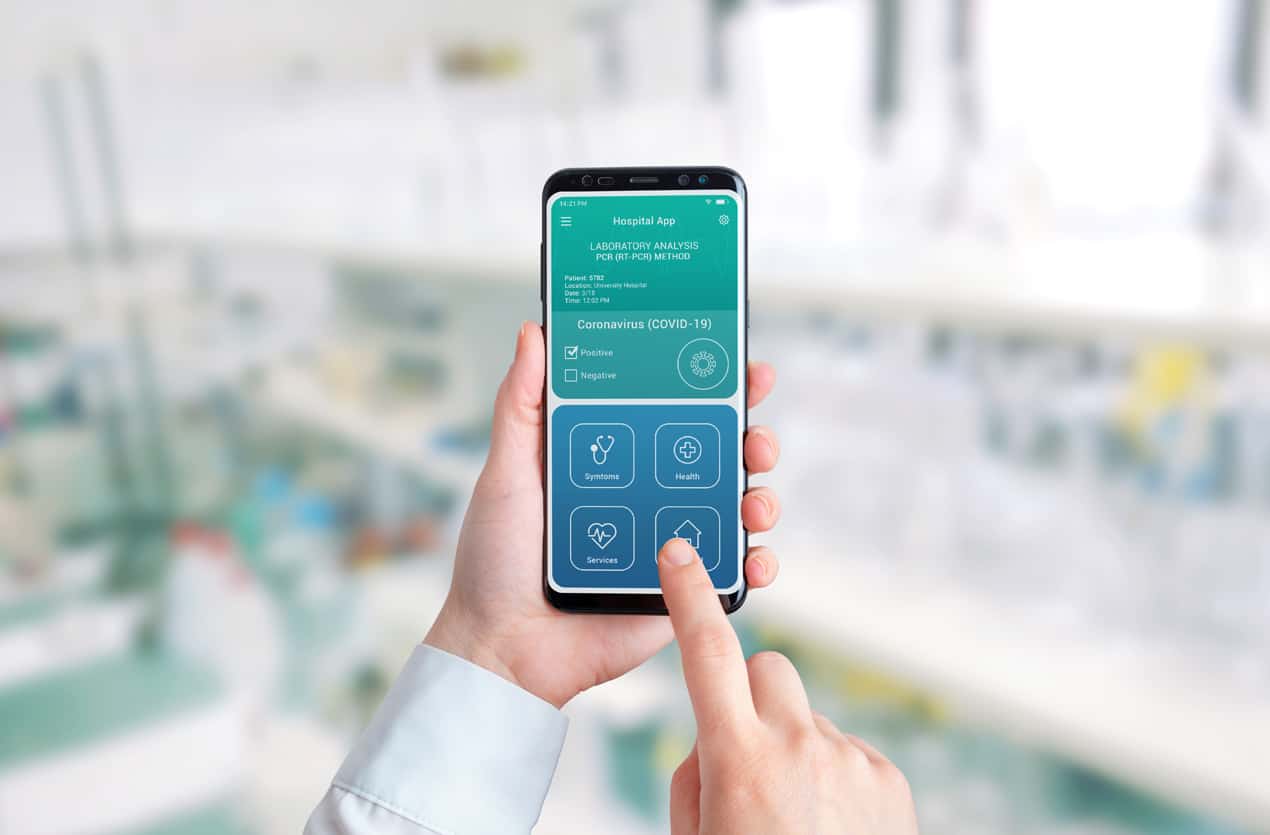 Researchers in the US and China have developed an AI-tool that can make predictions about whether or not a newly infected person is likely to develop the deadly acute respiratory disease syndrome (ARDS), also known as 'wet lung'. This complication of the coronavirus fills the lungs with fluid, leading to half of the corona-patient deaths. The new AI algorithm can help medical professionals in resource-stretched healthcare facilities with their terribly difficult choices on how to prioritise their patients. The tool pinpointed indicators that are predictive of who develops this syndrome, by applying an algorithm to data from patients from hospitals in China. Then it found that changes in body pain, levels of specific liver enzymes and haemoglobin levels – along with other factors – could predict degeneration into ARDS with an accuracy of 80 per cent.
The UK-based startup BenevolentAI is using AI to find potentially useful medicine to treat COVID-19. Only a few weeks after the outbreak, BenevolentAI's predictive tools identified baricitinib, a drug used for rheumatoid arthritis, as a possibly effective treatment that could reduce the virus' ability to infect the lungs. The chief executive of BenevolentAI, Joanna Shields, explains that given the immediate need for therapy, the company decided to target already approved drugs that had passed rigorous safety tests and could be administered to patients right away. Ivan Griffin, the co-founder of Benevolent AI, emphasises that the research was completed in a time frame that would've been impossible to accomplish without AI.
In a bid to help scientists develop a vaccine, the Google-owned UK-based machine learning startup DeepMind relied on AI to detail the protein structure of the SARS-CoV-2 virus, which causes COVID-19. The startup used data from The Universal Protein Resource (UniProt), a consortium that provides comprehensive resources of protein sequences and functional information, and its AlphaFold system to predict six of the virus' protein structures. By offering a closer look at the virus, the system allows scientists to better understand how it works and how to stop it.
Robots disinfect surfaces, deliver medication, and measure temperature
The Chinese medical robot manufacturer TMiRob has deployed over 30 disinfection robots to Wuhan's major hospitals. Equipped with a hydrogen peroxide sprayer and nine ultraviolet lamps, the robot can disinfect different areas like isolation wards, operating rooms, fever clinics, and ICUs. Another Chinese robot manufacturer, Siasun, donated 21 robots to hospitals in Shenyang. Siasun's robots can be used for disinfection, as well as to deliver medicine to patients. They can also be used to deliver food, minimising close contact between people. "Intelligent robotic products can effectively replace doctors and nurses in some work, thus reducing their chance of being infected," explains Teng Weiyu, the vice president of the First Hospital of the China Medical University.
China also opened a hospital ward in Wuhan staffed entirely by robots. Located at the Wuchang field hospital, the ward's 5G-enabled robots will be able to measure a patient's temperature, deliver food, and keep the facilities clean. For example, they can collect medical waste and gather old bedsheets, and their navigation technology allows them to move and automatically avoid obstacles. Furthermore, the robots enable doctors to monitor patients remotely, which will lower their risk of becoming infected.

Other countries are also increasingly adopting robotic technology. To monitor and treat coronavirus patients in Thailand, the mobile phone operator Advanced Info Service (AIS) partnered with Chulalongkorn University to create smart robots equipped with 5G technology. The medicine and engineering faculties of the University were responsible for assembling the robots, which will be used to monitor COVID-19 symptoms and treat patients to minimise the risk of medical staff becoming infected themselves.
Furthermore, doctors will be able to communicate with their patients through video conferencing tools, as well as remote-control the robot. Xenex Disinfection Services, a US-based robotics firm, is also experiencing growing demand for its germ-fighting robots. These machines rely on pulsed xenon short-wavelength ultraviolet (UV-C) light to destroy viruses such as MRSA, Ebola, the flu, and the coronavirus on different surfaces. The robots can disinfect various environments, including airplanes, healthcare facilities, offices, cruise ships, schools, movie theatres, and concert halls.
Drones and autonomous delivery vehicles help curb the spread of the coronavirus
As more and more countries around the world introduce strict quarantine measures to halt the spread of the coronavirus, the demand for home delivery services is skyrocketing. However, one major issue with home delivery is the risk of contracting the virus from the delivery driver. To solve this problem, companies in China are turning to autonomous delivery vehicles. Neolix, a Beijing-based self-driving delivery vehicle startup, revealed that Chinese companies, including online giants Alibaba and JD.com, have booked orders for 200 of its tiny robotic vehicles in just two months. Since the start of the outbreak, Neolix has deployed 50 vehicles in 10 major cities in China to deliver food and medical supplies and disinfect streets.

The Shenzhen-based drone startup MicroMultiCopter has sent out 100 devices across China to help authorities scan large crowds and detect whether anyone needs medical attention. The startup has also tasked 200 of its employees with monitoring what the drones are seeing. "The company has been working overtime. This is the best test of our drone system. It is also the best showcase to the world," a spokesperson said in a statement. Another Chinese drone manufacturer, DJI, has deployed its drones to spray disinfectant, make public announcements, and disperse public gatherings. Some of the drones are even equipped with thermal cameras to help nurses and doctors identify new cases by remotely measuring body temperature.
Companies turn to chatbots to fight COVID-19
To help medical professionals better respond to the outbreak and alleviate some of the pressure, more and more companies are starting to implement chatbot technology. Healthgrades, a US-based company that connects consumers, physicians, and health systems, launched the Coronavirus Chatbot to keep the public informed by providing important background information and performing symptom analysis to help users determine their level of risk. All you have to do is text CORONA to 83973 or enter your zip code, and you will receive real-time updates about the coronavirus. You can get answers to commonly asked questions, tips for staying healthy, text alerts for travel restrictions, and updated information from the CDC. The Healthgrades Find-a-Doctor search function enables you to get in touch with a healthcare provider to evaluate your symptoms and determine whether you need to be tested.
In the UK, Babylon Health is trying to expand the capabilities of its AI-chatbot to enable it to detect coronavirus symptoms. The chatbot is part of the company's GP at Hand app and enables you to input your symptoms. It then uses AI to determine the likely causes. Updating the AI algorithms to recognise coronavirus symptoms is however proving rather difficult because there's not a lot of good quality epidemiological evidence available. The company therefore urges users who suspect they may have been infected not to use the chatbot to evaluate their symptoms at this time. Instead, they can use the 24/7 video service within the app to access clinicians remotely. In Italy, the worst affected country after China, a digital health startup called Paginemediche has developed a chatbot that can diagnose the coronavirus. Designed under the medical supervision of Dr Emanuele Urbani, a general practitioner in Milan, and based on the guidelines set out by the Italian Ministry of Health, the chatbot aims to help doctors highlight potential coronavirus cases and interact with patients remotely.
Apps help governments track the spread of the coronavirus
The Chinese government has developed an app that tells you whether you've been close to a person who is (suspected of being) infected with the coronavirus. To make an inquiry, you need to scan a QR code using an app like the social media platform WeChat, which then registers the new app with your phone number. Once you enter your name and ID number into the app, you are informed whether you've been in close contact with an infected person. This covers people who work closely together, live in the same home or share a classroom, but also medical staff and passengers and crew who have travelled with an infected person. The app then generates a red, yellow, or green QR health code that dictates whether the user can gain access to public transport or work. The app has however quickly come under fire for privacy violations. A code analysis conducted by The New York Times discovered that the app also shares information with the police. When a user gives the software access to personal data, it uploads that person's location, name of the city, and an identifying code number to a server. Such automated social control carries the risk of being continued even after the pandemic, paving the way for even more intensive surveillance of Chinese citizens.
China isn't the only country to adopt such measures. The South Korean Ministry of the Interior and Safety has developed a smartphone app that tracks the movements and symptoms of people sent into mandatory home quarantine. They can use the new tool to communicate with assigned case workers and provide updates on their symptoms. The app also uses GPS to detect whether patients are leaving their homes and breaking quarantine, alerting both the patient and the case officer.

Texas-based technology company MTX Group Inc. has launched a similar app to help airports, health officials, and government agencies to monitor anyone who has come into contact with a person with coronavirus symptoms. Those who are travelling back from regions affected by the virus are asked to go through a 'digital quarantine' check-in process to monitor the development of their symptoms. The user is asked to upload the data to health officials who can then identify potentially infected individuals. The app also monitors anyone who has been in contact with infected persons and medical staff working with coronavirus patients.
The lack of data on people who have developed symptoms presents a serious issue for countries in the early stages of an outbreak. Combined with the lack of available test kits and slow rate of testing, this results in only a small number of registered cases and makes it difficult for authorities to convince the public about the seriousness of the situation. To address this problem, David Hachuel, who is currently pursuing a Master of Public Health degree at Harvard University, has developed the Opendemic-app, which allows people to anonymously share their location and COVID-19 status, and informs them about other cases in their vicinity. Hachuel says that "the idea here is to have a database that can be open to public health authorities so they can use that data, in addition to the data they already have, to make decisions about the right interventions." Furthermore, by informing people about other nearby cases, the app aims to convince them to stay inside and prevent further spread of the virus.
The coronavirus pandemic spurs the demand for touch-free technology
COVID-19 is spread through airborne droplets when an infected person coughs or sneezes. While viruses are generally poor at surviving outside of the host body, they can still live for days on surfaces like plastic or steel. That means that you still have a high risk of contracting the virus if you touch an infected surface and then touch your face. Thankfully, touch-free technology could significantly reduce this risk. One of the companies working on such tech is Alana. It develops AI software that can understand and respond to human conversation. The software can manage conversations about various topics and learn about your interests, allowing it to suggest new and relevant subject matter. Already working with clients in industries like education, healthcare, and finance, the company expects the demand for its technology to surge in the wake of the coronavirus.
Shopping habits around the globe have changed drastically since the corona outbreak, with supermarkets enforcing social distancing in stores, hiring staff especially to clean shopping trolleys after each use, and some stores refusing to take cash payments. But there's still the surfaces of keypads for entering pin-codes while paying and even touch screens at self-checkouts through which the virus could be spread, especially if hands are not sufficiently disinfected afterwards. According to Retail & Leisure International, UK retailers like Co-op, Spar, Marks and Spencer, Londis and Sainsbury's have rolled out Ubamarket's white label in-store app 'Mobile Pay Go' that can be used for scanning and paying for products. This helps to reduce the time spent in the supermarket and minimises contact between people in the store.
Other frequently touched surfaces are elevator buttons, and people who live or work in tall buildings could contract the virus by touching a contaminated button. To help prevent this from happening, a number of buildings in China have installed holographic elevator buttons. Developed by Easpeed Technology, a tech company based in the city of Hefei, the device works by projecting an image of the buttons in the air. According to the company, the device can be incorporated into any existing elevator and has a response time of less than 30 milliseconds.

COVID-19 strengthens the case for telemedicine
The stark reality of the current pandemic is presenting healthcare systems with various dilemmas, including that of social distancing. How can healthcare workers attend to patients with equally pressing or even more critical health concerns while society goes on lockdown city after city? To alleviate the pressure on already strained healthcare services across the globe, it's critical to prevent people from visiting health centres and hospitals unless absolutely necessary. One of various solutions is to implement video conferencing technology to enable patients to consult with their doctors remotely.
The UK company Refero has recently made its video calling service free for pharmacies and GP surgeries. In the US we see similar initiatives, with the US Congress lifting coverage restrictions for telehealth services for those who are at increased risk. TempTraq, developed by Blue Spark Technologies, the world's leading producer of thin film batteries, is a single-use, disposable patch used for 24-hour monitoring and recording axillary temperature. The data is wirelessly forwarded to doctors in real time for up to 72 hours, minimising the need for direct contact with the patients. TempTraq is accompanied by a mobile app that stores recorded data on the company's TempTraq Connect cloud service.

Telemedicine was also used to treat eleven Israelis who were exposed to the coronavirus on a cruise ship in Japan and quarantined at the Chaim Sheba Medical Center in Tel Aviv. The technology allows medical staff to remotely communicate with and monitor the patients, without exposing themselves to the virus. For instance, patients use hand-held smart devices developed by the Israeli startup TytoCare to allow doctors to remotely check their heart and lungs. Doctors can also use the devices to examine their throats and ears to check for additional symptoms. Another telemedicine tool, a sensor system developed by the Israeli company Early Sense, was placed underneath the patients' mattresses to track their breathing patterns for any signs of respiratory infection.
Du, one of the biggest telecom operators in the United Arab Emirates, is consulting with the country's Ministry of Health to build the first virtual hospital in the Middle East. In these facilities, doctors and nurses remotely care for patients who are at home through smart monitors and AI-powered devices. Medical staff can communicate with, diagnose, and treat patients, taking some of the burden off of traditional hospital resources. Since those who suspect they might have been infected are advised to stay at home and consult with their doctor over the phone first, virtual hospitals could enable patients to go through the entire diagnosis and treatment process without ever having to come into physical contact with medical staff.
The ongoing pandemic hasn't just been hard on people, but on their pets as well, especially those whose owners are in quarantine. So, what happens if your pet gets sick and you can't leave your home to get them help? FirstVet, a Swedish startup that offers on-demand video consultations with qualified local veterinarians, has decided to make all of its video appointments free until the end of April. "Just because you're in isolation doesn't mean your pet stays healthy," says David Prien, the firm's co-founder. According to Prien, the app's usage has increased by 80 per cent over the past weeks, a development that has also been good for vets, as it gives them something to do while housebound.

3D printing can save the lives of coronavirus patients
In severe cases, people infected with COVID-19 require intensive care and oxygenation. They are hooked up to reanimation devices that try to keep them alive long enough for their body to fight off the infection. However, one hospital in Brescia, a city in the region of Lombardy in northern Italy, encountered a major problem when they ran out of replacement valves, one of the parts required for the device to function properly, as the supplier was unable to keep up with the demand. The 3D printing company Isinnova brought a 3D printer directly to the hospital, redesigned the valve, and printed it out. The next day, 10 patients were breathing through devices equipped with the 3D-printed valves.
But that's not the only way 3D printing could save lives. A team of healthcare professionals at Chenzhou No. 1 People's Hospital in China, led by doctor He Yucheng, has 3D-printed a model of the lungs of a patient infected with the coronavirus. The 3D model provides a full-colour, life-size reconstruction of a patient's arteries, bronchi, and veins, enabling doctors to view the lungs from all angles. They can also take the model to a group consultation to "better understand the development of patients' lung diseases and provide them with more customised follow-up treatment plans," says Yucheng.
The rapidly rising number of coronavirus patients has created a demand for facilities that can house a large number of people who need to be quarantined. A hospital in Xianning, a city close to Wuhan in the Hubei province, turned to 3D printing for a fast and efficient solution. Fifteen 3D-printed hospital rooms were built in the course of one day by Shanghai-based construction company Winsun Building Technique. Each room has a surface area of 10 square metres, with a height of 2.8 metres, and can accommodate up to two persons at a time. The rooms are equipped with air conditioning, a shower, and a toilet. Ma Yufeng, the general manager of Winsun Building Technique, also emphasises that the rooms are environmentally friendly and made out of recyclable materials such as sand and construction rubble.
The new normal – life is moving increasingly online
With many cities on lockdown and countless people unable to leave their homes, people are looking for ways to entertain themselves until the crisis passes. In China, virtual fitness classes are becoming increasingly popular, as numerous gyms start offering online classes to help their clients stay fit. The classes mostly take place on the popular messaging app WeChat, allowing people to tune in and communicate with their trainers and each other.
Since music events have also been cancelled, and bars and nightclubs are closed for the foreseeable future, some clubs in China are turning to 'cloud clubbing' to keep people entertained. They are live streaming DJ sets on video platforms like Douyin, the Chinese version of TikTok, allowing people to tune in, comment in real time, and dance to the music in the privacy of their own home. Millions of people tune in to watch the shows. Some clubs are earning hundreds of thousands of dollars using a common feature of live streaming platforms that allows people to spend real money on virtual gifts for performers.
For those who want to focus on culture and education instead, Google Arts & Culture partnered with more than 2500 museums and galleries from all over the world to offer people virtual tours. The collection features some of the world's most famous museums, which you can explore from the inside and experience the artwork from a new perspective. For instance, you can take a closer look at the Rosetta Stone and Egyptian mummies at the British Museum in London, visit Guggenheim Museum's famous spiral staircase, discover ancient artefacts from the Mayan civilisation at the National Museum of Anthropology in Mexico City, or explore the works of some of the most famous French artists at the Musée d'Orsay in Paris. For book lovers, the author Erika Hall launched the 'Quarantine Book Club', which allows people from all over the world to talk about books with authors themselves using the video conferencing platform Zoom.
People are also hosting virtual dinner parties, happy hours, poker games, and birthday gatherings on Zoom, Google Hangouts, Skype, or FaceTime. This enables them to stay in touch with their family and friends and provides them with some semblance of normalcy while following social distancing guidelines. For many people, religion offers hope in difficult times. But most religious services have been put on hold as well, prompting religious leaders to consider platforms like Zoom and Facebook Live to livestream their services and provide worshippers with support and guidance. "Fortunately, we live in a world where those kinds of barriers can be overcome through many different kinds of technology," says John Farmer Jr., director of Rutgers' Miller Center for Community Protection and Resilience. "I think what you're seeing around the country is different faiths resorting to television, to social media and to other forms of technology to overcome the barriers that are posed by social distancing."
The world of sports has also been hit hard by the coronavirus outbreak. The majority of competitions have been postponed or cancelled, and athletes are looking for novel ways to maintain their fitness so they'll quite literally be able to hit the ground running once life returns to normal. Bayern Munich have introduced online training sessions for their soccer players to minimise their risk of contracting the virus. The sessions are streamed to the players' tablets from the club's training centre and include basic endurance training, high intensity interval training, and strength training, with each session lasting between 75 and 90 minutes. The players are also equipped with fitness trackers that provide the club with vital statistics.

As older people, especially those with underlying medical conditions, are far more likely to become seriously ill or die if they become infected with COVID-19, they are encouraged to stay at home as much as possible. There is only one problem with this solution: it could exclude them even further from the community and make them feel lonelier than they already are. Thankfully, there are a number of tech products that allow family members to stay in touch with their older relatives and make them feel less lonely. Smart displays like Amazon Echo Show, Facebook Portal, and Google Nest Hub are all easy to use and come equipped with screens that allow anyone to start video calls with their loved ones in a few simple steps. And then of course there's smartphone apps like Google Duo, FaceTime, and Skype. Older people can also order food via apps like Deliveroo and Uber Eats, which offer contactless delivery options to minimise the risk of infection.
Various ways in which VR technology improves life during the pandemic
Michael DiBengino, an MIT graduate and XR strategist, is the creator of the nCoV-2019 Tracker, a WebXR app that provides basic information about the outbreak and how it has spread across the world. The tracker was created with FlowImmersive, a platform for data visualisation that helps people understand data insights using mixed reality devices. Using data gathered from the Lancet, Associated Press, and the John Hopkins Center for Systems Science and Engineering, the app shows an interactive timeline of the coronavirus outbreak, including a 3D rendering of planet Earth. Although the visualisation is effective when viewed on a smartphone or desktop, it's most immersive when viewed through a VR headset and gives excellent insight into just how quickly COVID-19 has spread.

Another VR development comes from a team of researchers at the University of Southern California led by Albert 'Skip' Rizzo, the Director for Medical Virtual Reality at the Institute for Creative Technologies. The team designed a new VR game to teach children how to stay safe during the pandemic. The COVID Escape Room, as the game is called, is basically an obstacle course that rewards children for practicing safe behaviour, such as washing hands, sneezing and coughing in your elbow, and social distancing. As children navigate the course, the game presents these concepts in a fun and entertaining way, leaving a lasting impression and helping them avoid contracting the virus in real life.
VR is also useful for coronavirus patients that undergo extensive quarantines at the hospital, which naturally leads to feelings of isolation and loneliness. To help them overcome these difficult emotions, the Sheba Medical Center in Israel has partnered with the VR/AR telehealth company XRHealth to provide quarantined patients with VR headsets so that they can take virtual tours of various destinations. XRHealth's platform also helps coronavirus patients deal with anxiety and stress. Eran Orr, the company's CEO, explains that putting on a headset, lying back, and visiting locations in the virtual world will help patients feel connected with the outside world and minimise feelings of isolation.
Tech giants fight online misinformation as fake news spreads
In uncertain times, we're all eager to get our hands on up-to-date information. Unfortunately, this also feeds the proliferation of misinformation and scams on social media. Internet companies have recently held meetings with the World Health Organisation (WHO) to discuss fact-checking suspicious claims and promoting reliable information about the (spread of the) coronavirus. WHO Director General Tedros Adhanom Ghebreyesus explains: "We have worked with Google to make sure people searching for information about the coronavirus see WHO information at the top of their search results." To ensure that people are directed to the relevant sources, Google ranks trustworthy sources higher and labels news stories that have been fact-checked.
In light of the seriousness of the ongoing coronavirus pandemic, Google also decided to cancel its April Fools' Day plans for 2020. "This year, we're going to take the year off from that tradition out of respect for all those fighting the COVID-19 pandemic," writes Google's head of marketing Lorraine Twohill in an internal email. "Our highest goal right now is to be helpful to people, so let's save the jokes for next April Fools', which will undoubtedly be a whole lot brighter than this one."

YouTube has also adjusted its policies to prioritise trustworthy and fact-checked content. At the moment, for instance, the platform doesn't allow videos that promote potentially hazardous (and unproven) remedies. Facebook is also combating false information by zeroing in on claims that could increase the chances of someone getting sick or not getting the appropriate treatment. "This includes claims related to false cures or prevention methods – like drinking bleach to cure the coronavirus – or claims that create confusion about health resources that are available," emphasises Kang-Xing Jin, the head of health at Facebook. Furthermore, Facebook will restrict and block hashtags that spread false information on Instagram. The company is also carrying out sweeps to identify and remove as much of the misinformation as possible. And when Facebook users look up the virus on their platform, the site will display educational pop-up boxes with credible information. Additionally, the social media network is giving free advertising credits to organisations running coronavirus education campaigns.
Will technology help us defeat the coronavirus?
Our current testing methods take between 1.5 and two hours to return results. In addition to time constraints, the tests are also incredibly complex and require scientists to isolate COVID-19 RNA, turn that RNA into DNA, and then use a specialised polymerase chain reaction machine to test the DNA. These limitations are preventing large-scale testing. Scientist are now focusing on severe and obvious cases, which carries the risk of missing asymptomatic carriers. A team of scientists at the University of Oxford have however developed a new coronavirus test that can provide results in just half an hour. The test is not only faster than our existing testing methods but also requires only simple technical instrumentation and produces results that are easy to interpret. Furthermore, according to researchers, it can even detect patients in earlier stages of infection. Initial results indicate that the tests are 100 per cent accurate, although they were performed on a small number of samples.

CRISPR technology, a powerful tool that enables researchers to alter DNA sequences and modify gene functions, could now, for the first time, be applied directly to human health in the form of quick diagnostic testing for the novel coronavirus. The American CRISPR-based diagnostics company Sherlock is developing a coronavirus test that would return results in less than 30 minutes. Another US-based diagnostics company, Mammoth, which also specialises in CRISPR, has developed a platform called DETECTR, to create tests that can differentiate COVID-19 from other coronaviruses, and identify several coronavirus strains. Like Sherlock, Mammoth's test also shows results within 30 minutes.
Innovaprep, a US-based microbiology testing company, has developed technology that tests the air for traces of the coronavirus. This process involves several steps. First, a machine called 'the Bobcat' collects air and traps microbes and germs in a special filter. The sample is then turned into a liquid with the help of a special foam. A second device then concentrates the organisms in the liquid into a tiny drop, which is analysed by another machine to reveal what those microbes are. The entire procedure takes less than two hours. The US military has been using similar technology for years to detect dangerous airborne particles, but Alburty believes it could also be deployed to test hospitals, cruise ships, office buildings, and other environments that might have COVID-19 present in them, potentially saving a number of lives.
While some scientists are looking into developing a vaccine, others are focusing their efforts on identifying existing treatments that could be effective against the novel coronavirus. Researchers at the US Energy Department's Oak Ridge National Laboratory revealed they used an IBM supercomputer to scan over 8,000 compounds, detecting 77 small-molecule drugs that could be potential treatments for the coronavirus. The Summit supercomputer can perform 200 quadrillion calculations per second, making it around one million times more powerful than an average laptop. Considering its power, Summit was able to rapidly achieve the results the researchers needed. "It took us a day or two, whereas it would have taken months on a normal computer," emphasises principal researcher Jeremy Smith. He also points out that they haven't found a treatment or cure for SARS-CoV-2 yet, as the 77 compounds must first be tested before being approved as a treatment.
According to Drug Target Review, scientists have recently started using advanced drug discovery software developed at the Southwest Research Institute (SwRI) to help develop treatments for the virus. The virtual screening tool relies on 3D analysis of protein docking to screen drugs and identify those that may be efficient in treating infectious diseases. Before the coronavirus outbreak, the software was able to screen 25,000 drug compounds per day. The team has since increased its capacity to 250,000, allowing it to screen two million drug compounds in just a few days. Dr Shawn Blumberg, a scientist at SwRI, says: "This advanced processing capability is demonstrating that virtual screening can rapidly increase the pace of drug discovery, especially in pandemic situations."
Even those who aren't scientists or medical staff can do their part to defeat the coronavirus by lending their computer's unused resources. A distributed computing project called Folding@home, created by Stanford University, is looking into developing treatments for COVID-19. To achieve this, the project will use the processing capacity of networked computers and simulate the process of protein folding, which can identify ways to treat not just COVID-19, but also cancer and Alzheimer's. Studying how a protein folds demands significant computational power, which Folding@home would generate by using the CPUs of volunteer computers when they're in idle mode. To participate in the project, volunteers can download free software from the Folding@home website.
Tulane University in Louisiana has put its researchers to work on developing a rapid COVID-19 test, which will use highly sensitive, nanotechnology-based saliva or blood tests to identify biomarkers of the disease. Project leader Tony Hu says that such technology is especially important in the light of reports that the novel coronavirus can spread even before people develop symptoms. Thomas Webster at Northeastern University in Massachusetts is proposing to eradicate the virus with nanoparticles that would match the virus' structure. His team specialises in theranostics-research, which focuses on developing nanoparticles that can fight microbes that cause tuberculosis and influenza. For the treatment of SARS-CoV-2, the virus that causes COVID-19, the nanoparticles would latch onto the individual virus and disrupt its structure under infrared light treatment, with the aim of stopping the virus from reproducing and surviving in the patient's body. But before developing a cure, the researchers must first identify what to put in the nanoparticle to attract it to the virus, says Webster.
The spread of the novel coronavirus, also known as COVID-19, has put the entire world on extreme alert. The ongoing outbreak is wreaking havoc on our way of life. Almost everything has come to a standstill. Businesses are failing, leaving millions of people unemployed. In an attempt to curb the spread of the virus, government authorities and medical staff the world over are turning to technology for help. From robots that disinfect hospitals and deliver medicine to patients to AI systems that detect the coronavirus and identify potential treatments, emerging technologies are becoming an increasingly important tool in the fight against the coronavirus, offering millions a glimmer of hope that life may soon take on some semblance of normalcy again.