The benefits and risks of robotic surgery
Researchers developed a robotic catheter that can navigate autonomously inside the body
A new robotic thread offers hope for less invasive brain surgery
Vicarious Surgical combines miniature robots and virtual reality to put surgeons inside the patient's body
Tiny robots are shaping the future of healthcare
Robots have long occupied a special place in human imagination. Over the years, as the technology became more advanced, some of those dreams have started to spill over into reality, with robots finding a growing number of useful real-world applications. Today, robots are primarily used to perform a variety of boring, repetitive, and dangerous tasks across industries, ranging from manufacturing to bomb disposal. While they're still a far cry from highly intelligent machines that populate the world of fiction, robots are gradually becoming increasingly sophisticated and capable of performing ever more complex tasks.


Robotic technology has taken on an increasingly prominent role in the medical field in recent years. According to a recent report published by MarketsandMarkets, the value of the global medical robots market is predicted to grow from $5.47 billion in 2017 to $16.74 billion in 2023. Such massive growth will be driven be several notable factors, including technological advancements in medical robots, increased funding for medical robot research, advantages offered by robot-assisted rehabilitation, and growing patient demand for minimally invasive surgeries.
The benefits and risks of robotic surgery
Minimally invasive surgeries offer numerous advantages over traditional open surgery, including increased safety, smaller incisions, fewer cuts, reduced pain, decreased scarring, and faster recovery, which is why patients around the world are increasingly opting for this type of procedure. Minimally invasive surgeries are often performed with the help of surgical robots. In 2018, more than a million surgeries were performed worldwide using the da Vinci Surgical System developed by Intuitive Surgery. That brings the total number of surgeries performed with the system over the last twenty years to more than 6 million.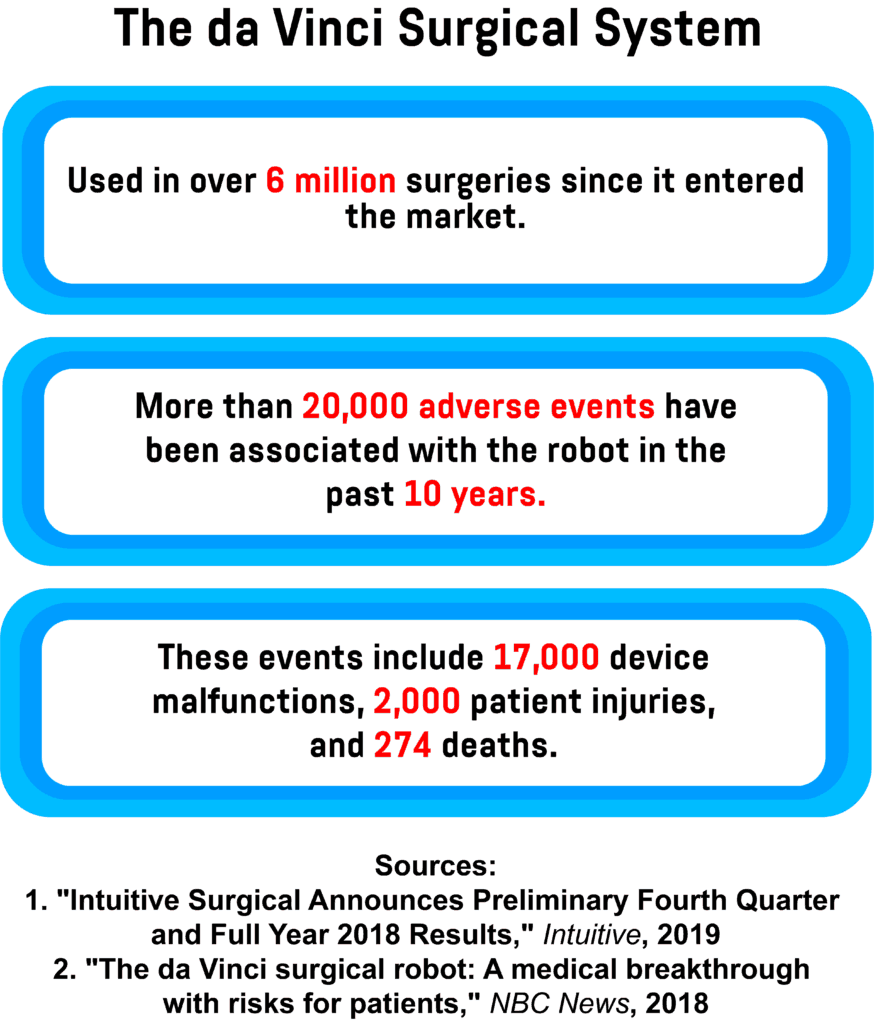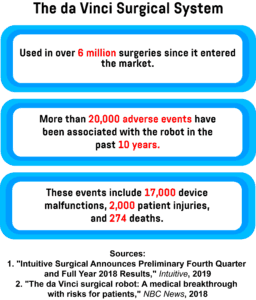 However, even though it's considered safer, robotic surgery isn't without its risks. According to the US Food and Drug Administration database, there were more than 20,000 adverse events associated with the da Vinci surgical robot over the past decade, including 17,000 device malfunctions, 2,000 injuries, and 274 deaths. While this represents only a tiny fraction of the overall number of surgeries performed with the system, it's important to remember that robotic surgery also involves certain risks, just like any other type of surgery. Although most of the attention has been focused on large surgical robots like the da Vinci system, their size makes them unsuitable for certain procedures, which is why researchers are increasingly focusing on developing miniature robots that would be able to access hard-to-reach locations within the body and perform surgery from inside.
Researchers developed a robotic catheter that can navigate autonomously inside the body
Robotic surgeons have been in use in operating theatres around the world for a couple of decades now. Over the years, researchers have also demonstrated the ability to steer tiny robots through the human body using powerful magnets. However, no one has been able to develop a robot that can navigate within the body on its own. Until now. A team of bioengineers at Boston Children's Hospital recently developed a robotic catheter that can navigate autonomously inside the body and reach a desired destination without any assistance from a human surgeon.
The robotic catheter uses an optical touch sensor that relies on artificial intelligence (AI) and image processing algorithms to determine its location within the body and decide where it needs to go next. To demonstrate how it works, the team performed a paravalvular aortic leak closure, a highly technically demanding procedure used to repair replacement heart valves that have begun leaking around the edges. Throughout the demonstration, the robotic catheter was able to repeatedly navigate to heart valve leaks, after which an experienced cardiac surgeon would take control and close the leak. What's even more impressive is that the catheter was able to reach the leak in approximately the same amount of time as the human surgeon.
The optical touch sensor uses a navigational technique called 'wall following' to inspect its environment at regular intervals and determine whether it's touching blood, the heart wall, or a valve. This also allows it to determine how hard it's pressing to avoid causing damage to the heart. Using data from preoperative imaging and machine learning algorithms, the robotic catheter was able to interpret visual features and navigate from the base of the heart following the wall of the left ventricle, manoeuvre around the leaky valve, and finally reach the location of the leak. "The algorithms help the catheter figure out what type of tissue it's touching, where it is in the heart, and how it should choose its next motion to get where we want it to go," explains Pierre Dupont, the senior investigator and chief of Pediatric Cardiac Bioengineering at Boston Children's.
The researchers hope this technique could one day eliminate the need for fluoroscopic imaging, which is typically used in this type of procedure and exposes patients to ionising radiation. The robotic catheter could also potentially be used to perform routine heart-mapping tasks, provide guidance during high-difficulty cases, or assist in operations in parts of the world where highly experienced surgeons may not be readily available. "This would not only level the playing field, it would raise it," says Dupont. "Every clinician in the world would be operating at a level of skill and experience equivalent to the best in their field. This has always been the promise of medical robots. Autonomy may be what gets us there."
A new robotic thread offers hope for less invasive brain surgery
Stroke is one of the leading causes of death and disability in the United States. It occurs when a blood vessel that carries oxygen to the brain is either blocked by a blood clot or it bursts. Surgeons typically remove blood clots in the brain with an endovascular procedure, a minimally invasive surgery that involves inserting a thin wire through the patient's main artery and guiding it manually all the way to the affected brain vessel. Once there, the surgeon can insert a catheter through the wire and use it to deliver drugs or clot-retrieval devices to the area. In addition to being highly physically demanding, the procedure also requires surgeons to repeatedly expose themselves to radiation from fluoroscopy, which they use to obtain an image of the blood vessels during the procedure. Another drawback of the procedure is that the medical guidewires are usually made from a core of metallic alloys coated in a polymer, which could potentially generate friction and damage the vessel linings.
To address these issues, a team of MIT researchers, led by Xuanhe Zhao and Yoonho Kim, developed a magnetically controlled robotic thread that's small enough to be able to wind its way through tight spaces, such as the vasculature of the human brain. The robotic thread's core is made from nickel-titanium alloy, or nitinol, which has the ability to return to its original shape when bent. The surface of the thread is coated with hydrogel, making it smooth and eliminating friction with the surrounding tissue. It's also embedded with magnetic particles, which allows it to be steered precisely through blood vessels using a large magnet. According to the researchers, it's also possible to add additional features that would enable the thread to deliver drugs that would reduce clots or break up blockages with a laser.
To demonstrate how it works, the researchers built a life-size silicone replica of the human brain based on CT scans of an actual patient's brain. The replica featured all of the major blood vessels, as well as clots and aneurysms, and was filled with a liquid that mimicked the viscosity of blood. Using a magnet, the researchers were able to successfully guide the robot through the blood vessels and reach the desired destination. "One of the challenges in surgery has been to be able to navigate through complicated blood vessels in the brain, which has a very small diameter, where commercial catheters can't reach," says Kyujin Cho, a professor of mechanical engineering at Seoul National University. "This research has shown potential to overcome this challenge and enable surgical procedures in the brain without open surgery."
Vicarious Surgical combines miniature robots and virtual reality to put surgeons inside the patient's body
Founded by MIT graduates Adam Sachs and Sammy Khalifa, Vicarious Surgical is a new healthcare robotics startup that aims to revolutionise surgery by transporting the surgeon inside the patient's body through a combination of miniature robots and virtual reality technology. The company developed tiny robots that can be inserted into the patient's body through a small incision and controlled remotely to perform surgeries from within. "We've been working on ways to miniaturize robotics and put all of the motion of surgery into the abdominal cavity," explains Sachs. "If you put all of the motion inside the abdominal cavity you are not confined to motion around the incision sites."
The robot has a humanoid shape, with two arms and a camera mounted above its shoulders. The robotic arms have the same degrees of freedom as human arms to allow the robot to perform complex motions associated with surgery. Once the robot is injected into a patient's body, a surgeon needs to put on a virtual reality headset to be able to see everything the robot sees and control its movements by simply moving their own arms. "We track the surgeon's arm motion and [the robot] mimics their arms and hands. The primary feedback is to create the impression of presence of the surgeon as if they'd been shrunk down," adds Sachs.
According to the company, the ultimate goal is to improve access to healthcare in areas where highly trained surgeons may not be readily available. "A lot of our long-term vision is about growing and scaling our technology to the point where it's accessible not just to big cities and major hospitals in the U.S. and also the small cities and towns in the rural U.S. and around the world as well," says Sachs. "Long-term it's about the democratization of surgery that can come from surgical robotics."
Tiny robots are shaping the future of healthcare
Robotics technology has advanced considerably in recent years. Once capable of performing only the simplest of tasks, robots are now becoming increasingly sophisticated and are finding a growing number of useful applications across industries, including medicine. Driven by growing patient preference for minimally invasive surgeries, robots are taking on an increasingly prominent role in operating rooms around the world. From a robotic catheter that can navigate autonomously inside the body to a robotic thread that offers hope for less invasive brain surgery, these miniature machines are set to transform the future of healthcare.
While some of these robots have been granted a certain level of autonomy, it will be a while before they can replace human surgeons altogether and perform surgeries on their own. At this point, they're better viewed as a tool that extends the capabilities of human surgeons and helps them overcome the limitations of existing surgical techniques. Despite some of the risks associated with robotic surgery, the numerous benefits it provides over traditional open surgery should ensure that robots remain an invaluable tool in operating rooms for the foreseeable future.