The pandemic's impact on construction
Challenging times call for remarkable innovations
Visions and predictions for the construction sector
Closing thoughts
If there ever was a time for the construction sector to modernise, it is now. Digital innovation will be crucial to getting this trillion dollar industry back on its feet, presenting a transformative opportunity for construction businesses to invest in new solutions. Many sectors are expected to emerge from the crisis reinvented, and finally willing to embrace innovation, the construction sector is certain to be among them, reaching new levels of productivity and efficiency.
The pandemic's impact on construction
The pandemic has had a major impact on the global construction industry, leading to widespread worker shortages and project delays, among other things. A recent survey conducted by the Committee for European Construction Equipment (CECE) reveals that as much as 60 per cent of the European construction equipment industry experienced severe production and manufacturing issues due to the COVID-19 outbreak. Despite numerous setbacks, however, the industry is already showing clear signs of recovery. According to a recent Euroconstruct report, Europe's construction market is predicted to grow 4.1 per cent in 2021 and then another 3.4 per cent in 2022. The upward trend will continue in 2023 as well, when total construction output will reach € 1.73 trillion, exceeding pre-pandemic levels by € 28 billion.
When it comes to structural changes brought about by the pandemic, many of those are expected to remain a permanent feature of the construction industry moving forward. The most prominent among them revolves around the implementation of new safety protocols on construction sites around the world, such as temperature checks, frequent disinfection, and staggered shifts, which are likely to remain in place as long as the virus continues to circulate. Concerns for worker safety could also lead to increased demand for off-site construction, which not only helps construction companies observe social distancing guidelines, but also reduce labor costs and shorten project schedules. The pandemic has also further exacerbated worker shortages the industry has been facing for quite some time, forcing construction companies to accelerate their digitalization efforts through increased adoption of digital collaboration tools, wearable devices, sensors, and data analytics.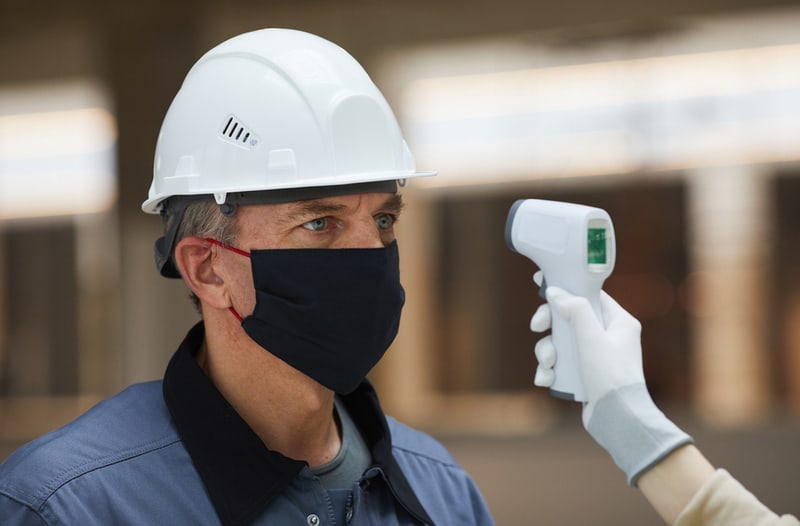 Challenging times call for remarkable innovations
With the coronavirus pandemic aggravating some of the inherent issues that have plagued the construction industry for years, construction companies were forced to think outside the box to come up with solutions to enable them to get back on track as soon as possible.
Electric construction machinery
As one of the world's largest offenders in terms of greenhouse gas emissions, the construction industry has been looking for ways to reduce its environmental footprint for a while now. One possible solution is to switch to electric construction machinery. CASE Construction Equipment, for instance, has developed the first fully electric backhoe loader in the world. Named Project Zeus, the machine is capable of working for up to eight hours on a single charge with a performance that matches that of its diesel-powered counterparts. Operators will experience the same digging, lifting and craning performance achieved in a diesel-powered machine in a quieter, emissions-free work area. That's the ultimate goal of our sustainability efforts – improve the world around us, make equipment more sustainable, explains Eric Zieser, director of global compact equipment product line at CASE.
Ensuring worker safety
To follow social distancing guidelines and keep their workers safe from harm, construction companies are increasingly turning to technology for help. Construction analytics platform Kwant.ai recently launched a COVID-19 response plan that enables its clients to keep track of how many people are present in any given space. Each worker is issued with a wearable tech sensor, which allows the platform to keep tabs on their location at all times and notify them when the number of people in a particular area exceeds a predetermined threshold. The platform also enables companies to conduct contact tracing and minimize the spread of the virus by identifying those who may have come into contact with a person that has displayed symptoms.
Streamlining floor plan creation
The US-based company Reconstruct, Inc. has developed a new software system that allows construction companies to create floor plans of their facilities within minutes. By using a 360-degree camera, companies can record a video of the facility in question, which the software then uses to automatically generate both 2D floor plans and 3D point clouds. Users can then navigate these plans using the 'street-view' mode to perform quality control inspections, identify potential risks, and monitor the progress of their project.
Visions and predictions for the construction sector
For years, the construction industry has been reluctant to embrace innovation. However, many experts now believe that the pandemic could lead to a change of heart within the sector. "I imagine the construction site of the future to be almost fully automated, with robotic labor, and small drones flying around for monitoring and delivering supplies. Engineers and architects will be to a large extent replaced by advanced software that can handle most of the design production, " says Ramzi Jreidini, CEO of talent management company Handiss.
Florian Biller, CEO and co-founder of Capmo, a startup that specializes in cloud-based solutions for the construction industry, is just as enthusiastic about technology's role in the future of construction. "AI-driven construction analytics will give the industry an enormous efficiency push and make projects more predictable," explains Biller. Hardware technologies such as 3D printing, drones or augmented reality will also play a role in the construction site of tomorrow. However, I'm convinced that the biggest and most important aspect changing the sector will be the usage of construction analytics. "
Another big proponent of data analytics is Allison Scott, Director at Autodesk Construction Solutions. "As firms continue to get their hands around capturing, organizing, and analyzing their data, there will be an intensified focus on transforming those data points into actionable intelligence – takeaways that can help a business make better and more accurate decisions. We will see increased use of dashboarding tools, increased development of new analytics capabilities, and the desire to create new KPIs where once there were none, " adds Scott.
For Paul Godwin, BIM Manager at MAREK, it will be AR and VR that will shape the future of the construction industry. That type of technology will give people the ability to visualize, not only on the jobsite, but before they ever get on-site, and see mistakes and clashes before construction begins. It saves on time and mitigates issues and design flaws before you get into the field, " explains Godwin. These views are echoed by futurist Richard van Hooijdonk, who predicts that the construction landscape will experience a radical overhaul led by innovative technologies like artificial intelligence, robotics, 3D printing, and blockchain.
Closing thoughts
Despite being plagued by numerous issues that have affected its productivity for years, the construction industry has stubbornly resisted change. The pandemic may, however, prove to be the final straw that forces the sector to reconsider its stance and finally embrace innovation. To address new challenges brought about by the pandemic, construction companies around the world are increasingly turning to emerging technologies like artificial intelligence, robotics, 3D/4D printing, and VR/AR. This will result in a more efficient, resilient, and sustainable construction sector going forward, forever changing the way we design, build, and maintain buildings and infrastructure.