Education systems face an array of challenges
MATHiaU helps students pass remedial courses
Providing easily digestible textbook content
Nuance improves students' writing skills
Cognii enhances critical thinking skills
Reducing teachers' workload and providing users with micro-lessons
The use of AI in education raises major concerns
Algorithms are set to become ever more influential
Education systems face a multitude of challenges in today's fast-moving world. Teacher workload is ever-increasing, while delivering personalised lessons to students and fostering their critical thinking skills are crucial but elusive goals. Many people lack access to high-quality learning materials and qualified professors. Fortunately, technologies such as artificial intelligence (AI) can provide schools with much needed assistance, and companies have developed smart algorithms that refine educational experiences in many different ways. Whether through personalised learning and smart content or through transcribing words and improving cognitive performance, AI-driven tools are transforming the way children learn and develop new skills.
Education systems face an array of challenges
Excellent education is at the centre of personal and social development. Educated individuals can pursue fulfilling careers and command higher salaries, helping their countries grow and reduce poverty. But not everyone is fortunate enough to get a good education. The UN estimates that achieving universal primary and secondary education by 2030 requires 69 million new teachers, which means that many children are currently excluded from educational systems. And students with disabilities are especially prone to being denied access to schools, and they tend to have lower attendance rates. Tackling these problems will require around $39 billion in global investments by 2030.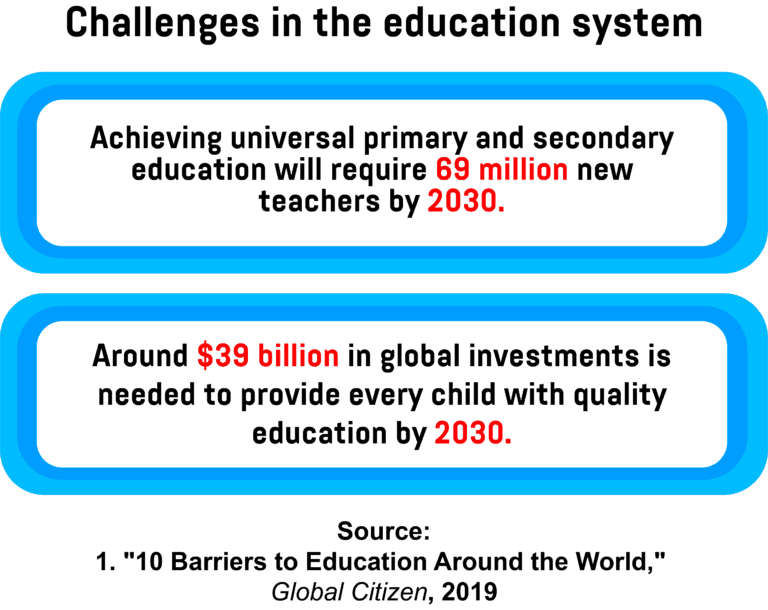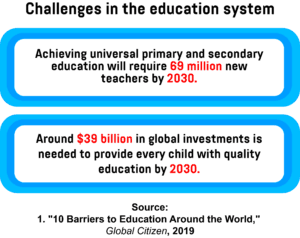 Besides the lack of teachers, educational systems also face a lack of learning materials. Outdated textbooks shared by several students are a common occurrence in many countries, and teachers also need better educational content to plan and guide their classes. Increasing teacher effectiveness is crucial, as it's one of the most important predictors of students' success. And technology plays a pivotal role in helping both developed and developing countries to improve their educational systems and learning experiences. AI-based software can tackle teaching crises and ensure that overburdened professors are relieved of tedious tasks and focused on interacting with their students. With these benefits in mind, it's no wonder that the use of AI in education is set to be worth more than $6 billion by 2024, with multiple companies offering impressive technologies.
MATHiaU helps students pass remedial courses
One of these tech companies is Carnegie Learning that has developed MATHiaU, AI-based software touted as a "1-to-1 math coach college students can count on". It's specifically designed to help students pass remedial courses, which help build up their skills in math and other areas before they're allowed to enrol in regular courses. At the moment, remedial learning costs US colleges almost $7 billion each year and the success rate in math courses is only 33 per cent.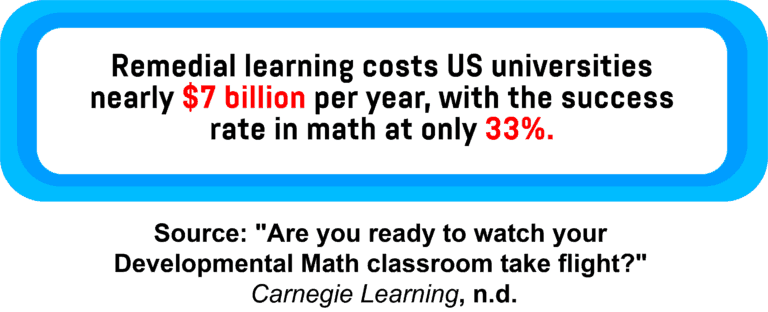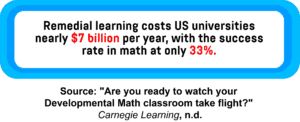 MATHiaU helps students practice math by first understanding their current level of knowledge and then suggesting personalised lessons. The software tracks users as they make progress and plans their next activities. And to boost students' confidence, the bars in the dashboard change colour each time they make progress. Professors benefit from a feature called the Adaptive Personalized Learning Score (APLSE) Report, which uses predictive analytics to provide educators with insights into where app users are heading and what kind of help they need. The software's dashboard contains a wealth of data, including students' rate of module completion, average errors per problem, and more. And a study funded by the US Department of Education concluded that MATHiaU helps students to significantly improve performance in standardised tests.
Providing easily digestible textbook content
The California-based AI development company Content Technologies also strives to make learning easier. Its program, called Cram101, converts textbook content into smaller, easily digestible chapter summaries, flashcards, and various practice tests. JustTheFacts101 is the company's second program, and it highlights critical pieces of books and creates chapter summaries, which are then made available on Amazon. Both of these systems are based on deep learning algorithms that use predefined instructions to create personalised summaries and help students connect in-class work with assigned reading.
Ponddy Education is another US-based company that uses a similar approach. Its AI-powered system makes learning the Chinese language easier by providing personalised and interactive learning modules called 'Pondlets' and dividing them into six levels, ranging from beginner to advanced. Each module consists of audio narration, grammar points, photos, a dictionary, and various learning tools. Professors can add their own narration and questions, improving learning retention. The platform follows learners' growth and provides personalised content that's tailored for teenagers. And unlike traditional publishers that take a lot of time to update books, Ponddy can update its digital textbooks easily, ensuring they remain up to date.
Nuance improves students' writing skills
And for children who have difficulties with writing, whether due to physical or mental disabilities, the US-based tech firm Nuance has developed a solution. Its AI-powered speech recognition software, named Dragon NaturallySpeaking, can transcribe up to 160 words per minute. It also comes with enhanced spelling and word recognition abilities. Students who, for instance, have vision tracking problems in their eyes can dictate essays to the program and build confidence in their writing skills. And children are reporting that Dragon helps them manage school workload and complete assignments faster. Teachers can use the software as well to create documents or emails and save valuable time.
Cognii enhances critical thinking skills
Meeting the challenges of the 21st century requires more than memorising new pieces of information. Students have to develop a deep understanding of the subject matter, as well as critical thinking skills, and meaningful assignments are the key to achieving that goal. To that end, the US-based software company Cognii has built a conversational AI product that assesses students' written answers to determine their cognitive performance and knowledge gaps. It provides immediate feedback on submissions and guides users through adaptive learning sequences to increase their critical thinking skills. The software can be deployed at universities, as well as elementary and high schools, and applies to various courses like biology, math, history, economics, and many others.
Educators provide content that Cognii relies on to assess submissions. And the technology can be integrated into various online learning resources including massive open online courses (MOOCs), e-books, homework products, learning management systems, and more. The system comes with another useful feature called Cognii Analytics, which is a dashboard that reveals real-time insights into students' progress. Professors can monitor students' knowledge gaps and view graphical overviews at the level of the class or individuals. They can also replay Cognii-student exchanges to gain a better understanding of how users interact with the AI.
Reducing teachers' workload and providing students with micro-lessons
The EU-based edtech company Century has developed an AI-powered learning platform that improves student performance by 30 per cent and cuts teacher workload by six hours per week. Students learn by going through micro-lessons called 'nuggets' that are personalised and adaptive, depending on the defined pace and user progress. What's more, the system features built-in assessments and class performance analytics to help teachers plan lessons and cut time spent on grading. And educators can take a data-based approach when planning their classes and learning materials knowing that engineers have developed the system using the principles of neuroscience.
School leadership also benefits from insights on how their educational institution performs and what improvements could be made. Parents, too, can monitor childrens' progress via real-time analytics, instead of waiting for traditional written reports. This encourages home learning and improves knowledge retention. And the platform features a constantly growing digital library of English, maths, and science materials that are either uploaded by users or created by Century's experienced teachers. The content takes various formats, including videos and interactive tasks.
The use of AI in education raises major concerns
The use of AI in education offers many opportunities, but the road ahead is riddled with obstacles. For one, it's important to ensure that AI doesn't become solely used in developed countries, as that would widen the technological, economic, and social divides across the world. Algorithms need to provide every student with access to high-quality education. Reaching that goal requires preparing teachers for AI-based schooling, while software developers need to create tech solutions that suit the everyday needs of educators and can be easily applied in real-life situations.
The growing use of smart algorithms makes data ever more important. The United Nations Educational, Scientific and Cultural Organization (UNESCO), for instance, points out that "if the world is headed towards the datafication of education, the quality of data should be the main chief concern". This means that data needs to be collected and analysed in a systematic way, benefiting schools, students, and professors. But collecting information on how kids learn is a sensitive task that raises ethical and privacy concerns. It's crucial that schools and tech companies protect data and use it in a transparent and accountable way. Only then can the deployment of smart algorithms in education grow into a sustainable, long-term practice that won't face public backlash.
Algorithms are set to become ever more influential
Educating students to tackle the challenges of tomorrow requires modern classrooms and advanced learning methods. Technology can provide invaluable help in that regard by powering a personalised learning path for every student. Smart algorithms have already proven their worth in creating relevant content that helps children progress faster and master new skills. AI can also ensure that even people with disabilities can fully participate in the educational system and fulfil their potential. And with the influx of more data, algorithms are bound to become ever more powerful and influential in schools and universities across the world.