Sidewalk Labs announces plans to build a smart neighbourhood on Toronto's waterfront
Various privacy and transparency concerns surround the project
Will Toronto become the new Silicon Valley?
In recent years, we've seen a number of smart city projects pop up all over the world, from Songdo in South Korea to Masdar in the United Arab Emirates or Neom in Saudi Arabia. While these projects have attracted a great deal of publicity, they haven't been as successful as their developers hoped they would be. For instance, today, Songdo is a half-empty city populated only by the rich, while Masdar still hasn't been finished, even after more than a decade of construction. Whether it's due to the changes in the political or financial circumstances surrounding them, their overwhelming scope and ambition, or the failure to include locals in the design of the new communities, smart city projects have experienced one delay after another and some have even been abandoned altogether.
"Most smart cities projects are in a very early stage," says Cesar Cerrudo, the founder of the not-for-profit Securing Smart Cities. "If you do your research, you'll find there are a lot of projects but there isn't much that's concrete. It's a lot of publicity, a lot of marketing." Another reason why some of them have failed is that there's usually a great divide between tech industry professionals and city-planning specialists, which will need to be bridged if smart cities are ever to fulfill their potential.
Sidewalk Labs announces plans to build a smart neighbourhood on Toronto's waterfront
Sidewalk Labs, the urban innovation subsidiary of Google's parent company Alphabet, recently announced plans to turn a 48,000 m2 piece of land on Toronto's eastern waterfront into a smart neighbourhood. Once a major industrial port, the Quayside area is now primarily populated by low-lying buildings, massive soybean silos, and a huge parking lot full of potholes. Although it can't be called a prime real estate location by any stretch of the imagination, it was nevertheless chosen by Sidewalk Labs to act as home for its new project – Sidewalk Toronto.
The project proposal features a wide variety of innovative ideas, including delivery robots, automated waste disposal, adaptive traffic lights that prioritise pedestrians and cyclists, snow-melting sidewalks, parking systems that guide cars to the nearest available spots, and modular buildings that can switch between functions, such as residential, retail, office, hospitality, or parking. All buildings will be made entirely from environmentally friendly construction materials, such as timber skeletons and mycelium insulation. The neighbourhood will be powered by solar panels and other renewable energy sources, with waste heat from sewers and buildings, nearby lakes, and geothermal sources used to power its thermal grid. The transportation network will consist exclusively of self-driving shuttles and robotaxis, while the use of private cars will not be allowed within the community. However, to ensure that the area doesn't become isolated from the rest of the city, there will be a transition zone for those who want to travel in or out.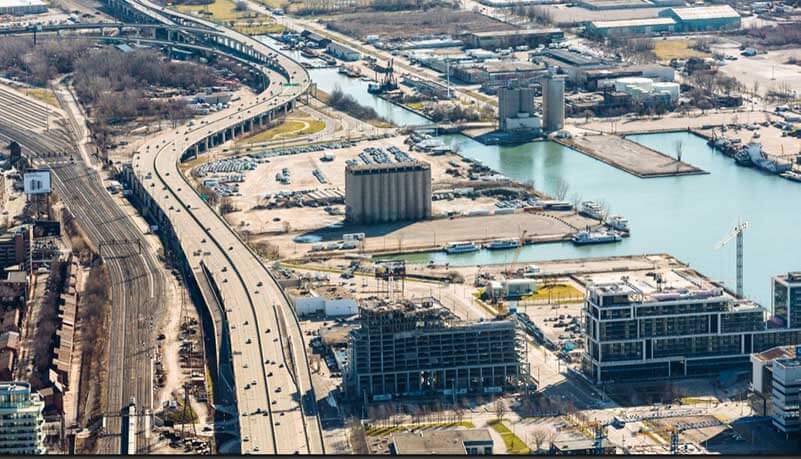 While it's not yet clear who will get to call this smart neighbourhood their home, the CEO of Sidewalk Labs, Dan Doctoroff, promises it will not be only for the rich. "By far the most important issue is all about affordability," he says. "We certainly see everyday people, middle class, lower-middle and lower-income people, being priced out of areas, suffering from the incapacity to get opportunities because distances are too great or the costs are too great. If we don't fundamentally address that issue, the fabric of society and the whole notion of this being an inclusive community begins to fray."
There will also be a digital layer that will capture information supplied by the extensive sensor network, monitoring everything from water use and air quality to noise levels and building conditions. Furthermore, there will be a platform that will allow the residents to manage their own data, both public and private. This information should help Sidewalk Toronto be more efficient, sustainable, and liveable. If everything goes according to plan, construction will start sometime in 2020. It's also worth noting that Sidewalk Toronto will actually serve as a pilot project for a wider initiative called Waterfront Toronto, which will aim to repurpose more than 3 km2 of land along the city's eastern waterfront.
Various privacy and transparency concerns surround the project
There's been a great deal of criticism directed at the project as well. Many are worried that Toronto's politicians are giving the developers too much freedom because they're desperate to make the city the next global tech hub. While Sidewalk Labs has already committed $50 million of its own money to the project, it will also partly be funded by Canadian taxpayers through a public-private partnership (PPP). However, the government has relaxed some of the public accountability measures usually reserved for projects of this kind, but without giving a valid reason for doing so. In fact, the full details about the project have even been kept secret from all but one Toronto city councillor, who also happens to be on the Waterfront Toronto board.
This lack of transparency is disturbing, as Sidewalk Labs hasn't yet disclosed what business model will be employed for Quayside. According to Doctoroff, one possibility is that the company will simply license and sell the products and services they deploy in Toronto to other cities. There are also privacy concerns regarding what kind of data will be collected, who will own it, and how it will be stored and safeguarded. Sidewalk Labs claims that the data gathered in Quayside will not be commercialised or sold. However, it also reiterated its commitment to open data, which suggests that other companies and agencies may eventually be given access to it. Security experts have also repeatedly warned that Canada's legal frameworks for data privacy and security are simply obsolete and need to be updated to keep pace with the latest technological innovations.
Will Toronto become the new Silicon Valley?
In an attempt to answer some of these concerns, Sidewalk Labs recently held the first public roundtable with the residents of Toronto, giving them an opportunity to express how they feel about the project. One of the biggest concerns raised by the residents was that the project would bring with it issues like gentrification, income inequality, and higher housing prices, essentially turning the city into a new Silicon Valley.
Judging by Silicon Valley's example, these fears may very well be justified. One recent report revealed that Silicon Valley has one of the highest income inequalities in the United States, with the families on top having 10 times the income of those at the bottom. Homelessness and housing costs are also on the rise in Silicon Valley, suggesting that a similar fate might await Toronto. Of course, not everyone is critical of the project, and many believe it could have a positive impact on the city's environmental sustainability, transportation, and community services, making it a better place to live.
While smart city projects haven't exactly been as successful as anticipated, they seem to be the next logical step in the evolution of our cities. Technology can make our lives better, but there's still a lot of scepticism and concern about how it's used. The public simply doesn't believe that tech companies act in their best interest, and they have a lot of work to do before they can regain some of that trust. Increasing transparency and involving the public in the decision-making process could be a good way to start.