Immersive technology in the world of finance
The finance sector's fascination with the metaverse
Financial services in the metaverse
Challenges preventing wider adoption of immersive technology
For years, immersive technology has largely been viewed as a gimmick, the usefulness of which didn't extend far beyond gaming and other forms of entertainment. Part of the reason for this somewhat unfavourable perception is that the technology simply wasn't advanced enough to faithfully recreate the real world in a virtual environment. However, things are starting to change and immersive technology is becoming increasingly sophisticated, making it a more attractive proposition for many other industries. One of the industries that is finally starting to recognise the benefits offered by this innovative technology is the financial services industry, where immersive tech has found a number of useful applications in recent years. Among other things, financial institutions can use immersive technology to enhance customer support, improve employee training efficiency, and increase financial literacy.
"We're using our technology and solutions to deliver multi-sensory experiences for consumers every day – whether they're shopping, taking transit, or exploring the card benefits they care about".

Mastercard
Immersive technology in the world of finance
Back in 2020, Mastercard announced the launch of a new augmented reality (AR) app that enables cardholders to view, explore, and access their credit card benefits in a 360-degree virtual environment. Once the app is launched, users need to scan their cards with a smartphone, after which they will be presented with a series of interactive portals that represent various credit card benefits offered by Mastercard. After tapping on one of the portals, users are transported into a virtual room, which they can explore by moving their phone around and interact with the items within to discover more information about the benefits available to them. "At Mastercard, we're using our technology and solutions to deliver multi-sensory experiences for consumers every day – whether they're shopping, taking transit, or exploring the card benefits they care about," said Raja Rajamannar, chief marketing and communications officer at Mastercard. "By leveraging an intuitive AR design, cardholders can now easily find and fully explore their benefits that otherwise might have been overlooked."
Then, in 2021, Bank of America launched virtual reality (VR) training for its employees, becoming the first financial services firm to do so. About 50,000 Bank of America employees working in nearly 4,300 financial centres across the country were given an opportunity to practise a wide range of tasks of varying complexity in a virtual environment. The employees had a total of 20 different VR simulations at their disposal, which allowed them to practise skills like developing stronger, deeper relationships with clients, listening and responding with empathy, and handling difficult conversations. Managers could also use the embedded real-time analytics to identify skills gaps and help employees improve their performance by delivering targeted follow-up coaching and personalised guidance. "Innovation is at the heart of everything we do," explained Hari Gopalkrishnan, head of retail, preferred, small business, and wealth management technology at Bank of America. "We are focused on creating and implementing technologies that offer advanced solutions. With VR, we're rolling out a proven learning tool that will empower teammates with the skills they need to better serve clients and help make financial lives better."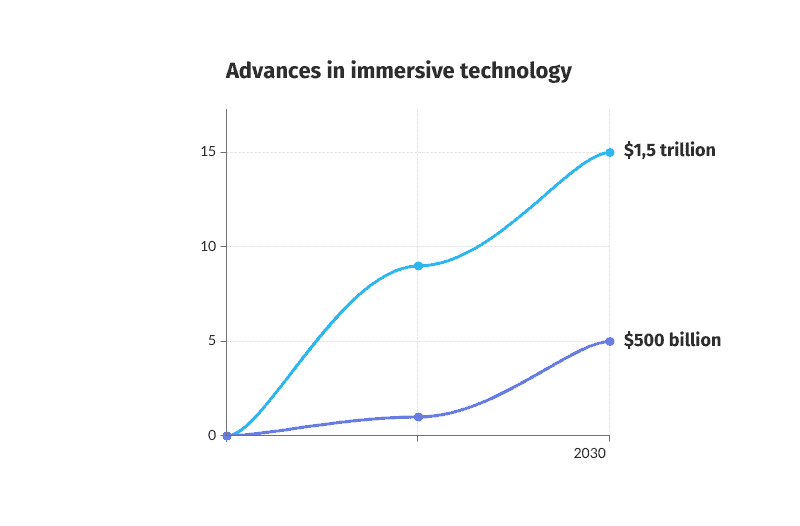 The finance sector's fascination with the metaverse
Although augmented reality and virtual reality technologies introduced us to the idea of the virtual world years ago, it wasn't until Facebook announced the launch of the metaverse that immersive technology truly caught the attention of the finance sector. The metaverse is essentially a 3D virtual universe that merges augmented reality, virtual reality, and social media technology. In this virtual world, people are represented in the form of avatars. Just like in the real world, they can explore their surroundings, enter structures that populate this simulated digital environment, or participate in various virtual events. They can also buy or sell various items, including new clothes for their avatars, virtual accessories, cars, buildings, and land. Of course, none of these financial transactions would be possible without some sort of financial infrastructure in place. Some of the more forward-looking financial players were quick to recognise the opportunities presented by the metaverse and started offering services that allow users to execute all sorts of personal and business transactions in this virtual world. It wasn't long before some major banks got in on the action as well by launching their own virtual currencies, financial products, and virtual bank branches.
The Metaverse can lead to huge improvements in the banking sector. In the near future, the metaverse will be an $8 trillion industry on the revenue and monetisation side.

Goldman Sachs
Financial services in the metaverse
By opening a lounge in a popular blockchain-based world called Decentraland, JP Morgan became the first bank to start offering its services in the metaverse. Named the Onyx lounge, the new virtual creation will be used to offer all sorts of financial services to businesses and institutions interested in entering the metaverse. At this moment, the functionality of the virtual lounge is rather limited, but the bank hopes that one day its clients will be able to do everything they can do in the physical world in the metaverse as well, such as opening an account, depositing their checks, or filling out a mortgage application on a new home. The bank also published a report on the economics of the metaverse, which could potentially generate as much as $1 trillion in annual revenue. And while it's unlikely that the metaverse will take over all human interactions, according to the report, it will undoubtedly bring many exciting opportunities for both customers and brands in many different areas. Some of the areas JP Morgan identified as having the most potential include virtual real estate ownership and virtual gaming.
"A purchase can be made directly within the metaverse experience – this is a never before seen innovation we are spearheading as we further bridge the gap between the metaverse and the physical world".

Sokin
It wasn't long before other banks jumped on the bandwagon as well. Kookmin Bank is South Korea, for instance, started offering its clients one-on-one consultations in the metaverse, while HSBC opened a branch in a popular metaverse region called Sandbox. Many other fintechs and financial services companies followed soon after. The UK-based payments fintech Sokin recently unveiled plans to launch a new metaverse community, where consumers will be able to meet, communicate, transact, invest, and purchase items from various brands and retailers. "Sokin's metaverse world will host different brands and businesses for visitors to access, for example, a football club, entertainment or fashion brand," explains Vroon Modgill, Sokin's founder and CEO. "We've seen campaigns by retailers in which an avatar models an item of clothing but then the experience abruptly stops there. So, we close the sales loop by ensuring a purchase can be made directly within the metaverse experience – this is a never before seen innovation we are spearheading as we further bridge the gap between the metaverse and the physical world."
And Fintech company Tintra announced the development of the first fully functional metaverse bank built on Web 3.0 technology. "We have set out to revolutionise how developed market banks interact with their emerging market counterparts. When it comes to the metaverse, it's important to take an expansive and long-term view of the terrain and its implications – especially in the context of Web 3.0.," says Richard Shearer, Tintra's CEO. In addition to being fully compliant with all existing regulations, the new metaverse bank will also use AI to improve Know Your Customer (KYC) and Anti-Money Laundering (AML) processes. "We are already pushing this process of solving the AML/KYC challenges faced by emerging market individuals and businesses along rapidly with a number of in-house PhD-level brains rethinking what's possible," adds Shearer.
Challenges preventing wider adoption of immersive technology
There is no doubt that immersive technology offers a number of benefits to the financial services industry. However, like any other innovation that has taken over the world in the past, it also comes with certain challenges that are preventing its wider adoption. For one, the implementation of immersive technology requires a great deal of technical expertise, as well as a lot of time and money. Maintenance and upgrade costs can also be quite high. As a result, many smaller financial institutions may not be able to afford to make significant investments in immersive technology. However, as the technology continues to evolve, its costs are bound to decrease, which should help accelerate its adoption.
Although initially dismissed as something reserved almost exclusively for the world of entertainment, immersive technology has gradually found a wide range of useful applications in many other fields, including finance. Today, a growing number of banks and other financial institutions are starting to invest in immersive solutions in an attempt to streamline their processes and remain competitive in a world increasingly dominated by technology. While this trend is still in relatively early stages with numerous challenges preventing its wider adoption, it's certain that immersive tech will take on an increasingly prominent role in the finance sector going forward, revolutionising how we access and use financial services.