As a potential power source, the human body makes other renewables look like child's play
Our bloodstream can produce watts of energy when equipped with miniscule power generators
Human power could be the ultimate green energy of the future
Fossil fuels are a major source of greenhouse gases, and they cause incredible damage to the environment. As we're learning, Mother Nature retaliates mercilessly and relentlessly when we mess with her, often with natural disasters worsened by climate change. That's got people thinking about green alternatives. When searching for better options, solar, wind, biomass, geothermal, nuclear, and hydropower are all viable choices. But there's another energy source that's quite literally staring back at us every time we look in the mirror – our own bodies. Could our arteries and veins hold the secret to the ultimate clean and sustainable energy source of tomorrow? They just might.
As a potential power source, the human body makes other renewables look like child's play
When somebody says 'human batteries', most sci-fi aficionados immediately think of The Matrix. In that movie, human beings tried to win a war against their machine overlords by "scorching the sky", effectively ending their ability to collect solar energy. The machines responded by turning to a readily available source – us – and started farming humans as biological batteries. That's a terrifying vision of the future! But if we approach the matter from a slightly different angle, this idea moves from horror to hope. In fact, Chinese scientists have demonstrated that it's possible to use the human body as an energy source in a far less invasive way than you might imagine.
For centuries, people have been building huge hydroelectric power plants that convert the movement of water into electricity. But a team from China have managed to design a lightweight power generator that is less than a millimetre thick. Small enough to fit into a human blood vessel, these generators could produce electricity in a manner similar to their giant cousins, but on a much smaller scale. Their power would come from their proliferation, not their individual energy-producing ability. Here's how it would work.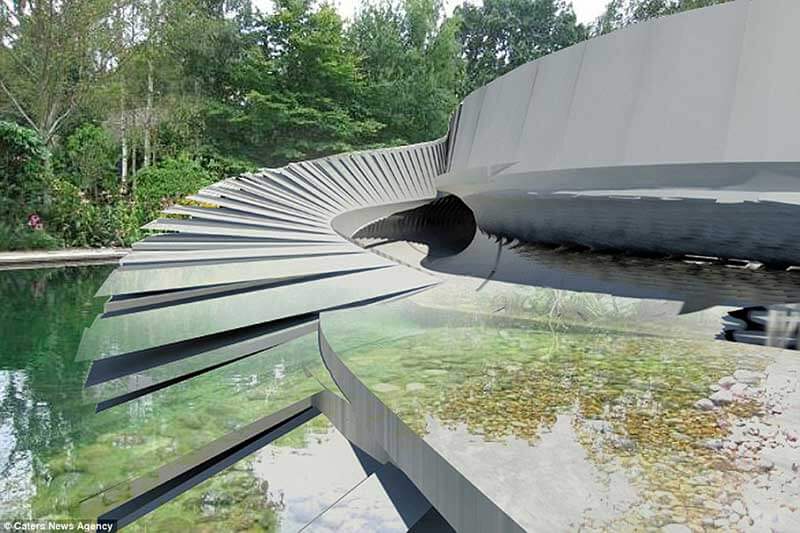 Our bloodstream can produce watts of energy when equipped with miniscule power generators
We've known for a while that we're a great source of power – at least potentially. Kris de Decker writes that the human body can generate as much energy as a "1 m2 solar PV panel on a sunny day – and as much as 10 m2 of solar PV panels on a heavy overcast day". That comparison isn't something we can ignore in an age of environmental damage, and a team of scientists from China have proven that it's possible to use our bodies to generate power.
A research team from Fudan University published a paper explaining how they were able to turn blood flow into electricity. The principle doesn't deviate much from the science behind ordinary hydropower. In traditional hydroelectric systems, moving water pushes a turbine – spinning an electromagnet and generating electricity. Our blood moves, too, and it can do something similar with a miniaturised version of the water-driven turbine. Huisheng Peng and his team developed a fibre-shaped fluidic nanogenerator' (FFNG) made of carbon nanotubes that are electroactive, which means that they change in size and shape when they come into contact with an electrical field. Contact with the blood flowing through a vein provides enough of a field to cause these nanogenerators to develop an electrical charge that can potentially be used as a power source. The team claims that the power conversion efficiency of FFNG is higher than 20 per cent, which is more than other miniature energy-harvesting devices. As proof of concept, the team managed to harvest energy using the FFNG in frogs.
But this isn't the only ground-breaking feature of these nanogenerators. They're more lightweight than others of their kind. They're also elastic and almost one-dimensional, which offers a wide spectrum of possible applications, especially in medicine. The power generated this way could charge pacemakers or even the deep brain stimulators used to treat epilepsy and Parkinson's. Powering these devices like this would be both more convenient and safer than traditional batteries because they might not need invasive surgical replacement as they wear out. And a refined FFNG system might one day be able to provide us with energy as long as the blood rushes through our veins.
https://www.youtube.com/watch?v=N0M6siGHIw4
'Human power' could be the ultimate green energy of the future
It's not difficult to arrive at the conclusion that the human body just might be tomorrow's ideal energy source. Some might even go so far as to say that "human power is the most versatile and most sustainable power source on Earth". And by the look of things – they may turn out to be quite right!