Increasing accessibility and improving infrastructure
FIFA's blockchain platform
Real-time player and ball tracking with AI
The 'connected stadium'
A sustainable World Cup?
Beyond the 2022 World Cup – the future of tech in football
Sport is constantly changing with the times, and football is one of the most fitting examples. Many of the developments in football, such as VAR (Video Assistant Referees) have been controversial, though technology will continue to develop and the sport will likely continue to embrace it and allow it an increasingly prominent role. Technology is one particular aspect in which the 2022 World Cup in Qatar could be particularly innovative. Not only are advanced, cutting-edge technological solutions used to optimise the game itself, but they are also used to improve the fan experience. While many aspects of Qatar's successful bid to host the tournament have been widely questioned, the country's aspirations to use the global event to drive and promote innovation in emerging technologies has created a lot of excitement. Recently-developed innovations in 5G, virtual reality (VR), augmented reality (AR), the Internet of Things (IoT), biometrics, and other technologies are all being introduced during the tournament. These will not only deliver a memorable World Cup experience for fans, clubs, and players but also attract investment in Qatar's technology sector. The impacts on the broader worlds of technology and sport could be substantial as well.
Increasing accessibility and improving infrastructure
Much of the global conversation – as well as criticism – around this year's World Cup has been around accessibility and inclusion. Organisers have, however, implemented solutions to enhance inclusion in at least some aspects. One app enables visually-impaired fans to listen to commentaries, and information and entertainment is available in Braille. In terms of accessibility for those with reduced mobility, the organisation Qatar Mobility Innovations Centre (QMIC) has developed and implemented a network of IoT sensors across the country which fans can use to plan the most suitable routes to games and while travelling around. The network is connected to a smartphone app that helps fans navigate, while providing real-time information on public transport, traffic, and the locations of entrances and exits in stadia. FIFA has also installed viewing rooms specifically designed for fans with autism and other neurological, developmental, and sensory conditions in three of the country's stadia. These 'sensory viewing rooms' are optimised to create a comfortable experience for these fans, with quieter atmospheres, padded walls, blankets, and controlled lighting. There are anti-stress toys and noise-cancelling headphones available as well. Telecommunications providers have significantly developed 5G networks in time for the tournament, and Ooredoo Qatar and Swedish technology firm Ericsson have collaborated on the creation of "the world's first 5G indoor shareable solution", named Ericsson Indoor Connect 8855. This solution has been installed in all Qatar's stadia to deliver speeds of 1.5 Gbps for all people attending. The initiative is also intended to lower emissions, with "reduced power consumption and a smaller equipment footprint."
FIFA's blockchain platform
With blockchain becoming increasingly popular in many industries and sectors, it was only a matter of time before it entered the world of football as well. FIFA has announced a partnership with Algorand, a US-based blockchain technology company and creator of the blockchain platform of the same name. Algorand will provide FIFA's official blockchain platform and wallet, which will enable the recording and storage of data on distributed networks and the trade of assets like NFTs. While Qatar has traditionally been cautious to adopt cryptocurrencies, FIFA's deal with Algorand – as well as a deal with Crypto.com to be the official cryptocurrency trading platform of the 2022 World Cup – may change the country's approach. FIFA is planning to use its blockchain platform to offer sponsorship assets like advertising and promotional opportunities.
Real-time player and ball tracking with AI
While VAR is being used in the 2022 World Cup, it is not the only such technology implemented to help referees make decisions. AI-powered 'semi-automated offside technology', developed by FIFA and German technology firm KINEXON, tracks players' limbs to determine whether or not they are offside. This is powered by cameras installed under the stadium roof that track movement and capture up to 29 data points 50 times a second, all in real time. The advanced algorithm can detect if a player is offside in less than a second and immediately notify the VAR operator. A similar technology is used to track the ball, with a sensor in the centre of the ball capturing and sending precise location data to match officials – 500 times per second. The sensor is powered by a remotely-rechargeable induction battery that can last six hours in active use, and is held in place by a rigid suspension system designed by German sportswear giant Adidas. The Al Rihla, the official match ball of the 2022 World Cup, will be the first of its kind to have this sensor installed and used in live games. What's more, the Al Rihla features an advanced polyurethane skin and a panelled exterior that increase its airborne speed. The player-tracking and ball-tracking technologies, when used simultaneously, are likely to significantly improve the speed and accuracy of decisions around goals and offside rulings – potentially avoiding infamous decisions like the disallowed goal that changed England's fortunes against Germany in the knockout stages of the 2010 tournament.
"As FIFA Preferred Provider for Live Player and Ball Tracking, our goal with Adidas is to use state-of-the-art technology to improve the experience for everyone involved without changing the game of football. We are confident that with accurate live ball data the connected ball technology will enable a new age of football analytics and fan experience."

Dr Maximilian Schmidt, Global Sports Lead, KINEXON
The 'connected stadium'
One of the most noteworthy aspects of this year's World Cup is the timing of the tournament. Due to Qatar's intense heat, FIFA decided to move the tournament back six months, so that it could take place in the winter instead of the summer, when it usually occurs. However, temperatures in Qatar are still high even in the winter months, with averages of 26°C in November and 21°C in December spelling the potential for heatstroke for players, fans, and officials. Thankfully, Qatar has planned for this – advanced cooling technology has been implemented in seven of its eight stadia, with the exception of Stadium 974, which uses natural ventilation. Powered by solar energy, the air outside the stadia is cooled and purified before being pumped inside through vents and nozzles. This air is then circulated back outside the stadia, where the process starts again. In the words of Qatar University professor Dr Saud Abdulaziz Abdul Ghani, who helped design and implement the system: "We are not just cooling the air, we're cleaning it. For example, people who have allergies won't have problems inside our stadiums. We have the cleanest and purest air there is."
Climate control across all eight stadia will be centralised at the Aspire control and command centre in the capital Doha. Designed by Qatari firm Intaleq alongside Microsoft and Johnson Controls, the centre will manage not only the temperature, but also the lighting and other operations, such as security and crowd management. The centre can also implement facial recognition and drone surveillance technology. Qatar's technological innovations are not only about ensuring a safe environment for fans – the wellbeing of players is also of high priority. Tech packages, which can track player data on speed, agility, and other metrics in real time using tablets, are available to teams and coaches. These can be used to determine which players may be at risk from exhaustion or injury, so that they can be substituted.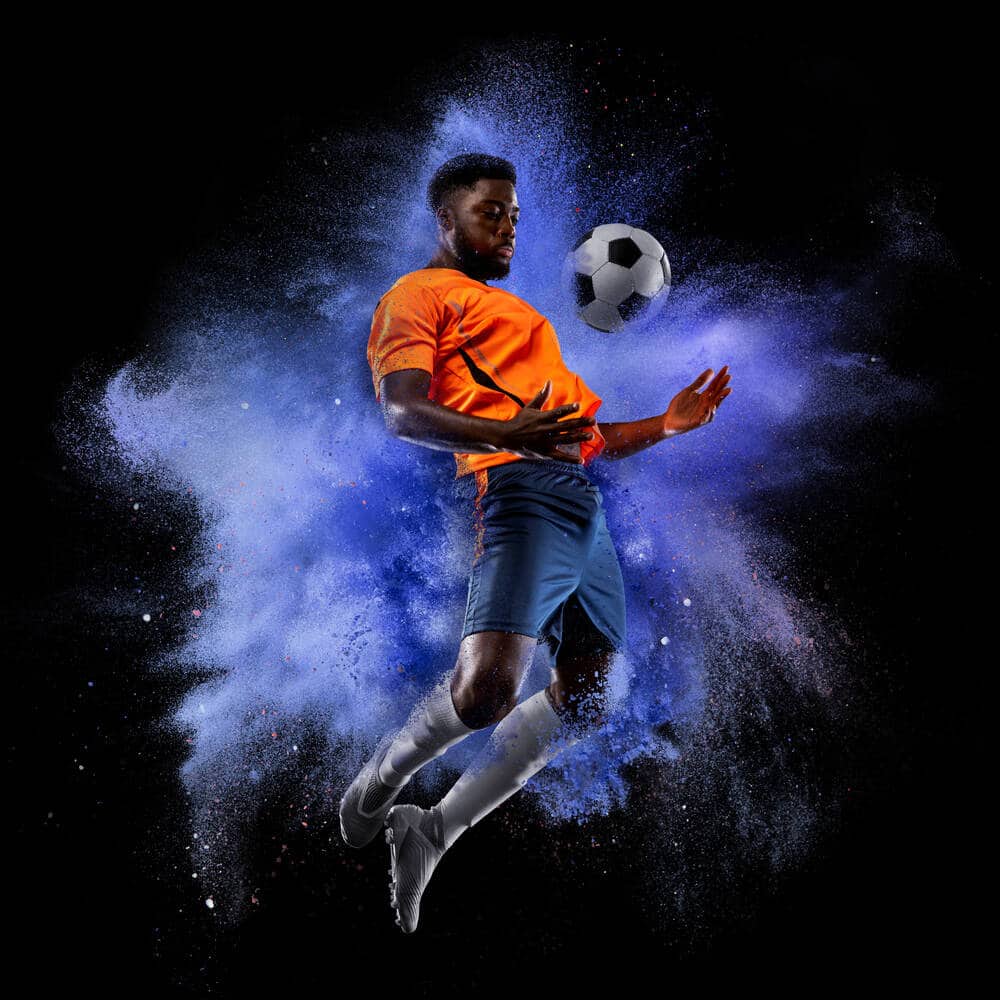 A sustainable World Cup?
With so much sun, Qatar is making the most of solar power. In addition to various high-tech cooling systems, paradoxically, even the sun's rays are used to cool stadia: by powering a type of 'smart furniture' called ElPalm, which features shaded seats and phone chargers. ElPalm also has built-in speakers, lighting, mist cooling, advertising, and surveillance cameras, all powered by the sun. Qatar has also built the first ever temporary World Cup stadium, Stadium 974, which was designed by Spanish architecture company Fenwisk Iribarren and built from 974 recycled stainless steel shipping containers. The temporary stadium will be deconstructed at the end of the tournament and the containers re-used.
Beyond the 2022 World Cup – the future of tech in football
It isn't just the 2022 World Cup where technological advancements are taking place in football. English club Manchester City has collaborated with technology firm Cisco to develop a 'smart scarf' accessory for fans to wear on match days. The Connected Scarf includes a biometric sensor that records physiological responses such as body temperature, heart rate, and blood flow. These metrics can help clubs understand how fans are feeling emotionally throughout games. Similar technology could also be used for players, with sensors in shirts, shoes, or even implanted under the skin. Micro camera lenses could also be worn to capture match footage from player's perspectives. Not only could this help coaches analyse performance and physiology, but it could also be used by fans to enhance interactivity with games. Manchester City is also working alongside Sony to construct a version of their stadium – the Etihad – in the metaverse. If this becomes popular, the metaverse could enable fans to enter stadia remotely and virtually, and even watch matches in real time from virtual 'seats'.
Closing thoughts
Whether or not all of these technological innovations will improve football for fans and players, or merely act as gimmicks to distract from the transfer of the sport from fan communities to big business, remains to be seen. Aside from the effect on football, these technological advancements are sure to transform other sectors and our daily lives as well. As the 2022 World Cup progresses, we will undoubtedly see the result of these changes. However it ends, this year's tournament may be seen as a turning point for the increasingly significant role of advanced technology in sports.