The mobility solution to help everyone enjoy their lives
Perfect for parcel delivery, ride sharing, or on-the-road commerce
Amazon, DiDi, Mazda, Pizza Hut, and Uber all want a piece of the action
Akio Toyoda, Toyota's CEO, is innovative and driven. He's also wary – keeping one eye firmly fixed on his company's competition. But as Nick Summers reports for Engadget, Toyoda is not worried about Ford, BMW, or Honda. Instead, his attention is focused on technology juggernauts like Amazon and Google. As Summers writes, the questions that worry Toyoda are "what might happen when they decide to enter the automotive industry proper. Will the company be ready? Is it doing enough to stay ahead of a potential broadside from Silicon Valley?"
If you've been following the development of the self-driving revolution, you'll understand why. Amazon and Google are pushing ahead toward this new tech frontier, and all things digital are increasingly at the centre of our lives. But if companies like Facebook or Apple decide to leap into this market as well, how will traditional car companies compete? Just imagine a service-centred approach to automaking, a turn from getting us places to giving us things. Toyoda sees the issue at stake, and for him it's clear that stale approaches just won't secure Toyota's future. His daring answer to these questions is a re-imagining of self-driving concepts.
The mobility solution to help everyone enjoy their lives
Enter the e-Palette, a blank-slate design that can become nearly anything a self-driving system might need to be. Essentially a large rectangle on eight wheels, it's really just a rolling box with smooth lines. We say "box" because the e-Palette isn't designed as one vehicle, but rather three different-sized, transparent frames sharing a single smart software system called the Mobility Services Platform (MSPF). In this case, it's not the tech that's amazing, but rather the scope of Toyoda's vision for the future of autonomous vehicles. This chameleon-esque idea – the e-Palette becomes whatever's needed in a future dominated by MaaS – is truly revolutionary. Toyoda sees MaaS transforming the industry, and he's responding by pushing Toyota into the role of service provider – or at least service enabler.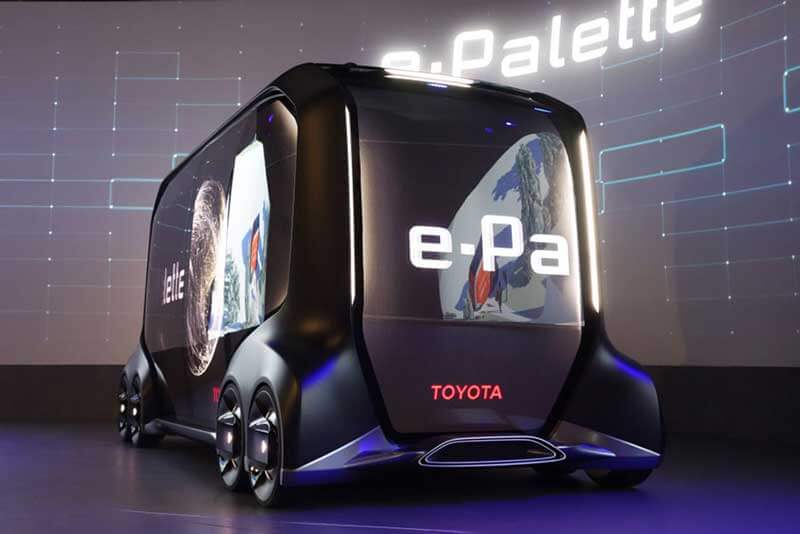 As he says, "The automobile industry is clearly amidst its most dramatic period of change as technologies like electrification, connected and automated driving are making significant progress. Toyota remains committed to making ever better cars. Just as important, we are developing mobility solutions to help everyone enjoy their lives, and we are doing our part to create an ever-better society for the next 100 years and beyond." Mobility solutions is just another way of saying MaaS, and Toyota is clearly gearing up for a future in which its vehicles can do more than transport people.
Perfect for parcel delivery, ride sharing, or on-the-road commerce
As Toyota explains in a press-release, "With its open interior design layout, the vehicle can be outfitted with purpose-built interiors in accordance with the user's needs, whether it be parcel delivery, ride sharing, or on-the-road ecommerce. Its flexible framework is also designed for usage optimisation, allowing the e-Pallet concept to be shared to support various business needs and transition seamlessly from one application to another." The concept is as simple as it is impressive: e-Palettes of various sizes can function as large-scale public transportation, while others can be outfitted as mobile restaurants, hospitals, or shops. Still others could accommodate ride-sharing platforms, and Toyoda even envisions tiny companions that deliver food to your door.
Amazon, DiDi, Mazda, Pizza Hut, and Uber all want a piece of the action
Many concepts don't make the transition from show to road, and that might happen to the e-Palette, too. But Toyoda shows every sign of backing the project. And according to Nargess Banks at Forbes, this includes collaborating with "Amazon, DiDi, Mazda, Pizza Hut, and Uber" to form the e-Palette Alliance. This range of players indicates the scope and scale of the coming change: everyone from ride sharing to food delivery to e-commerce wants a piece of the action.
Is Toyoda's sense of the coming revolution right? It's hard to say. But as MaaS catches on and autonomous driving systems improve, our roads just might find a place for these boxy solutions to mobile service delivery.