Giatec unveils the first AI program for the concrete industry
UpCodes AI automates the code compliance process
Doxel uses AI and lidar-equipped robots to monitor progress on construction sites
ALICE is an AI assistant for construction
Smartvid.io uses artificial intelligence to identify potential hazards and predict accidents
The role of AI in the construction industry
The construction industry has traditionally been reluctant to adopt new technologies, opting instead for tried and proven methods it's already familiar with. However, things are slowly starting to change. Growing labour shortages and falling productivity rates have plagued the industry for years, and they're forcing construction companies to rethink their position and start investing in innovative technologies, with artificial intelligence emerging as a particularly useful solution.


Over the years, artificial intelligence has found a wide variety of applications in the construction sector, including in planning, monitoring and maintenance, safety, and autonomous machinery. According to a recent report published by Zion Market Research, the global AI in construction market is predicted to grow from $312 million in 2017 to $3.16 billion by 2024. This massive growth will be driven by several important factors, including the desire to increase operational efficiency, reduce production costs, and improve safety on construction sites.
Giatec unveils the first AI program for the concrete industry
Giatec, one of the leading developers of smart concrete testing technologies, recently unveiled the world's first artificial intelligence solution for the concrete industry, called Roxi. Developed in collaboration with Mila, a Quebec-based artificial intelligence institute, Roxi allows users to accurately monitor the quality of concrete on construction sites and significantly reduce the possibility of human error.
Roxi takes advantage of Giatec's own SmartRock wireless concrete sensors to detect anomalies through every stage of the concrete lifecycle, including production, delivery, placement, hardening, and while in service – a task that would be nearly impossible for humans to accomplish. The award-winning sensors allow construction teams to monitor the temperature and strength of any concrete pour from the fresh to the hardened stage and have already been used in more than 3,800 projects around the world, including in high-rises, bridges, airport runways, dams, and mines, providing Roxi with access to millions of data points.
"Being the leaders in concrete testing technology, we wanted to work with the leading authority on Artificial Intelligence to enhance our in-house machine learning capabilities. Roxi™ is another leap forward for Giatec, ensuring that concrete testing speeds up the construction process, rather than slow it down," says Dr. Aali Alizadeh, the chief product officer and co-founder of Giatec.
UpCodes AI automates the code compliance process
The code compliance process is one of the most challenging aspects of designing a building for many architects. Codes are there to make sure that buildings are safe and accessible, and they regulate every facet of a building's design, including the height and depth of stairs, the height of windows, and the amount of floor space in front of toilets. However, since regulations are frequently updated, it can be difficult for architects to keep up, often resulting in violations and costly delays in construction. In fact, according to a recent report published by the National Association of Home Builders, government regulations can account for nearly 25 per cent of the final price of a new single-family home.
To address this issue, the San Francisco-based startup UpCodes recently launched a program called UpCodes AI, a software plug-in that uses artificial intelligence and natural language processing to check a BIM model's code compliance and detect potential violations. "This is like Grammarly for the construction industry. By highlighting code errors in real-time, the software acts as a code consultant working beside you at all times," says UpCodes' co-founder and CEO, Scott Reynolds. For the time being, the software only works with recent versions of Autodesk Revit, but the company plans to soon add support for ARCHICAD, Sketchup, and IFC as well.
The UpCodes database is updated in near real time and currently includes building codes from 26 US states and the District of Columbia. Although it's still in the early stages of development, the program already has more than 100,000 active users. It's also proven rather effective, identifying an average of 27 violations per project during a recent private beta. "Building codes are a creativity killer. These regulations are one of the most restrictive components of design," adds Reynolds. "Imagine restricting every brush stroke an artist makes with ten thousand rules–that's what building codes feel like to an architect. That's why I quit my career to do this. I want to take away that frustration and make architecture more fun, like it is in school."
Doxel uses AI and lidar-equipped robots to monitor progress on construction sites
The construction industry isn't exactly known for its productivity. In fact, 98 per cent of large construction projects today are completed 20 months behind schedule, exceeding their initial budget by 80 per cent. One of the main reasons this is happening is that it's becoming increasingly difficult for humans to keep track of everything that goes on at a construction site. To get around this issue, the US-based startup Doxel decided to eliminate the human element completely and monitor the progress of construction projects using robots and artificial intelligence.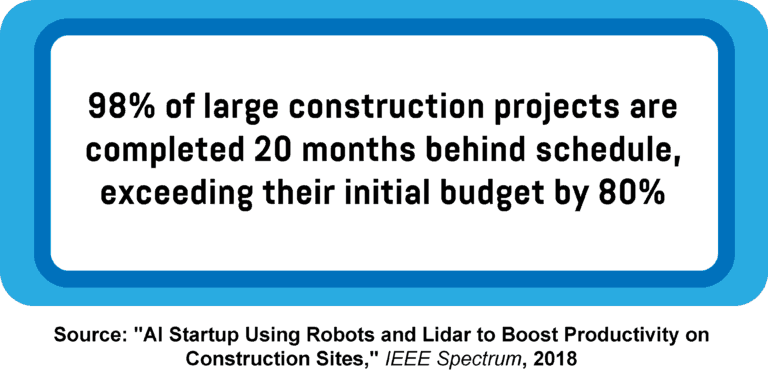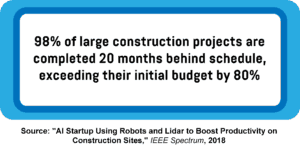 The robots usually get to work at the end of the day, after everyone else has gone home. Equipped with lidar, the autonomous bots systematically scan the entire construction site following a predetermined path, with a single robot capable of scanning about 30,000 square metres in a week. Once the scan is complete, the data is uploaded to the cloud and analysed by Doxel's deep learning algorithms, capable of identifying all kinds of objects based on their shape, location, and size. This enables Doxel to check whether everything has been installed correctly and notify the project manager immediately if any mistakes are detected.
"Indoor construction environments are challenging for computer vision algorithms because of the density of components, clutter and ruthless lighting. Some of the challenges are occlusion, disambiguating junk from installed materials and visibility," says Doxel's CEO, Saurabh Ladha. "Our team created a deep learning algorithm that classifies objects in real-world construction environments at a remarkable level of reliability."
ALICE is an AI assistant for construction
Developed by the Stanford University startup Alice Technologies, ALICE is a new AI assistant designed specifically for the construction industry. Once a human scheduler enters information about the scope of a project into the program, ALICE uses its AI engine to evaluate millions of scheduling scenarios in a matter of minutes, and then selects the most suitable options for the project. It then creates a 4D model and a Gantt chart for each selected option, as well as a time-cost curve for stakeholders.
The company describes ALICE as a parametric system, allowing construction teams to modify the initial rule set at any point during the project and generate a new schedule to accommodate problems that might arise. "If the client comes back and says we'd like to shave 50 days off our schedule and ALICE hasn't already generated options for that, you can go back in and see what happens if you add more crews," says Brandon Young, the vice president of marketing at Alice Technologies. "The general contractor could go back to the owner with a new, revised schedule, generated in 10 minutes with ALICE."
https://www.youtube.com/watch?v=0bT8N4iy7rA
Smartvid.io uses artificial intelligence to identify potential hazards and predict accidents
Construction is widely regarded as one of the world's most dangerous occupations, accounting for 20 per cent of all worker deaths in the United States in 2017. In an attempt to mitigate the risks and improve worker safety, construction companies are increasingly turning to technology for help. Smartvid.io is a new tool that uses artificial intelligence and machine learning to analyse job site images and identify potential hazards, such as workers not wearing protective equipment or standing water.
In addition to identifying potential safety risks, the system is also capable of predicting incidents on job sites, as demonstrated through Smartvid's recent collaboration with the Boston-based general contractor Suffolk. After feeding some 10 years worth of data provided by the contractor into the AI engine, along with weather and other project-related data, the company built a predictive model that calculates the likelihood of an incident happening on the jobsite in the following week.
According to the company, Smartvid.io can predict approximately one out of five safety incidents in a given week with 81 per cent certainty. "The system is learning how certain movements from the crews and certain things with the way jobs are set up might be able to tell us predictively whether the crew is working safely and if there are things specifically in that group that we need to make adjustments to," says Charlie Avolio, the president and general manager of Suffolk's New York region.
The role of AI in the construction industry
Artificial intelligence technology has already demonstrated its usefulness in many different industries, so it was only a matter of time before construction companies recognised its benefits as well. While the use of AI in construction is still relatively new, the technology has quickly found a wide variety of useful applications. Whether they're used to automate the code compliance process, monitor the progress of a construction project, generate scheduling scenarios, or identify potential hazards and predict incidents, AI-powered solutions are taking on an increasingly prominent role on job sites around the world, helping construction teams increase productivity, reduce costs, and improve worker safety.