Today's job market requires workers to possess a different skillset than their predecessors
Makerspaces enable people to acquire the skills they need to succeed in today's workplace
An increasingly important part of the US school environment
The world is in the midst of a massive, tech-driven transformation that's affecting almost every aspect of our society. This impact has been particularly pronounced in the job market, which is experiencing some drastic changes due to increased reliance on various innovative technologies. One of the biggest consequences of this development is that today's workers have vastly different education and training needs compared to their predecessors and require a different set of skills to succeed in the workplace.
Today's job market requires workers to possess a different skillset than their predecessors
The State of American Jobs, a recent study published by the Pew Research Center, reveals that there has been a 68 per cent increase in the amount of education and training necessary to compete in today's job market compared to the 1980s. According to the study, 85 per cent of respondents say that computer/technology, soft skills, and communication/writing skills are now considered essential for career success. Furthermore, workers need to be able to constantly learn new skills and adapt quickly to changes brought on by the adoption of new technologies.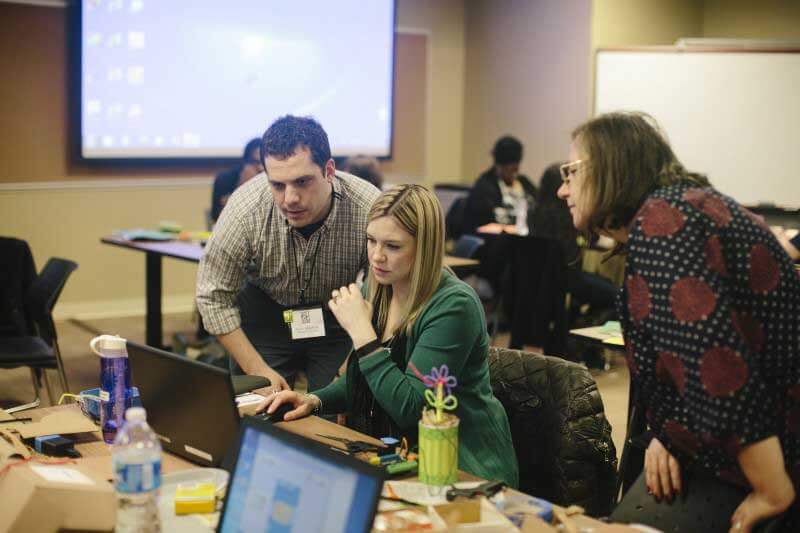 Similarly, a 2015 report from the National Science Board revealed that STEM (science, technology, engineering, and maths) skills are becoming increasingly important even for jobs that didn't require them in the past, with nearly 20 per cent of all occupations requiring a high degree of STEM knowledge and skills in at least one field. Furthermore, nearly 80 per cent of middle-skill jobs that require at least a high school diploma now also require digital proficiency. So, what's the best way to ensure that people can acquire the skills they need to be successful in today's job market? The answer is – makerspaces.
Makerspaces enable people to acquire the skills they need to succeed in today's workplace
Makerspaces can be described as informal workshops, usually located in community facilities or educational institutions, where people can get together and gain invaluable hands-on experience with new technologies and acquire the skills necessary to succeed in today's workplace. This is done by designing and building things in a collaborative environment. Depending on the skills you want to teach people, makerspaces can be equipped with a wide variety of equipment, including 3D printers, laser cutters, sewing machines, Arduinos, Raspberry Pis, Lego sets, and Adobe Creative Suite software. What's important is that they promote creative thinking, innovation, and social collaboration. They also provide a safe and flexible environment where people can experiment with ideas without the fear of failure and learn to solve problems by applying science, technology, engineering, and math.
Makerspaces are becoming an increasingly important part of the US school environment
Educational institutions are increasingly coming around to the idea of makerspaces. In fact, they're fast becoming an essential component of the school environment across the United States. "It's bringing kids into the world of STEM," says Tim Bajarin, the president of Creative Strategies, a technology industry analysis firm based in Silicon Valley. "The way our world is developing is that more and more of the jobs … are going to have a significant type of a tech theme in one form or another, a lot of specialized thinking that goes beyond what we would call the standard, general education system."
According to the latest national Speak Up Survey published by Project Tomorrow, around 31 per cent of US schools already have some sort of makerspace, while another 23 per cent plan to implement one in the future. "We don't need every child to grow up to become a scientist, engineer, or designer, but we need everyone to grow up knowing how to think like one," explains Dr. Helen Soule, the executive director of Partnership for 21st Century Learning (P21). The 2015 State of Making Report published by the MakeSchools Higher Education Alliance, an organisation formed by a group of US colleges and universities with the aim to promote the maker movement, reveals that makerspaces have "fostered the spread of active learning, cross-disciplinary approaches, and creativity in higher education". Makerspaces have also led to an increase in the number of student-led startups and crowdfunding campaigns.
One of the most impressive examples of a successfully implemented makerspace is the think[box] located at Case Western Reserve University in Ohio. It's a seven-storey building equipped with 3D printers, scanners, and computer-aided design software, where each floor hosts a separate stage of project development. The first floor acts as a community space, followed by ideation, prototyping, fabrication, open workspace, entrepreneurial resources, and an incubator space on the floors above. First opened in 2012, the think[box] also recently opened its doors to community members as a way of fostering local entrepreneurship.
Technology has transformed so many different aspects of our lives and the workspace is no exception. The skills today's workers need to possess to succeed in the job market are wildly different from those required from previous generations. Makerspaces provide people with an opportunity to work with new technologies, use them to bring their ideas to life, develop their problem-solving skills, and give themselves the best chance to succeed in a constantly changing world.