Business model innovation should be the main focus
Experimentation is crucial for innovation
'Eliminate – Reduce – Raise – Create'
So much to learn from Amazon
In today's ever-changing business landscape, in which companies need to try and stay ahead of their competition, innovation should be one of the most important focus areas. One company that gets innovation right is Amazon. It was instrumental in making free and same-day shipping the new normal, which is something we'd never have heard of ten years ago when navigating a complicated checkout process, paying for shipping, and waiting weeks for delivery was the norm.
Amazon's processes have become the global benchmark for online shopping, and with its delivery times exceeding expectations, other online retailers are struggling to keep up. Of course, there are a variety of other ways in which Amazon beats the competition at their game, with business model innovation being at the core of it all.
Business model innovation should be the main focus
For businesses to gain and maintain a competitive advantage, business model innovation should take centre stage. Keary Crawford, a co-author of Growth Thinking: Building the New Growth Strategy Enterprise, writes for Wired: "According to the Economist, over 50 percent of executives believe that business model innovation will be even more important than product or service innovation. Yet, the American Management Association determined that no more than 10 percent of innovation investment at global companies is focused on developing new business models".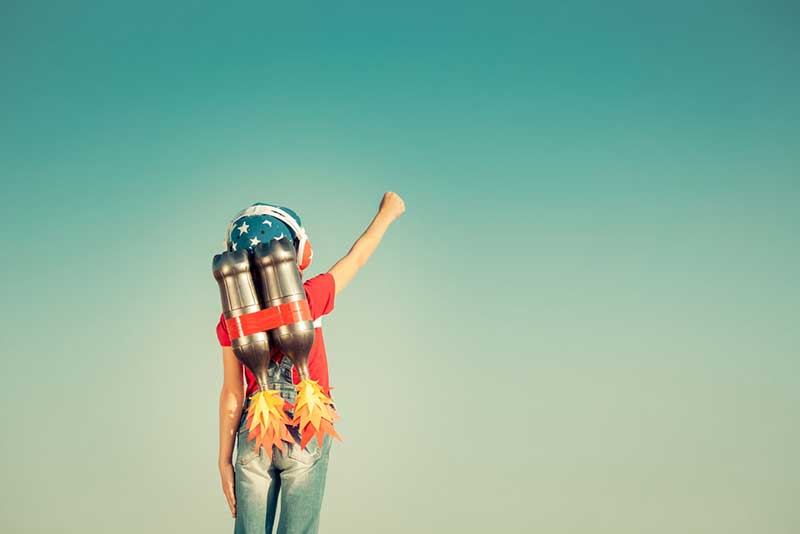 This discrepancy can, however, lead to major missed growth opportunities. Crawford continues: "Finding the business model sweet spot can help companies generate both incremental growth from optimizing existing businesses and transformational growth from generating entirely new sources of revenue and value creation. Rather than simply figuring out more efficient ways to operate in existing markets, the components of business models can, individually or collectively, be reinvented to create entirely new markets, new opportunities and structural competitive advantages."
Experimentation is crucial for innovation
One of the reasons why Amazon is so effective at innovation is because it's agile and because it experiments with new trends and technologies. Experimentation is crucial to innovation. Testing ideas helps organisations realise potential faults early on, and it reinforces new knowledge and reduces costs. Through the process of experimentation, ideas are converted into products, services, and even (new) business models. Furthermore, today's new technologies – such as, for instance, rapid prototyping and computer simulation – make carrying out experiments more efficient, faster, and more cost-effective.
The executive director of the MIT Leadership Centre, Hal Gregersen, writes for Fortune Magazine that according to Amazon's founder and CEO, Jeff Bezos, experimentation plays a crucial role in their business: "Experiments are key to innovation because they rarely turn out as you expect and you learn so much. We've tried to reduce the cost of doing experiments so that we can do more of them. If you can increase the number of experiments you try from a hundred to a thousand, you dramatically increase the number of innovations you produce". Gregersen continues:  "Experimenting is the ultimate way to transform an idea into reality. It's the mechanism by which great new insights translate into new markets."
'Eliminate – Reduce – Raise – Create'
According to Crawford, Amazon is so successful because it's implemented the four key components required for effective business model innovation: 'Eliminate – Reduce – Raise – Create'. These components form a part of the Blue Ocean Strategy by W. Chan Kim and Renée Mauborgne, and encourage companies to identify the key features used to compete in the marketplace.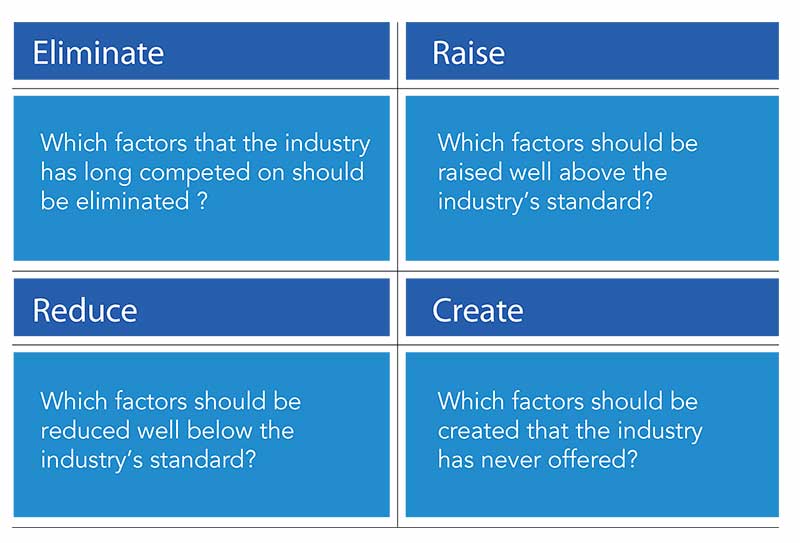 Amazon e-l-i-m-i-n-a-t-e-d the traditional retail distribution channel. It forged direct relationships with suppliers and leveraged new technologies, creating new avenues for its customers. It also made a decision to r-e-d-u-c-e large margins or even forego any profits in the short-term in exchange for long-term growth. Amazon didn't make a full-year profit until 2004, which is ten years after it started. Bezos prefers to invest in creating new markets and building scale instead of paying shareholders – presenting a powerful competitive advantage for businesspeople and investors alike. Furthermore, Amazon r-a-i-s-e-d the bar in terms of customer experience by building next-level infrastructure and offering customers unparallelled options and value. Its mantra has always been to become 'Earth's most customer-centric company'. Not only has Amazon's dedication to customer service played a significant role in the meteoric rise of the online retail behemoth, it's actually transformed the retail game itself.
And lastly, the Amazon Web Service or AWS, has c-r-e-a-t-e-d extremely cheap cloud computing, providing storage, servers, networking, email, mobile development, and security to startups and Fortune-500 companies alike. AWS now accounts for nearly 10 per cent of Amazon's revenue, is at least ten times bigger than its nearest competitor, and hosts not only popular websites like Instagram and Netflix, but also Unilever, General Electric, the US Department of State, Dow Jones, Samsung, Airbnb, the European Space Agency, Spotify, the Financial Times, BMW, Guardian News & Media, Harvard Medical School, Lamborghini, NASA, Philips, Pinterest, Siemens, and the UK Ministry of Justice, among others.
Joe Coleman, an award-winning speaker and author of 'Never Lose a Customer Again', writes for CRM Magazine: "Amazon is also taking its customer-first strategy to other markets. Its $13.7 billion acquisition of Whole Foods has the company poised to conquer the grocery industry, and I predict that in the next five years, Amazon will consider buying the U.S. Postal Service, as it is already showing a desire to revolutionize shipping services (provocative tweets from Washington D.C. notwithstanding)".
So much to learn from Amazon
Amazon hasn't met our expectations. It hasn't even exceeded them. What it's done is redefine what we think is possible. It's upped the ante for companies across each and every industry. We can totally see this company selling real estate on Mars in a couple of years' time. And we'll find it hard to believe that its humble beginnings consisted of selling books on the internet in 1994. While most companies can only dream of even coming close to what Amazon has, does, and is, every business has much to learn from the principles that helped this company get to where it is now – the most important ones being its focus on innovation and experimentation.