What exactly is the Internet of Medical Things (IoMT)?
How is the IoT used in healthcare?
Benefits of the IoMT at a glance
Real-life examples of the IoMT
Main challenges of the use of the IoMT
The connected future of the Internet of Medical Things
The ongoing lockdowns and quarantines of the past couple of years have significantly accelerated the worldwide implementation of telehealth, telemedicine, and the Medical IoT, which will continue to transform healthcare in the years ahead.
Not only will these developments enable more accurate diagnoses, they will also lead to more efficient and timely medical care as well as significant cost savings. The IoMT will enable a truly patient-centric approach to healthcare.
What exactly is the Internet of Medical Things (IoMT)?
The Internet of Medical Things (IoMT) is a subset of the Internet of Things (IoT) and encompasses medical information technology applications and healthcare devices that are inter-networked. The IoMT connects medical devices, such as wearable tech, diagnostic tools, and hospital equipment, with healthcare professionals and patients via a secure network. Networked devices could involve anything from implanted heart monitors to MRI machines and wearable glucose monitors. The IoMT makes use of machine-based intelligence, sensors, and automation, to reduce the need for hospital or doctor's visits, and minimise dependence on humans for routine healthcare monitoring and procedures.
The Internet of Medical Things enables medical personnel to monitor conditions and symptoms from almost anywhere. And the data generated by these networked devices and applications enables more efficient workflows and reduces the risk of a patient's condition worsening. While these advancements are already demonstrating their transformative power, we've really only scratched the surface of the potential of the IoMT.
How is the Internet of Things (IoT) used in healthcare?
The IoT has the potential to completely transform healthcare by simplifying access to real-time patient data and enabling remote and self-monitoring of patients. This helps reduce doctor's visits and hospital stays, prevent readmissions, and empower physicians to deliver top-quality care. The IoT also helps to significantly lower healthcare costs and improve treatment outcomes. Important factors that are expected to drive the growth of the IoMT include the global increase in chronic diseases, the surging demand for cost-effective disease management and treatment, the proliferation of sophisticated smart devices and analytics software, and the decreasing costs of sensor technology. Here are some examples of how the IoT is used in healthcare.
At home
The IoMT enables patients to send medical data from their home to, for instance, a hospital or care provider. (Wearable) medical devices can transmit information like oxygen saturation, blood glucose levels, or blood pressure from patients to keep their physicians up to date. This way, any potential complications can be picked up in time and prevent (re)admissions to the hospital. Telehealth technologies can provide additional assistance during patient recovery at home by connecting patients with their healthcare providers to resolve any minor medical issues. Telehealth, in combination with the Internet of Medical Things, also provides security to seniors living at home. For instance, these technologies can be used to track medical emergencies such as a heart attack or a fall, and activate emergency response services.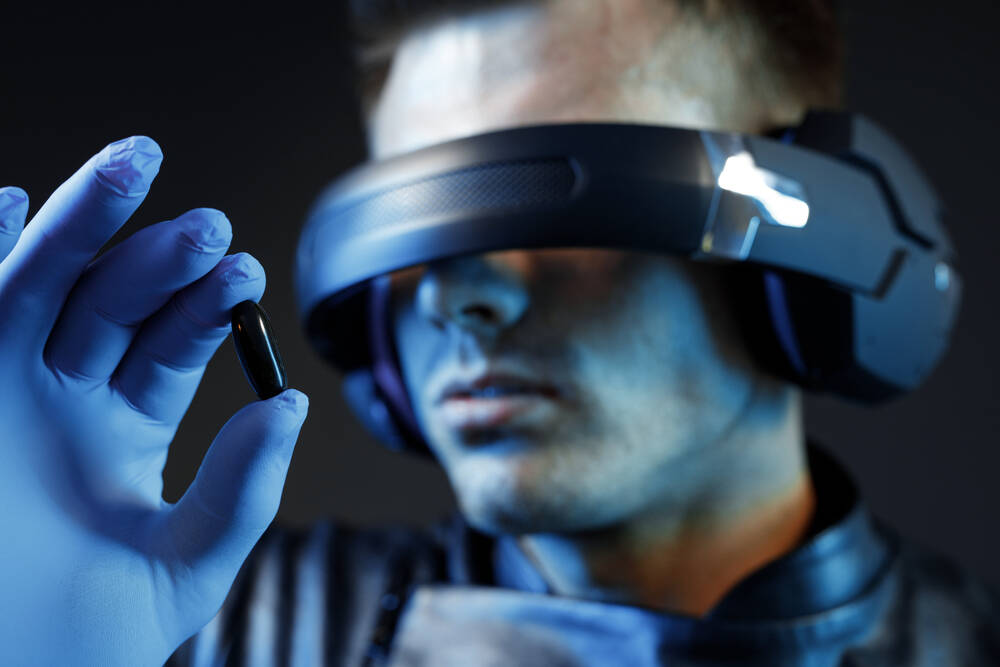 The IoMT, combined with devices like ingestible smart pills, can also help monitor how a patient responds to their prescribed medication and keep their doctors up to date, which is particularly useful during clinical trials. And patients who struggle to remember how or when to take their medication can be given a smart pill to send a reminder to their smartphone should they have missed a dose. If they continue to miss their medication, the smart pill can even notify their doctor.
AdhereTech smart pill bottles, for instance, automatically measure if patients have taken their medication. The bottle also sends data to the AdhereTech servers, where it is analysed in real time. If the patient misses a dose, he or she will be notified by lights and chimes on the bottle, or by automated phone call or text message.
At the hospital
It's critical for hospitals to manage the supply and quality of their medical assets. It's also important to have detailed insights into the interactions and movements of patients and healthcare personnel. Monitoring systems like IoMT sensors can help provide a comprehensive understanding of the goings on at the hospital. Smart medical devices connected to the Internet of Medical Things enable the control and monitoring of hospital machinery, provide greater predictability in terms of equipment lifespans, and send notifications when devices are likely to require maintenance or repairs.
The IoMT also plays an important role in the emergency room. Computer vision technology, RFID tags, and infrared sensors can collect real-time data about the availability of hospital beds, improving the transition from patients from the emergency room. These technologies also provide critical information to emergency medication technicians (EMTs) who transport patients to hospitals. This can help them make better informed decisions on which patient to reroute to which hospital. Infrared sensors and the IoMT are also used to monitor the availability of blood – critical information EMTs need to decide which hospital to take a patient to.
In the future, we will see patients entering emergency rooms being fitted with IoT-enabled ID wristbands that will monitor them through every phase of their hospital stay. These wearables will continuously check respiratory rate, pulse, blood pressure, and body temperature and send out notifications to hospital staff in the event there is an alarming change.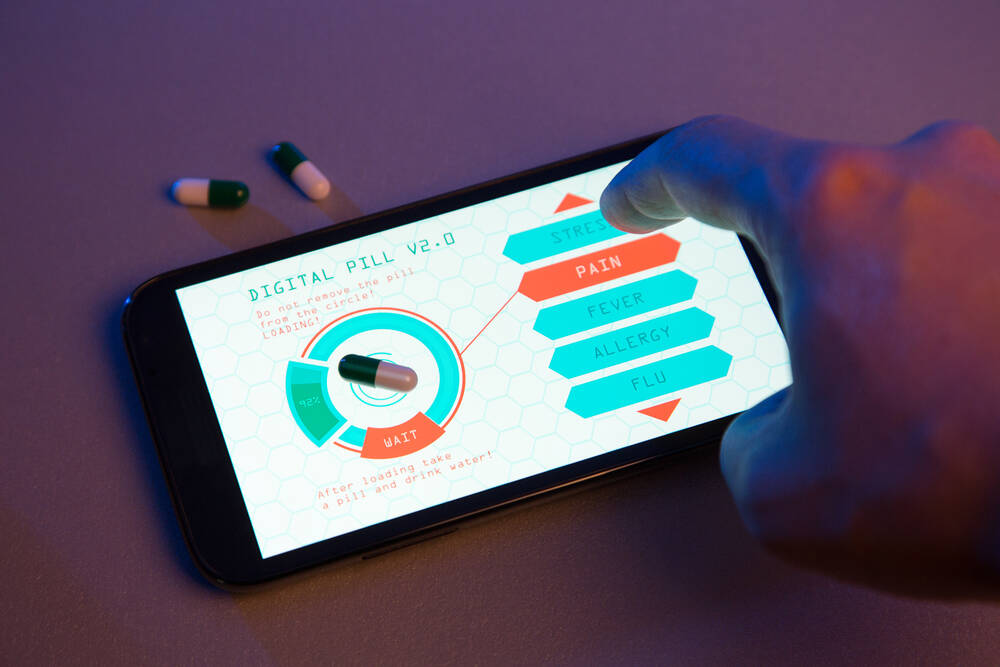 At pharmacies
Many organisations are starting to realise the benefits of pharmacy automation and Internet of Things devices in ways that are revolutionising the industry. Barcodes and RFID tags in storage and production facilities provide real-time visibility into medication stock and monitor stock movements between locations. IoT-enabled sensor-tech can also be used to monitor and adjust temperature and humidity levels. Medicines should generally be stored between 15-25 degrees Celsius. But some medication needs to be in cool storage, cold storage, or even fridge storage. And then there's humidity levels that need to be taken into account as well. IoMT-systems enable pharmacies to monitor temperature and humidity conditions more effectively and securely and offer accurate, real-time data measurements. These monitoring systems can also send out alerts when storage conditions aren't as they should be.
The Internet of Medical Things also helps improve document production processes by providing real-time information regarding quality compliance obligations, which is critical as the pharmaceutical industry is subject to stringent regulation. IoT-enabled electronic prescriptions and drug-monitoring systems at pharmacies can also help prevent opioid abuse by finding errors or irregularities and recognising patterns of controlled and non-controlled prescription use.
The benefits of the IoMT at a glance
The implementation of IoT technologies in healthcare offers many benefits, such as remote treatment monitoring, more accessible and effective telemedicine, and control over medical adherence. Here are some of the general benefits at a glance.
Objective reporting
As IoMT devices can record and report on all kinds of physiological activities, even at the nervous system level, doctors no longer need to rely solely on subjective patient reports of how they are feeling. Instead, the IoMT offers a much more objective evaluation of a patient's state of health and therapy results, recorded and analysed by smart (wearable) medical devices.
Improved accessibility to healthcare
One of the most promising aspects of the Internet of Medical Things is its ability to bring healthcare to people unable to access healthcare due to an ailment or disability that prevents them from travelling, or to people who are isolated due to their geographical location. The combination of artificial intelligence, machine learning, sensor tech, wearables, and video-based appointments enables doctors to deliver quality care outside of the hospital environment, at a time that's convenient for the patient.
Significant cost reductions
According to a recent survey, IoMT systems can save the healthcare industry billions of dollars as they can quickly process patient data and, therefore, significantly increase productivity. The IoMT can help decrease in-person visits, which are costly for healthcare institutions to facilitate and therefore expensive for the patient as well. Remote video monitoring enables practitioners to keep an eye on patients after discharge, remind them to take their medication, and recognise symptoms that could indicate an upcoming problem.
Accurate diagnoses
The fast and efficient transmission of data from patient to healthcare providers enables quicker diagnosis and treatment, which saves lives and significantly reduces costs. Devices that continually monitor critical health statistics in a way that isn't possible during a single doctors' or hospital visit are a valuable tool for healthcare practitioners. Over the course of several weeks, for instance, these devices can capture information like blood pressure, heart rate, and blood sugar levels, which enables healthcare providers to quickly and accurately diagnose illness and devise the right course of treatment.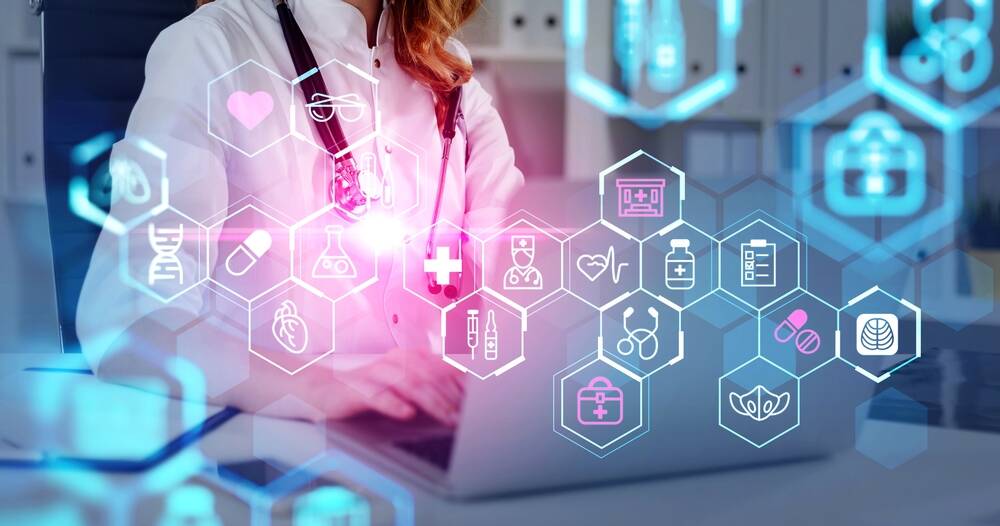 Early intervention and improved treatment
Ingestible smart pills fitted with nanosensors are used as an effective tool to measure vital statistics like core temperature so that important indicators of a potential problem can be picked up early. This enables doctors to quickly start a new or adjust an existing treatment, or intervene in other ways in order to prevent deterioration and hospitalisation. Smart pills can also be used to monitor and analyse medication efficiency and adherence.
Less burden on healthcare systems
The remote management of patients via IoMT sensors and devices reduces the need for in-hospital visits and doctors' consultations, which could save the global healthcare sector an astounding $300 billion annually. The IoMT also leads to significant reductions in resources, hospital admissions, and the use of physical space, such as consultation rooms.
Real-world examples of the use of the IoMT
With the world population and the average human lifespan increasing, the market for Internet of Medical Things devices and services is also projected to see rapid growth. According to a recent Deloitte report, more than 500,000 IoMT technologies are currently in use, and a study by Goldman Sachs indicates that the IoMT is poised to save the healthcare sector an astounding $300 billion in yearly expenditures. Here are some real-world examples of IoMT devices and applications and their benefits.
Better care due to improved connectivity and information sharing
Information about the activities of patients in between hospital or doctors' visits can significantly improve the recovery time for post-surgical procedures. This is where sensor technology comes in – in combination with telemedicine. According to research by Health Data Management, a 3-year collaboration between Force Therapeutics and Geisinger Systems to deliver prescriptive, episodic care has dramatically improved health outcomes for patients. The companies reported an 18 percent decrease in hospital readmissions, a 30 per cent drop in the time spent in hospital, and a 56 per cent reduction in the use of skilled nursing facilities. "Geisinger is the first health system to merge the information collected in Force into the patient's personal health record through a bilateral integration with Epic. This integration has supported the delivery of better care at more affordable costs by improving connectivity and information sharing between the patient and provider. Enrollment in the Force program since the Epic integration has become seamless and requires no additional effort or documentation by Geisinger's administrative care teams", according to a Geisinger news release.
Providing more accurate health insights from wearables
In June 2021, wearables and health apps provider CONNEQT and healthcare technology company LifeQ entered into a partnership with the aim to provide health insights for the users of wearable health devices across the globe. LifeQ provides health and fitness wearables manufacturers with the ability to accurately track their users' health status via person-specific health data. The CONNEQT wrist band, for instance, offers an additional fingertip photoplethysmography (PPG) sensor and complements the heart-health-focused offering of the band. The PPG is an optical measurement method frequently used for heart rate monitoring purposes. Laurie Olivier, CEO of LifeQ, says: "We are excited to collaborate with CONNEQT to further strengthen our wearable-based surveillance, screening and remote patient monitoring solutions."
Smart belt helps prevent fall-related injuries
Seniors are generally more prone to getting fall-related injuries, such as a broken hip or head trauma. To help make hip fractures and other fall-related injuries preventable conditions, Active Protective developed the Tango smart belt. The belt contains sensors that help provide timely protection by indicating or even predicting when a fall is about to take place. The smart belt was designed to determine serious hip-impacting falls before they happen – enabling enough time to intervene. For instance, a fall will deploy the airbag in the belt around the wearer's hips to reduce its impact. Furthermore, caregivers or hospital staff are immediately notified via the supporting app that is synced with the smart belt. Active Protection has accomplished the detection of serious falls-in-progress using an algorithm developed with machine learning technologies. This algorithm was used to analyse thousands of hours of motion data collected from senior subjects.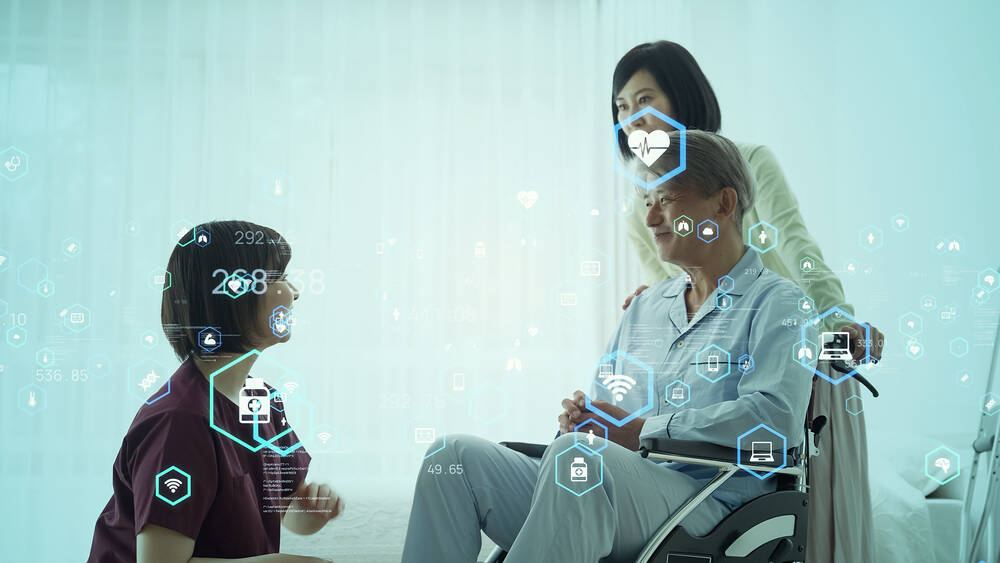 Wearable biosensor indicates signs of deterioration in COVID-19 patients
A medical device to monitor the deterioration of hospitalised COVID-19 patients was first used at the Onze Lieve Vrouwe Gasthuis (OLVG) hospital in the Netherlands. The sensors were installed on the chests of patients in the isolation rooms who were suspected to have contracted COVID-19 but who did not need ventilation. Every minute, the sensors collect and send information such as heart and respiratory rates – the main indicators of potential deterioration, as well as posture and activity levels.
Main challenges of the the IoMT
For all its compelling benefits, the Internet of Medical Things has some drawbacks as well, the most significant and pressing of which are data security and privacy concerns. Unlike other sectors where the IoT is prevalent, the healthcare sector faces unique challenges when it comes to implementing this technology. Besides the strict privacy regulations, there are connectivity barriers, issues around the user-friendliness of IoMT devices, and the growing threat of security breaches, particularly as IoMT technology is often used in situations of life and death.
Privacy and security
As most IoT devices weren't developed with security in mind, they are very vulnerable to security breaches. And you can imagine that such compromised security could lead to untold chaos and loss of lives, particularly in the healthcare sector. The proliferation of IoMT devices and their lack of security, combined with ubiquitous internet connectivity significantly expands the scope for attacks, making healthcare one of the most 'popular' targets for cybercriminals. Security flaws enable criminals to disrupt healthcare processes, steal sensitive health or insurance-related patient information and using the hijacked devices for extortion practices.
Interoperability and compatibility
When connected to IoMT systems and new devices, legacy systems and old connected devices like patient ventilators and infusion pumps can also lead to challenges. And given the distributed nature of the IoMT infrastructure, software systems and devices need to be able to securely communicate with each other. Security standards and protocols for these types of integrations, however, are subject to continuous change. With older systems often being unable to stay up to date with newly introduced technologies, it's not difficult to see how this can lead to all kinds of compatibility challenges. The inefficient use of interoperable electronic health records (EHRs) is of concern as well. Currently, EHRs are often disconnected and proprietary solutions get lost in systems that don't communicate with each other, which is a threat to reliable transfer of critical medical information. The implementation of proper interoperable systems and devices will ensure that health data is exchangeable across systems, institutions, and countries, greatly enhancing cross-institutional and international collaboration.
User experience
It also seems to be quite a challenge to design devices and digital products like mobile apps or connected glucose or heart monitors, connected implants, and other instruments that are easy to use. It's important to take the end user into consideration from the start of the development process, so that the service or product is actually user friendly, as many of these will be used by medical professionals as well as their patients. Poorly designed devices or services can lead to limited data collection and even the product of service being removed or disabled by the patient.
Regulation and compliance
The IoMT is subject to evolving regulations that vary by continent and country. In the US, for instance, the FDA outlines the requirements for the companies who develop IoMT devices and services, as well as for pharmaceutical companies and other stakeholders in terms of efficacy and safety.
And in Europe, the new Medical Device Regulation (MDR) requires companies to improve device traceability, for instance by marking medical devices with an identifier. As the Internet of Medical Things becomes more widely adopted, regulators and lawmakers will need to keep releasing updated policies to safeguard public health systems.
The connected future of the Internet of Medical Things
We've only scratched the surface of what's possible with the IoT in healthcare. As IoMT technologies mature, they will radically transform many medical treatments, result in faster, more efficient, more convenient patient care, and lead to significant cost and time savings. The Internet of Medical Things will enable more accurate diagnoses, improved communication, and a decrease in commuting costs. And the IoMT will lessen the need for in-person medical consultations, it will also decrease the necessity of hospital floor space. As trendwatcher, futurist, and keynote speaker Richard van Hooijdonk says: "I think it's safe to say that the IoMT will improve (access to and affordability of) health and wellbeing for everyone and eventually even lead to immortality."
Improved medical management
It will also lead to significantly improved medication management, as smart pills fitted with microscopic sensors will be able to transmit data back and forth between connected smart medical devices and healthcare providers. In the future, these sensors will measure everything from a patient's internal health to the efficacy of medication.
Faster, better research
Medical research will also greatly benefit from the Internet of Medical Things, as it enables the collection of vast amounts of information about diseases – something that, if done manually, could take years. The IoMT will enable scientists to conduct research in ways that would never previously have been possible. And as the IoMT will enable researchers to monitor patients in real-world environments instead of clinical settings, the real-time biometrics data harvested will be more useful than the more static data that has been gathered using conventional methodologies.
Data sharing and cloud integration
The IoMT will enable real-time monitoring of health conditions via smartphone apps and the transfer of this data to medical professionals. In the future, IoMT healthcare technologies will see cloud integration in current apps as well as technologies that will streamline data sharing.
Artificial intelligence
In the decade ahead, artificial intelligence will become an even more integral part of the healthcare sector with consumer-focused services witnessing the merging of consumer and patient journeys, and AI changing how patients communicate with their healthcare providers.
A real evolution is underway
When it comes to the Internet of Things, a real evolution is underway. In the future, IoMT wearables will help monitor and analyse our sleeping patterns, nutritional balance, doctors' visits, and exercise programmes. Of course, the healthcare sector will also have to prioritise cybersecurity and patient privacy challenges. And with regulators trying to catch up with new technologies – which will bring new liabilities – smart device users as well as manufacturers will need to keep paying careful attention to the continuously changing legal landscape.