Protecting the wellbeing of professional sportsmen
Using AI to find the next star player
Smart algorithms developed a new game
Tech-powered refereeing is coming to the Atlantic League
Robots will be helping visitors and staff at the 2020 Tokyo Olympic Games
Smart apps and VR tech drive fan engagement
Can robots beat human players in football and basketball games?
Cutting-edge technology shapes the future of the sports industry
For millions of people across the world, sports are far more than just games. They're a part of their identity, and they fuel passions on and off the field. For clubs and players, however, sports are also a business that attracts investments, generates profit, and leads to lucrative contracts that make millionaires out of previously unknown sportsmen. And this business is booming. By 2022, for instance, the global sports market is set to reach $614.1 billion, up from $488.5 billion in 2018. With so much at stake, it's no wonder that league associations and clubs are doing their utmost to keep fans happy and gain a competitive edge, with artificial intelligence (AI) and robotics technologies driving the change.


Advanced tech solutions can now improve player fitness and help clubs to discover talent in hundreds of countries. Robot referees are already a reality in some sports, while smart machines will help people find their stadium seats. The fan experience is redefined as well, as people can stay at home and enjoy a game through a VR headset, with dozens of stadium cameras capturing every detail of the event. Engineers are touting the possibility of robots replacing football and basketball players one day, and AI programs have even come up with a new sport. And as long as innovation helps teams impress fans and win more games, the partnership between technology and sports is likely to get ever stronger.
Protecting the wellbeing of professional sportsmen
Professional sports such as soccer and American football have turned into massive industries dominated by a number of wealthy teams. The Spanish soccer giant Real Madrid, for example, reported annual revenue of $854 million in 2018, with a valuation of $4.24 billion. Meanwhile, the New England Patriots, an American football team, is worth roughly $3.8 billion, earning more than $500 million each year. Ticket sales, sponsorship deals, and media rights are important sources of revenue for clubs, but players remain the key asset, and their wellbeing is a condition for both on-field and financial success.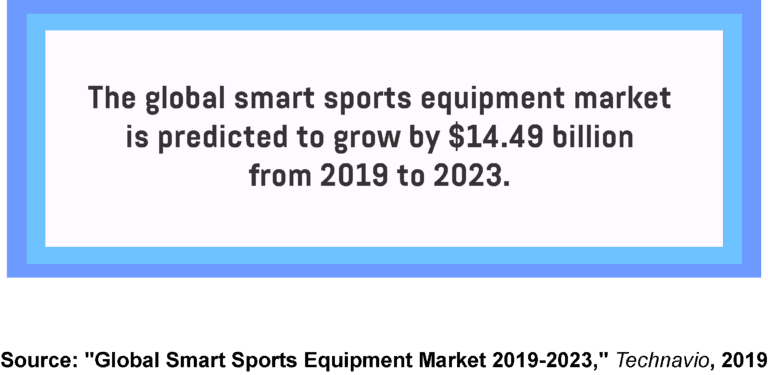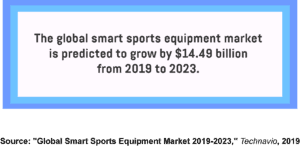 To that end, teams are trying to protect players and reduce injuries, with American football clubs using robotics to make training sessions less demanding but equally effective. Instead of players practicing full contact moves on other team members, mobile virtual players (MVPs) are used as alternative training partners. These remotely-controlled machines replicate the size, weight, shape, and speed of a human opponent. They enable high-quality training in a more controlled environment and reduce the rate of injuries. As such, MVPs are an important part of the global smart sports equipment market that's forecasted to grow by $14.49 billion from 2019 to 2023.
Using AI to find the next star player
Artificial intelligence is another important piece of the modern sports industry. By 2024, AI-enabled sports analytics is set to grow into a $1.9 billion-worth market, while the AI sports-decisions-as-a-service market will reach $987 million. The Dutch startup SciSports, founded in 2012, is a well-known player in this field. Its AI sports analytics platform, called SciSkill, analyses 2,000 matches in 244 leagues every week to assess the quality, talent, and value of more than 90,000 players. Soccer clubs use this service to find players that fit a specific profile, as well as to study their opponents. SciSports' founder and chief innovation officer, Giels Brouwer, says that the program "evaluates every professional [soccer] player in the world in one universal index".
The company also developed BallJames, a real-time tracking technology that turns video streams from dozens of stadium cameras into 3D data. Algorithms can then extract additional information about players, such as the precision of their passing, sprinting speed, and jumping strength. Coaches can also turn to these insights to learn which player is getting tired and needs to be substituted. And the visual data can be used to power immersive experiences for fans that prefer to watch the game at home using a VR headset.
Smart algorithms developed a new game
The design agency AKQA, founded in London and with offices worldwide, used AI to develop an entirely new game. In a first-of-its-kind experiment, rules and data from more than 400 sports were fed into a neural network that created a set of rules for a new sport dubbed Speedgate. It's played by two six-player teams on a field with three pairs of 1.8-metre-tall posts. Players win possession by passing a ball through the centre post and score two points by kicking the ball through one of the remaining gates. The match is played during three seven-minute intervals, and the ball can't remain still for more than three seconds, as it needs to be passed or kicked. The rules of the game are understandable, unlike the AI-devised motto – "face the ball to be the ball to be above the ball".
Tech-powered refereeing is coming to the Atlantic League
The Atlantic League, an independent American professional baseball league, is also undergoing a high-tech makeover. It will utilise the TrackMan radar system to track a ball in motion and determine whether a pitch is a ball or a strike. The software will then relay its decision via an iPhone and earpiece to a human referee that will stand behind the catcher and enforce the rules. Brian deBrauwere, a plate umpire, says that the system still can't be fully trusted and that he needs to be on the field to address situations in which "the system fails, it doesn't pick a pitch up, or if it registers a pitch that's a foot-and-a-half off the plate as a strike".
But not everyone is impressed with this approach. Kirk Nieuwenhuis, a former professional baseball outfielder who played in Major League Baseball (MLB), says that "if the umpire still has discretion, it defeats the purpose" of introducing robot-assisted refereeing. Nonetheless, Atlantic League's president, Rick White, says that the TrackMan system will be deployed league-wide and that it will eventually spread through other leagues, too, helping referees become more accurate and efficient.
Robots will be helping visitors and staff at the 2020 Tokyo Olympic Games
The organisers of the Tokyo 2020 Olympics and Paralympics are turning to robots, too. They plan to deploy robots across the city to help workers and attendees during the games. One of the robots is called the Human Support Robot, and it can pick up trays and baskets, while the Delivery Support Robot can carry items around. These devices, developed by carmaker Toyota, will be especially useful for wheelchair users and should hit the consumer market by 2030. Toyota's general manager, Minoru Yamauchi, explains that "In the Tokyo Olympics, there will be many guests in wheelchairs and we would like them [to] enjoy the games without worrying about their mobility."
The Olympics organisers will also make use of an exoskeleton called Power Assist Suit, developed by the Japanese electronics corporation Panasonic. Workers at "related facilities and airports" will wear these devices to more easily lift heavy items and baggage. According to Panasonic, this tech reduces strain and improves worker efficiency by 20 per cent. Clearly, Japan is continuing its tradition of using the Olympics to showcase cutting-edge products, as it did in the 1964 games, when it unveiled the iconic Shinkansen bullet train.
Smart apps and VR tech drive fan engagement
There are many other ways to create positive fan experiences as well. The US-based startup Satisfi Labs, for example, developed an AI-driven conversational platform that interacts with users through web, mobile, SMS, social, and voice channels. It provides venue and stadium visitors with a one-stop resource for questions regarding tickets, special events, merchandising sales, game-day support, parking, bathroom wait lines, and many other issues. It's also available in several languages and users can talk to live support if the app fails to provide an answer.
Snaptivity is another AI-powered platform that drives fan engagement. The software uses cameras placed around stadiums to catch the emotional reactions of fans in moments when their team scores or receives a goal. Then, smart algorithms recognise the fans and send them the best shots with a branded overlay and results from the game through a mobile app. Such a memorable picture can help Snaptivity's users get more exposure on social media. And with the advent of immersive technologies, a growing number of fans can watch games at home using VR headsets. This makes them feel like they're watching the event in person, and stadiums and clubs that enable such an experience are sure to win the hearts of their fans.
Can robots beat human players in football and basketball games?
And while most technological breakthroughs are based on sports remaining an activity performed by humans, an international scientific initiative called RoboCup has a different vision of the future. Established in 1997, this group of scientists is working to advance the state of robotics and AI so that a team of autonomous humanoid robots become capable of beating the human soccer World Cup champions by 2050. Reaching that goal isn't easy and will require creating machines that can work as a team and run, kick, and block human players. However, the science writer Nick Thieme says that robots "lack what makes the game beautiful" and that they "have a long way to go before anyone is going to care about them or be impressed by their skills".
A robotic basketball player developed by Toyota might just prove his point. The machine can shoot baskets from up to 3.6 metres away and has impressive accuracy. But as it stands on a platform connected by power cables, it can't move and play defense. Most games are more than just throwing a ball, and robots have a long way to go before they can match humans on the field.
Cutting-edge technology shapes the future of the sports industry
Sports are a massive industry dominated by multi-billion-dollar professional teams and league associations. Gaining a competitive edge is crucial, and one way to do it is through tech innovation. Until now, AI and robots have proved to be excellent drivers of change and will most likely continue to be so in the years to come. Of course, not every change will 'stick', and fans will be the ultimate judge of what type and how much technology they want in football, basketball, or soccer matches. But if innovation leads to more exciting events, fairer referees, and fewer injuries, not many people will object to technology taking sports to a whole new level.