Nima detects traces of peanuts in your food
Percept is the world's first contact-free fertility monitor
The Modius headset helps you lose weight
L'Oréal's new UV sensor could protect you from skin cancer
Hip'Air is a wearable airbag that could significantly reduce the number of hip injuries among the elderly
Just like many other industries before it, the health and wellness industry is undergoing a major tech-driven transformation. In recent years, the market has become flooded with a wide variety of consumer-oriented gadgets that allow users to monitor their health in the privacy of their own home. With the help of technologies like artificial intelligence and the Internet of Things, users can keep an eye on any warning signs and take preventative action before it's too late, which can also help them significantly reduce their healthcare costs.
This year, at the Consumer Electronics Show (CES) in Las Vegas, some amazing devices were presented. From allergen detectors, to contact-free fertility monitors, to weight loss headsets, these innovative gadgets will transform the way we take care of our health and wellbeing.
Nima detects traces of peanuts in your food
Food allergies can be quite serious, sometimes even deadly. Avoiding the food you're allergic to is simple enough when you're preparing your own meals, but what if you decide to eat out with family or friends? How can you make sure that the food you're about to eat is safe for you? If you're allergic to peanuts, Nima has a solution – a handheld peanut sensor. All you have to do is put a small piece of food into the device and it will tell you in a matter of minutes whether it contains peanuts. If the food is safe to eat, the display will show a smiley face. However, if the device detects traces of peanuts, it will display an image of a peanut, along with the message 'peanut found'. According to the company, the device is capable of detecting peanut content at 20 parts per million, with an accuracy of 99 per cent.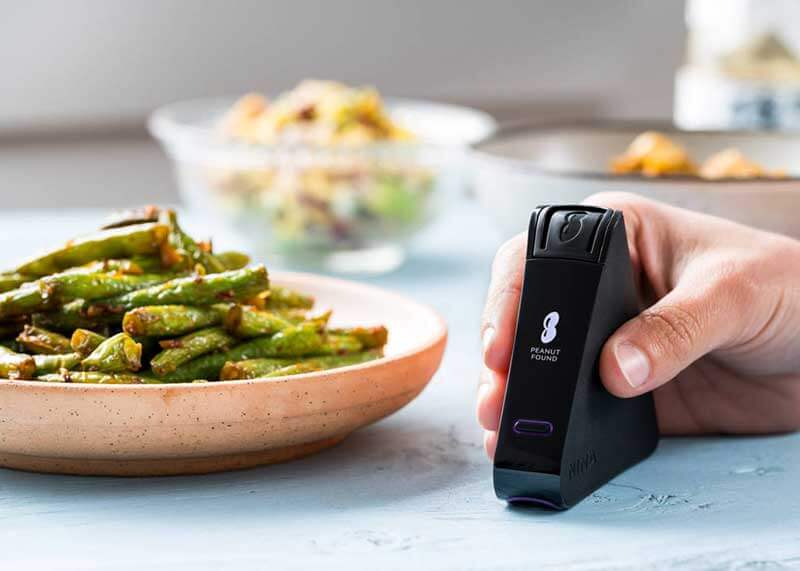 "Nima is providing thousands of people an extra tool at the dinner table before they eat for added peace of mind at mealtime," says Shireen Yates, the chief executive officer and co-founder of Nima. "We've heard community members say Nima gave them back their social lives, or that with Nima they were finally able to feel like a real family and enjoy a dinner outside of the home without anxiety weighing on them."
The device is very similar to the company's earlier product – a handheld gluten detector – which was first introduced in 2015. It uses Bluetooth to sync with its companion app, which allows you to share your results with others, find the best places to eat, and rate restaurants.
Percept is the world's first contact-free fertility monitor
Getting pregnant isn't always as simple as it may seem. In fact, many couples struggle to conceive. For those who want to improve their odds, the Israeli health-tech company EarlySense announced a new product called Percept, the first contact-free fertility monitor in the world. The device is placed under the mattress, where it keeps track of the woman's heart rate and breathing patterns and then uses artificial intelligence and machine learning to predict her next period, ovulation dates, and her six-day fertility window – when the chances of conception are the highest. Percept needs about three months to collect enough information to be able to accurately predict the fertility window. In clinical trials, it's proven 30 per cent more accurate in making these predictions than gold standard methods. "With our prediction software you have six days [when you are most fertile] and you get them in advance. Then you can say 'Hey let's go to a romantic weekend in Santa Barbara' or what have you", says Karissa Price, the chief operations officer at EarlySense.
The Modius headset helps you lose weight
Obesity is a growing problem in modern society, affecting more than 30 per cent of Americans. But anybody who's ever tried to lose weight knows how difficult it can be. It requires you to follow a strict diet plan and exercise regularly, which most people find quite challenging. There may be a simpler solution now. A company called Neurovalens has developed a new headset it claims can help you reach your weight loss goal by suppressing your appetite and speeding up your metabolism.
The Modius headset is a lightweight, U-shaped device with two electrodes that attach to your mastoids – the bony bits behind your ears. You then use the companion app to send small electrical signals to stimulate your brain's hypothalamus through the vestibular nerve, which supposedly results in a reduced appetite and increased metabolic rate. "Weight gain and weight loss are controlled by your brain, which controls your appetite, your hormones, your metabolic rate, how much fat you store, and more," says Dr. Jason McKeown, a neuroscientist and the CEO of Neurovalens. "Modius uses low-power electrical pulses to stimulate the vestibular nerve which runs into the brain from just behind the ear. The stimulation is interpreted by the brain as the body being more physically active, triggering the brain/hypothalamus to reduce fat storage. It does this using several mechanisms which include increasing fat-burning, decreasing appetite, and activating metabolic hormones".
L'Oréal's new UV sensor could protect you from skin cancer
Most people enjoy spending time in the sun. Unfortunately, too much sun exposure can lead to skin cancer. The personal care company L'Oréal unveiled a new wearable UV sensor that sticks to your fingernail, tracks your exposure to ultraviolet radiation, and warns you when you've had too much. The UV Sense doesn't require batteries or charging and can even be worn in the shower or while swimming and working out. It's also capable of tracking other environmental factors, including pollution, humidity, and allergen levels. It uses near-field communication (NFC) technology to convey this information to its companion app.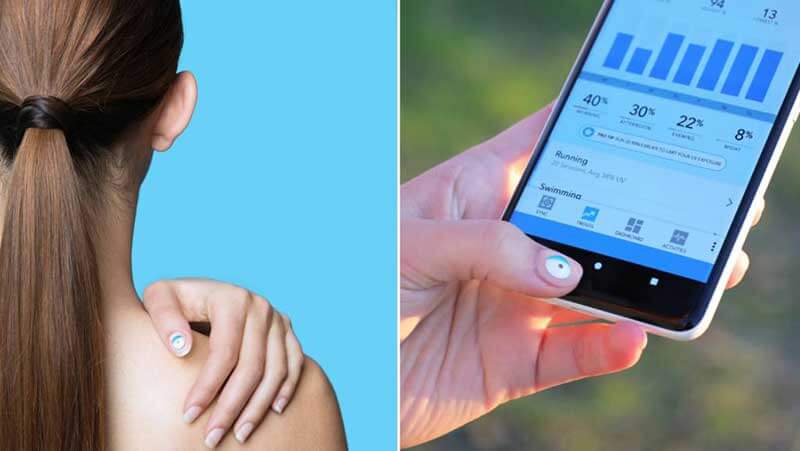 "Our question has always been [how] to bring more performance to the product," says Guive Balooch, L'Oréal Technology Incubator's global vice president. "So we took on this challenge of figuring out how could we make a wearable that's interesting and exciting technologically, [that] could also give the user some tools to understand the personal level of exposure and what they could do with that information".
Hip'Air is a wearable airbag that could significantly reduce the number of hip injuries among the elderly
Falls are among the leading causes of injury among the elderly. The French company Helite believes it's found a solution to this problem, in the form of a wearable airbag called Hip'Air. The device looks like an oversized fanny pack, with two large airbags on both sides. It's also equipped with gyroscopes and accelerometers, which allow it to detect when a person starts falling – at which moment it responds by deploying the airbags within 80 milliseconds. According to the company, Hip'Air absorbs up to 90 per cent of the impact from a regular fall, which could drastically reduce the number of fall-related injuries among the elderly. That is, if you could actually get them to wear one.
Technology has already transformed many different sectors, so it was only a matter of time before the same thing happened to the health and wellness industry. In recent years, a number of health-focused gadgets have appeared on the market, but only time will tell how useful and effective these devices will turn out to be. They're certainly a sign of things to come and could very well revolutionise the way we monitor and manage our health.