Singapore – the world's smartest city-state keeps on creating urban wonders
Xiong'an New Area – the world's factory gets a sustainable clean-up
Toyota's Woven City, Japan – the future of emission-free mobility
Mexico develops self sufficient Smart Forest City in Cancun
China's car-free cities Shenzhen Net City and Chengdu Future City
Smart Kalasatama – Finland's small smart city
Neom mega city – the 26,500 square kilometre smart city in Saudi Arabia
Helsingborg – Sweden's complete smart city
Sandbox City, Nevada – America's blockchain-based city
The 76-initiative Smart City Blueprint – Hong Kong
Many of our cities are struggling with challenges like overflowing landfills, severe traffic congestion, housing shortages, unaffordable housing, inadequate public transportation systems, and increasing inequality. If we don't take action, the severity of all of these issues will soon spiral out of control, especially considering the fact that the world population is expected to grow to 9.7 billion by 2050. And almost 70 per cent of this population will live in or migrate to urban areas, according to the United Nations, especially in lower-income regions. Not only do cities account for up to 80 per cent of energy consumption, they are also a major contributor to the world's carbon emissions and global warming.
In a bid to mitigate these worrying developments and positively contribute towards the United Nations' Sustainable Development Goals, cities across the globe are developing a myriad of innovative solutions to make the urban areas of the future healthier, safer, more inclusive, and smarter. Cities are increasingly turning to digital technologies and data to improve their citizens' quality of life and create a healthy environment in which the challenges of everyday living are minimised. Solutions range from greener spaces and improved access to arts and culture, to underground recycling systems and car-free zones. But this also includes safer streets, the development of urban farms and forest buildings, the implementation of efficient public transportation, and anything imaginable in between. To provide some insight into current and future developments, we've compiled a top ten of phenomenal smart cities across the world.
1. Singapore – the world's smartest city-state keeps on creating urban wonders
Singapore is known to be a trailblazer when it comes to smart city innovation and sustainability projects. In fact, the Southeast Asian city-state recently topped the Smart City Index yet again. According to Singapore's Green Plan 2030, its towns will boast 60,000 electric vehicle charging points by 2025, and aims to secure 80 per cent of its buildings 'green' status by 2030. This means that in order to create more sustainability and improve the wellbeing and safety of its citizens, Singapore's homes and commercial buildings will become increasingly electric and digital, and even more software-powered and sensor-connected.
One great example is the 'eco town' of Tengah, which will boast a car-free city centre and make use of autonomous vehicles elsewhere. Its streets will feature emerging technologies, such as smart lights in public areas that switch off when they detect that the space is unoccupied. The town's five residential areas, with 42,000 homes, will be equipped with solar power-cooled water pipe systems instead of regular air conditioning systems, which will generate CO2 reductions equivalent to removing 4,500 vehicles off the road annually. The homes will also feature automated rubbish collection via a pneumatic system. This system extracts the garbage and transports it to a central chamber where a garbage truck will collect it when sensors indicate that it's full. Tengah will also boast various public gardens and other green spaces. According to Chong Fook Loong, group director for research and planning at Singapore's Housing and Development Board (HDB), "Tengah is a clean slate, and roads, parking and utilities are being pushed beneath the town centre. We're going for the ideal concept of segregation of traffic, (with) everything underground and then the ground level totally freed up for pedestrians – for people. So, it's a very safe environment for all. We want a town that allows walking and cycling in a very user-friendly manner."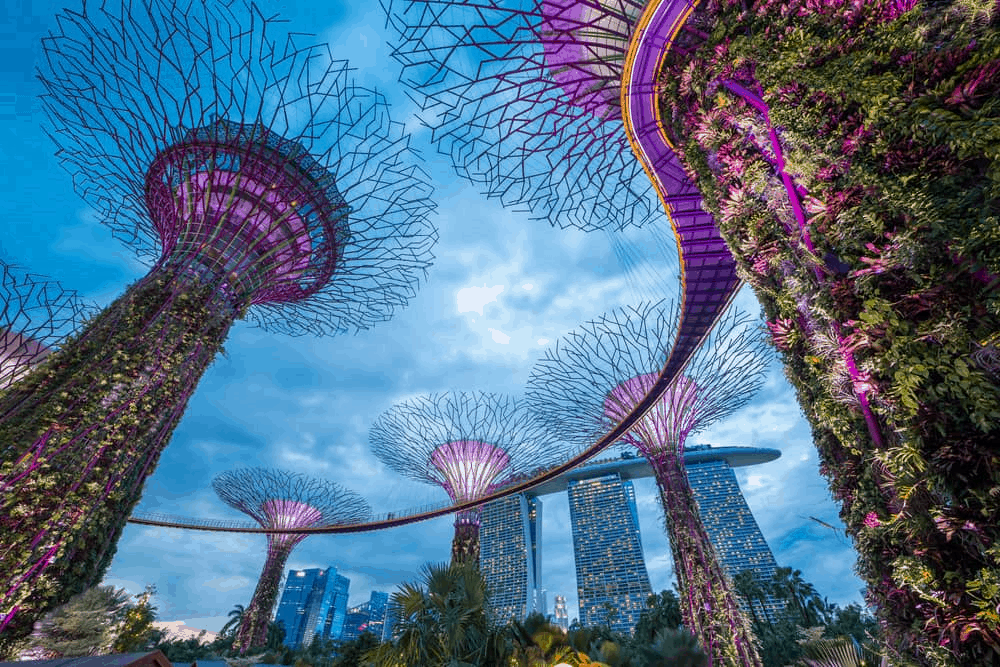 2. Xiong'an New Area – the 'world's factory' gets a sustainable clean-up
China is widely known as one of the world's most polluting countries. But things are about to change as some of the Chinese government's development objectives include prioritising emission-free energy, environmental protection, green development, exploring new economic growth models, and creating shorter material supply chains. The proposed creation of the 'New Area' in the Xiong'an region, where vast amounts of coal are still used, is an ambitious initiative set to become an important testing ground for innovative models of urban development and growth, where ecological concerns are blended with high-tech development. Its aim is to become a world-class, smart, and environmentally-friendly city, integrating artificial intelligence, cloud computing, the Internet of Things (IoT), big data, and intelligent infrastructures with smart lighting, sensors, and facial recognition technology. Some of the electricity, water, and transportation infrastructure will be built underground in order to optimise space management.
The Xiong'an New Area is to become "an integral part of the 'crucial strategy for the millennium to come' and part of a drive to cement China's credentials as a leader in urban development and the incorporation of new technologies into infrastructure," writes Fatoumata Diallo for Stockholm-based research and policy organisation ISDP. Plans for the New Area include wind, solar, and nuclear and geothermal electricity, recycling-based sanitation systems, low-income housing, and sustainable transportation methods. Another impressive initiative is the massive afforestation plan which aims to significantly expand forest coverage, for which a blockchain-based platform has been developed that incorporates big data analytics for the identification of each and every tree. A number of Chinese companies have already signed agreements with the local government of Xiong'an. To improve traffic management, for instance, Alibaba has introduced its AI 'City Brain' platform, while China Mobile has been testing its 5G remote control driving technology.
3. Toyota's Woven City, Japan – the future of emission-free mobility
After over half a decade of vehicle production, the Higashi-Fuji Plant of Toyota Motor East Japan drew its manufacturing history to a close in December 2020. At the megafactory site at the foot of Mount Fuji, the car giant is now creating the smart, emission-free, and fully sustainable 'Woven City' – powered by rooftop-mounted photovoltaic panels and hydrogen fuel cell technology. Woven City will be a living laboratory: a smart city where autonomous vehicles, artificial intelligence, and robotics will be tested. On the ground level of Woven City, three types of streets will be interwoven with one another: one for pedestrians, one for pedestrians with personal mobility vehicles, and one for autonomous vehicles. Goods transportation will take place via an underground road.
The city will boast mobile shops and residential and commercial buildings fitted with sensor technology that monitors the occupants' health. Outside of the buildings – which will largely be made from wood and incorporate traditional Japanese construction techniques – you can expect to find cameras and sensors embedded in roads, buildings, and traffic lights. All of these sensors will gather data on anything you can imagine – from traffic information to weather conditions and pedestrian movement. Optical networks will process and analyze all of this information in order to create a mirror image or digital twin of the Woven City. The city's vehicles, buildings, residences, and infrastructure will all be powered and interconnected via a digital operating system. Accordingto Hiroki Kuriyama, senior vice president of Nippon Telegraph and Telephone Corp, "the virtual, synthesized data can then be fed to cars, letting them safely navigate through the real world without human intervention." Woven City's residential community will open with approximately 350 residents, consisting of families with children, senior citizens, and inventors. Eventually, the city is expected to reach a population of more than 2,000 people, including Toyota employees.
4. Mexico develops self-sufficient Smart Forest City in Cancun
The city of Cancun in Mexico will be home to the new Forest City development, which will be focused on environmental quality and technological innovation. Its proposed circular economy is expected to ensure the city's self-sufficiency. According to Stefano Boeri Architects, the Smart Forest City – which is really a botanical garden within a modern city – will be "a centre for advanced research that can accommodate all university departments, international organisations and companies dealing with major sustainability issues and the future of the planet." The 557-hectare area will be home to up to 130,000 people, with 362 of those hectares being dedicated to green areas like garden roofs, large parks, and green building facades. The city will be covered with 7.5 million trees and plants, capable of absorbing 116,000 tons of CO2, and will be food and energy self-sufficient.
The settlement will boast photovoltaic panels for electricity production, the proposed transportation system will be semi-automatic and fully electric, and each inhabitant will have services available within cycling or even walking distance. Water from the sea will flow via an underground system and fed into a desalination basin. From there, it will be used to provide for the city and surrounding agricultural land's irrigation requirements. Within this urban ecosystem, nature and the city will be intertwined, existing like one single organism. "The path leading to dematerialised and detoxified goods and services can be summarised by the four Rs: reduction, repair, reuse and recycling. The Smart Forest City addresses these development needs, allowing and encouraging education and economic empowerment – especially that of women – by developing radically more eco-efficient solutions, lifestyles and forms of behaviour that start with reducing overall demand for energy and a decrease in waste production," says Stefano Boeri.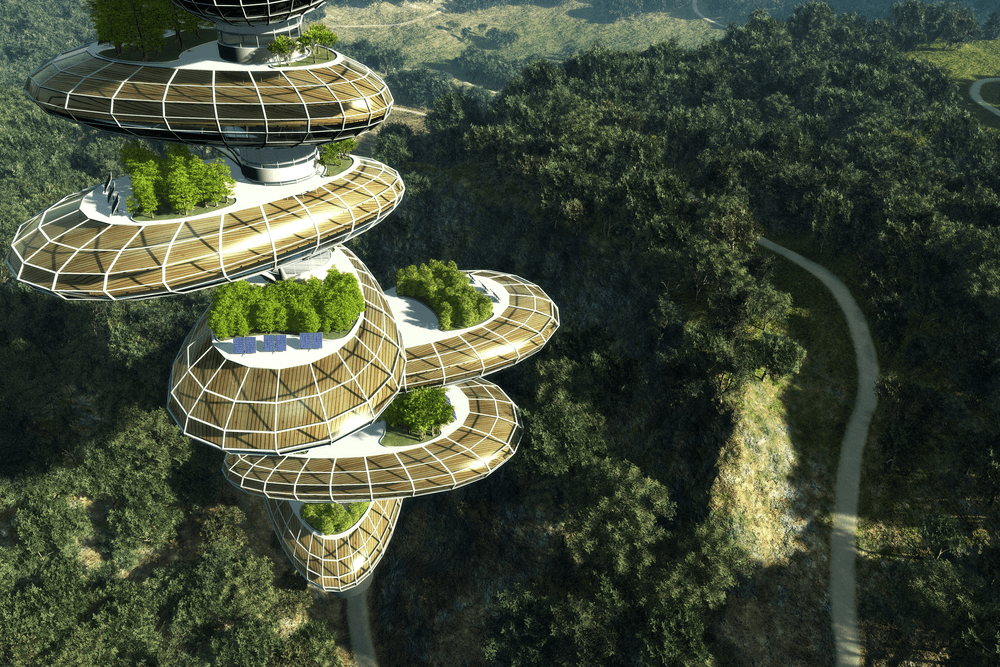 5. China's car-free cities Shenzhen's Net City and Chengdu Future City
At the start of 2020, in collaboration with American firm NBBJ Architects and tech giant Tencent, the design of Net City – a virtually car-free, state-of-the-art, sustainable coastal neighbourhood – went underway to cement Shenzhen's status as China's Silicon Valley. The two million-square-metre green urban development will be roughly the size of Monaco, and prioritise pedestrians, cyclists, buses, and autonomous cars in a 'green corridor'. "Our main goal was to provide a place where innovation can really flourish. To do that, we tried to minimise the impact of the car as much as possible. Going car-free is still a little bit challenging in our world, so we spent a lot of time designing the city to be as low-impact as possible, removing (cars from) where they don't need to be and focusing on people," says Jonathan Ward, NBBJ design partner. Net City is designed to accommodate approximately 80,000 people, providing Tencent company housing, office space, schools, shops, entertainment venues, a waterside promenade, parks, and other amenities in an "interconnected, human-focused organic ecosystem." Environmental sustainability is envisioned through systems for capturing and reusing wastewater and via rooftop solar panels. Net City will be connected to the rest of Shenzhen via the city's subway system, ferries, and road bridges.
Another car-free city masterplan in China is taking shape in the rolling hills of east Chengdu in the Sichuan province. Chengdu Future City is designed by Dutch architectural firm Office for Metropolitan Architecture (OMA) and Hamburg-based Gerkan, Marg and Partners (GMP). The nearly five million-square-metre car-free development will act as a massive innovation district for the advancement of science and technology, and will encompass six clusters or zones ('living', 'university', 'laboratory', 'public', 'market', and 'government') that are modelled on traditional village settlements that practice small-scale farming and use ancient irrigation systems. The university and laboratory zones will incorporate areas dedicated to innovation and education, while the other clusters will be dedicated to commercial and public venues, government facilities, and housing. The city is designed to blend in with its natural hilly landscape, follows the site's spatial structure and topography, and will connect to the surrounding city via a smart mobility network with autonomous vehicles. OMA partner Chris van Duijn says: "With this project we hope to provide an alternative to the typical masterplan, which is based on the traditional car-oriented road network. We intend to create a design rooted in the geography of the site. We hope that connection between architecture and landscape will result in a dynamic environment for education that will inspire innovative ideas."
As Benjamin Verdi writes for Fair Observer: "Limitations on cars in favour of pedestrian-friendly walkable spaces coupled with reliance on renewable energy sources will provide a rising China with beautiful, tangible evidence that it, too, is taking steps to combat climate change and to shape the next century of life on this planet in ways the rest of the world might cheer."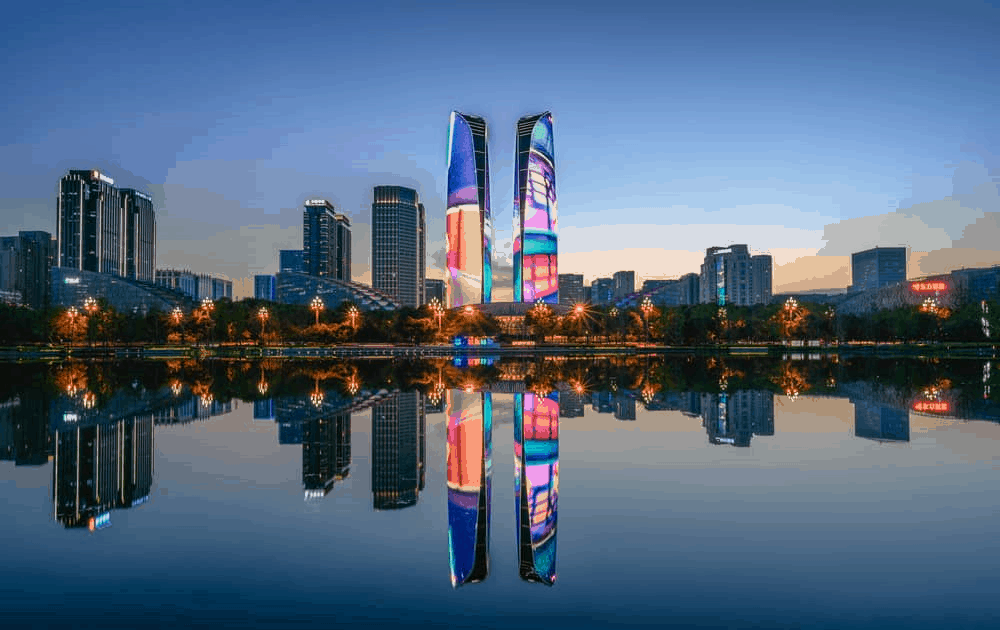 6. Smart Kalasatama – Finland's small smart city
In collaboration with more than 200 stakeholders – including companies, researchers, city officials, and residents – Smart Kalasatama, already a pioneer for Helsinki's climate targets, will be a model of smart city development and promote sustainable urban solutions for its 25,000 future inhabitants. The project, which is estimated to be completed by 2035, aims to secure its residents one extra hour of free time per day through the intelligent management of resources and by focusing on smart energy solutions, smart mobility, and smart everyday life. Smart Kalasatama, a centrally located former harbour area, will boast 1,000,000 square metres of housing and 390,000 square metres of offices. It will offer jobs for 10,000 people, a school, a vacuum-based waste collection system, a health and wellbeing centre, a co-creation space, and an energy station. The entire neighbourhood of Smart Kalasatama will function as an innovation hub, a vibrant testbed where – through experimentation and co-creation – smart and sustainable new technologies, solutions, and services will be piloted in real-life environments. The district of Kalasatama, which is currently home to 3,000 inhabitants, already enjoys an active sharing economy where people use digital applications for sharing cars and parking spaces. New buildings will be accessible through smart locks to enable people to use different spaces for various activities. Many of the first residential buildings are already connected to the smart grid. Besides real-time smart metering, the smart grid will also enable new electricity storage solutions and power the electric vehicles network.
7. Neom mega city – the 26,500 square kilometre smart city in Saudi Arabia
First unveiled by Saudi Arabia's Crown Prince Mohammed bin Salman in 2017, the $500 billion Neom mega city development is Saudi Arabia's flagship tourism and business initiative on the Red Sea coast. Neom is part of the 2030 Vision outlining the kingdom's plans to diversify the economy, and a model for future urban societies focused on ensuring a healthy balance with nature. The futuristic city of Neom is planned for completion by 2025 and will be the largest carbon-free system in the world, spread across 26,500 square kilometres. Apart from photovoltaic panels and windmills, "Neom will also make use of new technology known as green molecules, where electric currents will be used to convert water into oxygen and hydrogen, creating fuels that are completely sustainable and completely free of carbon and other emissions," says Peter Terium, the head of the energy sector at Neom. The mega city will consist of various different zones, including logistics and industrial areas, and encompass smart towns, ports, research and tourist centres, and entertainment and sports venues. The urban environment will prioritise walking, cycling, and personal electric mobility devices. In addition, there will be a high-speed public transit service, through which all areas of Neom will be within a 20-minute journey.
'The Line' in the city of Neom will be a new 170-kilometre stretch of connected communities comprising a million residents who live in harmony with nature, without roads or cars. According to a statement by the Crown Prince, The Line's communities will be smart, powered by artificial intelligence (AI), continuously learning predictive ways to make life easier, creating time for both residents and businesses. The Line will be fully powered by clean energy to ensure improved and more sustainable living and business. By 2030, The Line is estimated to generate approximately 380,000 job opportunities and contribute $48 billion to the kingdom's GDP. The Crown Prince added: "By 2050, one billion people will have to relocate due to rising CO2 emissions and sea levels. 90 percent of people breathe polluted air. Why should we sacrifice nature for the sake of development? Why should seven million people die every year because of pollution? Why should we lose one million people every year due to traffic accidents? And why should we accept wasting years of our lives commuting?"
8. Helsingborg – Sweden's complete smart city
The Swedish city of Helsingborg was awarded second place in the European Capital of Innovation Awards 2020, also known as iCapital. The annual prize is awarded to the European city that best demonstrates its ability to harness innovation to improve the lives of its residents. Helsingborg's H22 initiative aims to develop future welfare solutions that focus on improving quality of life. One part of the initiative focuses on becoming a smarter and more sustainable city, while the other comprises a City Expo – a reflection on everything that's already been achieved. In terms of smart digital transformation, Helsingborg has installed sensors on objects all around the city. These monitor everything from the location of shared bicycles and water and air temperatures, to available parking spaces. The city has also developed some impressive digital crime-fighting tools, like the Incident Map, which offers data visualisation pertaining to the location of incidents, based on reports from the police, fire department, security companies, and insurers. The smart city's aim is, however, not merely to invest in technological solutions. Putting people and the planet first, and providing a platform for participation and collaboration, are some of the key objectives of the H22 initiative. H22 is about finding sustainable solutions for a resilient city that is prepared to meet the current, as well as future, challenges the world faces. Some of the city's innovations that make a difference in people's daily lives include the zero-emission electric ferries between Helsingborg and Helsingör, the unique three-pipe sewer system, city-wide tree-planting efforts, the Innovation Database, Urban Living Labs that create urban mobility solutions, and SällBo, a social living project that brings young adults and senior citizens together to reduce loneliness and promote generational and cultural integration.
9. Sandbox City, Nevada – America's blockchain-based city
The CEO of the firm Blockchains L.L.C., Jeffrey Berns, who is also a lawyer and cryptocurrency millionaire, is planning to create a new, futuristic city in the desert, named Sandbox City, that will be run on blockchain technology. The new smart city will be built on a plot of land of more than 270,000 square kilometers in Northern Nevada – which is larger than nearby Reno. Sandbox City will be located within the same Technology Park in which Tesla has its megafactory and where large companies like Google and Apple have their servers. The objective of this initiative is to prove that new technologies can enable residential living, business development, and commerce to coexist and even improve life. Berns envisions a new society "based on micro-transactions between humans and humans, humans and machines, and machines and machines, breaking down old hierarchies that concentrate power in the hands of a few."
The citizens' ownership rights and voting powers will all be recorded on the blockchain, which will prevent tampering and manipulation and promote transparency. This structure will also ensure that decisions regarding the city are in the hands of its citizens and prevent large corporations or governments from being in charge. Citizens will use cryptocurrencies as a payment method. Sandbox City will boast residential units that will provide a new kind of living environment to thousands of citizens, and include a technology park for nanotechnology, 3D printing, artificial intelligence (AI), and Blockchain technology companies. Other proposed concepts include various retail, business, civic, and financial developments. To prevent users of cryptocurrencies from running into problems, Berns has also purchased a bank. And to store physical digital assets, he will use decommissioned military shelters in the US as well as bunkers in Sweden and Switzerland. Berns told the Reno Gazette Journal: "I could leave all my money to my kids and charity and stuff like that, or I truly can try to change the world. How many people really get that chance? Could you go to sleep at night every night knowing that you had the chance to do something and you didn't? That's how I feel about it. This, for me, is a legacy. Coming to Nevada, it felt like I came home."
10. The 76-initiative Smart City Blueprint – Hong Kong
In December 2017, in order to improve people's lives and address the challenges of city management, the Smart City Blueprint for Hong Kong 2.0 was released by the HKSAR government (Hong Kong Special Administrative Region). The blueprint contains more than 76 initiatives, divided into six main focus areas such as smart living, smart mobility, smart government, smart environment, smart people, and smart economy. According to the secretary for innovation and technology, Alfred Sit, "Innovation and Technology not only promote our economic development but are also imperative in enhancing people's livelihoods. Implementation of smart city aims to bring benefits and convenience to members of the public by making use of our research and development results to drive Hong Kong forward. In the past three years, various bureaux/departments and related organisations have been committed to taking forward these initiatives." Digital infrastructure projects, as well as free public Wi-Fi hotspots, the Faster Payment System, and the iAM Smart digital services platform have already been implemented, as have COVID measures like the 'StayHomeSafe' system to support home quarantine, and the 'LeaveHomeSafe' exposure notification mobile app. Other initiatives that are envisioned to expand and enhance existing city management and bring benefits to its citizens include smart village pilots, the improvement of smart tourism platforms, the development of the traffic data analytics system, the application of building information modelling, and the implementation of the LawTech fund.
Closing thoughts
The future of the world depends on the quality of our future cities. And as the pace of technological development and its integration into society keeps speeding up, countless cities around the world are transitioning to ever smarter communities that are enabled, powered, and integrated by digital technologies. The global smart city development movement seems inevitable and, if managed well, these high-tech, sustainable, and people-centric urban environments could significantly improve future economies and the quality of life of their citizens.