Healthcare organisations face many problems
Amazon's Alexa helps with health-related tasks
Microsoft and Nuance jointly develop transcription tech
Suki understands doctors' voice commands
Software collects data from clinical trial patients
Analysing voice to spot mental health issues
Orbita's platforms power voice and chatbot apps
Voice tech faces multiple challenges
The next frontier in healthcare
Voice tech is becoming a disruptive force in multiple industries. In retail, for instance, the ability of machines to recognise speech and carry out spoken commands is changing the way people shop and search for information online.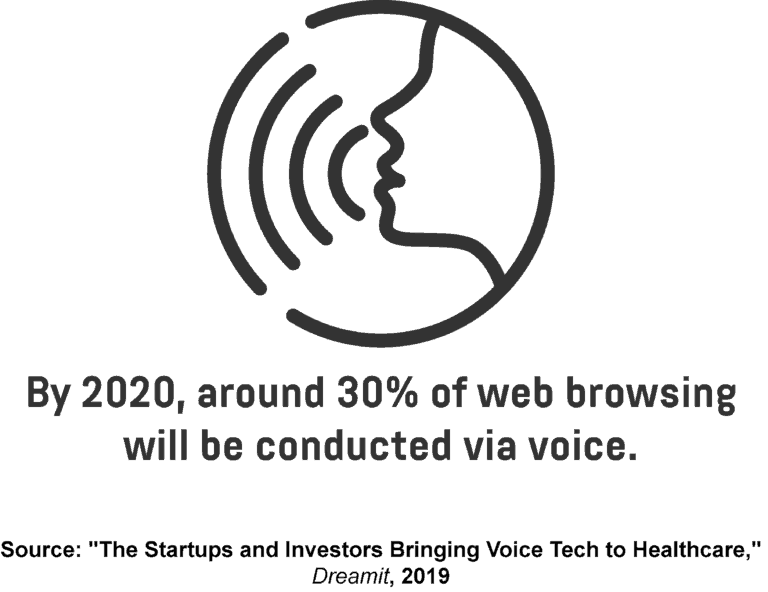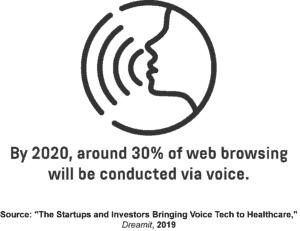 The research firm Gartner predicts that around 30 per cent of web browsing will be voice-based by 2020, while 4.1 million smart speakers were shipped to Europe between April and June 2019 alone, a 33.2 per cent year-over-year increase. But the potential of voice tech is much bigger. This AI-powered technology could also solve problems plaguing the healthcare industry, offering ever more creative and efficient solutions.
Healthcare organisations face many problems
To say that hospitals face a range of problems would be an understatement. Take, for example, the fact that nearly a third of physicians in the US, France, and Germany reported feeling burned out. And around 60 per cent of American doctors cite administrative burden as the primary cause for their burnout, with one hour of patient time often translating into at least two hours of post-visit paperwork. Another issue faced by healthcare providers is that some patients tend to forget to take prescribed medication on time, which can lead to additional health problems. Furthermore, early diagnosis of certain diseases also remains an elusive goal, as people often don't report symptoms to their doctor on time.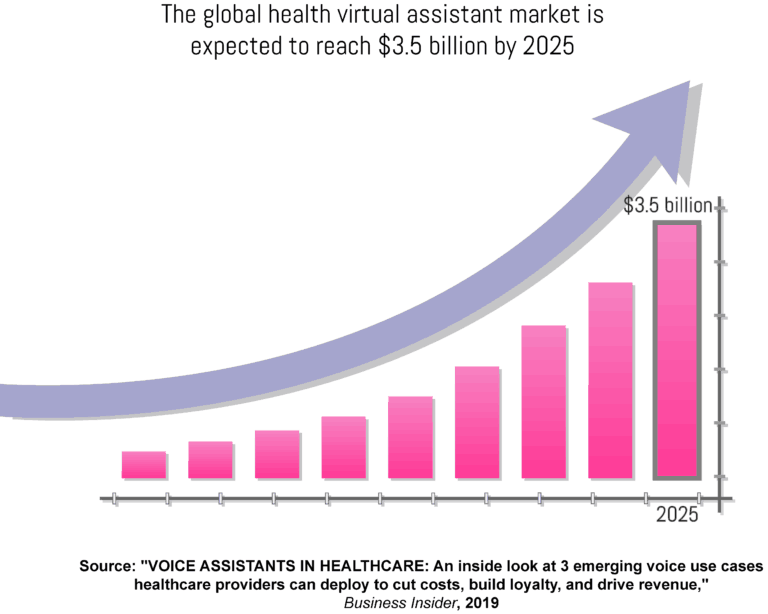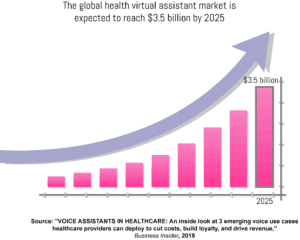 Fortunately, voice tech can tackle these and many other problems, helping patients receive better medical services. A recent survey conducted by tech firms Voicebot and Orbita reveals that more than half of people are interested in using voice assistants for healthcare purposes. This growing trend reflects on the growth of the global health virtual assistant market, which is set to reach $3.5 billion by 2025.
Amazon's Alexa helps with health-related tasks
Amazon is one of the companies that are rapidly expanding their footprint in the healthcare industry. Its virtual assistant Alexa can now remind patients to take medicine at a particular time of day or order prescription refills. Customers can ask questions like "Alexa, what medication am I supposed to take right now?" and the program will provide details. The service is available only to Giant Eagle Pharmacy customers for now, but the company plans to add more pharmacies if the initial rollout goes well. Customers have to download an Alexa skill called Giant Eagle Pharmacy and link their Amazon Alexa account to use the service. Rachel Jiang, the head of Alexa Health and Wellness at Amazon, says that "Voice has proven to be beneficial for a variety of use cases because it removes barriers, and simplifies daily tasks."
And the company now enables healthcare providers to develop a range of Alexa skills that involve the transfer of sensitive patient data. Patients at Atrium Health, a US-based network of hospitals, can now schedule same-day appointments at urgent care facilities using Alexa smart speakers, while Boston Children's Hospital allows participants of the "My Children's Enhanced Recovery After Surgery" program to use Amazon's virtual assistant to manage appointments and obtain information. Even health tech startups are warming up to the use of voice assistants. The US startup Livongo Health, for instance, enables its customers to connect their blood sugar monitoring devices to Alexa and ask for the latest readings.
Microsoft and Nuance jointly develop transcription tech
Microsoft is also making inroads into the healthcare industry. This tech giant will provide the conversational AI firm Nuance with access to its Azure AI platform and Azure Cloud infrastructure to help it develop and deploy ambient clinical intelligence (ACI) technology that gathers information from conversations between doctors and patients and updates electronic health records (EHRs). The new partnership will enable Microsoft to expand its enterprise tech offering and provide more value to healthcare clients.
Nuance already offers a medical virtual assistant called Dragon Medical One that listens to conversations and adds patient medical information to the hospital system, enabling doctors to spend fewer hours on administrative work. Doctors at Allina Health, a US-based healthcare provider, were able to produce 167 per cent more medical documentation than before by integrating Dragon Medical One into the electronic health records system. Doing more work in less time helps physicians avoid burnout, which remains one of the industry's biggest problems.
Suki understands doctors' voice commands
Another challenge facing healthcare providers in many countries is catering to the needs of a rapidly ageing population. This puts even more pressure on already overworked doctors, making it crucial to reduce the amount of time spent on documenting interactions with patients. To tackle this problem, the California-based startup Suki developed a clinical voice assistant that can understand doctors' voice commands and add accurate notes into EHRs. Users still have to approve the notes for the system to save them, though, but the product is "more accurate than most traditional medical dictation and transcription services", says Dr Michael J. Behr, the medical director at OrthoAtlanta, an orthopaedic and sports medicine practice in Atlanta.
The software can perform various tasks. It can, for instance, create a follow-up note or show a list of the patient's health problems. The assistant also integrates with EHRs and prescribes specific medication to patients as per physicians' commands. And as more and more healthcare providers use Suki's tech, big players are starting to take notice. The startup recently signed an agreement with Google to gain access to the tech giant's cloud and AI infrastructure. Google will also encourage its healthcare partners to deploy Suki in their day-to-day operations.
Software collects data from clinical trial patients
Scientists working at Janssen, a pharmaceutical company headquartered in Belgium, have developed a voice-enabled tool that collects information from clinical trial patients. The software reaches out to patients at specific times and asks various questions, such as whether they're experiencing any pain. The answer is recorded and algorithms might ask a follow-up question to capture additional information. Also, the platform could eventually provide patients with answers to questions concerning their disease, scheduled visits, and the clinical trial they're part of.
Researchers at Janssen have discovered some interesting insights about patient preferences regarding voice technology. For instance, people feel more comfortable sharing their feelings with the software than with a nurse or doctor. And some patients stated "that they prefer a male voice over a female voice, while some others preferred a voice that is rather neutral and not really emotional", says Bert Hartog, the senior director of clinical innovation at Janssen Research & Development.
Analysing voice to spot mental health issues
Engineers at the Canadian startup WinterLight Labs think that the human voice can be used for more than issuing commands to smart speakers. They've developed algorithms that analyse speech characteristics to spot signs of cognitive impairment or mental health issues. The company is currently focusing on Alzheimer's disease, aphasia, and depression patients. The software can also be paired with the health data of older patients with medical needs, helping doctors to identify individuals at risk of developing cognitive decline. By identifying dementia at an earlier age, hospitals can provide patients with better care and reduce their functional decline.
Orbita's platforms power voice and chatbot apps
Hospitals that provide patients with voice-based services are hailed as digital innovators. Much of their success, however, depends on the underlying platforms that make it possible to design, build, and manage apps that integrate conversational algorithms. The tech firm Orbita, for instance, is one of the well-known developers of these platforms. Its solutions comply with the Health Insurance Portability and Accountability Act (HIPAA) rules related to the transfer of protected health information.
The company also offers the Orbita Answers framework that helps users organise educational content and launch question answering programs. Instead of 'dumping' thousands of words of content into Amazon's Alexa, the framework relies on knowledge graphs and curation tools to organise the content without forcing users to invest a lot of time in manual editing. From insurers and pharma firms to research centres and hospitals, various clients rely on Orbita to develop voice and chatbot apps, with US-based healthcare organisations such as Amgen, Brigham and Women's Hospital, Mayo Clinic, and Pillo Health among its more notable users.
Voice tech faces multiple challenges
The deployment of voice-based health technologies is not without its challenges, though. Ensuring compliance with data privacy and security requirements like HIPAA remains difficult, and regulators want companies to protect sensitive patient data in the light of growing threats posed by cyber-attacks. By hacking smart speakers, for instance, nefarious actors could gain access to user data, which is why Amazon recommends adding voice codes or logins to all health-related voice commands.
And despite many benefits, advanced tech still can't replace doctors nor diagnose illnesses, but it can significantly improve the quality of medical services. Alexa healthcare skills might be an innovative service, but as Emily Kagan, the vice president of digital at the healthcare network Northwell Health, says, "Everybody feels like it is going to be really game-changing, but [w]e're all still experimenting." Furthermore, voice recognition solutions still require doctors to check notes for mistakes. Recording even a single inaccurate piece of information into EHRs can be a life-threatening mistake for patients, which is why tech firms have to carefully test new solutions before rolling them out.
The next frontier in healthcare
AI's ability to recognise speech is transforming people's lives, enabling them to find health advice and reach out to doctors using nothing but their own voice. And tech firms now increasingly rely on conversational algorithms to tackle even more complex problems. From medication reminders and clinical documentation to clinical trials and cognitive diseases, engineers use voice tech to solve various issues. And as patients and hospitals warm up to the use of new technologies, voice is likely to become the next frontier in healthcare.