Athos: turning your clothes into a personal trainer
Hexoskin's smart shirt: a fitness tracker that's machine-washable
Stridalyzer: a running coach in your shoes
Sensoria Sock 2.0: smart socks to improve your run
Nadi X: smart yoga pants that improve your poses
If your exercise goals are pretty modest, and all you really want is to get moving a bit more, fitness trackers like Fitbit are a great idea. They can help you keep track of your activity and the calories you burn, and for a lot of people, that encourages them to maintain healthy changes to their lifestyle.
But for more serious athletes, professional or amateur, heart-rate data just isn't enough. And wearing a watch or chest strap during grueling workouts or intense competition isn't practical. Fortunately for them, a new breed of fitness wearables is bringing sensing tech and smart data to their clothes. From fitness shirts to smart soles, a new range of exercise clothing has emerged, helping athletes to up their game and avoid injury.
Athos: turning your clothes into a personal trainer
Until recently, if you were an athlete who wanted precise data on your performance, you needed to go to elite training facilities or scientific laboratories. There, experts could attach tiny, hard-wired sensors that can measure muscular performance through electromyography (EMG). As your muscles work, they send zaps of electricity that can be captured and measured by sensitive equipment. But just imagine the limitations that hard-wiring imposes!
As Julie Desjardins, Athos's head of research, explained to Sports Illustrated, "Up until us, really, all of this technology has been exclusively used in high-performance institutes … places where professional athletes would go to train, a lot of rehab clinics — sports rehabilitation, physical rehabilitation — and in neuromuscular disorder research."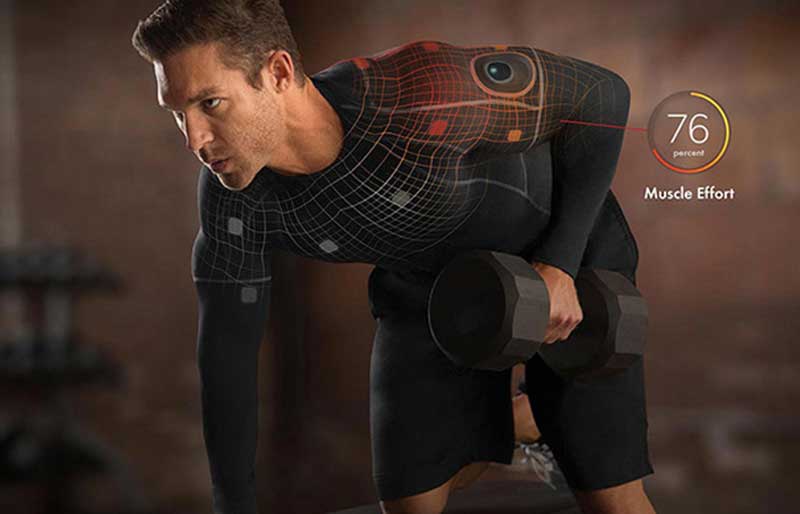 Now, the Athos Training System gives athletes the feedback they need to maximise performance wherever they work out. Imagine smart underwear, and you get the idea. A tight underlayer of stretchy fabric holds sophisticated wireless sensors against your muscles. Each sensor picks up muscular activity, filters out background signals, and sends detailed performance information to a paired mobile. This lets you know in real time which muscles are working, in what order, and how hard. The Athos system can also tell you about symmetry, letting you know if one side is doing more or less of the work you demand.
For professionals who need a lot more than a fitness tracker, this is a godsend. As Sheila Marikar writes for Fortune, "the Athos system offers muscle-specific information that can be analyzed and acted upon immediately". For athletes like Jeremy Cash, a safety who plays for Duke University's football team, Athos was essential. It told him instantly that mistakes in his bench press form were robbing him of strength gains. And by acting on this real-time feedback, he saw immediate gains. As he told Marikar, "It's not even close. For a 225 [lb.] test, I probably would get in eight to 10 [reps] before, and now it's anywhere between 15 and 18."
Hexoskin's smart shirt: a fitness tracker that's machine-washable
The Hexoskin Smart Shirt is a clever addition to smart tech for athletes. The designers at Hexoskin realised that wearing a heart-rate monitor strapped to your chest during a run was an uncomfortable solution to fitness tracking. And they also recognised that people are generally tired of being locked into a single app when they buy smart tech. The Hexoskin shirt solves both issues, and if you're looking for comprehensive, easy-to-use fitness tracking, look no further.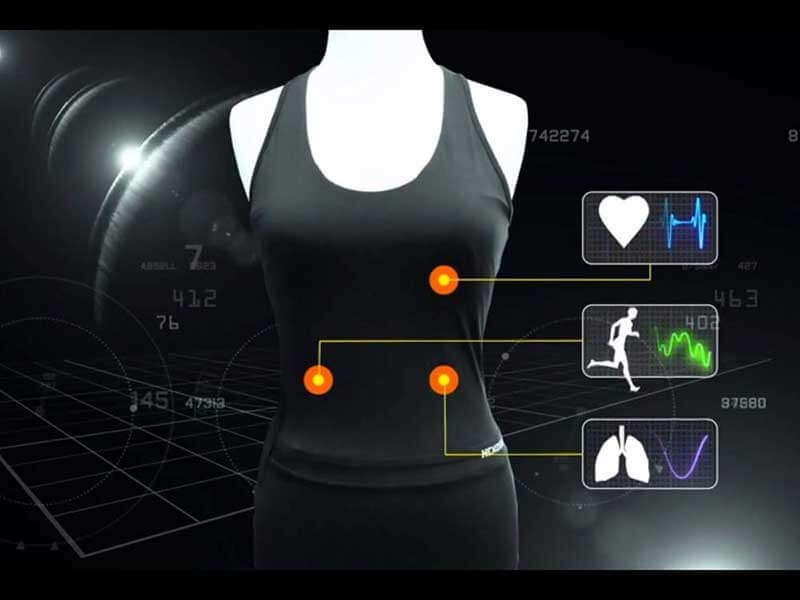 The Hexoskin system is a cool-wearing shirt made from premium Italian fabric. It moves, breathes, and wears much like any other workout clothing, according to Dan Graziano at CNET. It's even machine-washable! But all that comfort and convenience conceals real smarts. As Graziano reports, the Hexoskin shirt can track "steps, distance, calories burned and sleep. It can also measure more advanced metrics, such as heart rate, heart rate variability, breathing rate and breathing volume." That's impressive, closing the gap between an ordinary fitness tracker and a more sophisticated, professional system like Athos.
And though the accompanying software can provide more and better fitness info than most others, for users who want it, the Hexoskin shirt is fully compatible with popular running apps like "Strava, Runkeeper, MapMyRun, Runtastic, Endomondo, Argus and Polar Beat".
Stridalyzer: a running coach in your shoes
As every runner knows, the key to healthy running is a great stride. Stridalyzer has one goal: to keep you running injury-free by providing the feedback you need to improve the mechanics of your run. According to IPPINKA's blog, these smart soles tell you everything you need to know about "any irregularities in weight distribution to one's knees, ankles, inner foot arches, [and] feet (front and back)".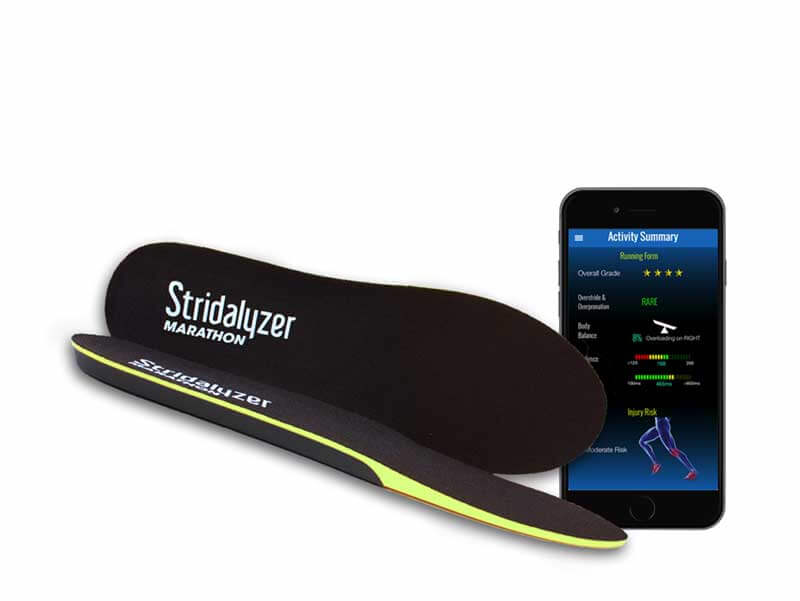 They're easy to use. Just charge them before a run, place them in your shoes, and pair them with their mobile app. As you run, they use piezoelectric sensors to measure each foot-fall, and they calculate stress to your feet and joints, displaying this in cool, colour-coded graphics. Lydia Palmieri, who tested these clever insoles for Running Divas, says that "The app itself was clear to use, it displayed pace, calories burned, stride information and ground contact time." She found the insoles really comfortable, but notes that the app forced a reset 5k into her run, losing data as it did. She also cautions that they're not suitable for wet weather.
Sensoria Sock 2.0: smart socks to improve your run
Much like the people behind Stridalyzer, Sensoria wants to keep runners healthy. One product they've developed is the Sock 2.0, a smart sock with fabric sensors that can tell you what you need to know about your feet, your run, and your fitness goals. As Viju Matthew writes for Robb Report, don't worry about comfort. "Supple and flush to the sock's high-performance fabric, the sensors are undetectable while worn," he reports.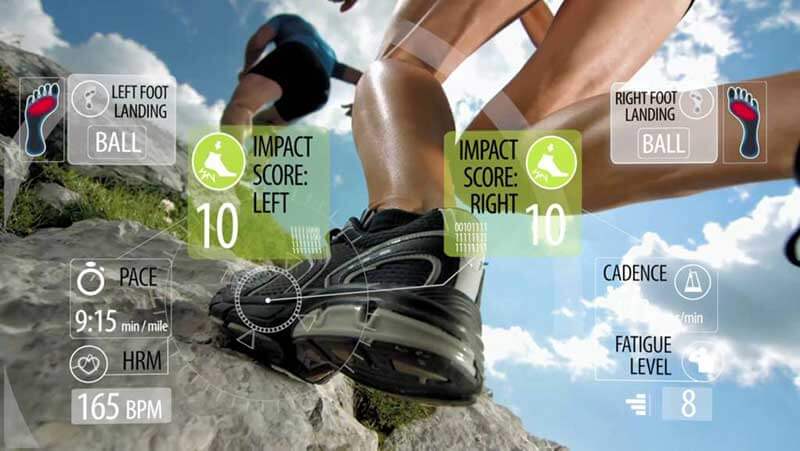 While not as impressive as the Stridalyzer, Sensoria's sock, using a paired anklet, can give a runner more information than a standard fitness monitor and is a lot better at long-term statistics. As John Cook writes, "This high-tech sock — made of antibacterial, anti-blistering and sweat wicking material — is designed to measure core metrics such as cadence, foot landing and the impact forces exerted by runners. It also tracks how far and fast you've run, pretty cool features for runners." And Davide Vigano, Sensoria's CEO, explained to GeekWire that the "Sensoria Sock 2.0 can also stream data in real time and store distance running statistics for more than a month, allowing users to exercise without their smartphone."
Nadi X: smart yoga pants that improve your poses
Nadi X is a pair of smart yoga pants – in fact, really smart yoga pants. When paired with the accompanying app, they can sense what you're trying to do, reading your movements and dissecting your intentions. And as incredible as it sounds, they can tell the difference between 'Warrior III' and 'Downward Dog'. When you get the details of the pose wrong, the pants can tell. And drawing on a tiny, bean-shaped battery just behind and above your knee, Nadi X will gently vibrate — on your ankles, thighs, or butt – reminding you to correct your pose. The better you do, the gentler the correction.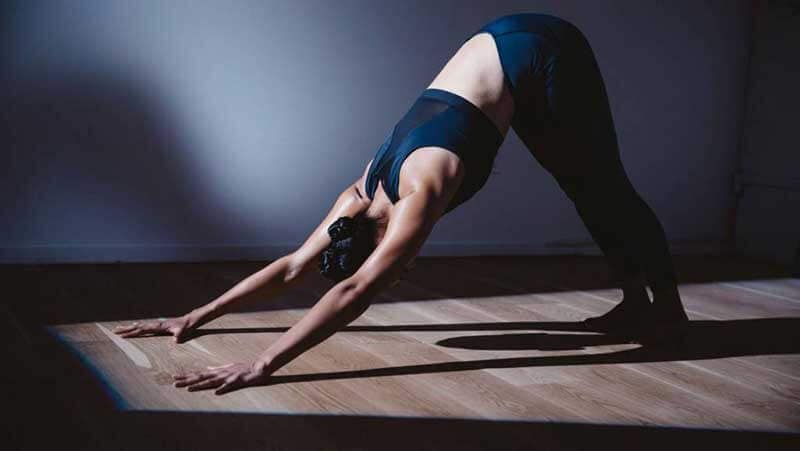 As Nadi X's co-founder, Billie Whitehouse, told Dezeen, "Touch, which has always been the centre of our brand, is a key factor to how instructors teach yoga." Her goal was to create smart pants that would act like a personal trainer in every yoga session. "Touch is a universal language that is a natural fit with trying to understand the essentials of where to focus attention in yoga," she continues. "Nadi X provides the gentle touch of your yoga instructor." It's been tested by 50 instructors, ranging in size and body shape. So no matter who you are or how you're built, Nadi X will work for you.
Make no mistake – these aren't inexpensive options. A full set of Athos gear will set you back nearly $700, and Nadi X yoga pants are a cool $179. The price is coming down – those same smart pants were nearly twice that just a few months ago – but don't expect this tech to come cheap. However, as Eviana Hartman, a writer for Vogue, discovered when she questioned Whitehouse about the price tag, in context, it makes perfect sense. "Yoga classes add up," Whitehouse said. "A private instructor costs $150 to $200 an hour. These are like an instructor that comes with you to every class." Given that these products really do act like a private trainer, this may not be too high a price to pay for increased performance.