A smart bracelet that combats sleep apnoea
Qardio's chest strap monitors more than just your heart rate
Aira smart glasses help the visually impaired to see in real-time
Bloomlife's baby bump pregnancy wearable: no more false alarms
Traditional thermometers will soon be a thing of the past with TempTraq
Bodytrak's smart earphones measure all your vital signs
S-Skin promises clearer, tighter complexion
The synthesis of technology and elegance in Motiv's Fitness Ring
Wearable health gadgets keep a keen eye on your wellbeing
Imagine sitting on a park bench, enjoying your free afternoon while you sip on a take-away coffee. Suddenly, something beeps. It's your new high-tech wearable telling you your blood pressure is skyrocketting. You quickly call your doctor and rush to his office, sending the blood pressure reading ahead of you. Luckily, everything is fine, and you arrive in time to avoid complications.

The history of wearables can be traced back to Leonardo da Vinci's sketches. Their modern incarnations began in 1938 with the invention of wearable hearing aids. Almost a century later, imagination seems to be the only limit to what's possible. It's estimated that, with improvements in monitoring sensors,
health wearable technology
will see a boom in the next decade. And unlike traditional medical tech, they don't need to be clunky: wearables come in all shapes and forms, keeping pace with the latest
fashion trends
.
Receive the latest insights, research material, e-books, white papers and articles from our research team every month, for free!
1. A smart bracelet that combats sleep apnoea
French startup Kyomed specialises in personalised medicine, and e-health technology company Neogia teamed up with them to design a next generation health wearable that fights sleep apnoea. The collaboration yielded the Motio HWTM, a connected bracelet for patients suffering from the breathing disorder. Sleep apnoea causes pauses in breathing, and it's estimated that 6 percent of the world's population suffers from this condition, which can go unrecognised for decades. In fact, 90 percent of sleep apnoea cases are never diagnosed. Kyomed and Neogia think millions will benefit from this high-tech gadget and its "personalised artificial intelligence that learns about the user."
The Motio HWTM bracelet collects biometrics data such as heart rate, respiratory rate and oxygen saturation and sends it to an app on your smartphone. Then, its smart algorithms process the data to assess your sleeping profile. When it detects a variation in this established pattern, it lets you know immediately, potentially saving you from dying in your sleep.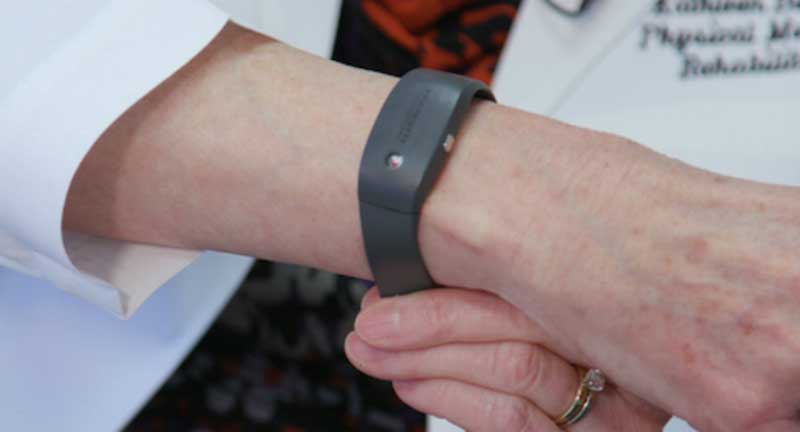 2. Qardio's chest strap monitors more than just your heart rate
Qardio's latest high tech gadget is a medical-grade ECG (electrocardiogram) chest strap called the QardioCore. This wearable collects and sends real-time data on your vital signs to your phone, monitoring your temperature, pulse and respiration rates and blood pressure. Rosario Ianella, Qardio's CTO, emphasised that "cardiovascular health is the biggest health challenge in the developed world and with QardioCore, we make it easier, better and more cost-effective for everyone." These are details your doctor needs to know, and the "the ability to view and analyse such important data remotely and in context, as it is being generated, can substantially enhance the diagnostic yield." For those of us who aren't physicians ourselves, this means that the QardioCore's real-time data collection can help your doctor diagnose a heart condition before you have serious symptoms, potentially saving your life. It's also really useful for people who've already been diagnosed with heart trouble as it helps them keep an eye on their health.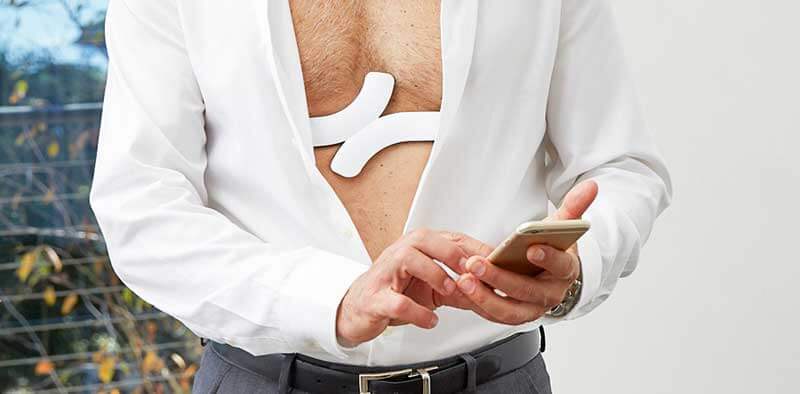 3. Aira smart glasses help the visually impaired to see in real-time
Aira has developed smart glasses to help the blind and visually impaired with everyday tasks; from shopping to hiking and travelling. This wearable, based on Google Glass, is not designed as a replacement, but rather as an extension of or enhancement to "traditional methods such as a guide dog or a white cane." And what's so great is that users navigate the world as they normally would, but with the help of a phone camera and smart glasses, they can call an Aira Agent – a trained professional – to assist at any time. The Aira Agent is able to see a live video, assist the user and help them experience the world.
4. Bloomlife's baby bump pregnancy wearable: no more false alarms
Bloomlife, a San Francisco-based startup, has created a pregnancy wearable. Attached to a woman's belly, it measures contractions by reading "the electrical activity of uterine muscle." The real-time data is sent to phone apps for iOS and Android, and it can accurately keep track of contractions. Even though it doesn't serve as a diagnostic tool, it can still help a mother-to-be learn more about her body, and maybe save her from going to the hospital when she doesn't (yet!) need to.
5. 2breathe: a smart wearable that helps you fall asleep effortlessly
The Tel-Aviv- based company, 2breathe Technologies Ltd, designed Sleep Inducer, a gadget you tie around your torso. It offers a real-time coach for guided breathing, which is proven to help you relax and fall asleep more easily. This smart gadget induces sleep "via guided breathing, using a full-pattern Bluetooth respiration sensor and patented real-time coaching technology." Prolonged exhalation, induced with the 'guiding tones', reduces neural sympathetic activity, and eventually helps you fall asleep. It can also provide a detailed assessment of your sleeping session, helping you choose a breathing exercise that best suits your needs. Insomniacs will love it!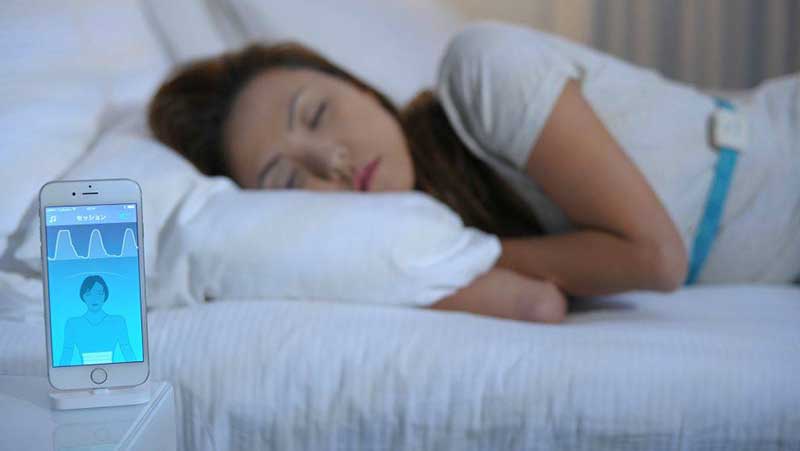 6. Traditional thermometers will soon be a thing of the past with TempTraq
The hassle of checking someone's temperature might soon be a thing of the past. A team from Blue Spark Technologies, best known for their carbon-zinc batteries, are now coming with another useful innovation — TempTraq. The TempTraq is a temperature monitoring device that consists of a patch and a free app. Maybe the best thing about TempTraq is its ease of use. By placing the patch on the underarm, the patch tracks and sends temperature information via Bluetooth to the smartphone. Through an app, the user has access to precise temperature measurements, between 87.0 to 109.3°F, in real time over a number of hours. The TempTraq is a single-use device, and it comes in three different forms: a 24h patch, a 48h patch, and a 72h temperature patch. The device is especially efficient for patients that need constant monitoring.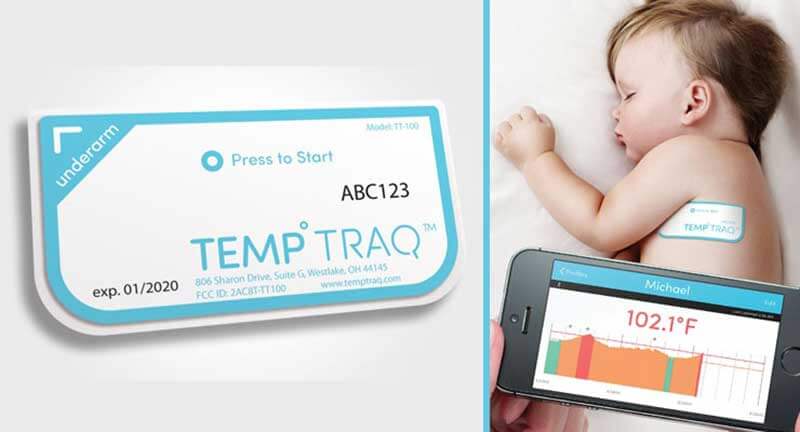 7. Bodytrak's smart earphones measure all your vital signs
Working out without keeping tabs on your progress is like driving to an unfamiliar place and forgetting how to go back there again next time. Fortunately, Bodytrak offers a solution. The Bodytrak device is an earpiece gadget that uses sensors to record information about heart rate, temperature, the amount of oxygen the user gets, or the speed and distance he runs or walks. Bodytrak's designers are confident in their technology, claiming it's more reliable than other – mostly wrist-worn – wearables. And they might have a point because Bodytrak is designed as an earpiece. And since the ear is closest to the brain, it's the only place where all vital signs can be measured together with accurate results.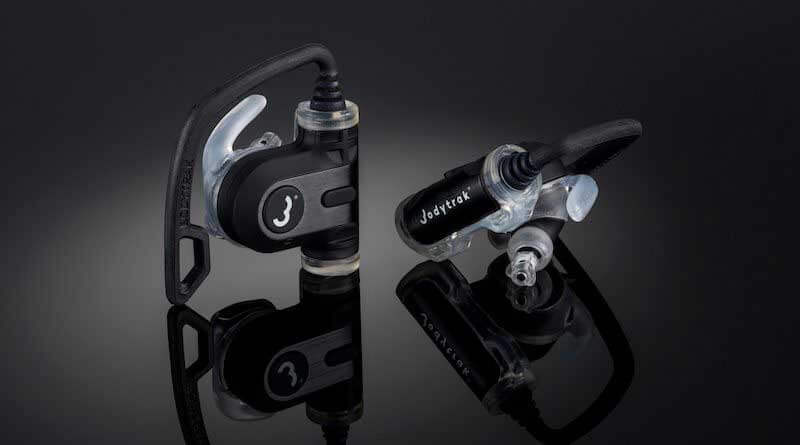 8. S-Skin promises clearer, tighter complexion
Not only do our phones and other gadgets become smarter with each passing day, now we can have smart skincare, too. Samsung developed a personalised skincare device called S-Skin. The set comes with a portable LED device, microneedle patches and a smartphone app. Using a variety of sensors, this LED device can analyse and determine your skin type and recommend the best skincare regime for your particular skin. All the information collected by the S-Skin device is sent to a smartphone app, where the user can fill out a few questionnaires. Based on the data collected from the sensors and answers provided by the user, the device recommends the perfect skincare regime. The next step in S-Skin's concept are microneedling patches. These patches come in two forms; an eye patch designed to firm the skin around the eyes, and a spot patch used to heal problematic skin issues such as red spots, wrinkles or acne. Microneedling patches can change colour according to the user's body temperature, and the medicine they hold penetrate deeper into the skin than conventional skincare products.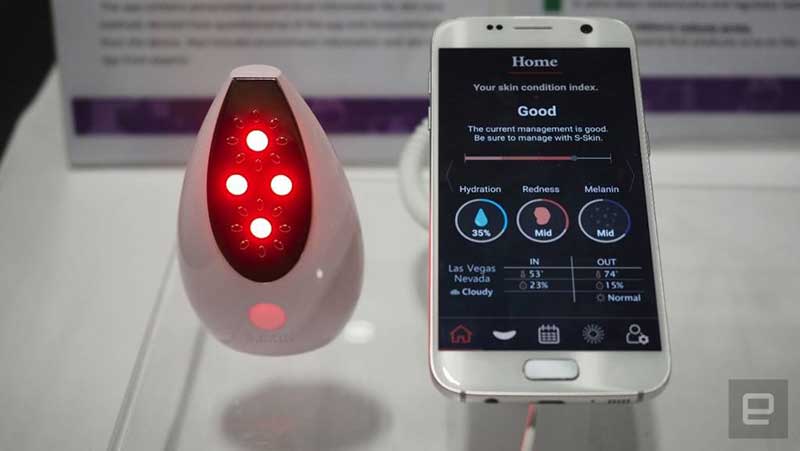 9. The synthesis of technology and elegance: Motiv's Fitness Ring
We are used to seeing fitness wearables designed to be worn around the wrist, but Motiv developed a rather unique fitness device — the Motiv Ring. The fancy Ring serves as a pedometer by tracking the number of steps you take, but it can also measure your heart rate and monitor your sleep patterns. It's connected to a smartphone app where you can keep track of your activity. Made out of titanium, this device is waterproof and has a rechargeable battery that can last up to five days, depending on your activity. The Ring is equipped with an LED light that signals charging time. Apart from its high-tech capabilities, designers also paid particular attention to its simple yet elegant design.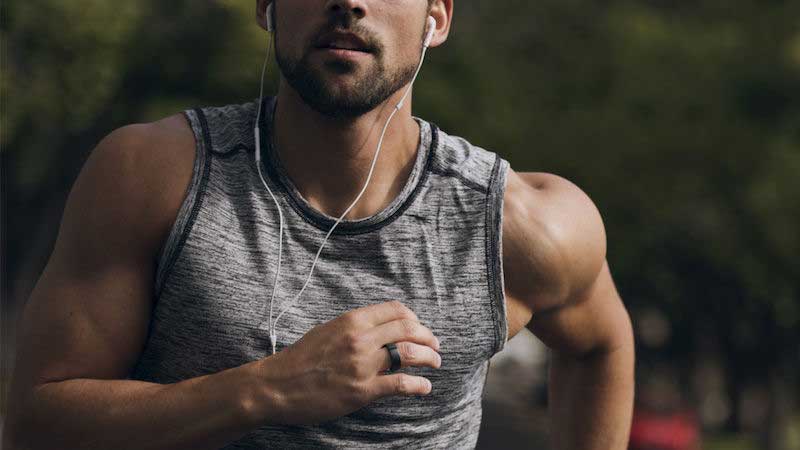 Wearable health gadgets keep a close eye on your wellbeing
We live in an era in which tech innovations have become so refined that in some cases they're even stylish. Providing real-time health data, smart wearables help you monitor, detect, and prevent everything from heart disease to sleep apnoea. Though it's too early to predict the ways in which smart gadgets will be used in the healthcare of the future, they're already helping us lead healthier lives.