Personalising fragrances with neurotech and algorithms
L'Oréal's AI-based personalised colour system
Virtual scents in the metaverse
The research collaborations producing innovations in skincare
The use of cosmetics can be traced back thousands of years to the Ancient Egyptians, who used natural resources like berries and charcoal to create primitive make-up and exfoliants. However, it was the last century that saw the most developments in the beauty industry. The emergence of foundations, mascara, eyebrow pencils, and other beauty products shaped what we now see as modern cosmetics. The beauty industry has become more accessible too, with treatments and products that were once the preserve of the wealthy elites now populating the shelves of high street shops and supermarkets. Like countless other industries, cosmetics has been transformed by digitalisation in recent years. Companies like Allure are using digital technologies to improve their products and enhance the customer experience, and this trend is seeing rapid growth.
Personalising fragrances with neurotech and algorithms
Neurotechnology – or neurotech – involves the direct interaction between technology and the nervous system. While it is most commonly used in medicine, it is also being used in other sectors, and the beauty industry is no exception. Artificial intelligence (AI) is another branch of technology that is expanding beyond its initial purpose. Cosmetics companies like French beauty giant L'Oréal have started to use neurotech and AI to create personalised fragrances. Partnering with bio-informatics firm Emotiv, the company has developed a wearable headset that can help consumers choose the perfect fragrance for them. The device uses EEG to measure the brain's electrical activity, and uses AI algorithms to monitor reactions to different L'Oréal scents and identify preferences. In the words of the head of L'Oréal's Technology Incubator programme, Guive Balooch, "the intersection of neurotech, AI, and science is an exciting next step." L'Oréal found in their research that over three-quarters of consumers prefer fragrances that evoke an emotional response, and that over half choose scents based on their moods at the time. The headset enables the identification of moods based on neuron activity, and the matching of these moods to particular scents. Emotiv's CEO Tan Le explains: "Rooted in science and powerful insights, this technological breakthrough will help consumers decode what fragrances are best suited to their needs." Also involved in the project is Yves Saint Laurent's international general manager Stephan Bezy, who claims that the headset enables the creation of the right personalised fragrances for an impressive 95 per cent of users. Bezy states: "Once we know which scents make people feel happy, energised, or other emotions, we can customise fragrances even more – the potential is boundless."
"This partnership promises innovation for the entire beauty industry. This is truly the first time consumers will have access to a state-of-the-art, in-store experience that uses neuroscience to provide personalised, precise fragrance advice."

Guive Balooch, head of L'Oréal's Technology Incubator programme
L'Oréal is not the only beauty company experimenting with AI. Swiss company Firmenich, for instance, has developed a solution called Formulae Generator, which uses data to help designers know which ingredients to include in cosmetics and food products. This enables the firm to create personalised products for individual customers. In partnership with the Swiss Federal Institute of Technology, Firmenich's scientists are digitalising scent and flavour design, and their algorithm continually learns from past ingredients and formulas. Firmenich's first AI-augmented products were launched in 2020, and the company has won the Digital Innovation of the Year award. Jury president of the award, Lukas Bar, states: "Firmenich has taken a refreshing approach, which combines humans and technology in such an emotional field – the sense of smell."
L'Oréal's AI-based personalised colour system
The L'Oréal Group is not only using AI to experiment with scents – the company is also doing the same with colours. The Coloright system was designed to personalise the customer experience of choosing hair dye colours, using a patented AI algorithm. It can also be used by professional salon operators to efficiently find the right colour for each client. The suitability of each product can be affected by the original colour, length, thickness, and percentage of grey in the user's hair, and the Coloright machine's algorithm analyses their hair for all of these factors. The machine then dispenses hair dye, base creams, diluters, and developers to generate a colour recipe that is personalised to that exact user. The machine can currently create over 1500 colours, and this number may grow in future. In addition to the Coloright machine, the company has also announced a new consumer product expected to launch in 2023, which allows customers to carry out a similar process from their own homes. The Colorsonic will include a reusable, recyclable formula cartridge and reusable gloves. According to Guive Balooch, L'Oréal aims to "leverage science and technology to solve age-old problems for consumers, and Colorsonic is a great example of the power of innovating for consumers by innovating with consumers."
Virtual scents in the metaverse
The transmission of images and sounds into people's homes from far away has been a familiar concept since the invention of the television and the radio. And in the last decades, we've also become accustomed to the transmission of physical sensations – think vibrating mobile phones, video game controllers, and so on. Doing the same with smells has, however, been a much less explored concept, and one with significantly less success. Except for a few sporadic, primitive attempts in the 20th Century, major developments in virtual scent technology have only occurred in very recent years, and have not yet been widely experienced. One recent development has come from the University of Chicago's Human-Computer Integration Lab, in a project led by PhD student Jas Brooks. Brooks and his team have developed a hardware prototype that stimulates the nose's trigeminal nerve to generate 'virtual smells', as well as another that does the same with temperatures. The device was designed to be used alongside VR, as a prototype of how scents could be incorporated into virtual environments. The technology could be used to allow people without a sense of smell to experience scents, to enhance virtual environments for entertainment purposes – picture, for instance, a VR video game that involves following a trail of scent to a destination. The technology could one day even have a significant impact on the fragrance industry. Imagine being able to sample a brand's different scents from home using a VR headset. The world of perfume advertising is also famously challenging, with the inability to transmit scents to potential customers being a major obstacle to advertisers. With VR, perfume adverts may one day actually be able to do so.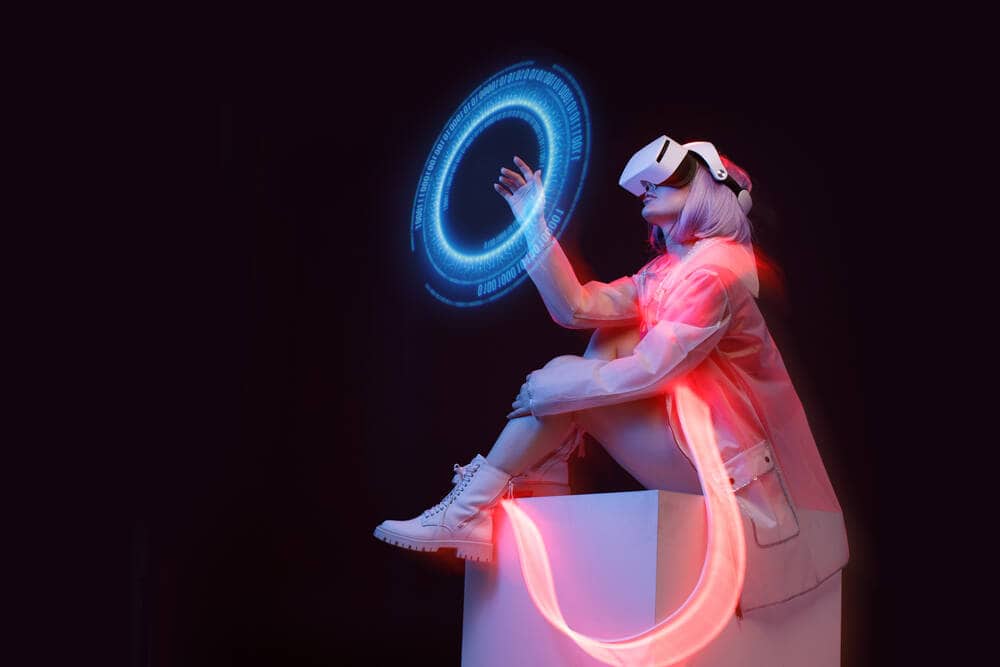 The research collaborations producing innovations in skincare
South Korean cosmetics firm AmorePacific has funded extensive research work, carried out largely by researchers from the Massachusetts Institute of Technology (MIT), into high-tech 'skin sensors' for various purposes. One development is a wearable electronic 'skin' that can sense various biological signals. The sensors can provide data on sweat levels, pulse, and exposure to ultraviolet (UV) rays. Unlike existing wearables, which can measure heart rate, blood pressure, physical activity, and so on, this wearable 'skin' needs no chip or power source to function, and is so thin that it's almost invisible. The design uses "ultrathin, high-quality film of gallium nitride" that can vibrate in response to changes in heartbeat or sweat levels.
"If there is any change in the pulse, or chemicals in sweat, or even UV exposure to skin, all of this activity can change the pattern of surface acoustic waves on the gallium nitride film.

Guive Balooch, head of L'Oréal's Technology Incubator programme
AmorePacific also collaborated with the Ulsan National Institute of Science and Technology (UNIST) on research which has led to the development of a sensor that measures thermosensation (temperature and wetness) on the skin, which AmorePacific claims to be the world's first device of its type. In the scientific journal ACS Nano, the research describes "flexible pyroresistive graphene composites" that measure coolness and moisture with a smart sensor and a machine learning (ML) algorithm, before converting these measurements into data. This data can be used to inform the development of new cosmetics. During another collaboration – with Seoul's Hanyang University – a method of visualising the amount of UV on skin was developed, using a 3D, triangular mesh-based model of human skin. The framework allows the tracking of the efficacy of sunscreen products. Not only does this appear to be a major breakthrough for sunscreen manufacturers, but it could also have significant benefits for public health. Overexposure to sun is strongly linked to the development of skin cancers, with almost 9 out of 10 melanoma cases in the UK being linked to the sun's UV radiation. If the technology were to become widely accessible, the ability to monitor levels of UV exposure in real time could be a game-changer when it comes to reducing skin cancer rates, as well as other types of sun damage.
Closing thoughts
The last few decades have seen huge advancements in beauty-related technology, and it looks like the next few decades will be just as significant in this regard. The rise of personalisation in cosmetics is sure to enhance the customer experience, offer opportunities to manufacturers, and change the way we see the beauty industry. The cosmetics and beauty shops of the future could be centred largely – or even entirely – around areas where shoppers can use technology to create their own unique cosmetics. Advancements in 3D printing technology could also enable customers to do so from their own homes. Imagine if the process – already a highly personal one – of putting on make-up, perfume, and styling hair in front of the bedroom mirror also included the first step of creating the cosmetics yourself?