DNA could unlock the secret to efficient skin care
Individually tailored anti-ageing serum
Providing customers with a box of personalised products
Even pets can receive personalised dietary products
Imagene Labs turns to hair tests
The food industry discovers new revenue streams
Creating meals that suit individual needs
Sushi Singularity uses a CNC machine and 3D printer
The new frontier in the personalisation trend
Big tech firms such as Google, Facebook, Netflix, and Amazon have made millions of customers accustomed to receiving personalised products and services. Whether it's online content, social media feeds, movies, or clothes, shoppers now expect all sorts of companies to deliver only the most relevant experiences. Failure to do so can frustrate people and turn them away from certain brands. In the US, for instance, companies have lost $756 billion in 2018 due to overly generic offers and lack of trust. And while our digital footprint has fuelled the current wave of personalisation, the next big leap in this field will involve genetic data.
Genes, the basic functional unit of heredity made up of DNA, provide each person with distinctive physical and psychological characteristics. Unravelling the secrets of DNA through lab testing can enable companies to adapt to the needs of individual customers, and some entrepreneurs are already exploiting this opportunity. They analyse genetic data to recommend beauty treatments that will solve problems unique to each person, while various startups rely on DNA tests to create meals that will take into account customers' dietary, nutritional, and medical needs. And far from being concerned with data privacy, many customers are willing to share their DNA samples for personalised experiences.
DNA could unlock the secret to efficient skin care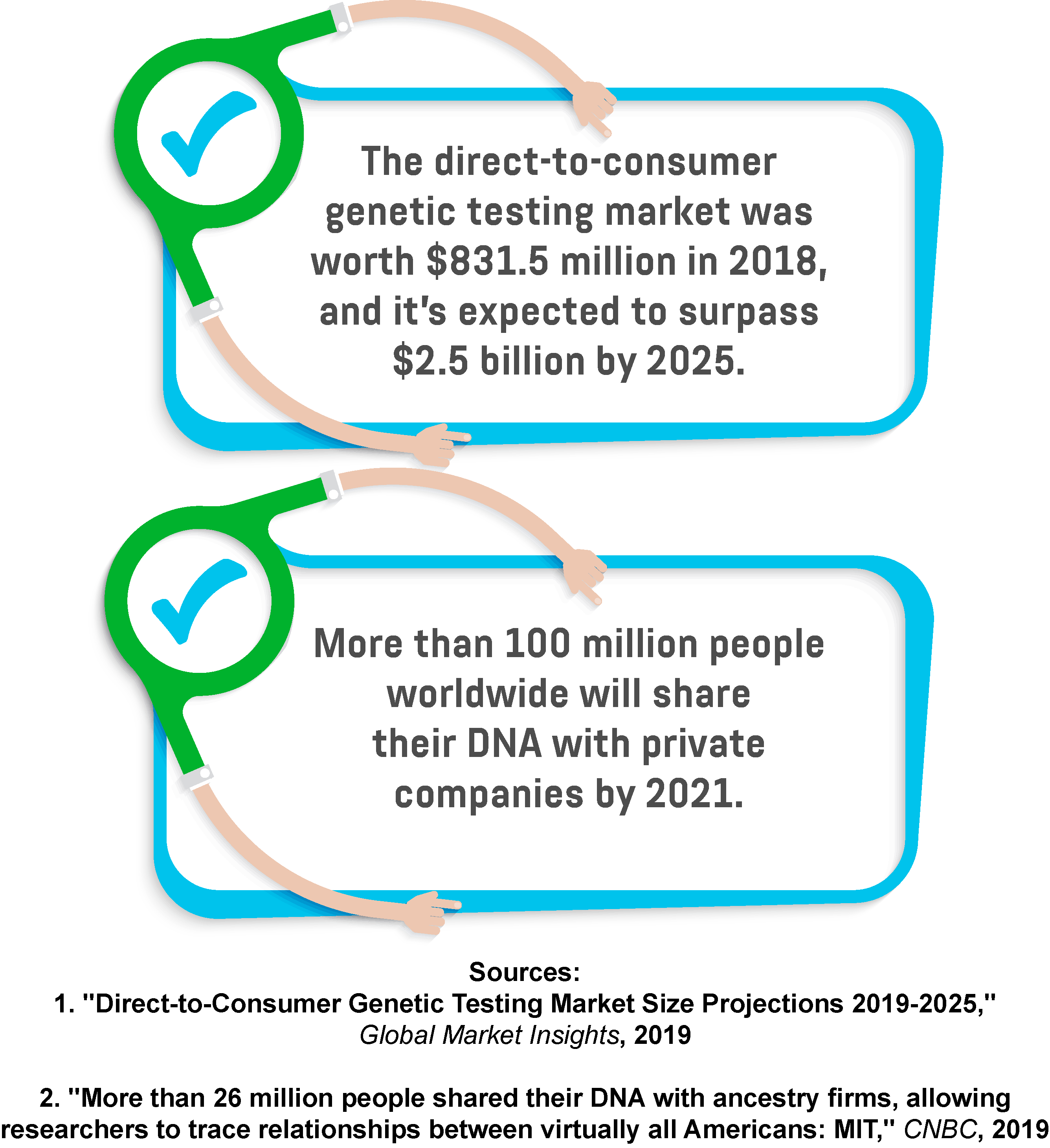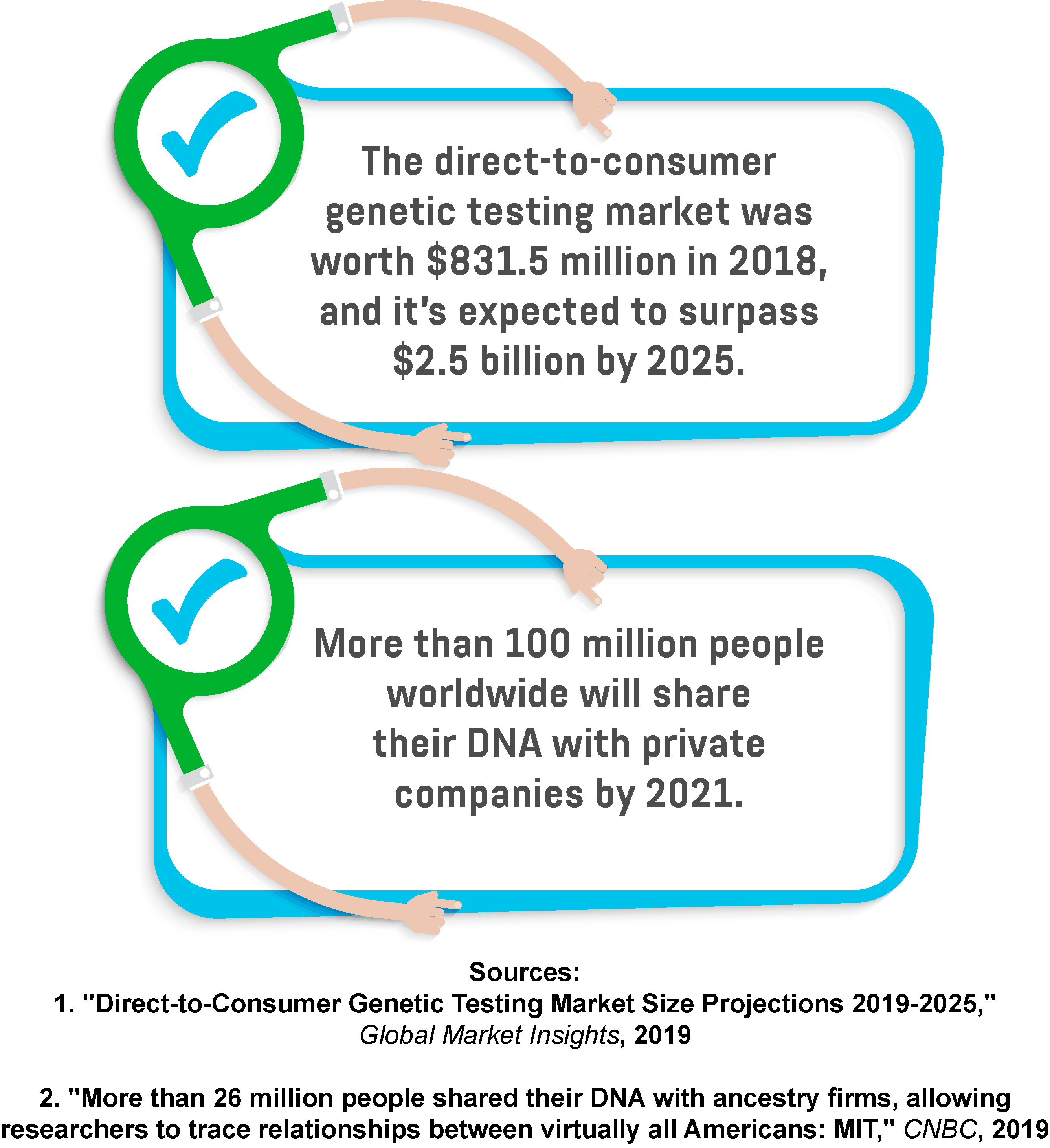 Direct-to-consumer genetic testing is becoming a big business that will be worth more than $2.5 billion by 2025. Over 100 million people across the world will share their DNA with private companies by 2021, with the beauty industry being one of the major adopters of this technology. Beauty-focused genetic tests can tell, for instance, whether a person is more prone to aging or has increased chances of getting sun spots. Armed with this data, special software tools can then suggest relevant products, as well as which dietary and lifestyle measures might benefit the user's skin. The New York-based dermatologist Sejal Shah says that "Personalization in health care is the wave of the future and DNA-based skin care is part of that."
Individually tailored anti-ageing serum
The London-based startup GENEU is riding the personalisation wave. Its special microchip analyses customers' saliva to determine the breakdown speed of the main structural protein in human skin called collagen, as well as the protection levels of antioxidants such as various vitamins that prevent cell damage. Based on this information, the system creates an anti-ageing serum with a unique combination of ingredients that address issues such as low levels of antioxidants or fast degeneration of collagen levels. And it takes only thirty minutes to complete a DNA test at the GENEU lab, compared to several weeks in hospitals. This technology can not only personalise skincare, but also be used to develop faster blood testing techniques that could save thousands of lives.
For those who are worried about privacy, GENEU claims that its staff never has access to customers' DNA and that it isn't kept on file after their appointment. The company assures that the DNA is "extracted, read, and immediately destroyed".
Providing customers with a box of personalised products
LifeDNA is another company that uses genetics to recommend skincare products, as well as dietary supplements. Customers can share their DNA data from 23andMe and Ancestry.com, or they can get the Hawaii-based startup's DNA kit to swab a sample at home. In addition to this, the system asks users a number of questions related to their family history and lifestyle. Then, the algorithm analyses the data and signals potential issues related to nutritional deficiencies, metabolic rate, energy levels, and many other unique traits. In the last step, customers are advised on the ingredients, nutritional practices, diet, and fitness strategies that can alleviate problems stemming from their genetic makeup.
They can also opt to receive personalised dietary supplements and skincare products such as lotions and serums. LifeDNA's CEO, Cyril Moukarzel, says that "You and I are going to get completely different products in our boxes because you and I are completely different". Each person's skin and body reacts differently due to the levels of certain vitamins or nutrients, and Moukarzel wants to provide everyone with an easier way of figuring out which supplements to buy. He's also optimistic when it comes to the future of this industry, due to the growing number of people that use DNA tests.
Even pets can receive personalised dietary products
The US tech startup Targeted DNA went one step further by offering three different products. One of those is the Targeted Pets service, which will enable customers to test their pet's DNA ancestry and receive dietary and nutritional products for their furry friends based on the results. The company hopes that this innovative tactic will make it easier to take a piece of the $70 billion-worth US pet care industry.
Targeted Wellness is the second product that analyses customers' genetic profiles to provide exercise, diet, and nutrition recommendations. The company offers its own line of nootropics, shakes, and other supplements that are personalised based on DNA results. The third product line is called Targeted Skin, and it uses customers' genetic testing results to create a personalised blend of beauty products. The company's managing partner, Dr Chris Graf, explains that this approach helps shoppers simplify the selection of relevant products. "What works for a friend may or may not work for you. People today are spending tons of money on skin care products, with no way of knowing whether or not they work," he says.
Imagene Labs turns to hair tests
The Asian beauty market is also receptive to personalised experiences. Imagene Labs, a genetic testing startup based in Singapore, offers an array of health, wellness, and beauty products. Its customers first have to undergo genetic testing that will assess their skin for ten traits, such as UV damage risk or collagen breakdown. Then, they'll be prompted to buy a personalised serum that addresses problems discovered during testing. The company is growing fast, and its DNA tests will also be offered in retail outlets owned by ONI Global, one of the largest nutritional supplements retailers in Asia. Imagene Labs opened an office in China, too, and it plans to develop a hair test, as it believes that the personalised hair care market is set to experience a surge in demand.
The food industry discovers new revenue streams
DNA-based personalisation is also set to disrupt the food industry, far beyond just providing relevant vitamins or supplements. And the market is ripe for change, as a study carried out by the media measurement company Nielsen shows that more than 70 per cent of people worldwide already make dietary choices to prevent various health conditions such as diabetes, obesity, or high cholesterol. Making things easier for these people, as well as for anyone who wants to live a healthier life is a major marketing and revenue opportunity for food manufacturers.
Even major corporations couldn't resist the lure of new business and technology trends. For instance, Campbell Soup Company, an American producer of canned soups and related products, invested more than $30 million in the DNA-based nutrition testing startup Habit. And the Swiss food and beverage giant Nestlé also pilots personalised nutrition projects. In Japan, for instance, the company runs the Nestlé Wellness Ambassador programme, in which its mobile app recommends lifestyle changes to users that submit photos of the food they eat. And for $600 per year, the company will test the user's DNA and send relevant supplements, such as nutrient-boosted green tea.
Creating meals that suit individual needs
Small startups also enable customers to personalise their food, and the London-based software firm Vita Mojo delivers this service in two different ways. It operates its own restaurant in which customers provide various inputs, such as their DNA data, gender, allergen triggers, and ingredient tolerances, and then they receive a personalised meal in return. The second type of service is leasing of the software to other restaurants, in-house canteens, hotels, and various companies. For instance, Vita Mojo recently signed a deal to roll out its software to canteens used by the gym chain Virgin Active in the UK. People will be able to specify how much protein or carbs they want in the food they consume after a workout.
But the company has even bigger plans that will enable hyper-personalisation of meals. It plans to partner with blood testing companies and integrate additional customer insights, such as a lack of iron or vitamin A deficiency, into the meal planning process. Emilien Hoet, the head of community at Vita Mojo, says that wearables can also play an important role by providing real-time data. "Instead of this information being static it actually moves as your lifestyle changes and you can better adapt your food based on real-time information," he says. And all this data can be extremely valuable to health insurers. They can track what people eat and adjust the health insurance policy for individual customers, although such an idea is "really long-term", argues Hoet.
Sushi Singularity will use a CNC machine and 3D printer
A Japanese restaurant called Sushi Singularity, set to open in Tokyo in 2020, has a unique take on food personalisation. It requires that reservation-holders provide their saliva, feces, and urine two weeks before their visit. The restaurant will then analyse the samples to determine the unique dietary requirements of each person and tailor the meal accordingly. Open Meals, the design studio behind the restaurant, says that "based on DNA, urine, and intestinal tests, people will each have individual health IDs". Furthermore, food will be made using a CNC machine and a 3D printer, with the machines automatically adding relevant nutrients through 14 cylinders.
The new frontier in the personalisation trend
The era of generic products and services is fading away as personalisation grows in popularity. Customers are no longer content with traditional offerings and are willing to pay more to have their unique needs taken into consideration. And while digital data used to be the key to creating individually tailored experiences, DNA testing is the new frontier in the personalisation trend. Beauty and food companies have already tapped into this market, and they're exploiting new marketing and revenue opportunities. And as more customers benefit from products and services that suit their genetic makeup, we can expect ever more businesses to adopt this approach.