The training software of the future
Serious gaming in a realistic or real environment
Helping European security agencies get up to speed
Terrorism is a frighteningly real threat. In fact, the number of attacks has increased alarmingly since 2010, and European governments aren't taking that lightly. To keep their citizens safe, they know that preparedness and training is critical. And they have a surprising new weapon in their counter-terrorism arsenal: 'serious games'.
Militaries and security forces the world over have been using real-world training, classroom sessions, and even online tutorials to better prepare their people for potentially deadly incidents. And gaming is itself not a new trend. As Richard de Silva reports for Defense IQ, "Serious gaming platforms have been used by militaries for years, including the multi-service Virtual Battlespace software used extensively by NATO nations, and the Harbour Protection Table-Top Exercise employed for maritime security training." These exercises work because they model real life, creating a realistic scenario that plays out much like those trainees might encounter.
But advances in virtual and mixed reality (VR and MR) tech are bringing new realism and immersion to these 'serious games, better preparing soldiers, first responders, and counter-terrorism operators for the dangers and decisions they face. The latest training system is called AUGGMED (AUtomated serious Game scenario Generator for MixED reality training), and it's bringing counter-terrorism training into the 21st century.
The training software of the future
In collaboration with the BMT Group, the University of Greenwich, the University of Birmingham, and nearly a dozen security and police agencies across Europe, AUGGMED was developed to revolutionise counter-terrorism preparedness. A three-year, €5.5m project developed under the auspices of the European Commission's Horizon 2020 programme, it's designed to be accessible, broadly adoptable, and easy to use. Running on hardware that's as basic as a laptop with Windows OS and off-the-shelf headsets, AUGGMED's Automated Game Scenario Engine (AGSE) develops non-linear encounters that closely simulate the real thing.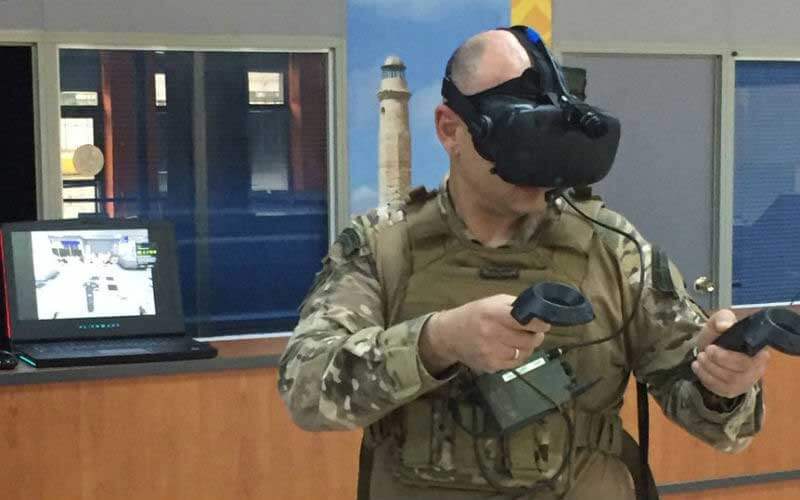 These modest hardware requirements make the system mobile and affordable, but better yet, they allow multiple agencies to train cooperatively in real time. Spanish paramedics, German counter-terrorist teams, and French policemen can respond to a simulated international emergency, vastly improving inter-agency cooperation and understanding. That's critical, as emerging terrorist threats don't care about political borders – or to the extent that they do, they use responders' poor coordination to gain an advantage.
Serious gaming in a realistic or real environment
And because of the immersion created by VR and MR, trainees get a dose of realism that was previously impossible. In VR mode, AUGGMED immerses trainees in a virtual world that's as realistic as cutting-edge graphics processing units can manage. And in MR, first responders work in the real world with an overlay of high-tech magic that creates virtual objects and people with whom they can interact. This hyper-realism is a critical component, and it helps these brave men and women learn to cope with stress and the emotional costs of danger, too. As de Silva explains, it "offers them new ways to learn decision-making skills, emotional management techniques and analytical thinking while under pressure". That can be the difference between life and death for responders as well as hostages.
Helping European security agencies get up to speed
Three pilot projects have been used to evaluate AUGGMED's effectiveness. The first allowed the West Yorkshire Police force to train armed officers in scenarios related to a firearms assault. The second enabled the Ferrocarrils de la Generalitat de Catalunya (FGC) to virtually investigate a suspicious package, involving paramedics in post-explosion scenarios. The final pilot was a joint multi-scenario training session for the Piraeus Port Authority and the local police. AUGGMED created virtual bombs and attackers for the Greek security units to find and neutralise in real space using MR.
As the tests proved, AUGGMED has what it takes to better prepare Europe's guardians for their tough jobs. And by improving individual and team skills, enhancing cooperation, and providing incredible realism, it's helping to keep us all safe.