Artificial intelligence will transform online learning
Making the admission process fairer and preventing plagiarism
Speech recognition tech helps people with disabilities
Facial recognition technology monitors students' attendance
Addressing ethical issues is the key to successful AI implementation in schools
AI is set to grow and dominate education
From spotting cancers to driving vehicles, artificial intelligence (AI) is poised to solve a number of critical problems. In fact, it seems there's little this technology can't do. In the last few years, companies have also used smart algorithms to address some of the challenges in the educational sector. AI-powered tools have proved successful in providing personalised tutoring services, helping students to improve test scores, and overcoming physical and mental disabilities.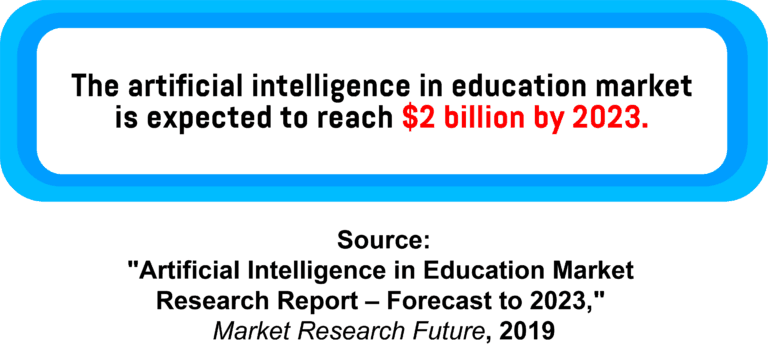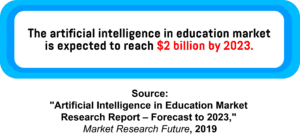 Many countries have recognised the potential of AI, making advances in using cutting-edge technologies to transform schools and universities. And although still in the early stages, the AI in education market is set to reach a value of $2 billion by 2023. Embedded with advanced algorithms, online learning platforms offer learning tailored to individual's needs, and through this customised education journey, students can learn at their own pace.
Artificial intelligence will transform online learning
Smart algorithms will have a profound impact on online learning. One of the platforms making an impact in this sector is the India-based Wave. Described as "India's first online live interactive learning platform," Wave relies on AI and machine learning to provide each student with personalised learning. The platform keeps track of students' clicks and interactions, and its deep learning technology also detects students' emotions based on their facial expressions. It's even able to determine if a student was engaged during the lesson.
After every live class, the platform also analyses teaching effectiveness and identifies areas for improvement. According to TimesTech, Wave can capture and analyse over 70 parameters in a live class, including the teacher's voice. Since the platform analyses teaching and learning, it creates valuable insights for both teachers and students, and it helps improve students' learning outcomes.
Another example of AI-powered educational platforms is the Chinese startup Squirrel AI Learning. The company is on a mission to solve education inequality and lack of accessibility. What Squirrel AI has come up with is a better alternative to traditional online courses. Its AI-driven online educational platform provides students with "one-to-one educational programs". The platform can detect students' learning capacity and predict their learning time, as well as the path they need to follow. Moreover, the technology embedded into the platform is capable of analysing students' model of thinking and identifying their weak points. Based on the analysis, it creates a unique portrait for every student and recommends appropriate learning content.
Instead of forcing all students to complete a course in the same way, Squirrel AI focuses on students' weaknesses and provides them with the content they need to develop a stronger understanding of a particular area within the lesson. So far, the platform proved to be a success, but the company behind this solution has even bigger plans. The news portal OEB Insights reports that the company wants to incorporate emotional intelligence into the platform to help students learn how to communicate and collaborate effectively.
Making the admission process fairer and preventing plagiarism
In addition to improving learning experiences, AI could also help educational institutions to improve their admissions and enrollment processes. A case in point is Taylor University in Indiana that has been using Salesforce's recruiting software to streamline the student application process. Back in 2011, Taylor University began looking for ways to improve enrollment. After signing a partnership with Salesforce, the institution started using the company's AI technology to find prospective students and track student engagement. What's more, the same tech helps school officials decide which students get accepted. Fast Company reports that Taylor University's staff saw significant improvements in their enrollment procedures thanks to the software. And this institution is certainly not the only one to use AI for admissions. The same source reveals that over 4,000 clients within the education industry rely on Salesforce's algorithms.
In addition to making the process faster and more efficient, algorithms used in school admissions are also designed to create more fairness. Due to a lack of integrity, several college admissions practices came under scrutiny over the past few years. It's not rare for students who really want to get into a desired college to turn to forbidden methods and tools. Turnitin, a company specialising in the development of academic integrity solutions, discovered that five to nine per cent of applicants opt for plagiarism. However, a survey conducted by Kira Talent, "the world's only holistic admissions solution", shows that only 30 per cent of college admissions teams have the right tools to detect plagiarism.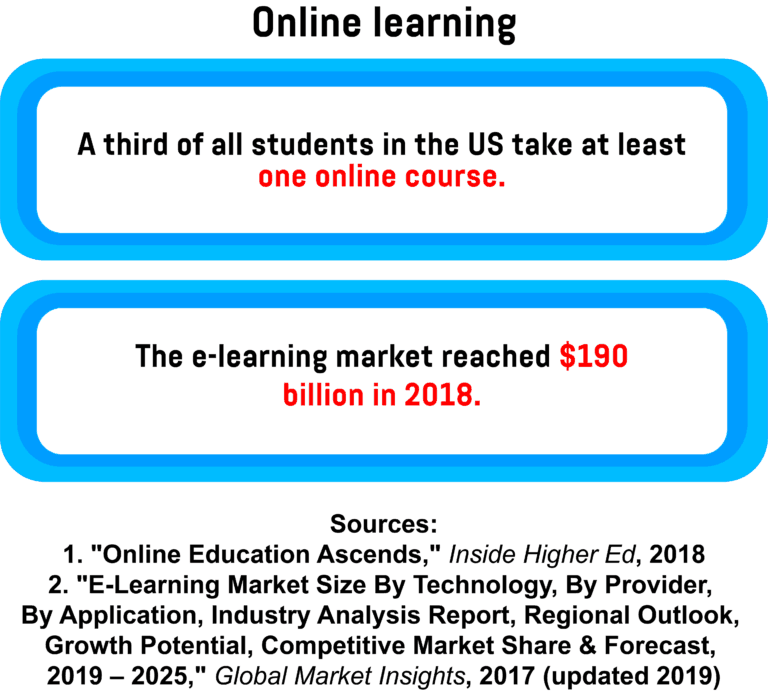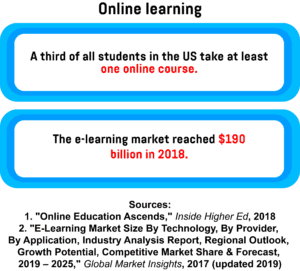 This data encouraged Turnitin and Kira Talent to join forces and provide admissions departments with a solution that would enable them to identify plagiarism. Once an applicant's documents are uploaded onto Kira's platform, Turnitin's software analyses it to prevent admissions fraud. "By integrating into Kira Talent's thoughtful workflow, more admissions offices will have access to Turnitin solutions than ever before, bringing integrity to the forefront of the higher education admissions process," notes Turnitin's chief product officer, Valerie Schreiner.
Online courses have added a new twist to cheating and plagiarism prevention efforts. Around a third of students in the US take at least one course online, while the global e-learning market reached $190 billion in 2018. Online education platforms such as Duolingo and Coursera and various universities have to use advanced solutions to ensure the integrity of their services.
One of those solutions is Examity, an AI-powered platform that monitors online test-takers and captures screenshots, audio files, and video. It looks for signs of cheating or unusual behaviour by applying machine learning algorithms to the collected data. Proctortrack is another tool that uses facial recognition software to monitor students' movement in-class and flag suspicious behaviour like bending down to pick something up. The software can also detect when students consult notes or try to contact someone to learn the answer to a particular question.
Speech recognition tech helps people with disabilities
Speech recognition technology is another example of AI that has a major application in education and could serve as a viable alternative for conventional learning tools. The entrepreneur Fred Singer was aware how frustrating traditional education can be, so he decided to make things easier for both students and their teachers. He launched Echo360, a platform that captures everything that's happening inside a classroom and transforms it into video content. Students can then access this content on their devices to revise the material they learned in class.
The platform also uses Amazon Transcribe, a machine learning service designed to automatically convert speech from audio files into text. Since students have quick access to searchable transcripts, it's easier for them to keep up with the lesson. If they don't understand something, they can simply watch a video recording of the lecture and view its transcript. This is particularly helpful for students with disabilities, as it allows them to review the recorded lectures afterwards and learn at their own pace. Currently, Singer's innovation is used in 11,000 classrooms, and educators have seen significant improvements in student learning after implementing the solution. For instance, students from Indian River State College who used the system had higher grades than those who didn't use Echo360.
And for children who have difficulties with writing, whether due to physical or mental disabilities, the tech firm Nuance has developed a solution. Its AI-powered speech recognition software, named Dragon NaturallySpeaking, can transcribe up to 160 words per minute. It also comes with enhanced spelling and word recognition abilities. Students who, for instance, have vision tracking problems in their eyes can dictate essays to the program and build confidence in their writing skills. And children are reporting that Dragon helps them manage school workload and complete assignments faster. Teachers can use the software as well to create documents or emails and save valuable time.
Facial recognition technology monitors students' attendance
Besides recognising voice, algorithms can also identify faces, fuelling the growth of facial recognition technology. The potential benefits of this tech are even encouraging schools to adopt it in hopes of enhancing security and efficiency.
Schools in Australia, for instance, have already started implementing facial recognition tech provided by a Melbourne-based startup called LoopLearn. As the Herald Sun reports, 100 campuses in Australia are piloting this new tech. LoopLearn has already secured $470,189 from the Accelerating Commercialisation program to further improve its technology, which consists of cameras installed on school campuses to monitor students' attendance. At the beginning of each class, these small and unobtrusive devices harness the power of computer vision and machine learning to scan the area and update the class attendance list in real time. Also, schools can easily install additional scanners throughout their campuses to identify anyone who enters the school grounds.
Since the tech automates the attendance-taking process, it could help schools and their staff save a lot of time and money. But more importantly, LoopLearn's innovation provides students with a high level of security. The company plans to use the new funding to validate the product and make sure it's "scalable and commercially viable".
Though facial recognition tech is a relatively new trend in the education sector, a growing number of schools are employing it. A high school in Hangzhou, China, uses a facial recognition system to optimise efficiency and provide students with more convenience. The system has several functions. For instance, students can use the facial recognition system to order their lunch. After the system identifies the student, it automatically charges the price to their lunch account. The entire process is a lot quicker than traditional lunch cards, and there aren't any long lines. Since the system collects data about what students eat on their lunch break, it provides school officials and parents with valuable insights into their eating habits.
Hangzhou's high school also uses the system in the school's library to automate the process of borrowing books and keep track of who borrowed which book. Similar to schools in Australia, the high school in Hangzhou also uses the facial recognition system to identify students as they arrive to class.
Addressing ethical issues is the key to successful AI implementation in schools
While the AI-driven revolution is gaining pace, the debate about its impact on education simply can't go unnoticed, and the increased adoption of this tech raises concerns. What people fear the most is the risk of being replaced by advanced systems and machines. Innovative AI-equipped robots are already being used in schools around the world. However, even though AI is a sophisticated technology, it's not perfect and can make mistakes sometimes. For instance, experts worry that AI solutions in schools could show bias. Also, there's always a risk of someone misusing the tech to create more damage.
To make sure AI is implemented responsibly in schools, educators need to address these concerns and carefully examine both the risks and benefits of using this technology. They should teach their students how AI works and how it can affect our society in positive and negative ways. The authors of the Envisioning AI for K-12: What should every child know about AI report suggest that it's important for students to understand that AI technology can make decisions and that these decisions ultimately affect people's lives.
Since children today are surrounded by emerging technologies like AI and machine learning, it's extremely important to educate them in these areas. At least that's what Kate Arthur, the founder of the Canadian non-profit organisation Kids Code Jeunesse (KCJ), believes. KCJ's mission is to teach students about AI and ethical issues that accompany the tech. In 2019, the organisation launched an initiative called #Kids2030. As part of the initiative, KCJ hopes to educate one million students about AI ethics by 2030. To make this happen, KCJ launched workshops for both teachers and students. These workshops, which are held outside of school hours, will feature "unplugged activities centred around probabilities and statistics, before moving on to learning how to integrate artificial intelligence with their coding, as well as discuss some of the ethical dilemmas surrounding AI".
And although AI has advanced greatly over the past few years, many experts still can't agree on whether AI adoption in schools is a good thing. Derek Li, the founder of Squirrel AI, is a proponent of the technology. Li thinks AI can help students reach their full potential. This doesn't mean that teachers will lose their jobs. In fact, most of their work, such as communicating with students and understanding their emotions, will still revolve around teachers and not machines. Li explains that he "hopes to provide each child with a super-power AI teacher that is the combination of Einstein and Socrates, that way it feels like she has more than 100 teachers in front of her".
AI is set to grow and dominate education
Having already transformed a wide variety of industries, artificial intelligence has been slowly working its way into education as well, where it has the potential to address some of the issues teachers face on a daily basis. In addition to helping professors by freeing up valuable time for more meaningful activities, AI can also help schools discover deeper reasons behind student absenteeism and provide support in the form of counseling. And that's just the beginning.
From adaptive learning to AI-enabled tutoring lessons, algorithms can help students improve and gain new knowledge. Many countries support the growth of edtech companies, and people are willing to embrace new technologies. But as much as helping students learn new things is important, it's also crucial to develop their creativity and innovation. And this is likely to be the next phase in the evolution of intelligent education.