Walmart's mobile app received a new AR feature
AR tool lets customers virtually try on glasses
Balmain's new communication strategy is AR-driven
Adidas used Snapchat AR Lens to promote its sneakers
Shoppers can try on makeup in a more hygienic way thanks to AR
This Dutch e-commerce retailer uses AR to help customers buy the right TV
AR helps shoppers better navigate in stores
The future of immersive tech in retail
As retail becomes an increasingly competitive landscape, retailers are starting to embrace technology at a very fast pace to succeed and win customers' hearts. One of the biggest current trends is incorporating augmented reality (AR) to entice shoppers, who are always looking for something new and exciting. AR allows shoppers to visualise their purchases and make better buying decisions. It's revolutionary tech that can help both brick-and-mortar and e-commerce retailers to grow and improve their businesses.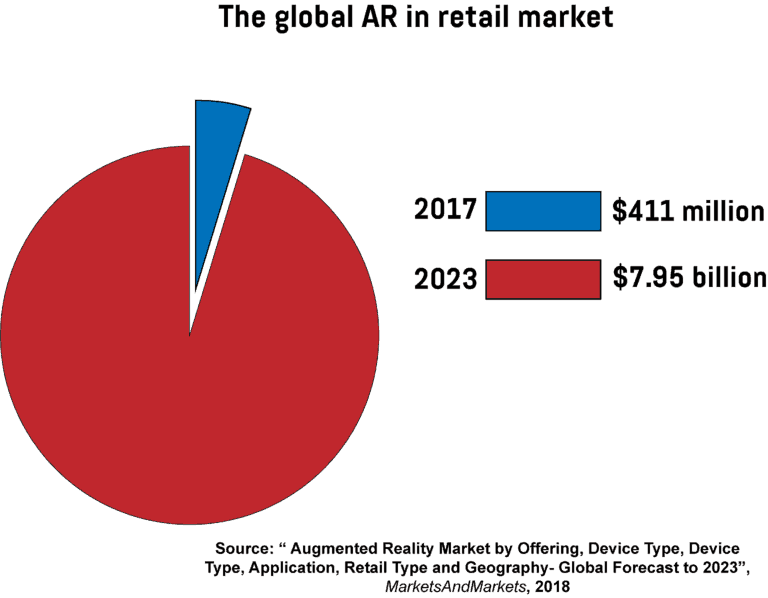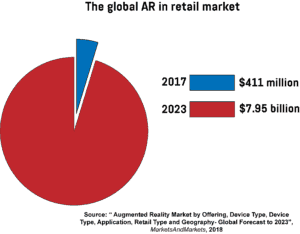 Increasing demand for AR solutions is driving the growth of the market for AR in retail, which was valued at $411.3 million in 2017, and it's expected to reach $7.95 billion by 2023. Clearly, implementing AR is a smart move, and a variety of retailers are using it to enhance their brand experience.
Walmart's mobile app received a new AR feature
Walmart is one of them. In 2018, this US retailer launched an AR-based feature for its mobile app. The new solution was developed by a team from Walmart Labs, who realised that customers were very fond of Walmart's barcode scanner found in the app. They decided it was time to improve the technology and create a more exciting solution using Apple's ARKit platform. What they came up with is a new feature, basically an AR scanner, that provides in-store customers with information about the products they're interested in.
Once a customer opens the app and accesses the AR scanner, they're required to wave their smartphone camera over an item's barcode. As they move the smartphone from one item to another, the app will deploy AR images over the items, showing information such as the price, reviews, and links for related products. This feature, which is available for iPhone 6S and newer models, will make in-store shopping easier. "When a customer launches the scanner, they get a direct connection between the digital and the physical world that their screen and camera lens creates for them," says Tim Sears, the senior engineering manager at Walmart Labs.
AR tool lets customers virtually try on glasses
Walmart isn't the only retailer experimenting with AR. Warby Parker, an online retailer for prescription eyeglasses and sunglasses, recently unveiled a new tool that allows customers to try on glasses using their smartphones. Shopping for the right pair of glasses online isn't easy, and customers are often left disappointed after they realise they bought glasses that don't fit their face. To eliminate the guessing game and make the process as seamless as possible, Warby Parker released a new update for its iPhone app, which allows shoppers to try on glasses virtually before purchase. Just like Walmart's app feature, the new solution is built on Apple's ARKit platform. It also relies on the company's Face ID technology and TrueDepth camera tech.
Inside the app, customers can select a pair of glasses and instantly see how they look on their face. Ever since the company was founded in 2010, it's been offering their customers an in-home try-on service, which involves sending customers five frames of their choice to try on at home for five days, free of charge. Once the shopper has made a decision, they're required to buy the desired frame online, and Warby Parker sends them a fresh new pair. The company's senior director of e-commerce and consumer insights, Erin Collins, explains that the new AR feature is a great complement to this in-home system, because it can narrow down shoppers' "home try-on choices".
Balmain's new communication strategy is AR-driven
Fashion brands are also starting to take notice of AR technology. Earlier this year, the French luxury fashion brand Balmain released a new mobile app for iOS devices. As part of the launch, the company installed posters at various locations in Paris, which customers could scan using the app to get access to exclusive content. And Balmain is no stranger to immersive technology. In 2018, the company also started experimenting with virtual reality (VR), when it equipped its Milan store with Oculus headsets, allowing visitors to watch and experience the brand's creative processes in VR.
With the new app, Balmain is further strengthening its digital transformation. Besides being equipped with AR capabilities, the app also allows customers to livestream Balmain's events and fashion shows, and take a virtual tour of Balmain's recently opened flagship store in Paris. By launching the app, the company hopes to attract and connect with modern-day customers who expect to receive new features almost on a daily basis. As Massimo Piombini, the brand's chief executive officer, points out, "We always said that Balmain will define a new communication strategy based on entertainment, based on inclusivity, based on authenticity, but also supported by a strong technological element."
Adidas used Snapchat AR Lens to promote its sneakers
Attracting a new type of consumer was also the idea behind Adidas' recent collaboration with the social media platform Snapchat, which will allow users to virtually try on the sportswear giant's latest running shoe model using AR Lens. This is the first time Snapchat users will be able to try on sneakers using its AR Lens feature, with shoppers at several select locations in Houston, New York, and Los Angeles given the opportunity to see how it works.
Once the user picks the shoes and places them on the ground using the app, they're required to walk toward the AR shoes until they merge onto their feet. Though the feature doesn't overlay the user's existing shoes entirely, it's still useful and helps the shopper to get a better idea of what the real shoes would look like on their feet. In recent years, Snapchat has become a major platform for brands to interact with their customers through interactive and memorable experiences. According to Snapchat's data, around 70 million users play with AR Lens every day, and they're constantly looking for new AR experiences to explore.
Shoppers can try on makeup in a more hygienic way thanks to AR
Most consumers have a 'try-before-you-buy' mindset, and luckily, AR makes it possible in a quick, easy, and hassle-free way. This inspired Perfect, a company specialising in the development of AR tools for beauty retailers, to launch YouCam for Business, a new set of AR and artificial intelligence (AI) solutions designed to help beauty brands to become smart digital retailers.
One of those solutions is the In-Store Magic Makeup Mirror, which allows shoppers to try over 100 makeup and hair colour products instantly. The innovation is designed to reduce customer wait time, improve shopping experience, and drive sales. Thanks to the In-Store Magic Makeup Mirror, retailers no longer need to worry about running out of makeup samples. What makes the solution even more appealing is the fact that it's much safer to use than traditional cosmetic samples, because it eliminates any health and sanitation risks.
This Dutch e-commerce retailer uses AR to help customers buy the right TV
Besides protecting you from germs, AR technology can also save you time and money. For instance, the return rate in e-commerce is quite high, and the returns policies of some companies make this process a real hassle. This is especially the case with large home items bought online, such as TVs. That's why the Dutch e-commerce company Coolblue has come up with a solution that allows its customers to virtually place a TV in their home and see whether the chosen format fits.
By accessing the new feature in Coolblue's app, shoppers can choose the desired TV, hang it on their wall or place it on the TV cabinet, and check its format from all corners of the room. Usually, TVs are measured in inches, which isn't a common measurement unit in the Netherlands. This can create confusion and make the process of choosing the right TV challenging for most customers. The new feature is available in Dutch, English, and French, and can be accessed from Android and iOS devices. It currently supports only a limited number of TV models, but the company will be expanding its offer in the near future.
AR helps shoppers better navigate in stores
Customers who still prefer going to physical stores can sometimes find it overwhelming to navigate around large department stores and malls. Though in-store navigation systems aren't exactly a novelty, the London-based AR startup Blippar has found a way to offer something innovative by developing a fun, interactive AR-based navigation tool. Blippar's Indoor Visual Positioning System allows retailers to place AR content across their stores, which helps customers to navigate in large indoor spaces. Moreover, as the shopper moves through the store, they're presented with AR images showcasing product reviews and on-sale items. Since the tool relies on computer vision to identify the user's location, it can also be used in offline mode, which makes it even more attractive.
Prior to launching this Indoor Visual Positioning System, Blippar was best known for the development of its outdoor AR navigation system, called AR City, which has been rolled out in 300 cities. The tech proved to be a success, and the company decided to apply the same technology to indoor environments. The Indoor Visual Positioning System "is another step towards realizing the transformational potential of augmented reality and computer vision and showcases more useful ways these technologies will improve our day-to-day lives," explains the co-founder and CEO of Blippar, Ambarish Mitra.
The future of immersive tech in retail
For retailers that want to stand out from the competition and attract more customers, harnessing the power of AR technology seems to be the right way to go.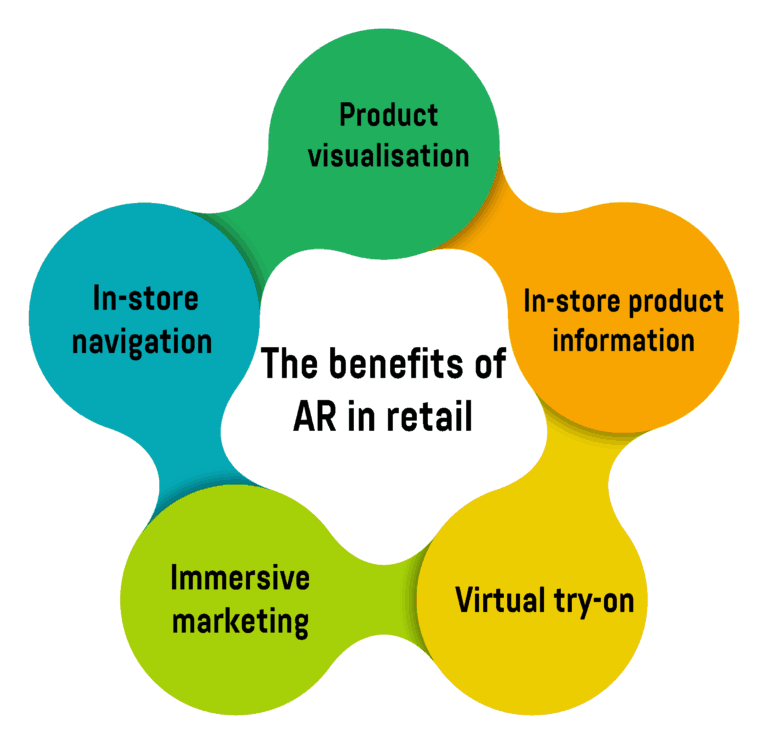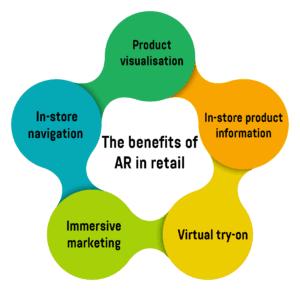 AR helps brands to create more engaging shopping experiences both in-store and at home. It allows shoppers to visualise products in an accurate and realistic way, increasing the chances of them actually making a purchase, and boosting retailers' sales. This tech has gained a lot of traction lately, and as customers continue to seek immersive experiences, even more companies are expected to deploy AR in the future. The future of retail is AR-driven, so, everything from the way we try on items, move around the store, and interact with the brand will change. The functionality of AR apps will help brands reduce their online return rates, and make shoppers more confident in their purchasing decisions. As the worlds of retail and AR collide, retailers are given unprecedented opportunities. It's up to them to seize those opportunities.