Amsterdam embraces smart city solutions
Hong Kong is a tech-powered giant
Sidewalk Labs builds an urban utopia in Toronto
Seoul is becoming a "capital of big data"
Singapore turns into a smart city-state
Reykjavík develops renewable energy sources and data platforms
Tokyo uses smart tech to prepare for disasters
A single platform provides Parisians with digital services
London hopes to become the smartest city in the world
New York's innovation department runs smart tech projects
Tech offers solutions to urban problems
Today, a little over half of the world's population lives in cities. By 2050, however, that figure is set to rise to 68 per cent, as the pace of urbanisation increases and urban areas become home to an additional 2.5 billion people. While this will enable more citizens to find better jobs and education, it also means that city infrastructure, already crumbling in many parts of the world, will be under increasing pressure. Local authorities need to ensure that citizens can enjoy safe roads, clean air, stable jobs, and reliable energy supply despite rapid population growth. And using cutting-edge technologies to achieve these goals gave rise to smart cities.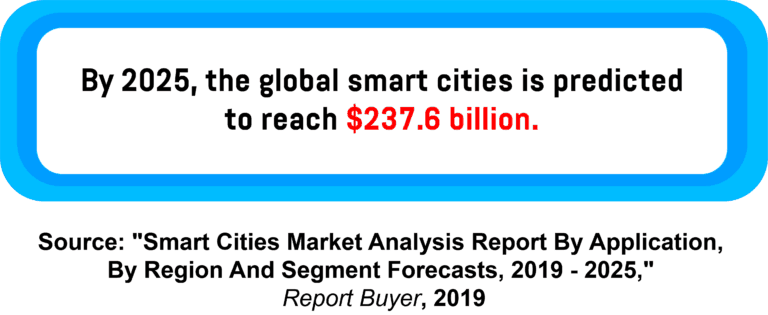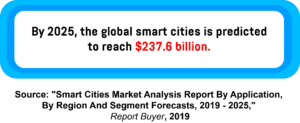 These hotbeds of innovation rely on solutions such as sensors, artificial intelligence (AI), and the Internet of Things (IoT) to improve citizens' quality of life. Smart city products and services are becoming a major industry that will be worth $237.6 billion by 2025. From the US to Europe to Asia, there are many inspiring examples of how innovation, fostered by governments and companies, can make a real difference in people's daily lives.
Amsterdam embraces smart city solutions
Amsterdam is one of the early adopters of smart city solutions. The Dutch capital is using tech to provide citizens with a high quality of living, supporting a diverse set of projects such as open data platforms, smart housing, distributed energy storage, and more. Having recognised the importance of big data, local authorities have created an impressive open database that covers all 32 city districts and contains 12,000 data points related to land value, healthcare, addresses, traffic, and education. Overall the city is using the Amsterdam Smart City (ASC) platform to manage over 70 smart city projects with around 100 partners.
Projects carried out by local authorities are divided into seven areas, including infrastructure, smart energy and waste, smart mobility, circular city, governance and education, and citizen participation. The IoT Living Lab, for instance, is a 3,700 square metre area equipped with IoT smart beacons and sensors that enables innovators to test various solutions in the urban environment. Furthermore, police units, fire departments, and ambulance services are connected via a message exchange service for easier coordination of rescue operations. Vehicle2Grid is an equally impressive initiative. It enables electric cars to act as backup power providers during outages and stabilise the grid. And garbage collected in the city is incinerated to produce electricity, while street benches are made from biocomposite materials. Amsterdam is also home to a thriving startup community whose input is highly valued by local authorities.
Hong Kong is a tech-powered giant
Hong Kong is another example of a thriving smart city. The local government is implementing a series of projects as envisioned in the Smart City Blueprint strategy. Street lamps, for instance, will get a high-tech makeover. New, multi-functional smart lampposts will include a 5G base station, surveillance cameras, a weather station, thermal traffic detectors, and a Wi-Fi antenna. Cargo shipping is also becoming smarter. Protected by smart locks, China-bound containers will be automatically unlocked only when they reach the target port. And smart departure kiosks will be installed at airports, enabling passengers to scan their passports and go through a facial recognition-based verification procedure, saving time in otherwise lengthy check-in and passport control queues.
Prisons will also benefit from advanced tech. Prisoners will have to wear a Fitbit-like wristband that monitors their health signals and warns guards of any abnormalities. A trial project is underway at a local women's prison. And Hong Kong residents will soon be able to review various datasets as the city's government unveils its web-based dashboard with plenty of information about parking lot availability, weather, traffic, and other topics. Hong Kong also plans to require construction companies to submit digital twins of all future buildings. The goal is to create a realistic and updated digital twin of an entire urban area, which will help local administration to manage the rapid growth of this bustling city.
Sidewalk Labs builds an urban utopia in Toronto
Major tech corporations are also interested in constructing smart cities. Sidewalk Labs, a subsidiary of Google's parent company Alphabet, is planning the development of "the most innovative district in the entire world," its CEO, Dan Doctoroff, says. The project will take place at Toronto's Lake Ontario shoreline. In terms of housing, the company will construct several buildings, up to 30 storeys high, using modular components produced at its local factory. And 40 per cent of these apartments will fall into the 'affordable housing' category. Also, a light-rail extension will connect the high-tech settlement with Toronto, while cyclists and pedestrians will benefit from snow-melting heated pavement that keeps streets clear. And Sidewalk Labs promises that the district will produce zero carbon emissions.
The district will produce a lot of data using sensors placed throughout buildings, roads, and streets. Whether the data is about energy consumption, building use, or traffic patterns, the company wants to analyse it. Predictably, these plans have led to public backlash. The Canadian Civil Liberties Association is suing the government to stop the project due to ambiguities on how data will be collected, processed, and stored. Sidewalk Labs, meanwhile, boasts about the economic benefits of the entire project that'll supposedly generate "44,000 direct jobs and $14.2 billion in yearly economic impact by 2040".
Seoul is becoming a "capital of big data"
South Korea is home to a number of high-tech companies, including Samsung and LG Electronics. Local citizens are no strangers to the latest technologies, and administration at the country's capital, Seoul, is also following suit. Over the next four years, the Seoul Metropolitan Government is planning to invest $1.24 billion in turning the city into a "capital of big data". To that end, over 50,000 IoT sensors will be placed city-wide. These devices will collect data on fine dust, night light intensity, vehicle traffic, and many other things, helping authorities to devise appropriate policies.
Citizens will also benefit from more responsive government-owned call centres. The 120 Dasan Call Centre system, which handles civil complaints and questions about public services, will trial an AI-based chatbot that will respond to citizens' inquiries via text messages. The Seoul government also plans to install an additional 17,820 surveillance cameras, with algorithms automatically informing police units on brawls and other forms of misconduct. And all city buses will have free public Wi-Fi in 2020. Senior citizens who live alone will be taken care of, too, as energy providers will monitor their electricity consumption to spot signs of any trouble.
Singapore turns into a smart city-state
Asia boasts yet another impressive smart city. Singapore, an island city-state, uses digital innovation to offer citizens better public services, and the local government has implemented many projects as part of its Smart Nation initiative. For instance, it installed more than 52,000 surveillance cameras, enabling police to rapidly react to any sign of problems. Also, the eXchange (CODEX) platform allows state-owned agencies to share data, while the OneService mobile app routes citizens' complaints to relevant institutions.
Moments of Life is a platform geared towards parents with young children. It helps them with various procedures such as registering the birth of a child, applying for a government subsidy, or locating nearby preschools. Families also benefit from hands-free ticketing solutions that enable easy entry and exit at train stations. And the city's transport authority relies heavily on data analytics. By collecting information from fare cards and sensors installed in 5,000 vehicles, the institution is able to efficiently manage buses, identify commuter hotspots, and provide real-time updates on bus arrival times. In fact, the use of digital technologies has decreased the rate of overcrowded buses by 92 per cent.
Reykjavík develops renewable energy sources and data platforms
Another island nation that invests in smart city technologies is Island.It's capital Reykjavík, which is home to most of the country's population, takes pride in various sustainability initiatives. The city is powered mostly by renewable power sources such as geothermal energy, and the local ON Power utility company offers customers a 40 per cent discount on fast charging for their electric vehicles.
For public transportation, citizens can use a mobile app provided by Strætó bs, a local bus operator, to buy tickets, plan a journey, check arrival times, and receive news about transport services. And city authorities also make good use of data. The LUKR platform, for instance, combines information about various systems, such as utilities, telecommunications, buildings, parcel boundaries, and sewage into a single system. The platform is connected with the national registries on real estate and population, enabling public officials to make sophisticated analyses and develop better policies.
Tokyo uses smart tech to prepare for disasters
Following the 2011 earthquake, which led to a devastating tsunami and nuclear accidents, Japan invested heavily in smart city technologies, focusing especially on disaster preparedness projects. In Tokyo, for instance, parks such as the Rinkai Disaster Prevention Park can be turned into a survival facility with a bunker that can protect people from disasters, and solar charging stations that can power appliances and e-bikes. Also, public benches can be turned into cooking stoves, with the park having enough food and water to last 72 hours. Tokyo authorities also use AI to process visual data from thousands of cameras. The goal is to analyse the direction of traffic in the event of a disaster and provide citizens with suggestions on how to reach their homes or rescue zones in the fastest way possible.
Smart energy is another area of interest for Japan. The Tokyo Electric Power Company (TEPCO), for instance, plans on installing 27 million smart meters by 2025. The project would enable citizens to monitor and reduce their energy consumption, leading to lower energy bills and cleaner air. And Tokyo's Bureau of Environment is running energy-saving programs that urge companies to reduce their power consumption by 20 per cent and sell any savings above that target.
A single platform provides Parisians with digital services
Paris boasts one of the leading digital government platforms called Lutece. Powering over 200 digital city services, the system has streamlined various processes, enabling citizens to register children for school, book a tennis court, register for social housing, and do many other things from their homes. In all but a few instances, queuing in public buildings is a thing of the past. The platform enables users to reach relevant agencies or companies in a convenient way.
For instance, the Lutece application Dans Ma Rue enables citizens to report graffiti in their streets, and the complaints are forwarded to the company in charge of cleaning the streets. Another benefit of Lutece is that it enables software developers to reuse its various components when building new apps, saving the city time and money. Nejia Lanouar, the chief information officer of the City of Paris, says, "If we didn't have the platform Lutece, we probably couldn't offer so many digital services to the residents and the Parisians." Other cities, like Lyon and several municipalities in the US, are also looking to deploy Lutece.
London hopes to become the smartest city in the world
Meanwhile, London plans on becoming the smartest city in the world by 2020. To that end, the local administration has launched more than 20 initiatives that tackle urban challenges such as congestion, pollution, financial inclusion, and physical activity. The Connect London project, for instance, will bring 5G connectivity to the entire city, and free Wi-Fi will become available in many public spaces. Lampposts are upgraded with air quality sensors, electric vehicle charging points, and cameras and the city also plans to use machine learning to analyse air pollution in collaboration with the Alan Turing Institute.
Sadiq Khan, the mayor of London, has also supported the launch of the London Datastore, an open data portal that provides the public with access to over 700 datasets. From jobs and economy to housing and health. And over the next ten years, city authorities will invest more than $5 billion in transportation projects in a bid to reduce pollution and traffic congestion. Large companies are following with similar initiatives, too. The supermarket giant Tesco, for example, is implementing various green initiatives and plans to use more zero-emission vehicles by 2025, powering installations solely with renewable energy by 2020 and cutting waste in half by 2030.
New York's innovation department runs smart tech projects
New York City is no stranger to smart city technologies, either. The NYCx, a department of the Mayor's office in charge of innovation, runs several tech projects that tackle challenges in sectors such as smart mobility, housing, public safety, and waste management. The LinkNYC project, for instance, focuses on replacing typical payphones with kiosks that provide citizens with a Wi-Fi connection, an android tablet for web browsing, free calls to all the US states, an emergency call button, and two USB ports for phone charging. The city is also upgrading streetlights with smart LED alternatives that turn on only when approached by pedestrians.
Thousands of smart water meters have been deployed across the city, helping building managers to reduce water usage. And city residents will also benefit from smart trash cans called Bigbellys. These advanced cans increase storage capacity by using a solar-powered trash compactor and alert an operator when it's time to pick them up. Law enforcement units use advanced tech as well. HunchLab, a crime prediction program, has been successfully tested in the city and has helped to lower violent crime in certain parts of New York. Local authorities plan to use innovation to tackle various challenges, ensuring that the urban area becomes cleaner, safer, and more prosperous.
Tech offers solutions to urban problems
Cities throughout the world are becoming ever more crowded as millions of people move in to find better jobs and education. Hard-pressed to maintain a high quality of public services with a limited budget, local authorities are turning to cutting-edge technologies, giving rise to smart cities. These tech-powered urban centres rely on sensors, the IoT, AI, and other innovative tools to provide residents with safer roads, cleaner air, and better jobs. And as the pace of urbanisation increases, more and more governments are likely to turn to digital solutions to keep their citizens happy.