Visual search could help Snapchat become a major player in social commerce
Pinterest's new feature combines visual and text-based search to provide users with more accurate results
Levi's is relying on visuals to create authentic and personalised experiences
IKEA's customers can search for furniture pieces with their smartphone camera
Donde's visual search tech speeds up purchase
Syte is helping retailers enhance product discovery on their e-commerce sites
AIQ's visual recognition brings customers straight to the product
The future of visual search
E-commerce offers a convenient way to search and buy products, but consumers demand more. Using text to search for items is common practice, but in the past couple of years, new forms of search have emerged, including voice and visual search. Unlike text, visual search is a lot more sophisticated. When an image is presented to a visual search engine, it relies on machine learning and artificial intelligence (AI) to identify objects on the photo and find images related to those objects. And while voice search is no less popular, visual search is gaining some serious traction – and it's not without reason. Since most of the information we process is visual, it's easy to understand why consumers are fond of discovering new products through this type of search. Often, it's much easier to show a picture of a product, rather than using words to describe it.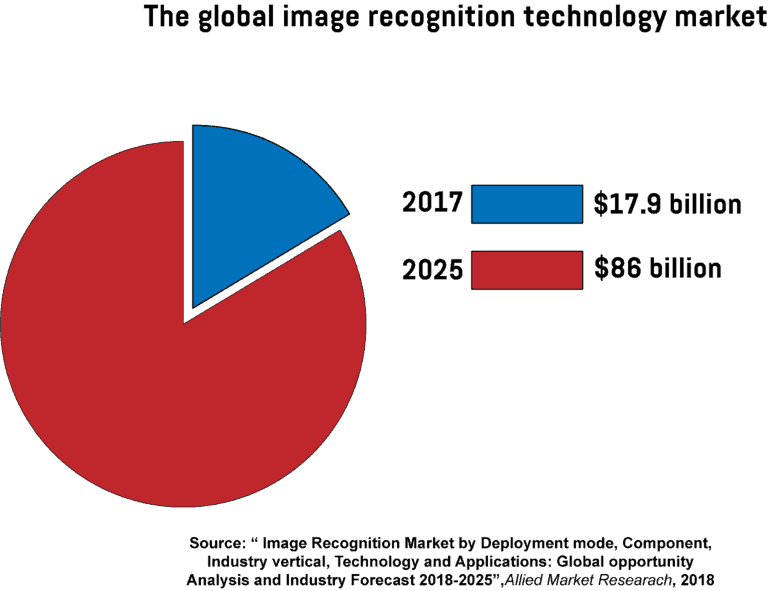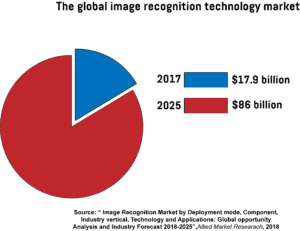 The popularity of this tech is on the rise, and behemoths such as Amazon, Google, and eBay are launching their own visual search solutions, setting an example for smaller brands that are following suit. Gartner estimates that by 2021, brands that upgrade their websites with visual search capabilities could increase their revenue by 30 per cent. While image recognition – the tech that powers visual search – is becoming more advanced, consumers are slowly but surely ditching textual search. In fact, according to a study conducted in 2018, as much as 62.2 per cent of younger millennials and 61.7 per cent of older millennials from the UK and the US would be comfortable with using visual search as part of their digital shopping experience. And a study conducted by Intent Lab, a research partnership between the marketing agency Performics and Northwestern University, reveals that 59 per cent of consumers think visual information is more important than text-based information. Also, factors such as higher adoption of social media and easy internet access are driving the growth of the global image recognition technology market, which was valued at $17.9 billion in 2017, and it's expected to grow to $86 billion by 2025. Clearly, this trend is showing steady growth, and retailers and brands shouldn't overlook its potential.
Visual search could help Snapchat become a major player in social commerce
In 2018, Snapchat joined forces with Amazon to roll out a visual search feature for its platform, which allows Snapchat users to look for products in a quick and easy way. When users point their smartphone camera at a specific product, or its barcode, they'll be provided with a list from Amazon featuring the same or similar items, including their price and reviews. Once they tap on the list, they'll be redirected to Amazon's app or website, where they can purchase the item.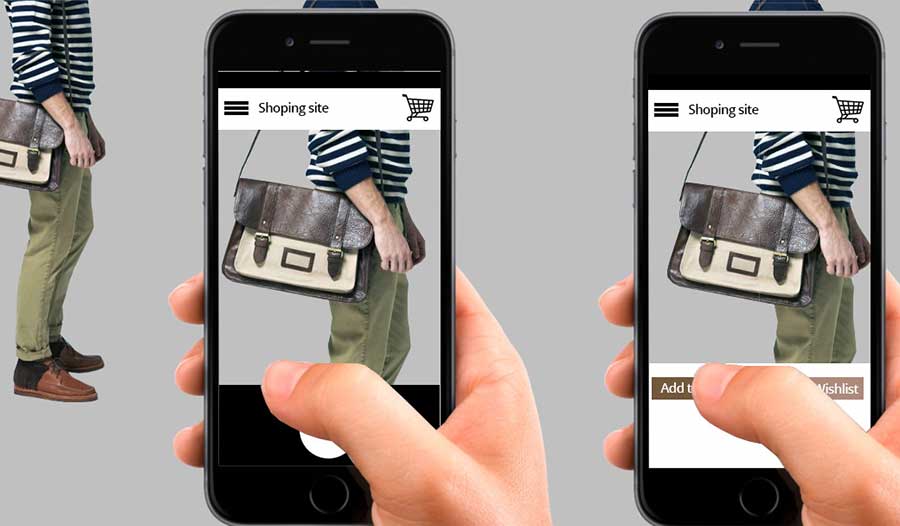 Snapchat's feature will be released slowly, first to US residents, after which the company will consider launching it in other countries. Though Snapchat didn't reveal much detail regarding the financial terms of the partnership, the company might be getting a fee for each item its users buy on Amazon. Moreover, through the new partnership, the company could attract more users. This is important because in the second quarter of 2018, Snapchat experienced a decline in the number of users. It was the first time for the company to witness user count reduction since its launch back in 2011. If the partnership with Amazon proves to be a smart business move, Snapchat could rival Instagram and become a major player in the social commerce world.
Pinterest's new feature combines visual and text-based search to provide users with more accurate results
Snapchat's feature is similar to Pinterest's Visual Lens, launched in 2017. The solution, available for both iOS and Android users, has been improved since its launch, and today, it's used to conduct 600 million visual searches every month. Thanks to Lens, which ensures frictionless search, users can easily discover clothing designs, recipes, and even furniture. For instance, they can simply point their smartphone camera at a specific food ingredient, and Pinterest's machine learning technology will provide a list of recipes for meals made from that ingredient.
In 2018, Pinterest upgraded Lens with another feature, allowing users to add text along with the image to get more accurate results. The feature, which is currently available in the iOS app, allows users "to pair a search term like 'winter fashion' or 'date night' with a picture of a particular item of clothing". People can use the solution to find objects they saw in a store or someplace else. More importantly, the feature helps strengthen consumers' journey between e-commerce and brick-and-mortar retail, which benefits consumers and retailers alike.
Levi's is relying on visuals to create authentic and personalised experiences
Since consumers nowadays are provided with endless choices, finding the right product is like looking for a needle in a haystack. For this reason, the denim brand Levi's partnered with Pinterest to create a personal styling tool called Styled by Levi's. Once users access the feature, they're required to pick five images that best describe their style. Based on those images, the tool will generate a Pinterest board featuring key products tailored to their taste. The board is directly linked to Levi's' website, so if consumers decide to buy some of Levi's' items, they can do it quickly and easily. Levi's launched this solution in October 2018, and in the first couple of months after the launch, thousands of boards were created. Brady Stewart, the senior vice president of Levi's America's digital team, notes that "Consumers have endless choices and access to products. At a certain point, that gets almost too big, so you need something more curated; you need someone who will be your virtual stylist and come back with what works for you."
IKEA's customers can search for furniture pieces with their smartphone camera
Clothing retailers aren't the only ones experimenting with visual search tools. The furniture retailer IKEA, for instance, added a new feature to its Place app. The feature, provided by GrokStyle, allows customers to simply snap a photo of a desired furniture item, and the app's computer vision technology will provide a list of IKEA items that match the photo, with all the relevant links and information. Since describing furniture can sometimes be difficult, especially when numerous details are involved, IKEA's new feature makes the process quick and easy. Instead of experiencing the hassle of explaining the right style, colour, or shape, furniture shoppers can just take a picture, and the app will provide them with exactly what they need. And best of all, once they find what they're looking for, they can use the app's AR abilities to place the furniture in their space to see how it looks. Since the app is equipped with visual discovery capabilities, this Swedish retailer hopes it will encourage customers to eventually buy the item.
Besides IKEA, GrokStyle's technology caught the attention of Facebook as well, which decided to acquire the visual search startup in 2019. In an official statement, Facebook didn't reveal further plans for GrokStyle, but the company did show optimism that GrokStyle's tech will contribute to Facebook's AI capabilities.
Donde's visual search tech speeds up purchase
The fast fashion retailer Forever 21 is also turning to visual search – often described as "one of the most important innovations in the e-commerce space in recent years". The AI-powered feature, called Discover Your Style and developed by Donde Search, allows customers to search for products using a universal language that anyone can understand, based on visuals, not words. Donde's research shows that consumers are more likely to abandon an e-commerce site if the purchase involves more than three clicks, and using visual search could reduce the number of clicks. Besides speeding up the purchase, Donde Search's technology will eliminate language issues and improve conversion rates. Soon after the feature had been introduced to customers, this retailer witnessed a significant boost in sales. In the first month after the launch, Forever 21 had a 20 per cent increase in average purchase value.
Syte is helping retailers enhance product discovery on their e-commerce sites
Clearly, boosting profit and turning visitors into regular shoppers in a competitive landscape such as the retail sector is a lot easier with visual search technology. This inspired the AI tech startup Syte to launch its Visual Search Navigation tool at the beginning of 2019. The tool, designed to enhance the shopping experience, allows shoppers to navigate and filter products through visual content. Visual Search Navigation is powered by Syte's Deep Tagging tech which uses AI to assign textual tags on the retailer's online platform. To filter products, consumers use animated icons, which eliminates the need to explain what kind of product the shopper is looking for. Instead, the new tool will allow shoppers to show what they want.
Syte's innovation could help various online retailers to simplify product discovery. As the company's co-founder, Lihi Pinto Fryman, explains, "There is a real problem with the way we search for products right now. Beyond the non-intuitive method of text-based search, many retailers struggle with inconsistent product tagging, making accurate textual search near impossible." This isn't the first time that Syte, which was founded in 2014, is helping retailers to enhance product discovery. Earlier, it developed AI solutions for retail brands such as Nike, Farfetch, and Marks & Spencer. To power its solutions, Syte has also created partnerships with major tech companies such as Microsoft, Oracle, and SAP.
AIQ's visual recognition brings customers straight to the product
AI-powered visual search technology could also allow brands to engage with their customers in a more interactive way. This is what the Singapore-based AI startup AIQ is working on. The firm is providing retailers with visual recognition technology that allows customers to scan a product or a brand's logo with a smartphone, and get immediate access to more information. If customers want to buy a product, they'll be redirected to the retailer's website to place an order. With this tech, brands could optimise their marketing campaigns and personalise customer engagement. AIQ's innovation could be applied to billboards and magazines, allowing publishers to offer more interactive and engaging ads. And best of all, "AIQ's patent-pending visual and video recognition technology works beyond static images. Customers can also scan videos and live TV to retrieve details of product," says the company's CEO, Marcus Tan.
https://www.youtube.com/watch?v=CSMGItTpYeA
The future of visual search
Though visual search will never fully replace textual search, it could still have a disruptive impact on the retail industry. In the future, consumers will become more comfortable with using their smartphone camera as a starting point for their next search, instead of relying on a text query. They'll be able to identify objects seen on the street, in magazines, or in the store, which will make it easier to buy the desired item. Visual search equipped with image recognition technology could help retailers improve their customer experience and increase sales. At the same time, brands could use it to suggest items similar to the desired product at a more affordable price. This could, in return, result in increased revenue and brand visibility. Besides money, visual search saves consumers' time and makes the process of finding the right product smooth and stress-free. With further advancements in AI, visual search engines will be able to process data at a much quicker rate, which presents a great opportunity for e-commerce brands looking for ways to drive more purchases.